Walter Peck
with Containment Unit

Ghostbusters Club Ecto-1 Action Figure
Item No.: No. R6286
Manufacturer: Mattel
Includes: Containment unit, ghost trap
Action Feature: n/a
Retail: $20.00
Availability: 2010
Other: This Is The End?

PREVIOUS
RSS
NEXT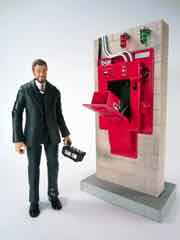 I got Walter Peck at the Mattel Store in El Segundo on a business trip. Mattel runs a tiny little toy store there - maybe slightly bigger than your average Kay-Bee, give or take - on the Mattel campus. It's neat. Some of the stuff is regular price, but they also have some weird stuff over the years like Matty surplus, or SDCC leftovers, or other collector weirdness. Even scratch-and-dent things. I usually made it a point to grab something if it was cheap enough, mostly because a few bucks for an action figure is generally good entertainment. According to the file data, I shot the pictures for this review in 2013, and Walter Peck, evil EPA administrator, just sat on a shelf in my photo room being clutter for eight or so years. Maybe it wasn't the best use of six to eight dollars. It's a very nice figure, but as you can see, I have a lot of figures - and Walter needs a better home.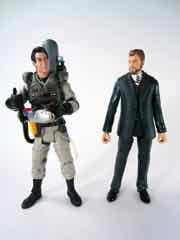 I remain amazed that since this figure came out, both Diamond Select Toys and Hasbro both had similarly sized collector action figure lines. Each one had a different mix of characters, none of which being truly complete or completely compatible, each of which having its own unique assets. At the time, the Containment Unit was a pretty savvy piece of equipment. The little wall facade has a red unit with fake lights and a pop-out mechanism to load a ghost trap. Mattel were smart, because odds are fans would be far more interested in the accessory than Walter Peck. It's sturdy and charming, a heck of a nice backdrop and a surprisingly lovely accessory in a then-$20 figure. Hasbro and Mattel would sometimes put in some pretty amazing accessories, but lately we've seen those phased out... with price increases phased in. Figures also have improved in terms of likenesses and articulation. And if you don't like that, you can also get LEGO, Playmobil, and Minimates toys from the movie. You've got options.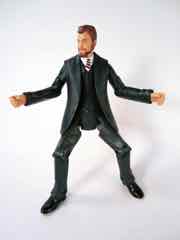 Walter Peck was a pretty spectacular figure in his day - the William Atherton likeness was pretty good, with a slightly goofy grin which seemed to work pretty well for a pretty weird character. The suit's sculpt is great, with pleats and creases and a lot of articulation in there. It also does a great job of illustrating how much more work goes in similarly sized figures today. Nowadays, things like the bicep swivel or thigh cut would probably be integrated elsewhere on the figure - perhaps the knee, the hip, or the elbow. Looking on my desk, you see figures from Hasbro like Cad Bane or Deadpool putting similar joints in, but integrating them into their respective costumes better with fewer cuts in the costume's lines. Which is better? Probably the newer ones - but this is still surprisingly good, and I remember being impressed when I first got it.
He has zero problems standing, holding a ghost trap, or looking like he's going to release hordes of the dead on New York. He looks like he was designed to be the very best figure 2009 could have possibly offered, made with the kind of engineering Mattel is best at. The face and hands are molded in color and not painted, the face is nicely decorated, and the lines on the head look good. His shoes have a nice shine. There's not much you could have asked for back then, his coat even opens up so you can swing his legs forward a little bit. But not a lot - there's not a lot of hip movement here.
With so many variant costumes, minor players, video game characters, and weird ghosts, the Matty Collector line for Ghostbusters is likely essential to any fan of the series. It's kind of maddening just how much good stuff is in there that isn't necessarily in other formats. There is an excellent Diamond Select Toys Walter Peck too, with and without diorama parts. I'd say get what interests your budget. Me, I'm still hoping Playmobil does one too.
--Adam Pawlus
Additional Images

Click here to see more Mattel figures in Figure of the Day.

See more Ghostbusters items in Figure of the Day:
Day 498: Mattel Ghostbusters Zuul Action Figure
Day 801: Mattel Ghostbusters Slime Blower Ray Stantz Action Figure
Day 1,164: Funko Hikari Vinyl Ghostbusters Pink Stay Puft Marshmallow Man
Day 1,538: Mattel Ghostbusters Ecto Mini Rowan
Day 1,543: Mattel Ghostbusters Ecto Mini Cockroach Ghost
Day 1,576: Mattel Ghostbusters Ecto Mini Ray Stantz
Day 1,731: Playmobil Ghostbusters 9222 Slimer
Day 1,791: Playmobil Ghostbusters 9221 Stay Puft Marshmallow Man
Day 1,813: Playmobil Ghostbusters 9223 Venkman and Terror Dogs
Day 1,861 Playmobil Ghostbusters 9224 Spengler and Ghost
Day 2,076: Playmobil The Real Ghostbusters 9387 Zeddemore with Aqua Scooter
Day 2,082: Playmobil The Real Ghostbusters 9386 Spengler with Cage Car
Day 2,101: Fisher-Price Imaginext Series 7 Collectible Figures Buster of Ghosts
Day 2,144: The Coop Handmade by Robots Ghostbusters Slimer
Day 2,168: The Coop Handmade by Robots Ghostbusters Stay Puft Marshmallow Man
Day 2,197: Hasbro Transformers x Ghostbusters Collaborative Ectotron Action Figure
Day 2,310: Mattel Ghostbusters Walter Peck Action Figure
Day 2,328: Playmobil The Real Ghostbusters 9388 Stantz with Sky Bike
Day 2,375: Playmobil The Real Ghostbusters 9385 Venkman with Helicopter


Want to buy this figure or others like it? Check Ghostbusters availability at our sponsors:
Entertainment Earth