Rattrap
Debut of Sculpt

Transformers Beast Wars Basic
Item No.: Asst. 80295 No. 80293
Manufacturer: Kenner
Includes: Mini two-piece pistol
Action Feature: Transforms from Rat to robot
Retail: $4.99
Availability: 1996
Other: Repainted as Packrat, and that's about it

PREVIOUS
RSS
NEXT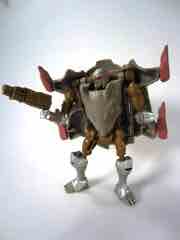 My parents tried to keep me down to just one action figure line in the 1990s, so I didn't get into Beast Wars until college - roughly when Fuzors hit. By then the earlier toys like Rattrap were long gone from stores - toys passed through Arizona quickly - and commanded a premium on eBay. Enterprising fans could get a deal by getting the inexplicably cheaper Japanese releases via GameCave or other importers, or by buying collections on the cheap on eBay. I did both - Rattrap came from a collection. Today a carded sample is pretty expensive, but oddly it's not that much higher than I remember seeing him for in 1999 and 2000.
Standing just over 4-inches tall, it's amazing to think that this one-step conversion figure (yes, they had these before this year's Age of Extinction) is the same height and price as his Star Wars siblings of the time. Rattrap had a gun, could transform, and sported 9 points of articulation in robot mode - these things were so overwhelmingly better than Star Wars it's a wonder that more people didn't jump ship and become big Beast Wars fans. The show was a modest hit and impressive as CG animation on television went, and due to the very limited size of its cast you'd find TV toys like this one got real expensive real fast. There were dozens of toys each year, but the ones people tended to really go for were TV-appearing characters that weren't ants.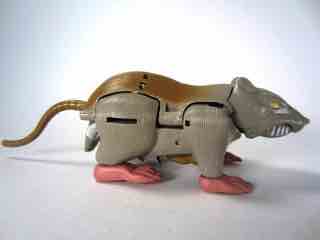 Packaged in beast mode, his rat mode couldn't do much other than move his pink feet. Pull the tail, and the head becomes the chest while the body splits open to reveal the robot inside. Reviews from 1996 were rather down on the simplicity of this feature, but I had always found it to be magical. Part of the experience of thees toys as characters was that they could change form in a blink of an eye - precious few toys could convert quickly, especially today. It was a delight flipping him into his robot mode with exposed brain, red eyes, and limited silver decoration. These earlier toys are so much more simple than today's, but it's worth noting that they were priced accordingly. Collectors demanded better, and got it - but as you can see, it'll cost us.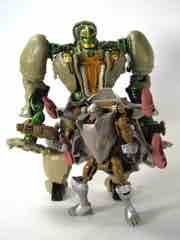 My sample is pushing 18 years old - I've had him since 1999 - and he still stands up perfectly well with nice, stiff joints and no signs of breakage. I assume the spring-loaded transformation would be broken by heavy child use, or that the tiny two-piece gun would be lost or eaten, but mine is A-OK. People always tell me "collectors don't like this or that" but I've always been taken with toys that can be played with and are fun, which this absolutely is. Rattrap is getting a full Generations upgrade to a deluxe price point/size class, which is the first time in the USA you could find a proper Season 1 Rattrap on shelves since, by my count, at least 1996 or 1997. It's about time!
Given the chance to get him cheaply, you should. I insist. You'll like it, it's fun.
--Adam Pawlus
Additional Images

See more Kenner figures in Figure of the Day:
Day 98: Kenner Beast Wars Transformers Noctorro Action Figure
Day 99: Kenner Beast Wars Transformers Air Hammer Action Figure
Day 100: Kenner Beast Wars Transformers Torca Action Figure
Day 101: Kenner Beast Wars Transformers Terragator Action Figure
Day 102: Kenner Beast Wars Transformers Quickstrike Action Figure
Day 114: Kenner Total Justice Mail-In Superman Action Figure
Day 133: Kenner Q*Bert Wind-Up Q*Bert Action Figure
Day 138: Kenner Jurassic Park Chaos Effect Compstegnathus Action Figure
Day 172: Kenner Jurassic Park The Lost World Chasmosaurus Action Figure
Day 195: Kenner ALIENS Arachnid Alien Action Figure
Day 211: Kenner Predator Cracked Tusk Predator Action Figure
Day 234: Kenner ALIENS Scorpion Alien Action Figure
Day 250: Kenner ALIENS Panther Alien Action Figure
Day 256: Kenner ALIENS Gorilla Alien Action Figure
Day 261: Kenner ALIENS Bull Alien Action Figure
Day 285: Kenner ALIENS Hive Wars Warrior Predator
Day 317: Kenner ALIENS vs. Predator 10-Inch Alien Action Figure
Day 346: Kenner Jurassic Park Ian Malcolm Action Figure
Day 356: Kenner Action Masters Predator
Day 359: Kenner ALIENS Hive Wars Acid Alien Action Figure
Day 365: Kenner ALIENS Vasquez Action Figure
Day 366: Kenner Jurassic Park Ellie Sattler Action Figure
Day 381: Kenner ALIENS Action Masters Ripley
Day 397: Kenner ALIENS Mantis Alien
Day 398: Kenner Batman: The Animated Series Clayface
Day 408: Kenner Legends of Batman Future Batman
Day 421: Kenner Bone Age Crag the Clubber Action Figure
Day 437: Kenner SilverHawks Copper Kidd Action Figure
Day 441: Kenner Batman: The Animated Series Harley Quinn
Day 443: Kenner Batman: The Animated Series Machine Gun Joker
Day 444: Kenner Batman: The Animated Movie Mask of the Phantasm Phantasm
Day 446: Kenner Legends of Batman Knightquest Batman
Day 457: Kenner Batman: The Animated Series Ra's Al Ghul
Day 533: Kenner Jurassic Park Chaos Effect Amargospinus
Day 848: Kenner Transformers Beast Wars Terrorsaur
Day 903: Kenner Transformers Beast Wars Rattrap
Day 956: Kenner Transformers Beast Wars Claw Jaw
Day 1,140: Kenner M.A.S.K. T-Bob with Scott Trakker Action Figure
Day 1,180: Kenner Jurassic Park Alan Grant Action Figure
Day 1,198: Kenner Jurassic Park Tim Murphy Action Figure
Day 1,212: Kenner Jurassic Park Chaos Effect Ian Malcolm Action Figure
Day 1,248: Kenner M.A.S.K. Condor with Brad Turner Action Figure
Day 1,445: Kenner Transformers Beast Wars Cybershark
Day 1,452: Kenner Beast Wars Transformers Fuzors Injector
Day 1,486: Kenner Beast Wars Transformers Spittor
Day 2,179: Kenner Aliens Wild Boar Alien Action Figure
Day 2,190: Kenner Batman: The Dark Knight Collection Tec-Shield Batman Action Figure
Day 2,199: Kenner Batman Returns Penguin Commandos Action Figures
Day 2,217: Kenner Batman: The Dark Knight Collection Iron Winch Batman Action Figure
Day 2,622: Kenner Batman: The Animated Series Killer Croc Action Figure
Day 2,645: Kenner Batman: The Animated Series The Riddler Action Figure

Click here to see more Transformers figures in Figure of the Day.

Want to buy this figure? Check Transformers availability at our sponsors:
Entertainment Earth