Air Hammer
Hammerhead Eagle

Beast Wars Transformers Fuzors Basic Figures
Item No.: Asst. ??? No. ???
Manufacturer: Kenner
Includes: n/a
Action Feature: Spring-loaded mouth/hand
Retail: $4.99
Availability: 1998
Other: Never repainted, not sold in Japan, and danged ugly

PREVIOUS
RSS
NEXT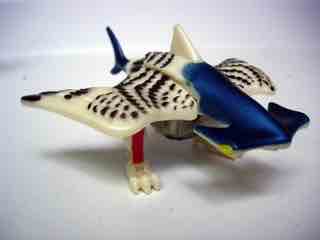 Rather than tackle real-world creatures-- of which there are many-- that have never appeared in Beast Wars, Hasbro opted to start their own robo mash-up and gave us figures like Air Hammer. While it can never be certain if a designer lost a bet or won one, one thing is for sure: if a hammerhead shark ever mates with an eagle, it's not going to look very majestic.
One of the neater things about this particular creation is that it serves as a reminder when Kenner, not Hasbro, was the name on the boxes and those designers would try all sorts of wacky ideas. Since the Beast era ended, very few of the toys under the Transformers brand could be called genuinely weird because there just isn't much you can do to really freak out a kid who's going to buy a vehicle that turns into a robot. Heck, you wouldn't think there would be any weirdness with animals either, but here it is! The metallic blue head and tail on this feathered fellow really shine, quite literally. The off-white plastic looks almost like glow-in-the-dark without actually doing much glowing in the dark, and Kenner added various paint details on the feathers to help bring them to life. While in the beast mode, the figure has articulated feet and a nifty spring-loaded jaw which becomes the robot's right hand.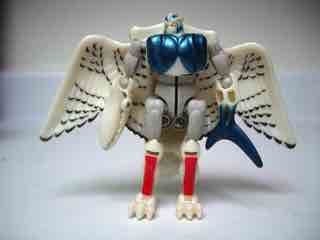 To convert the abomination of science into what could loosely be called a robot, it's pretty easy-- rotate down the legs, move up the torso, fold back the head, say a few words, and presto-- robot thing. While the head has little yellow eyes, very little about this toy figure reads as a robot-- if anything, it looks more like a mutant of some sort that might be more at home in a sewer with ninjas. The articulation, while good, isn't as good as some other figures as the ankle joints are hinges and not ball-and-sockets, and the hands are... well, not really hands. One is the opening spring-loaded mouth of the creature, while the other is its tail, and the tail isn't really anything like a hand, or a claw. It's a tail on an arm.
I can't deny that the sculptors did a nice job and that, on the whole, a fairly durable toy exists in Air Hammer. But the thing is just so damn ugly, and it's worth noting on our sample (and the other one I've seen) the crotch doesn't quite peg together nicely, leaving a bit of a gap. Packaged samples of this figure actually go for a little above retail, which is surprising given that it's just plain bizarre. For this reason, I'd say consider getting one-- but don't overpay for it, I don't think it's necessarily worth a premium price but for $5 or so you'll likely get some fun out of it. (Or get to make some fun of it.)
--Adam Pawlus
Additional Images

See more Kenner figures in Figure of the Day:
Day 98: Kenner Beast Wars Transformers Noctorro Action Figure
Day 99: Kenner Beast Wars Transformers Air Hammer Action Figure
Day 100: Kenner Beast Wars Transformers Torca Action Figure
Day 101: Kenner Beast Wars Transformers Terragator Action Figure
Day 102: Kenner Beast Wars Transformers Quickstrike Action Figure
Day 114: Kenner Total Justice Mail-In Superman Action Figure
Day 133: Kenner Q*Bert Wind-Up Q*Bert Action Figure
Day 138: Kenner Jurassic Park Chaos Effect Compstegnathus Action Figure
Day 172: Kenner Jurassic Park The Lost World Chasmosaurus Action Figure
Day 195: Kenner ALIENS Arachnid Alien Action Figure
Day 211: Kenner Predator Cracked Tusk Predator Action Figure
Day 234: Kenner ALIENS Scorpion Alien Action Figure
Day 250: Kenner ALIENS Panther Alien Action Figure
Day 256: Kenner ALIENS Gorilla Alien Action Figure
Day 261: Kenner ALIENS Bull Alien Action Figure
Day 285: Kenner ALIENS Hive Wars Warrior Predator
Day 317: Kenner ALIENS vs. Predator 10-Inch Alien Action Figure
Day 346: Kenner Jurassic Park Ian Malcolm Action Figure
Day 356: Kenner Action Masters Predator
Day 359: Kenner ALIENS Hive Wars Acid Alien Action Figure
Day 365: Kenner ALIENS Vasquez Action Figure
Day 366: Kenner Jurassic Park Ellie Sattler Action Figure
Day 381: Kenner ALIENS Action Masters Ripley
Day 397: Kenner ALIENS Mantis Alien
Day 398: Kenner Batman: The Animated Series Clayface
Day 408: Kenner Legends of Batman Future Batman
Day 421: Kenner Bone Age Crag the Clubber Action Figure
Day 437: Kenner SilverHawks Copper Kidd Action Figure
Day 441: Kenner Batman: The Animated Series Harley Quinn
Day 443: Kenner Batman: The Animated Series Machine Gun Joker
Day 444: Kenner Batman: The Animated Movie Mask of the Phantasm Phantasm
Day 446: Kenner Legends of Batman Knightquest Batman
Day 457: Kenner Batman: The Animated Series Ra's Al Ghul
Day 533: Kenner Jurassic Park Chaos Effect Amargospinus
Day 848: Kenner Transformers Beast Wars Terrorsaur
Day 903: Kenner Transformers Beast Wars Rattrap
Day 956: Kenner Transformers Beast Wars Claw Jaw
Day 1,140: Kenner M.A.S.K. T-Bob with Scott Trakker Action Figure
Day 1,180: Kenner Jurassic Park Alan Grant Action Figure
Day 1,198: Kenner Jurassic Park Tim Murphy Action Figure
Day 1,212: Kenner Jurassic Park Chaos Effect Ian Malcolm Action Figure
Day 1,248: Kenner M.A.S.K. Condor with Brad Turner Action Figure
Day 1,445: Kenner Transformers Beast Wars Cybershark
Day 1,452: Kenner Beast Wars Transformers Fuzors Injector
Day 1,486: Kenner Beast Wars Transformers Spittor
Day 2,179: Kenner Aliens Wild Boar Alien Action Figure
Day 2,190: Kenner Batman: The Dark Knight Collection Tec-Shield Batman Action Figure
Day 2,199: Kenner Batman Returns Penguin Commandos Action Figures
Day 2,217: Kenner Batman: The Dark Knight Collection Iron Winch Batman Action Figure
Day 2,622: Kenner Batman: The Animated Series Killer Croc Action Figure
Day 2,645: Kenner Batman: The Animated Series The Riddler Action Figure

Click here to see more Transformers figures in Figure of the Day.

Want to buy this figure? Check Transformers availability at our sponsors:
Entertainment Earth