Warrior Predator
Kay-Bee Exclusive Figure Line

ALIENS Hive Wars Action Figures
Item No.: Asst. unknown No. unknown
Manufacturer: Kenner
Includes: Mask, pole weapon
Action Feature: Articulated jaw
Retail: $5.99
Availability: 1998
Other: Surprisingly movie-esque

PREVIOUS
RSS
NEXT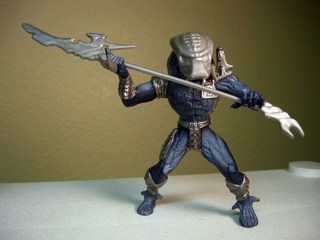 Before heavies like NECA and McFarlane Toys had the license, Kenner ruled the license roost with ALIENS, Predator, and their last .shtml ALIENS Hive Wars. The line was made of some leftover molds and had other items on deck, but its status as one of many Kay-Bee exclusive lines which were effectively dumped meant that this swell Warrior Predator was in short supply. Oh, and like most Kay-Bee exclusives, the coloring was pretty funky.
At about 6-inches tall, the Warrior Predator had blue skin. Not like dark blue skin, but a few notches darker than a baby blue one. All things said it's a weird choice, but the color scheme basically looks neat with silver armor and piercing green eyes, peppered by white fangs and tusks. It's a fearsome beast, and one that would have undoubtedly been cooler had it been painted differently. The mold itself is pretty neat, and a shining example of what Kenner was moving toward in the late 1990s-- statue-like poses, 5 points of articulation, and some nifty large weapons. This is not a figure designed to do much sitting, he is effectively a well-made statue for kids. You'll have no problems posing him or getting him to hang on to his weapon, but it can be a little awkward to get him standing just so. He will stand, though.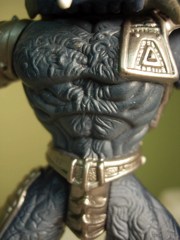 As one of the final two Kenner Predator molds at retail, this one erred on the side of being vaguely movie-friendly. If this guy (in different colors) showed up to fight Topher Grace, you probably wouldn't balk at it. His sibling in the line had an extremely large jaw, and an unreleased future figure would have sported four arms-- it was on the fast track to being a delightfully goofy toy line.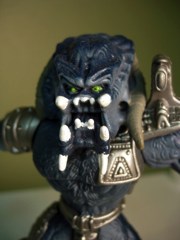 The neatest feature about this particular figure was its articulated jaw, which does a nice job of approximating the creature's striking mandibles. The lower jaw is hinged and can open quite wide (see below), although it doesn't seem designed to chomp on anything in particular. Still, it's fun to play with. The figure's helmet basically sits on the forehead of the creature, although there are holes for posts next to his jaw, under his dreadlocks. The helmet has no such posts, so the reasoning behind the holes is unknown-- unless he was designed for another mask, of course, in which case oh well.
Due to the figure's strong sculpt, I ran out to get one when it was first released and sadly did not buy the other ALIENS Hive Wars toys, although I had always meant to go back to get them eventually. Today it's worth $7-$12, making it pretty inexpensive for the new collector. Unless you've got a strong love of the bizarre, you might want to pass on this one. Although if you're a customizer, I would personally like to implore you to buy one, repaint it, and show me what you come up with. It's a really strong design with a great sculpt, and aside from suffering from frostbite it may be one of Kenner's most fun designs from the line.
--Adam Pawlus
Additional Images

See more Kenner figures in Figure of the Day:
Day 98: Kenner Beast Wars Transformers Noctorro Action Figure
Day 99: Kenner Beast Wars Transformers Air Hammer Action Figure
Day 100: Kenner Beast Wars Transformers Torca Action Figure
Day 101: Kenner Beast Wars Transformers Terragator Action Figure
Day 102: Kenner Beast Wars Transformers Quickstrike Action Figure
Day 114: Kenner Total Justice Mail-In Superman Action Figure
Day 133: Kenner Q*Bert Wind-Up Q*Bert Action Figure
Day 138: Kenner Jurassic Park Chaos Effect Compstegnathus Action Figure
Day 172: Kenner Jurassic Park The Lost World Chasmosaurus Action Figure
Day 195: Kenner ALIENS Arachnid Alien Action Figure
Day 211: Kenner Predator Cracked Tusk Predator Action Figure
Day 234: Kenner ALIENS Scorpion Alien Action Figure
Day 250: Kenner ALIENS Panther Alien Action Figure
Day 256: Kenner ALIENS Gorilla Alien Action Figure
Day 261: Kenner ALIENS Bull Alien Action Figure
Day 285: Kenner ALIENS Hive Wars Warrior Predator
Day 317: Kenner ALIENS vs. Predator 10-Inch Alien Action Figure
Day 346: Kenner Jurassic Park Ian Malcolm Action Figure
Day 356: Kenner Action Masters Predator
Day 359: Kenner ALIENS Hive Wars Acid Alien Action Figure
Day 365: Kenner ALIENS Vasquez Action Figure
Day 366: Kenner Jurassic Park Ellie Sattler Action Figure
Day 381: Kenner ALIENS Action Masters Ripley
Day 397: Kenner ALIENS Mantis Alien
Day 398: Kenner Batman: The Animated Series Clayface
Day 408: Kenner Legends of Batman Future Batman
Day 421: Kenner Bone Age Crag the Clubber Action Figure
Day 437: Kenner SilverHawks Copper Kidd Action Figure
Day 441: Kenner Batman: The Animated Series Harley Quinn
Day 443: Kenner Batman: The Animated Series Machine Gun Joker
Day 444: Kenner Batman: The Animated Movie Mask of the Phantasm Phantasm
Day 446: Kenner Legends of Batman Knightquest Batman
Day 457: Kenner Batman: The Animated Series Ra's Al Ghul
Day 533: Kenner Jurassic Park Chaos Effect Amargospinus
Day 848: Kenner Transformers Beast Wars Terrorsaur
Day 903: Kenner Transformers Beast Wars Rattrap
Day 956: Kenner Transformers Beast Wars Claw Jaw
Day 1,140: Kenner M.A.S.K. T-Bob with Scott Trakker Action Figure
Day 1,180: Kenner Jurassic Park Alan Grant Action Figure
Day 1,198: Kenner Jurassic Park Tim Murphy Action Figure
Day 1,212: Kenner Jurassic Park Chaos Effect Ian Malcolm Action Figure
Day 1,248: Kenner M.A.S.K. Condor with Brad Turner Action Figure
Day 1,445: Kenner Transformers Beast Wars Cybershark
Day 1,452: Kenner Beast Wars Transformers Fuzors Injector
Day 1,486: Kenner Beast Wars Transformers Spittor
Day 2,179: Kenner Aliens Wild Boar Alien Action Figure
Day 2,190: Kenner Batman: The Dark Knight Collection Tec-Shield Batman Action Figure
Day 2,199: Kenner Batman Returns Penguin Commandos Action Figures
Day 2,217: Kenner Batman: The Dark Knight Collection Iron Winch Batman Action Figure
Day 2,622: Kenner Batman: The Animated Series Killer Croc Action Figure
Day 2,645: Kenner Batman: The Animated Series The Riddler Action Figure

See more Predator figures in Figure of the Day:
Day 211: Kenner Predator Cracked Tusk Predator Action Figure
Day 285: Kenner ALIENS Hive Wars Warrior Predator
Day 356: Kenner Action Masters Predator
Day 945: Super7 x Funko Predator (Invisible, Bloody) Action Figure
Day 1,029: Super7 x Funko Predator (Attack Mode) ReAction Figure
Day 1,059: Funko Predator (Masked) ReAction Figure
Day 1,102: Funko Predator (Unmasked) ReAction Figure
Day 1,111: Funko Predator (Glow Version) ReAction Figure
Day 1,187: Funko Predator (Invisible) ReAction Figure
Day 1,208: Funko Predator (Thermal Vision) ReAction Figure
Day 1,350: Funko Hikari Vinyl Predator Original Predator Unmasked
Day 1,929: Titan Merchandise Alien vs. Predator The Whoever Wins Collection Scar
Day 2,162: NECA Predator Classics Series Berserker Predator Action Figure
Day 2,278: Lanard Toy Predator 7-Inch Jungle Hunter Predator Action Figure
Day 2,286: Lanard Toy Predator 7-Inch City Hunter Predator Action Figure

Want to buy this figure or others like it? Check Predator availability at our sponsors:
Entertainment Earth