Cybershark
Sky-Byte's Ancestor

Transformers Beast Wars Deluxe
Item No.: Asst. 80235 No. 80304
Manufacturer: Kenner
Includes: 2 rockets, shark tail knife, shark head hammer
Action Feature: Transforms from Robot to Hammerhead Shark
Retail: $9.99
Availability: 1996
Other: Retooled to Sharp Edge and Hellscream (Overbite)

PREVIOUS
RSS
NEXT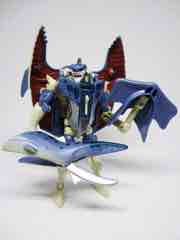 Now roughly 20 years old, the toy for Cybershark holds up well. His head has unusually good paint, the design just plain works, and he walks the fine line of cute and creepy. What's more, you can tell that he's a not-so-distant ancestor of Sky-Byte thanks to that shark's being a redeco of the evolved form of Cybershark - 1998's Transmetals 2 Cybershark. If anything, it seems the Generations Sky-Byte owes a few design cues to this little fellow.
Beast Wars' fame and fortune largely comes from the universal approval of its television program - of which Cybershark was largely absent. The toy really stood out on the shelves and was sadly gone by the time I started buying these toys around 1998 and 1999, but it made a big enough impression that I had to have one. I don't have a lot of hammerhead shark toys, let alone rocket-firing robot ones.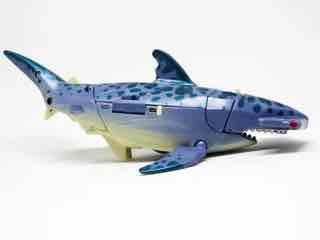 The figure is, for all intents and purposes, a shellformer. The shark's face rockets off - it's a rocket launcher - and you split the body down at the belly. Pop off the tail, and fold out the body - it's pretty simple. You get a robot with about 15 points of articulation, and some of the sharpest deco I've seen from the era. Not only are the eyes and teeth painted, but they have black outlines to bring them to life. The helmet even has metallic blue paint which matches the shark mode. There really aren't any special colors here that you won't find elsewhere on the toy, but it's still impressive.
The tail has a flip-out jagged blade to use as a handheld weapon, and the hammerhead also becomes a handheld weapon of some sort. The rocket launcher now appears as the robot chest, and can flip forward to launch the shark head or one of two exquisitely sculpted rockets. Each rocket is unpainted, but sculpted with tiny details that make it amazing. The fishy fireblast has eyes and gills, in addition to the usual tabs to fit in the launcher to ensure a straight launch. One of the nice things about Beast Wars toys is that on the whole, they were still toys. "Robot changes to creature!" wasn't sufficient - you had automatic transformations, spring-loaded gimmicks, pinching actions, and other forms of play to keep things interesting. Hasbro seems to let those come and go these days, but seeing a toy that works as a toy always makes me happy.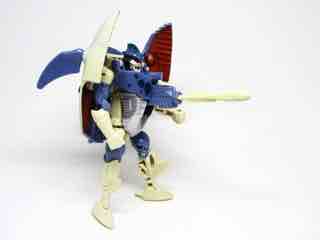 As a shark he's pretty big and solid - but there's not a lot for him to do. Granted, he can do things - he's got ball-jointed fins! Why? I don't know! But he does! The head is spring-loaded and can launch to attack Predacons, just like a real shark. For whatever reason, in the USA the Maximals basically rule the seas - there aren't many aquatic Predacons, even in Japan. (There are, of course, some.) The creature itself isn't an exact replica of the hammerhead shark, but it looks and feels a lot like a 1990s CG recreation of one thanks to the metallic blue spots and sparkly skin. It's worth noting there's a generous application of a cream-colored paint to the belly too. Kenner didn't skimp on this one - and for only ten bucks, it's a good toy even for back then.
Cybershark (and his remolds, Sharp Edge and Hellscream/Overbite) aren't terribly expensive on eBay but it is worth noting that the price range is pretty severe. Patience is rewarded when you look to buy one. I can't say it's a must-buy toy that will change your life, but it's fun and it does things and 20 years on, I still like it. Every Transformers toy should be at least this good.
--Adam Pawlus
Additional Images

See more Kenner figures in Figure of the Day:
Day 98: Kenner Beast Wars Transformers Noctorro Action Figure
Day 99: Kenner Beast Wars Transformers Air Hammer Action Figure
Day 100: Kenner Beast Wars Transformers Torca Action Figure
Day 101: Kenner Beast Wars Transformers Terragator Action Figure
Day 102: Kenner Beast Wars Transformers Quickstrike Action Figure
Day 114: Kenner Total Justice Mail-In Superman Action Figure
Day 133: Kenner Q*Bert Wind-Up Q*Bert Action Figure
Day 138: Kenner Jurassic Park Chaos Effect Compstegnathus Action Figure
Day 172: Kenner Jurassic Park The Lost World Chasmosaurus Action Figure
Day 195: Kenner ALIENS Arachnid Alien Action Figure
Day 211: Kenner Predator Cracked Tusk Predator Action Figure
Day 234: Kenner ALIENS Scorpion Alien Action Figure
Day 250: Kenner ALIENS Panther Alien Action Figure
Day 256: Kenner ALIENS Gorilla Alien Action Figure
Day 261: Kenner ALIENS Bull Alien Action Figure
Day 285: Kenner ALIENS Hive Wars Warrior Predator
Day 317: Kenner ALIENS vs. Predator 10-Inch Alien Action Figure
Day 346: Kenner Jurassic Park Ian Malcolm Action Figure
Day 356: Kenner Action Masters Predator
Day 359: Kenner ALIENS Hive Wars Acid Alien Action Figure
Day 365: Kenner ALIENS Vasquez Action Figure
Day 366: Kenner Jurassic Park Ellie Sattler Action Figure
Day 381: Kenner ALIENS Action Masters Ripley
Day 397: Kenner ALIENS Mantis Alien
Day 398: Kenner Batman: The Animated Series Clayface
Day 408: Kenner Legends of Batman Future Batman
Day 421: Kenner Bone Age Crag the Clubber Action Figure
Day 437: Kenner SilverHawks Copper Kidd Action Figure
Day 441: Kenner Batman: The Animated Series Harley Quinn
Day 443: Kenner Batman: The Animated Series Machine Gun Joker
Day 444: Kenner Batman: The Animated Movie Mask of the Phantasm Phantasm
Day 446: Kenner Legends of Batman Knightquest Batman
Day 457: Kenner Batman: The Animated Series Ra's Al Ghul
Day 533: Kenner Jurassic Park Chaos Effect Amargospinus
Day 848: Kenner Transformers Beast Wars Terrorsaur
Day 903: Kenner Transformers Beast Wars Rattrap
Day 956: Kenner Transformers Beast Wars Claw Jaw
Day 1,140: Kenner M.A.S.K. T-Bob with Scott Trakker Action Figure
Day 1,180: Kenner Jurassic Park Alan Grant Action Figure
Day 1,198: Kenner Jurassic Park Tim Murphy Action Figure
Day 1,212: Kenner Jurassic Park Chaos Effect Ian Malcolm Action Figure
Day 1,248: Kenner M.A.S.K. Condor with Brad Turner Action Figure
Day 1,445: Kenner Transformers Beast Wars Cybershark
Day 1,452: Kenner Beast Wars Transformers Fuzors Injector
Day 1,486: Kenner Beast Wars Transformers Spittor
Day 2,179: Kenner Aliens Wild Boar Alien Action Figure
Day 2,190: Kenner Batman: The Dark Knight Collection Tec-Shield Batman Action Figure
Day 2,199: Kenner Batman Returns Penguin Commandos Action Figures
Day 2,217: Kenner Batman: The Dark Knight Collection Iron Winch Batman Action Figure
Day 2,622: Kenner Batman: The Animated Series Killer Croc Action Figure
Day 2,645: Kenner Batman: The Animated Series The Riddler Action Figure

Click here to see more Transformers figures in Figure of the Day.

Want to buy this figure? Check Transformers availability at our sponsors:
Entertainment Earth