Cracked Tusk Predator
The Ultimate Alien Hunter

Predator Action Figures
Item No.: Asst. n/a No. 65716
Manufacturer: Kenner
Includes: Shoulder-mounted rocket launcher, rocket, mask
Action Feature: Spring-loaded rocket
Retail: $5.99
Availability: ca. 1993
Other: Later repainted as "Lava Planet Predator" figure

PREVIOUS
RSS
NEXT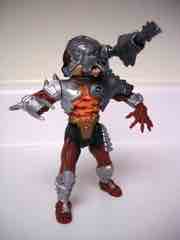 For some odd reason Kenner picked up the Aliens license in the 1990s, after a reportedly not-so-great run with the original Alien in the 1970s. The first year saw great success with the monsters but weak sales on the human Space Marines, so Predator was brought in to pick up the slack-- and even though Dutch was listed as a planned character for the line, Kenner opted to focus on the monstrous alien hunters instead, drawing mostly from their own sketchbooks with few exceptions. The Cracked Tusk Predator is truly a product of his times, the 1990s Kenner house style of 5 points of articulation with a muscular, stylized pose shows the influences of Teenage Mutant Ninja Turtles and, to some extent, Street Fighter II. Toys were increasingly "extreme" in color and attitude, although Kenner did seem to drop the bizarre neon and pastel palette we saw heaped upon G.I. Joe and Transformers around this time. Heck, nobody thought anything of making big toy lines aimed squarely at kids based on R-rated film franchises many of their parents wouldn't let them see. It was an amazing time to be alive.
At about 6-inches tall, the Cracked Tusk Predator towered over other Kenner human figures and was sufficiently menacing and taller than the humans previously released under the Aliens brand. Inspired by the flavor of a "Broken Tusk" Predator character in the Aliens Versus Predator comic books he had lots of silver armor with greaves and gauntlets. The swell knives coming out of his right wrist much like Vega in Street Fighter II and the movies seemed to be in league with other toys and characters of the day, giving the guy a comically brutal appearance. Kenner really started pushing the envelope with dynamic sculpting around this time, so the figure has action-posed arms and legs and one of the hands had spread-out fingers that were a real departure from the standing-at-attention Batman figures from the first few years of the decade. With fists unable to hold weapons, Kenner sculpted a shoulder-mounted weapon which snaps onto the body which seamlessly integrated some pegs to connect the harness, while the rocket gets some pretty good distance on it when you push down the button. I'm happy with this piece.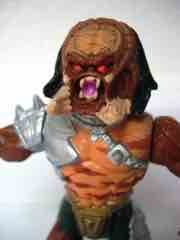 This figure debuted as part of the first wave of Predators, alongside an infamous Alien vs. Predator 2-pack, a Scavage Predator, and a mail-in Ambush Predator. Others would follow, but not too many as the line seemed to lose steam pretty quickly as the two film franchises dwindled quite a bit and kids were slow to latch on to the versus team-up idea inspired by Dark Horse Comics' various books. It may have had something to do with the fact this guy looked nothing like the movies in any truly authentic sense-- sure, the inspiration is obvious, but giant tusks, different coloring, and bizarro gear tended to irritate toy collectors back then much like it does now. It made for a better toy, no question about it, but that doesn't mean you could go to any venue where collectors collected and not hear the complaints. Much of this line of creativity came out of Batman, which Kenner managed to expand to a couple hundred action figures during its time with the license.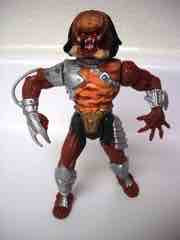 He can stand, he can sit, and he can stab-- sort of. Star Wars was still a couple of years off, so Predator as a sci-fi toy franchise was important stuff in those days. Only a handful of figure sculpts made it out, some of which were legendarily hard to find, but its debut in the 1990s was a really exciting time to be in the toy world. Just because your movie had only one or two memorable creatures meant nothing, Kenner could still craft a diverse and extensive line of toys based on it with vehicles or playsets or whatever it saw fit. There were some real talents working there in those days, and that mentality faded away as Star Wars took over the boy's toy business and by the time the Kenner brand name was largely phased out in 1999, the notion of a line like this-- with original designs, limited articulation, and fun (working) action features-- was something collectors were sadly in a big rush to leave in the past. The Alien and Predator characters rode off into the sunset with the Aliens Hive Wars line around 1999, which was another in a series of Kay-Bee exclusive lines of weird Kenner figure repaints-- except this one actually had new molds in it.
With the endless supply of new figures every month it may be tough to suggest you go back and grab this guy, or his cohorts, but they're fun, cool, and cheap. He's worth three or four bucks-- why not get him? If you can find one for $5 or less, especially packaged, just buy it. You're welcome. I can't say I ultimately understand why Kenner (and then Hasbro) abandoned this aesthetic in favor of the evolving look which became the super-articulated 3 3/4-inch figure, as this kind of bigger, less poseable figure is undoubtedly cheaper to produce. If I could waltz into Wal-Mart and get Thor, Captain America, Green Lantern, or especially Predators movie figures in this style I'd have absolutely sprang for a few, instead of the none I have purchased thus far.
--Adam Pawlus
Additional Images

See more Kenner figures in Figure of the Day:
Day 98: Kenner Beast Wars Transformers Noctorro Action Figure
Day 99: Kenner Beast Wars Transformers Air Hammer Action Figure
Day 100: Kenner Beast Wars Transformers Torca Action Figure
Day 101: Kenner Beast Wars Transformers Terragator Action Figure
Day 102: Kenner Beast Wars Transformers Quickstrike Action Figure
Day 114: Kenner Total Justice Mail-In Superman Action Figure
Day 133: Kenner Q*Bert Wind-Up Q*Bert Action Figure
Day 138: Kenner Jurassic Park Chaos Effect Compstegnathus Action Figure
Day 172: Kenner Jurassic Park The Lost World Chasmosaurus Action Figure
Day 195: Kenner ALIENS Arachnid Alien Action Figure
Day 211: Kenner Predator Cracked Tusk Predator Action Figure
Day 234: Kenner ALIENS Scorpion Alien Action Figure
Day 250: Kenner ALIENS Panther Alien Action Figure
Day 256: Kenner ALIENS Gorilla Alien Action Figure
Day 261: Kenner ALIENS Bull Alien Action Figure
Day 285: Kenner ALIENS Hive Wars Warrior Predator
Day 317: Kenner ALIENS vs. Predator 10-Inch Alien Action Figure
Day 346: Kenner Jurassic Park Ian Malcolm Action Figure
Day 356: Kenner Action Masters Predator
Day 359: Kenner ALIENS Hive Wars Acid Alien Action Figure
Day 365: Kenner ALIENS Vasquez Action Figure
Day 366: Kenner Jurassic Park Ellie Sattler Action Figure
Day 381: Kenner ALIENS Action Masters Ripley
Day 397: Kenner ALIENS Mantis Alien
Day 398: Kenner Batman: The Animated Series Clayface
Day 408: Kenner Legends of Batman Future Batman
Day 421: Kenner Bone Age Crag the Clubber Action Figure
Day 437: Kenner SilverHawks Copper Kidd Action Figure
Day 441: Kenner Batman: The Animated Series Harley Quinn
Day 443: Kenner Batman: The Animated Series Machine Gun Joker
Day 444: Kenner Batman: The Animated Movie Mask of the Phantasm Phantasm
Day 446: Kenner Legends of Batman Knightquest Batman
Day 457: Kenner Batman: The Animated Series Ra's Al Ghul
Day 533: Kenner Jurassic Park Chaos Effect Amargospinus
Day 848: Kenner Transformers Beast Wars Terrorsaur
Day 903: Kenner Transformers Beast Wars Rattrap
Day 956: Kenner Transformers Beast Wars Claw Jaw
Day 1,140: Kenner M.A.S.K. T-Bob with Scott Trakker Action Figure
Day 1,180: Kenner Jurassic Park Alan Grant Action Figure
Day 1,198: Kenner Jurassic Park Tim Murphy Action Figure
Day 1,212: Kenner Jurassic Park Chaos Effect Ian Malcolm Action Figure
Day 1,248: Kenner M.A.S.K. Condor with Brad Turner Action Figure
Day 1,445: Kenner Transformers Beast Wars Cybershark
Day 1,452: Kenner Beast Wars Transformers Fuzors Injector
Day 1,486: Kenner Beast Wars Transformers Spittor
Day 2,179: Kenner Aliens Wild Boar Alien Action Figure
Day 2,190: Kenner Batman: The Dark Knight Collection Tec-Shield Batman Action Figure
Day 2,199: Kenner Batman Returns Penguin Commandos Action Figures
Day 2,217: Kenner Batman: The Dark Knight Collection Iron Winch Batman Action Figure
Day 2,622: Kenner Batman: The Animated Series Killer Croc Action Figure
Day 2,645: Kenner Batman: The Animated Series The Riddler Action Figure

See more Predator figures in Figure of the Day:
Day 211: Kenner Predator Cracked Tusk Predator Action Figure
Day 285: Kenner ALIENS Hive Wars Warrior Predator
Day 356: Kenner Action Masters Predator
Day 945: Super7 x Funko Predator (Invisible, Bloody) Action Figure
Day 1,029: Super7 x Funko Predator (Attack Mode) ReAction Figure
Day 1,059: Funko Predator (Masked) ReAction Figure
Day 1,102: Funko Predator (Unmasked) ReAction Figure
Day 1,111: Funko Predator (Glow Version) ReAction Figure
Day 1,187: Funko Predator (Invisible) ReAction Figure
Day 1,208: Funko Predator (Thermal Vision) ReAction Figure
Day 1,350: Funko Hikari Vinyl Predator Original Predator Unmasked
Day 1,929: Titan Merchandise Alien vs. Predator The Whoever Wins Collection Scar
Day 2,162: NECA Predator Classics Series Berserker Predator Action Figure
Day 2,278: Lanard Toy Predator 7-Inch Jungle Hunter Predator Action Figure
Day 2,286: Lanard Toy Predator 7-Inch City Hunter Predator Action Figure

Want to buy this figure or others like it? Check Predator availability at our sponsors:
Entertainment Earth