Predator
It won't bleed, you can't kill it

Action Masters Die-Cast Metal Figure
Item No.: n/a
Manufacturer: Kenner
Includes: Trading card
Action Feature: Spring-loaded rocket
Retail: $2.99
Availability: ca. Summer 1993
Other: The only Predator figure in this line

PREVIOUS
RSS
NEXT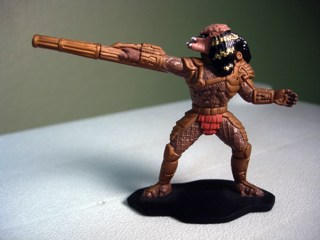 The 1990s were an amazing time to be alive if you liked toys. Things really changed in a big way-- you had the innovation of the 1980s slowly running out, while the nostalgia-fueled 2000s were being foreshadowed against a backdrop of familiar and beloved licenses. Were these toys for kids or adults? It was tough to tell, especially when Kenner put out Action Masters. The Predator was one of several creations in the line, which spanned films like Terminator 2, ALIENS, and of course, Star Wars. This 2 1/2-inch tall collectible figure comprised the entire Predator range for Action Masters, so he'd need some Xenomorphs to fight.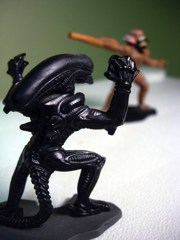 Being short, the figure has to look good. Even in 1994, I knew it looked OK-- today it doesn't seem to have aged too well. The sculpted detail on the body is actually quite decent, but the pointer in his hand, his pose, and the fact that his head is plastic doesn't sit well with me. Die-cast metal is fantastic for cars or miniatures, but when we get into larger-sized mini-figures, well, it's a little disappointing. The body can hold a lot of detail, but when you get right down to it this was a descendant of a pre-posed plastic solider. It has a base, and it can stand around. And that's it.
This line was test-marketed in the midwest, which resulted in some rare pieces and some variations. Well, in some lines, not so much for the Predator which actually shipped widely and was common as this line goes. It was a cheap toy then, and today it's still pretty cheap-- you should be able to get it for a buck or two, which is a shame as this line was actually pretty neat when you get right down to it. Think of it like McFarlane Toys' Movie Maniacs, but smaller, cheaper, and with less-terrifying characters.
I liked Action Masters and bought a lot of them. This was a great snapshot of Kenner going from the early 1990s when we saw Terminator and ALIENS, and the late 1990s when Star Wars ruled the roost. Actually, this line had Kenner's first Darth Vader and Luke Skywalker in years, heralding the coming of a toy company that makes fantastic stuff, but has definitely grabbed on to the myth that the future will be entirely within licensed properties. It's a nice enough line of mini figures, and seems tailor-made for desks across America. I'd love to see another company try a similar line-- small, cheap display figures-- but my guess is that as manufacturing prices in China increase, the very notion of being able to buy a licensed toy for under $5 is going to be increasingly unlikely. So go get these on eBay, they're cheap and neat and you'll probably like them.
Hasbro (who bought Kenner) would return to licensed sci-fi die-cast figures with Titanium Series in 2005, eventually spawning Star Wars and Battlestar Galactica figures. Ultimately, Action Masters were a better, more varied line. The Titanium Series 3 3/4-inch figures were around $15, but the 3-inch robot figures for Transformers were a pretty fair $5 a pop. And yes, we'll be looking at those soon too.
--Adam Pawlus
Additional Images

See more Kenner figures in Figure of the Day:
Day 98: Kenner Beast Wars Transformers Noctorro Action Figure
Day 99: Kenner Beast Wars Transformers Air Hammer Action Figure
Day 100: Kenner Beast Wars Transformers Torca Action Figure
Day 101: Kenner Beast Wars Transformers Terragator Action Figure
Day 102: Kenner Beast Wars Transformers Quickstrike Action Figure
Day 114: Kenner Total Justice Mail-In Superman Action Figure
Day 133: Kenner Q*Bert Wind-Up Q*Bert Action Figure
Day 138: Kenner Jurassic Park Chaos Effect Compstegnathus Action Figure
Day 172: Kenner Jurassic Park The Lost World Chasmosaurus Action Figure
Day 195: Kenner ALIENS Arachnid Alien Action Figure
Day 211: Kenner Predator Cracked Tusk Predator Action Figure
Day 234: Kenner ALIENS Scorpion Alien Action Figure
Day 250: Kenner ALIENS Panther Alien Action Figure
Day 256: Kenner ALIENS Gorilla Alien Action Figure
Day 261: Kenner ALIENS Bull Alien Action Figure
Day 285: Kenner ALIENS Hive Wars Warrior Predator
Day 317: Kenner ALIENS vs. Predator 10-Inch Alien Action Figure
Day 346: Kenner Jurassic Park Ian Malcolm Action Figure
Day 356: Kenner Action Masters Predator
Day 359: Kenner ALIENS Hive Wars Acid Alien Action Figure
Day 365: Kenner ALIENS Vasquez Action Figure
Day 366: Kenner Jurassic Park Ellie Sattler Action Figure
Day 381: Kenner ALIENS Action Masters Ripley
Day 397: Kenner ALIENS Mantis Alien
Day 398: Kenner Batman: The Animated Series Clayface
Day 408: Kenner Legends of Batman Future Batman
Day 421: Kenner Bone Age Crag the Clubber Action Figure
Day 437: Kenner SilverHawks Copper Kidd Action Figure
Day 441: Kenner Batman: The Animated Series Harley Quinn
Day 443: Kenner Batman: The Animated Series Machine Gun Joker
Day 444: Kenner Batman: The Animated Movie Mask of the Phantasm Phantasm
Day 446: Kenner Legends of Batman Knightquest Batman
Day 457: Kenner Batman: The Animated Series Ra's Al Ghul
Day 533: Kenner Jurassic Park Chaos Effect Amargospinus
Day 848: Kenner Transformers Beast Wars Terrorsaur
Day 903: Kenner Transformers Beast Wars Rattrap
Day 956: Kenner Transformers Beast Wars Claw Jaw
Day 1,140: Kenner M.A.S.K. T-Bob with Scott Trakker Action Figure
Day 1,180: Kenner Jurassic Park Alan Grant Action Figure
Day 1,198: Kenner Jurassic Park Tim Murphy Action Figure
Day 1,212: Kenner Jurassic Park Chaos Effect Ian Malcolm Action Figure
Day 1,248: Kenner M.A.S.K. Condor with Brad Turner Action Figure
Day 1,445: Kenner Transformers Beast Wars Cybershark
Day 1,452: Kenner Beast Wars Transformers Fuzors Injector
Day 1,486: Kenner Beast Wars Transformers Spittor
Day 2,179: Kenner Aliens Wild Boar Alien Action Figure
Day 2,190: Kenner Batman: The Dark Knight Collection Tec-Shield Batman Action Figure
Day 2,199: Kenner Batman Returns Penguin Commandos Action Figures
Day 2,217: Kenner Batman: The Dark Knight Collection Iron Winch Batman Action Figure
Day 2,622: Kenner Batman: The Animated Series Killer Croc Action Figure
Day 2,645: Kenner Batman: The Animated Series The Riddler Action Figure

See more Predator figures in Figure of the Day:
Day 211: Kenner Predator Cracked Tusk Predator Action Figure
Day 285: Kenner ALIENS Hive Wars Warrior Predator
Day 356: Kenner Action Masters Predator
Day 945: Super7 x Funko Predator (Invisible, Bloody) Action Figure
Day 1,029: Super7 x Funko Predator (Attack Mode) ReAction Figure
Day 1,059: Funko Predator (Masked) ReAction Figure
Day 1,102: Funko Predator (Unmasked) ReAction Figure
Day 1,111: Funko Predator (Glow Version) ReAction Figure
Day 1,187: Funko Predator (Invisible) ReAction Figure
Day 1,208: Funko Predator (Thermal Vision) ReAction Figure
Day 1,350: Funko Hikari Vinyl Predator Original Predator Unmasked
Day 1,929: Titan Merchandise Alien vs. Predator The Whoever Wins Collection Scar
Day 2,162: NECA Predator Classics Series Berserker Predator Action Figure
Day 2,278: Lanard Toy Predator 7-Inch Jungle Hunter Predator Action Figure
Day 2,286: Lanard Toy Predator 7-Inch City Hunter Predator Action Figure

Want to buy this figure or others like it? Check Predator availability at our sponsors:
Entertainment Earth