Bebop
Inspired By The Original TMNT Animated Series

Teenage Mutant Ninja Turtles Classics Action Figure
Item No.: Asst. 91080 No. 91087
Manufacturer: Playmates
Includes: Gun, sewer stand
Action Feature: n/a
Retail: $19.99
Availability: November 2013
Other: Toys R Us claims exclusivity, this does not appear to be accurate

PREVIOUS
RSS
NEXT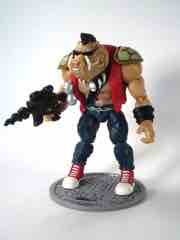 The announcement of Teenage Mutant Ninja Turtles Classic Collection had me excited - these are the only new Turtles I buy. I snagged all four last year and eagerly awaited a new version of The Shredder which never came. Over a year later, despite samples floating around for months, Bebop and Rocksteady finally hit Toys R Us stores at a markup I can't say I'm too jazzed about. $20 each? Seems high. However, they're making these so hard to get that I have to assume that Playmates has decided that they're going to make collectors pay for allowing previous collector lines to languish on shelves. "Suffer, peons!"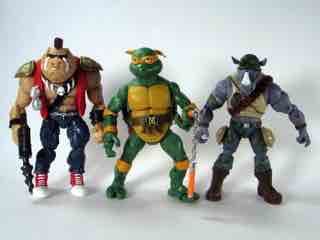 Standing over 6-inches tall, the figure is a bizarre amalgamation of a modern Marvel Legends/Mattel Classics figure and a chunky, squat 1980s action figure. It's also slightly smaller than it should be relative to the green teens, making it a little less threatening and harder to buy as a bad guy. Bebop retains elements of the TV show, but those animation models were a little skinnier and had slightly more human proportions. This version of Bebop barely has a neck, but it does retain the ammo bandolier, red vaguely Chuck Taylor sneakers, and red vest. The pants are the wrong color, but whatever, it's "inspired" by the original TV show and not a direct adaptation. (Otherwise the turtles would look too goofy.) While it's not entirely accurate to any existing incarnation of the character, it does look appropriately close enough to them that I don't think anyone is going to mind too much. Well, except the ponytail - I really do miss that being here. The face doesn't look too close to the toon, but it certainly looks like something that came out of Playmates before 1990. It manages to fail at replicating anything too accurately and what you're left with is a 2010s version of a 1988 figure.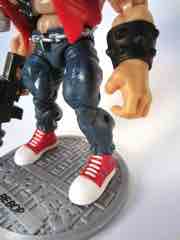 If you're familiar with many of the twisted and grotesque animal-based toys from Playmates, this figure seems to recall that more than anything I've seen of the character. I've read the Archie TMNT comics, and this doesn't look a thing like any of those... or of the video games... or of the toys. It's a really bizarre figure and I would daresay the sculpt is wildly inappropriate for a collector-driven figure line. Were this the look of a new Bebop for the kiddie line, I'd actually be quite keen on it. I want something that looks like the cartoon - and while this comes close, its authenticity is inversely proportional to your ability to see it. Got smudged-up glasses? You'll love it. Collect animation cels? This figure will drive you crazy.
The figure plugs right in to his display stand and he has no problem holding his only weapon, a gun. Given the increased price I feel like I deserve more - it's not like Playmates splurged on articulation here. Bebop is quite good with bend-and-swivel wrists, but the rotating neck movement is superbly weak and the grand total of joints is 20. 20 sounds like a lot, but the whole thing feels like an unfinished factory test, especially compared with last year's "toitles." The shoes swivel around, but don't pivot at all. The legs can't swing forward easily, and feel a lot like hindered versions of the original 1980s figure hips. The double knee joints are nice but don't really add much to the figure's ability to be posed. The double elbows are a nice touch, and work well. His hip joint is, in a word, worthless. He can't twist more than a few millimeters and there's little "pivot" to help him hunch forward.
...and just for fun let me complain about the back of the packaging. The artwork is terrible and I don't know what they based it on - the costumes don't look at all right. "About the Bebop & Rocksteady Characters" just as verbiage sounds like something ripped out of a press kit sent to the AARP. C'mon people, speak like a human being on these things. We deserve better. The copy on the package feels like it's written for people who are completely unfamiliar with the characters... and collecting toys. As these figures are clearly designed for older fans it'd be nice to see something geared more toward people and not some form of sentient robot.
As I never had Bebop and Rocksteady as a kid - just a whole bunch of Turtles and a few minor players - this is a new one to me, and I loved the characters on the cartoon and in Archie's comics. I know what Bebop looks like, and this looks like Bebop was hit with the ugly stick a few times over. It is unquestionably Playmates' best effort on the character in his normal costume, but it could use some work. I can't believe I'm saying this, but I think it's an average figure at an above average price and I still recommend it. Only two TMNT Classics figures were introduced in 2013 so it's hard not to get a little excited for them, even if Shredder wasn't one of them. Ah well - maybe next year we can get him, April, and Splinter.
--Adam Pawlus
Additional Images

See more Playmates figures in Figure of the Day:
Day 54: Playmates Classic Star Trek Spock Action Figure
Day 57: Playmates Classic Star Trek Dr. McCoy Action Figure
Day 61: Playmates Classic Star Trek Scotty Action Figure
Day 71: Playmates Classic Star Trek Uhura Action Figure
Day 81: Playmates Classic Star Trek Sulu Action Figure
Day 89: Playmates Classic Star Trek Captain James T. Kirk Action Figure
Day 105: Playmates Classic Star Trek Chekov Action Figure
Day 149: Playmates Star Trek Combat Action Worf
Day 229: Playmates Gormiti Multiplep and Steelblade
Day 237: Playmates Gormiti Blind Fury and Ancient Jellyfish
Day 243: Playmates Gormiti Florus the Poisoner and Clear Ancient Jellyfish
Day 259: Playmates Gormiti Mantra the Implacable and Clear The Severe Guardian
Day 312: Playmates Gormiti Barbataus, Tormenter, Bullrock, and Dedalus
Day 327: Playmates seaQuest DSV Darwin the Dolphin Action Figure
Day 335: Playmates Gormiti Spores, Cannon Trunk, Hypnofrog, and Carrapax
Day 342: Playmates Gormiti Alos the Hypnotiser and Clear Delos The Count of the Seas
Day 354: Playmates Teenage Mutant Ninja Turtles Mike, the Sewer Surfer Action Figure
Day 400: Playmates Teenage Mutant Ninja Turtles Raph, the Space Cadet
Day 488: Playmates Star Trek: The Next Generation Lieutenant Commander Data in First Season Uniform Action Figure
Day 513: Playmates Teenage Mutant Ninja Turtles The Mutant Raphael
Day 514: Playmates Teenage Mutant Ninja Turtles Mike as Frankenstein
Day 515: Playmates Teenage Mutant Ninja Turtles Bride of Frankenstein April
Day 516: Playmates Teenage Mutant Ninja Turtles Raph as the Mummy
Day 517: Playmates Teenage Mutant Ninja Turtles Don as Dracula
Day 518: Playmates Teenage Mutant Ninja Turtles Leo as the Wolfman
Day 519: Playmates Teenage Mutant Ninja Turtles Invisible Man Michaelangelo
Day 520: Playmates Teenage Mutant Ninja Turtles Creature from the Black Lagoon Leonardo
Day 525: Playmates Teenage Mutant Ninja Turtles Classics Michelangelo
Day 673: Playmates Gormiti Murena Den Playset with Hammer the Predator Figure
Day 731: Playmates Star Trek: The Next Generation Counselor Deanna Troi Action Figure
Day 755: Playmates Star Trek: Deep Space Nine Quark Action Figure
Day 762: Playmates Star Trek: The Next Generation Lt. Commander LaForge as a Tarchannen III Alien Action Figure
Day 767: Playmates Star Trek: The Next Generation Captain Picard in Duty Uniform Action Figure
Day 772: Playmates Star Trek: The Next Generation Klingon Warrior Worf Action Figure
Day 777: Playmates Toys Monster Force Creature from the Black Lagoon
Day 815: Playmates Teenage Mutant Ninja Turtles Classics Bebop
Day 832: Playmates Teenage Mutant Ninja Turtles Classics Rocksteady
Day 964: Playmates Teenage Mutant Ninja Turtles Classics Raphael
Day 986: Playmates Star Trek: The Next Generation Dathon Action Figure
Day 991: Playmates Star Trek: The Next Generation Ambassador Spock Action Figure
Day 1,048: Playmates Star Trek: Deep Space Nine Chief Miles O'Brien Action Figure
Day 1,061: Playmates Star Trek: The Next Generation Q Action Figure
Day 1,173: Playmates Star Trek: Deep Space Nine Morn Action Figure
Day 1,181: Playmates Star Trek: Deep Space Nine Commander Gul Dukat Action Figure
Day 1,271: Playmates Star Trek Grand Nagus Zek Action Figure
Day 1,309: Playmates Star Trek Elim Garak Action Figure
Day 1,316: Playmates Gormiti Insecticus and Branchtearer the Furious
Day 1,317: Playmates Star Trek: The Next Generation Lieutenant Worf in Starfleet Rescue Outfit Action Figure
Day 1,331: Playmates Star Trek: The Next Generation Captain Scott Action Figure
Day 1,359: Playmates Star Trek: The Next Generation Vorgon Action Figure
Day 1,701: Playmates Star Trek: The Next Generation Ferengi Action Figure
Day 1,819: Playmates Star Trek: The Next Generation Mordock the Benzite Action Figure
Day 1,854: Playmates Star Trek: The Next Generation Lieutenant (J.G.) Geordi LaForge Action Figure
Day 1,887: Playmates Star Trek: The Next Generation Lieutenant Natasha Yar Action Figure
Day 1,902: Playmates Star Trek: The Next Generation Cadet Wesley Crusher Action Figure
Day 1,923: Playmates Star Trek: The Next Generation Lieutenant J.G. Worf in First Season Uniform Action Figure
Day 1,936: Playmates Star Trek: The Next Generation K'Ehleyr Action Figure
Day 1,974 Playmates Star Trek: The Next Generation Lieutenant Barclay Action Figure
Day 2,005: Playmates Star Trek: Deep Space Nine Odo Action Figure
Day 2,020: Playmates Star Trek: The Next Generation Commander Sela Action Figure

See more Teenage Mutant Ninja Turtles figures in Figure of the Day:
Day 354: Playmates Teenage Mutant Ninja Turtles Mike, the Sewer Surfer Action Figure
Day 400: Playmates Teenage Mutant Ninja Turtles Raph, the Space Cadet
Day 513: Playmates Teenage Mutant Ninja Turtles The Mutant Raphael
Day 514: Playmates Teenage Mutant Ninja Turtles Mike as Frankenstein
Day 515: Playmates Teenage Mutant Ninja Turtles Bride of Frankenstein April
Day 516: Playmates Teenage Mutant Ninja Turtles Raph as the Mummy
Day 517: Playmates Teenage Mutant Ninja Turtles Don as Dracula
Day 518: Playmates Teenage Mutant Ninja Turtles Leo as the Wolfman
Day 519: Playmates Teenage Mutant Ninja Turtles Invisible Man Michaelangelo
Day 520: Playmates Teenage Mutant Ninja Turtles Creature from the Black Lagoon Leonardo
Day 525: Playmates Teenage Mutant Ninja Turtles Classics Michelangelo
Day 815: Playmates Teenage Mutant Ninja Turtles Classics Bebop
Day 832: Playmates Teenage Mutant Ninja Turtles Classics Rocksteady
Day 964: Playmates Teenage Mutant Ninja Turtles Classics Raphael
Day 1,120: LEGO Teenage Mutant Ninja Turtles Mikey's Mini Shellraiser
Day 1,657: Funko x Playmobil Teenage Mutant Ninja Turtles Black and White Raphael
Day 1,739: Mega Bloks Teenage Mutant Ninja Turtles Eastman & Laird's Collector Series Leonardo Action Figure
Day 1,908: Funko x Playmobil Teenage Mutant Ninja Turtles Shredder
Day 2,237: Super7 Teenage Mutant Ninja Turtles Ultimates Raphael Action Figure
Day 2,253: Super7 Teenage Mutant Ninja Turtles Ultimates Foot Soldier Action Figure
Day 2,284: Mattel Hot Wheels Screen Time Teenage Mutant Ninja Turtles Party Wagon
Day 2,388: Super7 Teenage Mutant Ninja Turtles Ultimates Glow-in-the-Dark Mutagen Man Action Figure