Rocksteady
Inspired By The Original TMNT Animated Series

Teenage Mutant Ninja Turtles Classics Action Figure
Item No.: Asst. 91080 No. 91086
Manufacturer: Playmates
Includes: Gun, machete, helmet, sewer stand
Action Feature: n/a
Retail: $19.99
Availability: November 2013
Other: Toys R Us claims exclusivity, this does not appear to be accurate

PREVIOUS
RSS
NEXT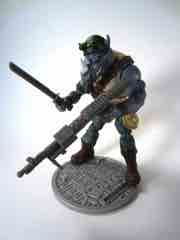 The slow - very slow - burn that is Teenage Mutant Ninja Turtles Classic Collection keeps things interesting with only six total figures since the line debuted in 2013. Rocksteady and Bebop were the two 2013 offerings, with no Shredder just yet. The 20 points of articulation are fundamentally the same as his warthog buddy, which is to say it's good for posing the figure on the display stand. The double-jointed knees and restricted hip joints don't do him many favors, but the bend-and-swivel wrists and double-jointed wrists are great for holding his weapons.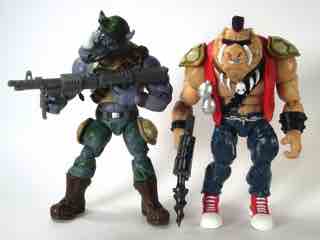 Standing over 6-inches tall, the squat figure doesn't seem to really accurately capture the original 1988 action figure nor the cartoon design. Nor Archie's comics. What's worse, it doesn't really look like the prototype as much as it should - the tank top on the figure is missing a key paint operation around the neck, so it looks like he's wearing some sort of sleeveless turtleneck. It's a problem that would've taken about four cents to fix and likely was the result of a factory error, and it really doesn't help the figure any in its current state. Oh, and it's also barely as tall as the turtles - making it less menacing and probably proves that these figures were designed by different people than the last batch.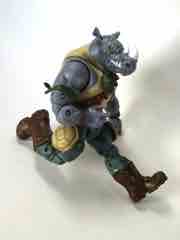 Rocksteady's head looks nothing like the original designs, with smaller eyes that are more animal-like. The big nose horn is somewhere in between the cartoon and the original action figure, but the 2013 release totally lacks the paunchy pot-bellied look of the original cartoon. The original era of TMNT made sure that these two goons were dumb - really dumb. It's not that this guy looks smart per se, but there are numerous minor details from the cartoon design that make this guy less a hardened, wrinkly killing mutant and more a misguided but ultimately dangerous oafish one. His shirt matches the tan of the cartoon, but I'm not quite sure where the green pants came from. One area which I have to give Playmates kudos is the removable helmet - the toon usually had him sans hat, but the old toy always had a helmet. Letting fans pick is definitely the best move.
The figure plugs right in to his display stand and he has no problems holding either weapon. Playmates did a great job engineering the arms as functional, muscular limbs for gripping the machine gun with both hands. I personally think they should be a little flabbier, but as a long-time fan what do I know? Each bend-and-swivel hand has a sculpted trigger finger to better hold the firearm, and he has no problem holding his bladed weapon either. Playmates is generally good about making sure their figures can hold their weapons - save for a few Simpsons releases - so I'm largely pleased with how all of the parts fit together.
While the Turtles were impressive and Bebop was on the downside of adequate, Rocksteady barely looks like any interpretation of the character I've seen before. If they changed Darth Vader's helmet this much, Star Wars fans would be screaming bloody murder. I'm sure someone at Playmates said "Whatever man, it's a mutant rhino figure, it's close enough for those dumb kids." Were this for the kid's line and intended as a redesign or modern interpretation of the character, I'd say it was pretty neat - but it's not. It's a "classic collection" figure, and for $20 I'd expect some attention to detail be paid to the source material. If you're a fan of the line, and you want to expand your collection from four to six, Rocksteady and Bebop are worth buying. But I don't think anyone seriously would accept these as some sort of definitive take on the 1980s and 1990s cartoon bad guys. The added insult was that these figures were in short supply, so people might just snap them up rather than criticize them and leave them to the wastelands of clearance racks. Toy Biz' Marvel Legends figures a decade earlier provided more authenticity and articulation at a better price.
--Adam Pawlus
Additional Images

See more Playmates figures in Figure of the Day:
Day 54: Playmates Classic Star Trek Spock Action Figure
Day 57: Playmates Classic Star Trek Dr. McCoy Action Figure
Day 61: Playmates Classic Star Trek Scotty Action Figure
Day 71: Playmates Classic Star Trek Uhura Action Figure
Day 81: Playmates Classic Star Trek Sulu Action Figure
Day 89: Playmates Classic Star Trek Captain James T. Kirk Action Figure
Day 105: Playmates Classic Star Trek Chekov Action Figure
Day 149: Playmates Star Trek Combat Action Worf
Day 229: Playmates Gormiti Multiplep and Steelblade
Day 237: Playmates Gormiti Blind Fury and Ancient Jellyfish
Day 243: Playmates Gormiti Florus the Poisoner and Clear Ancient Jellyfish
Day 259: Playmates Gormiti Mantra the Implacable and Clear The Severe Guardian
Day 312: Playmates Gormiti Barbataus, Tormenter, Bullrock, and Dedalus
Day 327: Playmates seaQuest DSV Darwin the Dolphin Action Figure
Day 335: Playmates Gormiti Spores, Cannon Trunk, Hypnofrog, and Carrapax
Day 342: Playmates Gormiti Alos the Hypnotiser and Clear Delos The Count of the Seas
Day 354: Playmates Teenage Mutant Ninja Turtles Mike, the Sewer Surfer Action Figure
Day 400: Playmates Teenage Mutant Ninja Turtles Raph, the Space Cadet
Day 488: Playmates Star Trek: The Next Generation Lieutenant Commander Data in First Season Uniform Action Figure
Day 513: Playmates Teenage Mutant Ninja Turtles The Mutant Raphael
Day 514: Playmates Teenage Mutant Ninja Turtles Mike as Frankenstein
Day 515: Playmates Teenage Mutant Ninja Turtles Bride of Frankenstein April
Day 516: Playmates Teenage Mutant Ninja Turtles Raph as the Mummy
Day 517: Playmates Teenage Mutant Ninja Turtles Don as Dracula
Day 518: Playmates Teenage Mutant Ninja Turtles Leo as the Wolfman
Day 519: Playmates Teenage Mutant Ninja Turtles Invisible Man Michaelangelo
Day 520: Playmates Teenage Mutant Ninja Turtles Creature from the Black Lagoon Leonardo
Day 525: Playmates Teenage Mutant Ninja Turtles Classics Michelangelo
Day 673: Playmates Gormiti Murena Den Playset with Hammer the Predator Figure
Day 731: Playmates Star Trek: The Next Generation Counselor Deanna Troi Action Figure
Day 755: Playmates Star Trek: Deep Space Nine Quark Action Figure
Day 762: Playmates Star Trek: The Next Generation Lt. Commander LaForge as a Tarchannen III Alien Action Figure
Day 767: Playmates Star Trek: The Next Generation Captain Picard in Duty Uniform Action Figure
Day 772: Playmates Star Trek: The Next Generation Klingon Warrior Worf Action Figure
Day 777: Playmates Toys Monster Force Creature from the Black Lagoon
Day 815: Playmates Teenage Mutant Ninja Turtles Classics Bebop
Day 832: Playmates Teenage Mutant Ninja Turtles Classics Rocksteady
Day 964: Playmates Teenage Mutant Ninja Turtles Classics Raphael
Day 986: Playmates Star Trek: The Next Generation Dathon Action Figure
Day 991: Playmates Star Trek: The Next Generation Ambassador Spock Action Figure
Day 1,048: Playmates Star Trek: Deep Space Nine Chief Miles O'Brien Action Figure
Day 1,061: Playmates Star Trek: The Next Generation Q Action Figure
Day 1,173: Playmates Star Trek: Deep Space Nine Morn Action Figure
Day 1,181: Playmates Star Trek: Deep Space Nine Commander Gul Dukat Action Figure
Day 1,271: Playmates Star Trek Grand Nagus Zek Action Figure
Day 1,309: Playmates Star Trek Elim Garak Action Figure
Day 1,316: Playmates Gormiti Insecticus and Branchtearer the Furious
Day 1,317: Playmates Star Trek: The Next Generation Lieutenant Worf in Starfleet Rescue Outfit Action Figure
Day 1,331: Playmates Star Trek: The Next Generation Captain Scott Action Figure
Day 1,359: Playmates Star Trek: The Next Generation Vorgon Action Figure
Day 1,701: Playmates Star Trek: The Next Generation Ferengi Action Figure
Day 1,819: Playmates Star Trek: The Next Generation Mordock the Benzite Action Figure
Day 1,854: Playmates Star Trek: The Next Generation Lieutenant (J.G.) Geordi LaForge Action Figure
Day 1,887: Playmates Star Trek: The Next Generation Lieutenant Natasha Yar Action Figure
Day 1,902: Playmates Star Trek: The Next Generation Cadet Wesley Crusher Action Figure
Day 1,923: Playmates Star Trek: The Next Generation Lieutenant J.G. Worf in First Season Uniform Action Figure
Day 1,936: Playmates Star Trek: The Next Generation K'Ehleyr Action Figure
Day 1,974 Playmates Star Trek: The Next Generation Lieutenant Barclay Action Figure
Day 2,005: Playmates Star Trek: Deep Space Nine Odo Action Figure
Day 2,020: Playmates Star Trek: The Next Generation Commander Sela Action Figure

See more Teenage Mutant Ninja Turtles figures in Figure of the Day:
Day 354: Playmates Teenage Mutant Ninja Turtles Mike, the Sewer Surfer Action Figure
Day 400: Playmates Teenage Mutant Ninja Turtles Raph, the Space Cadet
Day 513: Playmates Teenage Mutant Ninja Turtles The Mutant Raphael
Day 514: Playmates Teenage Mutant Ninja Turtles Mike as Frankenstein
Day 515: Playmates Teenage Mutant Ninja Turtles Bride of Frankenstein April
Day 516: Playmates Teenage Mutant Ninja Turtles Raph as the Mummy
Day 517: Playmates Teenage Mutant Ninja Turtles Don as Dracula
Day 518: Playmates Teenage Mutant Ninja Turtles Leo as the Wolfman
Day 519: Playmates Teenage Mutant Ninja Turtles Invisible Man Michaelangelo
Day 520: Playmates Teenage Mutant Ninja Turtles Creature from the Black Lagoon Leonardo
Day 525: Playmates Teenage Mutant Ninja Turtles Classics Michelangelo
Day 815: Playmates Teenage Mutant Ninja Turtles Classics Bebop
Day 832: Playmates Teenage Mutant Ninja Turtles Classics Rocksteady
Day 964: Playmates Teenage Mutant Ninja Turtles Classics Raphael
Day 1,120: LEGO Teenage Mutant Ninja Turtles Mikey's Mini Shellraiser
Day 1,657: Funko x Playmobil Teenage Mutant Ninja Turtles Black and White Raphael
Day 1,739: Mega Bloks Teenage Mutant Ninja Turtles Eastman & Laird's Collector Series Leonardo Action Figure
Day 1,908: Funko x Playmobil Teenage Mutant Ninja Turtles Shredder
Day 2,237: Super7 Teenage Mutant Ninja Turtles Ultimates Raphael Action Figure
Day 2,253: Super7 Teenage Mutant Ninja Turtles Ultimates Foot Soldier Action Figure
Day 2,284: Mattel Hot Wheels Screen Time Teenage Mutant Ninja Turtles Party Wagon
Day 2,388: Super7 Teenage Mutant Ninja Turtles Ultimates Glow-in-the-Dark Mutagen Man Action Figure