Raph as the Mummy
The Radical Wrapped Turtle!

Teenage Mutant Ninja Turtles Action Figure
Item No.: n/a
Manufacturer: Playmates
Includes: Cobra Sais, Stone Dagger, Egyptian Ring
Action Feature: Glow-in-the-dark wrappings
Retail: $4.99
Availability: 1993
Other: Accessories available in orange, purple, red, or blue.

PREVIOUS
RSS
NEXT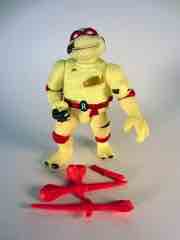 There seemed to be no shortage of Raph as the Mummy despite the popularity of the green teen. Raphael and his brothers were cranked out in big numbers, meaning lucky fans could paw through pegs of these and pick out the version with whatever colored accessories they wanted. I picked red, for obvious reasons.
While not at all colored like his card art, this action figure does a good job smooshing together the two characters into a single plastic entity that would make Tuvix proud. The package art has an amulet and brownish wrappings, while the action figure has glow-in-the-dark bandages that are more of an off-white color, closer in texture and color to what I think most kids think of when they want a mummy toy. There are a few openings revealing Raph's decaying, brownish skin which has a very unusual, withered texture rather than the usual shiny green plastic. The trademark "R" belt buckle is present, as are the red pads and mask, so there's no question just which turtle is in these wrappings. Unlike most other figures from the line in this era, Raph isn't at all glossy either-- he's quite textured, which may be why even packaged samples have something of a dirty appearance. I should not that I don't mean "weathered," I mean "dirty."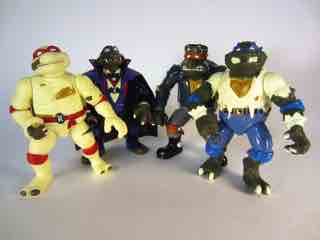 The figure comes with 4 weapons, which may come in any of 4 colors. They'll match his pads, or his brothers', so you can pretty much pick.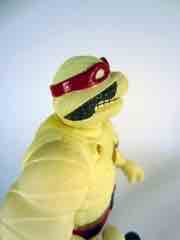 With 7 points of articulation, you know what to expect. His gear includes a tiny knife, a couple of cobra-themed sais, and a ring that is supposedly sized for a kid. I was too big for it when it came out, so yeah, I'm old. The hands are stiffer than I would like, so getting the accessories in them may require some work. His left hand barely can hold a weapon at all, but he looks pretty good and seems to be struggling to move inside those wrappings.
Today this figure will set you back $20-$30 online, which seems high for something available by the bushel for about three bucks at Target. Despite having overstayed its welcome at retail, the figure is really quite nice and as weird licensing hybrids go, one of my favorites. Yes, even more than Star Wars Transformers, which combine two of my favorite things into something I just can't quite enjoy.
--Adam Pawlus
Additional Images

See more Playmates figures in Figure of the Day:
Day 54: Playmates Classic Star Trek Spock Action Figure
Day 57: Playmates Classic Star Trek Dr. McCoy Action Figure
Day 61: Playmates Classic Star Trek Scotty Action Figure
Day 71: Playmates Classic Star Trek Uhura Action Figure
Day 81: Playmates Classic Star Trek Sulu Action Figure
Day 89: Playmates Classic Star Trek Captain James T. Kirk Action Figure
Day 105: Playmates Classic Star Trek Chekov Action Figure
Day 149: Playmates Star Trek Combat Action Worf
Day 229: Playmates Gormiti Multiplep and Steelblade
Day 237: Playmates Gormiti Blind Fury and Ancient Jellyfish
Day 243: Playmates Gormiti Florus the Poisoner and Clear Ancient Jellyfish
Day 259: Playmates Gormiti Mantra the Implacable and Clear The Severe Guardian
Day 312: Playmates Gormiti Barbataus, Tormenter, Bullrock, and Dedalus
Day 327: Playmates seaQuest DSV Darwin the Dolphin Action Figure
Day 335: Playmates Gormiti Spores, Cannon Trunk, Hypnofrog, and Carrapax
Day 342: Playmates Gormiti Alos the Hypnotiser and Clear Delos The Count of the Seas
Day 354: Playmates Teenage Mutant Ninja Turtles Mike, the Sewer Surfer Action Figure
Day 400: Playmates Teenage Mutant Ninja Turtles Raph, the Space Cadet
Day 488: Playmates Star Trek: The Next Generation Lieutenant Commander Data in First Season Uniform Action Figure
Day 513: Playmates Teenage Mutant Ninja Turtles The Mutant Raphael
Day 514: Playmates Teenage Mutant Ninja Turtles Mike as Frankenstein
Day 515: Playmates Teenage Mutant Ninja Turtles Bride of Frankenstein April
Day 516: Playmates Teenage Mutant Ninja Turtles Raph as the Mummy
Day 517: Playmates Teenage Mutant Ninja Turtles Don as Dracula
Day 518: Playmates Teenage Mutant Ninja Turtles Leo as the Wolfman
Day 519: Playmates Teenage Mutant Ninja Turtles Invisible Man Michaelangelo
Day 520: Playmates Teenage Mutant Ninja Turtles Creature from the Black Lagoon Leonardo
Day 525: Playmates Teenage Mutant Ninja Turtles Classics Michelangelo
Day 673: Playmates Gormiti Murena Den Playset with Hammer the Predator Figure
Day 731: Playmates Star Trek: The Next Generation Counselor Deanna Troi Action Figure
Day 755: Playmates Star Trek: Deep Space Nine Quark Action Figure
Day 762: Playmates Star Trek: The Next Generation Lt. Commander LaForge as a Tarchannen III Alien Action Figure
Day 767: Playmates Star Trek: The Next Generation Captain Picard in Duty Uniform Action Figure
Day 772: Playmates Star Trek: The Next Generation Klingon Warrior Worf Action Figure
Day 777: Playmates Toys Monster Force Creature from the Black Lagoon
Day 815: Playmates Teenage Mutant Ninja Turtles Classics Bebop
Day 832: Playmates Teenage Mutant Ninja Turtles Classics Rocksteady
Day 964: Playmates Teenage Mutant Ninja Turtles Classics Raphael
Day 986: Playmates Star Trek: The Next Generation Dathon Action Figure
Day 991: Playmates Star Trek: The Next Generation Ambassador Spock Action Figure
Day 1,048: Playmates Star Trek: Deep Space Nine Chief Miles O'Brien Action Figure
Day 1,061: Playmates Star Trek: The Next Generation Q Action Figure
Day 1,173: Playmates Star Trek: Deep Space Nine Morn Action Figure
Day 1,181: Playmates Star Trek: Deep Space Nine Commander Gul Dukat Action Figure
Day 1,271: Playmates Star Trek Grand Nagus Zek Action Figure
Day 1,309: Playmates Star Trek Elim Garak Action Figure
Day 1,316: Playmates Gormiti Insecticus and Branchtearer the Furious
Day 1,317: Playmates Star Trek: The Next Generation Lieutenant Worf in Starfleet Rescue Outfit Action Figure
Day 1,331: Playmates Star Trek: The Next Generation Captain Scott Action Figure
Day 1,359: Playmates Star Trek: The Next Generation Vorgon Action Figure
Day 1,701: Playmates Star Trek: The Next Generation Ferengi Action Figure
Day 1,819: Playmates Star Trek: The Next Generation Mordock the Benzite Action Figure
Day 1,854: Playmates Star Trek: The Next Generation Lieutenant (J.G.) Geordi LaForge Action Figure
Day 1,887: Playmates Star Trek: The Next Generation Lieutenant Natasha Yar Action Figure
Day 1,902: Playmates Star Trek: The Next Generation Cadet Wesley Crusher Action Figure
Day 1,923: Playmates Star Trek: The Next Generation Lieutenant J.G. Worf in First Season Uniform Action Figure
Day 1,936: Playmates Star Trek: The Next Generation K'Ehleyr Action Figure
Day 1,974 Playmates Star Trek: The Next Generation Lieutenant Barclay Action Figure
Day 2,005: Playmates Star Trek: Deep Space Nine Odo Action Figure
Day 2,020: Playmates Star Trek: The Next Generation Commander Sela Action Figure

See more Teenage Mutant Ninja Turtles figures in Figure of the Day:
Day 354: Playmates Teenage Mutant Ninja Turtles Mike, the Sewer Surfer Action Figure
Day 400: Playmates Teenage Mutant Ninja Turtles Raph, the Space Cadet
Day 513: Playmates Teenage Mutant Ninja Turtles The Mutant Raphael
Day 514: Playmates Teenage Mutant Ninja Turtles Mike as Frankenstein
Day 515: Playmates Teenage Mutant Ninja Turtles Bride of Frankenstein April
Day 516: Playmates Teenage Mutant Ninja Turtles Raph as the Mummy
Day 517: Playmates Teenage Mutant Ninja Turtles Don as Dracula
Day 518: Playmates Teenage Mutant Ninja Turtles Leo as the Wolfman
Day 519: Playmates Teenage Mutant Ninja Turtles Invisible Man Michaelangelo
Day 520: Playmates Teenage Mutant Ninja Turtles Creature from the Black Lagoon Leonardo
Day 525: Playmates Teenage Mutant Ninja Turtles Classics Michelangelo
Day 815: Playmates Teenage Mutant Ninja Turtles Classics Bebop
Day 832: Playmates Teenage Mutant Ninja Turtles Classics Rocksteady
Day 964: Playmates Teenage Mutant Ninja Turtles Classics Raphael
Day 1,120: LEGO Teenage Mutant Ninja Turtles Mikey's Mini Shellraiser
Day 1,657: Funko x Playmobil Teenage Mutant Ninja Turtles Black and White Raphael
Day 1,739: Mega Bloks Teenage Mutant Ninja Turtles Eastman & Laird's Collector Series Leonardo Action Figure
Day 1,908: Funko x Playmobil Teenage Mutant Ninja Turtles Shredder
Day 2,237: Super7 Teenage Mutant Ninja Turtles Ultimates Raphael Action Figure
Day 2,253: Super7 Teenage Mutant Ninja Turtles Ultimates Foot Soldier Action Figure
Day 2,284: Mattel Hot Wheels Screen Time Teenage Mutant Ninja Turtles Party Wagon
Day 2,388: Super7 Teenage Mutant Ninja Turtles Ultimates Glow-in-the-Dark Mutagen Man Action Figure