Classics Michelangelo
Inspired By The Original TMNT Animated Series

Teenage Mutant Ninja Turtles Classics Action Figure
Item No.: Asst. 91080 No. 91084
Manufacturer: Playmates
Includes: 2 nunchucks, sewer stand
Action Feature: n/a
Retail: $16.99
Availability: August 2012
Other: Came and went pretty quickly

PREVIOUS
RSS
NEXT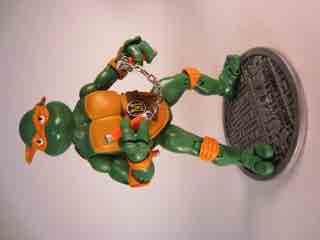 One of the highlights of the summer was the sudden introduction (and abrupt disappearance) of Teenage Mutant Ninja Turtles Classics Michelangelo and his brothers. From a purely technical standpoint, the execution was spectacular as the figures managed to integrate elements from the original 1980s Playmates toys as well as the early animated series. The figures are loaded with articulation but there's one unfortunate side effect: despite being nearly perfect, they're really lacking in a fun factor as they are not, for all intents and purposes, toys designed with fun in mind. And I say this as someone who went nuts after seeing them at New York Toy Fair.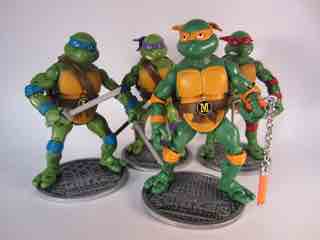 Standing over 6-inches tall, each turtle uses basically the same body with a different belt and head. It's perfectly understandishable why they would want to reuse the same body. Not only is it cheap, but Playmates engineered an exceptional body on which to build the green teens. Each finger is articulated. Each toe is articulated. Each elbow and knee is double-jointed, and there are so many points of articulation that I would argue the packaging is underselling the figure by stating it only has 34 points of articulation. There's a ball-jointed thumb and a sort of a palm joint in addition to the fingers, resulting in a figure with a spectacular range of motion. It's not quite as good as the greatest Figma or Revoltech release, but it's close and for the price there's certainly no reason to complain.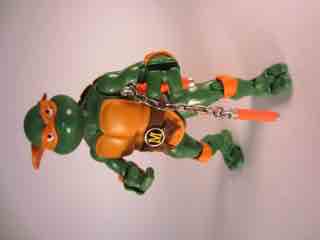 The sculpt is quite good and the head sculpt has a lot of personality, but it doesn't seem like Mikey. Heck, all four of the turtles seem quite serious to the point of almost scowling, which seems out of character for the original cartoon and this character in particular. He has a unique head sculpt and I'm happy to see a version of the character with painted black eyes in there, rather than blank white ones. His belt has a swell painted M on it, because in the 1980s we needed these things to tell the characters apart. Ditto the orange bandana, but I don't know why Playmates opted to mold the nunchucks in orange plastic this time around. The good news is that they're not entirely plastic, as there are metal chains between the two "wood" grips of the weapon. It's quite impressive, and it slips nicely into the back of the figure's belt.
While the figure has a lot of articulation with stiff joints and big feet, there's a display stand to ensure he doesn't do a faceplant on your desk. The base looks like a manhole cover and features a "Teenage Mutant Ninja Turtles" logo with a printed "Michelangelo" name tag on it, which seems unnecessary but it still looks pretty good.
There is no more articulated, detailed, and generally cartoon-accurate turtle to be bought for the money. $17 is a dang bargain for a figure of this quality, and the figure itself is close to the Masters of the Universe Classics in size and is similar to the whole DC Universe Classics and Marvel Legends in its look and feel. I argue that the guys at Playmates are trying to one-up the competition, which should be simple given they only had to sculpt one body so far.
While I spent the last few paragraphs praising this design, the problem with any collector figure is that it almost doesn't matter how good it is, because its fate is to be futzed with, posed, and placed on a shelf until you dust it. Mine were bought, opened, and loved for about a week before putting them away and I realized I hadn't touched them since. This figure is awesome, but it isn't fun, if that makes sense. There's a fair amount of entertainment to be had in playing with this figure as a desk accessory, but I got the whole set and with no vehicles or villains to fight, they ran out of juice really quick. I'd suggest buying one because, seriously, they're awesome but there's nothing you can do with them after you open the package. With no play action features or wacky accessories, they do not beg to be played with. They're nice figures, but without Shredder or Krang I figure this line is going to be forgotten until the next, even better collector-driven turtles come out in another 10 or 15 years.
--Adam Pawlus
Additional Images

See more Playmates figures in Figure of the Day:
Day 54: Playmates Classic Star Trek Spock Action Figure
Day 57: Playmates Classic Star Trek Dr. McCoy Action Figure
Day 61: Playmates Classic Star Trek Scotty Action Figure
Day 71: Playmates Classic Star Trek Uhura Action Figure
Day 81: Playmates Classic Star Trek Sulu Action Figure
Day 89: Playmates Classic Star Trek Captain James T. Kirk Action Figure
Day 105: Playmates Classic Star Trek Chekov Action Figure
Day 149: Playmates Star Trek Combat Action Worf
Day 229: Playmates Gormiti Multiplep and Steelblade
Day 237: Playmates Gormiti Blind Fury and Ancient Jellyfish
Day 243: Playmates Gormiti Florus the Poisoner and Clear Ancient Jellyfish
Day 259: Playmates Gormiti Mantra the Implacable and Clear The Severe Guardian
Day 312: Playmates Gormiti Barbataus, Tormenter, Bullrock, and Dedalus
Day 327: Playmates seaQuest DSV Darwin the Dolphin Action Figure
Day 335: Playmates Gormiti Spores, Cannon Trunk, Hypnofrog, and Carrapax
Day 342: Playmates Gormiti Alos the Hypnotiser and Clear Delos The Count of the Seas
Day 354: Playmates Teenage Mutant Ninja Turtles Mike, the Sewer Surfer Action Figure
Day 400: Playmates Teenage Mutant Ninja Turtles Raph, the Space Cadet
Day 488: Playmates Star Trek: The Next Generation Lieutenant Commander Data in First Season Uniform Action Figure
Day 513: Playmates Teenage Mutant Ninja Turtles The Mutant Raphael
Day 514: Playmates Teenage Mutant Ninja Turtles Mike as Frankenstein
Day 515: Playmates Teenage Mutant Ninja Turtles Bride of Frankenstein April
Day 516: Playmates Teenage Mutant Ninja Turtles Raph as the Mummy
Day 517: Playmates Teenage Mutant Ninja Turtles Don as Dracula
Day 518: Playmates Teenage Mutant Ninja Turtles Leo as the Wolfman
Day 519: Playmates Teenage Mutant Ninja Turtles Invisible Man Michaelangelo
Day 520: Playmates Teenage Mutant Ninja Turtles Creature from the Black Lagoon Leonardo
Day 525: Playmates Teenage Mutant Ninja Turtles Classics Michelangelo
Day 673: Playmates Gormiti Murena Den Playset with Hammer the Predator Figure
Day 731: Playmates Star Trek: The Next Generation Counselor Deanna Troi Action Figure
Day 755: Playmates Star Trek: Deep Space Nine Quark Action Figure
Day 762: Playmates Star Trek: The Next Generation Lt. Commander LaForge as a Tarchannen III Alien Action Figure
Day 767: Playmates Star Trek: The Next Generation Captain Picard in Duty Uniform Action Figure
Day 772: Playmates Star Trek: The Next Generation Klingon Warrior Worf Action Figure
Day 777: Playmates Toys Monster Force Creature from the Black Lagoon
Day 815: Playmates Teenage Mutant Ninja Turtles Classics Bebop
Day 832: Playmates Teenage Mutant Ninja Turtles Classics Rocksteady
Day 964: Playmates Teenage Mutant Ninja Turtles Classics Raphael
Day 986: Playmates Star Trek: The Next Generation Dathon Action Figure
Day 991: Playmates Star Trek: The Next Generation Ambassador Spock Action Figure
Day 1,048: Playmates Star Trek: Deep Space Nine Chief Miles O'Brien Action Figure
Day 1,061: Playmates Star Trek: The Next Generation Q Action Figure
Day 1,173: Playmates Star Trek: Deep Space Nine Morn Action Figure
Day 1,181: Playmates Star Trek: Deep Space Nine Commander Gul Dukat Action Figure
Day 1,271: Playmates Star Trek Grand Nagus Zek Action Figure
Day 1,309: Playmates Star Trek Elim Garak Action Figure
Day 1,316: Playmates Gormiti Insecticus and Branchtearer the Furious
Day 1,317: Playmates Star Trek: The Next Generation Lieutenant Worf in Starfleet Rescue Outfit Action Figure
Day 1,331: Playmates Star Trek: The Next Generation Captain Scott Action Figure
Day 1,359: Playmates Star Trek: The Next Generation Vorgon Action Figure
Day 1,701: Playmates Star Trek: The Next Generation Ferengi Action Figure
Day 1,819: Playmates Star Trek: The Next Generation Mordock the Benzite Action Figure
Day 1,854: Playmates Star Trek: The Next Generation Lieutenant (J.G.) Geordi LaForge Action Figure
Day 1,887: Playmates Star Trek: The Next Generation Lieutenant Natasha Yar Action Figure
Day 1,902: Playmates Star Trek: The Next Generation Cadet Wesley Crusher Action Figure
Day 1,923: Playmates Star Trek: The Next Generation Lieutenant J.G. Worf in First Season Uniform Action Figure
Day 1,936: Playmates Star Trek: The Next Generation K'Ehleyr Action Figure
Day 1,974 Playmates Star Trek: The Next Generation Lieutenant Barclay Action Figure
Day 2,005: Playmates Star Trek: Deep Space Nine Odo Action Figure
Day 2,020: Playmates Star Trek: The Next Generation Commander Sela Action Figure

See more Teenage Mutant Ninja Turtles figures in Figure of the Day:
Day 354: Playmates Teenage Mutant Ninja Turtles Mike, the Sewer Surfer Action Figure
Day 400: Playmates Teenage Mutant Ninja Turtles Raph, the Space Cadet
Day 513: Playmates Teenage Mutant Ninja Turtles The Mutant Raphael
Day 514: Playmates Teenage Mutant Ninja Turtles Mike as Frankenstein
Day 515: Playmates Teenage Mutant Ninja Turtles Bride of Frankenstein April
Day 516: Playmates Teenage Mutant Ninja Turtles Raph as the Mummy
Day 517: Playmates Teenage Mutant Ninja Turtles Don as Dracula
Day 518: Playmates Teenage Mutant Ninja Turtles Leo as the Wolfman
Day 519: Playmates Teenage Mutant Ninja Turtles Invisible Man Michaelangelo
Day 520: Playmates Teenage Mutant Ninja Turtles Creature from the Black Lagoon Leonardo
Day 525: Playmates Teenage Mutant Ninja Turtles Classics Michelangelo
Day 815: Playmates Teenage Mutant Ninja Turtles Classics Bebop
Day 832: Playmates Teenage Mutant Ninja Turtles Classics Rocksteady
Day 964: Playmates Teenage Mutant Ninja Turtles Classics Raphael
Day 1,120: LEGO Teenage Mutant Ninja Turtles Mikey's Mini Shellraiser
Day 1,657: Funko x Playmobil Teenage Mutant Ninja Turtles Black and White Raphael
Day 1,739: Mega Bloks Teenage Mutant Ninja Turtles Eastman & Laird's Collector Series Leonardo Action Figure
Day 1,908: Funko x Playmobil Teenage Mutant Ninja Turtles Shredder
Day 2,237: Super7 Teenage Mutant Ninja Turtles Ultimates Raphael Action Figure
Day 2,253: Super7 Teenage Mutant Ninja Turtles Ultimates Foot Soldier Action Figure
Day 2,284: Mattel Hot Wheels Screen Time Teenage Mutant Ninja Turtles Party Wagon
Day 2,388: Super7 Teenage Mutant Ninja Turtles Ultimates Glow-in-the-Dark Mutagen Man Action Figure