Boat Trip to the Manatees
A dream toy for me and maybe two other people

Wiltopia Animal Set?
Item No.: No. 71010
Manufacturer: Playmobil
Includes: 2 humans, medical stuff, computer stuff, adult manatee, two baby manatees, red crate, jars, foam lily pad, life preserver, frog, snake, lily pads
Action Feature: Pad, manatees, boat all float
Retail: $44.99
Availability: 2022
Other: At last, the toy you wanted when you were six

PREVIOUS
RSS
NEXT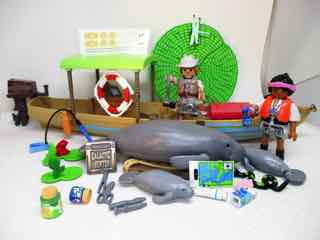 Playmobil as a company is pretty smart. When they make a really cool creature or animal, it frequently winds up bundled with a playset or vehicle so the average customer who doesn't do their direct service parts program will pay a lot more for something. The Boat Trip to the Manatees is one of few all-new animals in the Wiltopia range, so they of course bundled the little floaty potatoes with a boat - a motorboat, which anyone who grew up as a manatee fanatic knows is the worst thing in the world for manatees - and lots of other gear. Do you need it? No. You probably just want the manatees. But that's how they get higher-priced items out there, because a manatee on its own is probably twelve bucks tops. It's the same basic size and complexity as their dolphin.
Click here to check availability at Entertainment Earth.
This is a toy set that goes well beyond its mandate, and is clearly there for the kind of weird kid who just adores a manatee toy. I could be proven wrong, but I assume this is the last manatee toy I'll ever buy. I had plush ones as a little kid, there's a stoneware one somewhere in a box, and short of them appearing in a sci-fi context I am going to believe this is as good as it will ever get. For $45 I would recommend these only to the kind of person who heard "Playmobil Manatee" and said "shut up and take my money." They're cute, they're well-made, and they're fun little guys to have around. They don't do much, and come bogged down in accessories that are kind of a waste of plastic if you just want the animals. And if you do, who could blame you?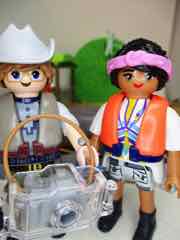 The main reason to buy these are the sea cows. Don't kid yourself otherwise. The box talks a big game about "made with sustainable materials" and "play + learn" business, but it's still about 60% empty packaging and there's nothing about this product that's going to be teaching you anything. Playmobil toys are notable in design in how they're in conflict with themselves - they were originally designed to look like kid drawings, but some are also incredibly detailed. The old horses were basically stick figures, but now they have hooves and nostrils and distinct manes. The manatees fall on the realism scope.
I don't even have to go to Wikipedia to tell you this is most likely a West Indian Manatee, like what you find in Florida, with four nails on each flipper. The adult has an articulated jaw and an opening in the mouth that's about the same size as an accessory. You can fit a plant in there if you like. The flippers and tail are also jointed on the adult, and the babies only have a jointed tail. While old Playmobil toy animals were frequently molded in color, this one is only mostly molded in color. The eyes are painted, and they're not as sharp as some other toys'. The underbelly is a barely lighter gray color with a hole in it, so you can have it "floating" on some coral, if you have some hanging around.
If you have a lot of older Playmobil toys, these should feel familiar. They're hollow so they can float, there's a light texture on the back, and you can see little winkles around the head and tail. Their mouths don't seem to have any sign of sculpted whiskers, and the flippers can only swivel. I was hoping for ball-and-socket joints, but it's not like the Sperm Whale had anything that could move other than the jaw. We're lucky to get this.
If you're a new or an old fan, you'll probably like these. The quality is consistent with the classic seals and sea lions, and dolphins and sharks and whales. You can even have them nibble on the greens in the set. But, there are also other creatures. A nicely painted snake is included, as is a little red frog. But these are old molds, and I'm patronizing them. Who cares about snakes? You can get all the snakes you want in the cowboy sets. We're here for the gray lumps.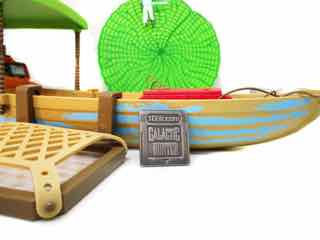 The boat is new - or new to me. It's long and has seating for two, plus a lot of places to clip on accessories. I'm more than a little irate at the motorboat, but it does provide some moving parts on a set where the action is effectively "watch the large floaty things graze." There's a side net/workspace thing on the boat too, but it doesn't fit in tightly. Neither do the weights on the boat. Things are kind of loose, and I dare say there are too many parts to misplace here. You get sponges, medical supplies, and a map. It's a lot for your kids to lose, but at least it isn't boring. It's also probably what's driving the cost of the set up a few bucks.
Back in the day I'd pick up any Playmobil set that meets the qualification of ($2 x Number of Figures) = Yes. This isn't that. I'd also go as far as to say I don't like the figure redesign very much - they've been doing more painted faces over the years, which means they don't quite fit in with the dozens/hundreds/thousands of figures you've already bought. The eyes are bigger and brighter, with more detailed shirts and pants, and some pretty nice gear can be seen on the box like clip-on vests with accessories like watches. Wait, watches? I think I only got one in my box. (This is where you imagine me rummaging through baggies.) Well, there it is, it got stuck in the baggie. That's why you check all instructions and packaging for missing parts, kids.
While I am not crazy about the faces, they're fine. The rubbery hair bow is an interesting piece, and the various cleaning gear, bandage stickers, and other things might be fun for the kids. I think it's kind of a waste - it certainly drives up the piece count, when I'd probably be a lot happier with another figure or a random bird or tree to build out the environment. But this is what the toy business trended to - when I was a kid, LEGO faces were incredibly simple. Now they're incredibly detailed, and Playmobil (years later) followed suit and seems to be expanding fancy faces more on a lot of their lines. Curiously, not the licensed ones.
Playmobil will sometimes sell creatures individually if you call them on the phone, but the prices aren't low and shipping isn't free. They also frequently reuse animal molds for years to come, but not always. Their mammoths came and went fast, and I never saw them in my home state. The Ankylosaurus from 2004 still hasn't made an encore appearance and I don't believe was ever sold as an add-on part, either. Playmobil will often reuse molds forever, but not always.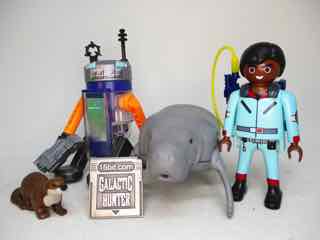 It's a very expensive set if you just want the manatees, but it's not too outlandish compared to other (increasingly expensive) Playmobil toy sets. By current pricing standards, baby animals are about $5 each, a similar adult animal is about $12 each, and a pretty good boat of a similar size with similar piece count and only one figure is about $20. With the frogs, snakes, floating lily pad, and accessories, you're probably getting a decent chunk of parts for the money, but if you're just here for the manatees you probably don't want all the other stuff. I should also warn you, I've been actively pining for Playmobil manatees, mammoths, otters, Ghostbusters, and dinosaurs since I was a grade schooler - so the last few years have been pretty good for me, with Star Trek and Scooby Doo as a victory lap. Short of Star Wars or really, really good monster sets like Dracula's Castle with some armadillos running around, I don't know what else is left. This is really one of those "well, I think I'm done, they probably did everything I want" products. But I still have a lot here to review, so don't worry there.
--Adam Pawlus
Additional Images

See more Playmobil toys in Figure of the Day:
Day 94: Playmobil African Safari 4831 Ostriches Set
Day 125: Playmobil Specials 4683 Mongollian Warrior Action Figure
Day 132: Playmobil Specials Cave Man Action Figure
Day 140: Playmobil Specials Palace Guard Action Figure
Day 163: Playmobil Figures Ghost Action Figure
Day 186: Playmobil Top Agents Secret Agent Action Figure
Day 266: Playmobil Dinosaurs 4173 Pteranodon
Day 271: Playmobil "Fi?ures" Figures Uncle Sam Action Figure
Day 276: Playmobil "Fi?ures" Figures Zorro Action Figure
Day 322: Playmobil Treasure Hunters 4848 Temple Guardian Figure
Day 363: Playmobil www.tourismus.nuernberg.de 6107 Albrecht Durer Figure
Day 764: Playmobil Stone Age 5105 Mammoth Family Set
Day 802: Playmobil Dino 5232 Stegosaurus
Day 811: Playmobil Specials 4748 Samurai
Day 887: Playmobil Toy Fair 2014 40th Birthday Knight
Day 1,030: Playmobil City Life 5605 PopStars! Band
Day 1,139: Playmobil School 4329 School Band
Day 1,148: Playmobil Dragon Tournament Knight Toy Fair Promo Figure
Day 1,154: Playmobil Magician with Genie Lamp Figure
Day 1,354: Playmobil Play Box 5638 Haunted House
Day 1,401: Playmobil 2016 Toy Fair Girl Figure
Day 1,451: Playmobil "Fi?ures" Figures Cat Burglar
Day 1,461: Playmobil 5197 Sports & Action Table Tennis Players
Day 1,499: Playmobil 4766 Special Plus Table Pizza Baker
Day 1,557: Playmobil "Fi?ures" Figures Asian Rice Worker
Day 1,577: Playmobil Toy Fair 2014 40th Birthday Princess
Day 1,581: Playmobil 2016 Toy Fair Pirate Figure
Day 1,583: Playmobil 5152 Future Planet E-Rangers Collectobot Figure
Day 1,584: Playmobil 6687 Super 4 Lost Island Figure Set
Day 1,585: Playmobil Figures Prisoner
Day 1,586: Playmobil 5572 City Life Ball Pit Set
Day 1,587: Playmobil 4741 Specials Space Ranger
Day 1,588: Playmobil 5562 Wild Life Beavers with Backpacker
Day 1,589: Playmobil 5239 Vampires
Day 1,590: Playmobil "Fi?ures" Figures Tall Ghost
Day 1,591: Playmobil Wild Life 5559 Inflatable Boat with Explorers
Day 1,592: Playmobil 5898 4-Wheel Drive with Kayak and Ranger
Day 1,598: Playmobil "Fi?ures" Figures Adventuress
Day 1,607: Playmobil "Fi?ures" Figures Granny
Day 1,609: Playmobil "Fi?ures" Figures France Fan
Day 1,613: Playmobil "Fi?ures" Figures Dark Fairy
Day 1,617: Playmobil 6824 Playmo-Friends Werewolf
Day 1,618: Playmobil 6823 Playmo-Friends Space Warrior
Day 1,631: Playmobil Knights Giant Troll with Dwarf Fighters
Day 1,641: Playmobil Playmo-Friends Flame Warrior
Day 1,650: Funko x Playmobil Willy Wonka
Day 1,654: Playmobil "Fi?ures" Figures Sauna Woman
Day 1,657: Funko x Playmobil Teenage Mutant Ninja Turtles Black and White Raphael
Day 1,662: Playmobil Tigers
Day 1,684: Playmobil NHL 5069 Zamboni
Day 1,699: Playmobil "Fi?ures" Figures Queen of Hearts
Day 1,728: Playmobil "Fi?ures" Figures Space Ranger
Day 1,731: Playmobil Ghostbusters 9222 Slimer
Day 1,737: Playmobil "Fi?ures" Figures Fire Wizard
Day 1,762: Playmobil 6099 Martin Luther
Day 1,764: Playmobil 5610 City Life Take Along
Day 1,772: Playmobil 6647 Alpacas
Day 1,774: Playmobil Summer Fun 5270 Porter with Luggage Cart
Day 1,784: Playmobil 6649 Penguins
Day 1,786: Playmobil 2017 Toy Fair Roman Troop Figure
Day 1,787: Playmobil "Fi?ures" Figures Zombie
Day 1,791: Playmobil Ghostbusters 9221 Stay Puft Marshmallow Man
Day 1,796: Playmobil "Fi?ures" Figures Ghoul Butler
Day 1,799: Playmobil "Fi?ures" Figures Pirate
Day 1,804: Playmobil "Fi?ures" Figures Gnome
Day 1,810: Playmobil "Fi?ures" Figures Captain America
Day 1,813: Playmobil Ghostbusters 9223 Venkman and Terror Dogs
Day 1,822: Playmobil "Fi?ures" Figures Flaming Skull
Day 1,828: Playmobil "Fi?ures" Figures Gladiator
Day 1,832: Funko x Playmobil Doctor Who Fourth Doctor
Day 1,836: Playmobil 6639 Gorillas
Day 1,839: Playmobil "Fi?ures" Figures Baker
Day 1,844: Playmobil Pianist with Piano
Day 1,851: Playmobil Ghostbusters 9224 Spengler and Ghost
Day 1,856: Playmobil "Fi?ures" Figures Buffalo Warrior
Day 1,861: Playmobil "Fi?ures" Figures Princess
Day 1,865: Playmobil 6525 Detective
Day 1,892: Playmobil "Fi?ures" Figures Rock Star
Day 1,899: Playmobil Special Plus Architect
Day 1,908: Funko x Playmobil Teenage Mutant Ninja Turtles Shredder
Day 1,913: Playmobil "Fi?ures" Figures Viking
Day 1,919: Playmobil "Fi?ures" Figures Steampunk Warrior
Day 1,934: Playmobil "Fi?ures" Figures Fisherwoman
Day 1,952: Playmobil 2018 Toy Fair Fairy Figure
Day 1,967: Playmobil 2018 Toy Fair Mountain Rescue Figure
Day 1,990: Playmobil 2013 Toy Fair Dinos Explorer Figure
Day 2,058: Playmobil Werewolf and Witch
Day 2,076: Playmobil The Real Ghostbusters 9387 Zeddemore with Aqua Scooter
Day 2,079: Playmobil 2019 Toy Fair Pet Hotel Cat Expert Figure
Day 2,082: Playmobil The Real Ghostbusters 9386 Spengler with Cage Car
Day 2,083: Playmobil Add-Ons 9804 Fire Brigade Accessories
Day 2,136: Playmobil Castle 6042 Castle Ghost with Rainbow LED
Day 2,139: Playmobil Mummy and Grim Reaper
Day 2,193: Playmobil 2020 Toy Fair Emergency Doctor Figure
Day 2,205: Playmobil Back to the Future DeLorean Time Machine Vehicle with Figures
Day 2,219: Playmobil Scooby-Doo! 70287 Scooby and Shaggy with Ghost Figures
Day 2,231: Playmobil Back to the Future Marty McFly and Dr. Emmett Brown Figures
Day 2,243: Playmobil Scooby-Doo! 70361 Adventure in the Mystery Mansion Playset
Day 2,255: Playmobil Back to the Future Advent Calendar with Figures
Day 2,325: Playmobil 2020 Toy Fair Mermaid Figure
Day 2,326: Playmobil 70177 Volkswagen Volkswagen Beetle
Day 2,327: Playmobil "Fi?ures" Figures Confederate Soldier
Day 2,328: Playmobil The Real Ghostbusters 9388 Stantz with Sky Bike
Day 2,329: Playmobil Pirates Ghost Whale Skeleton
Day 2,330: Playmobil 5754 Adventure Croc Boat
Day 2,331: Playmobil 5603 City Life Tour Bus
Day 2,332: Playmobil Scooby-Doo! 70286 Mystery Machine with Figures
Day 2,333: Playmobil The Movie Robotitron with Drone
Day 2,348: Playmobil "Fi?ures" Figures Witch
Day 2,350: Playmobil Vampire and Frankenstein's Monster
Day 2,352: Playmobil 70634 Back to the Future Part II Hoverboard Chase
Day 2,354: Playmobil 70548 Star Trek U.S.S. Enterprise NCC-1701 Playset
Day 2,356: Playmobil "Fi?ures" Figures Day of the Dead Woman
Day 2,360: Playmobil "Fi?ures" Figures Hula Girl
Day 2,362: Playmobil "Fi?ures" Figures Hippie
Day 2,363: Playmobil 70576 Back to the Future Part III Advent Calendar with Figures
Day 2,365: Playmobil 70026 "Fi?ures" Figures Fire Sorceress
Day 2,367: Playmobil "Fi?ures" Figures Skeleton Warrior
Day 2,368: Playmobil 5753 Seasonal Photo Santa Claus Figures
Day 2,370: Playmobil "Fi?ures" Figures Knight
Day 2,372: Playmobil Adventure Treasure Robber Crawler
Day 2,373: Playmobil 70148 "Fi?ures" Figures Ninja
Day 2,375: Playmobil The Real Ghostbusters 9385 Venkman with Helicopter
Day 2,377: Playmobil "Fi?ures" Figures Cowgirl
Day 2,378: Playmobil 70148 "Fi?ures" Figures Puppeteer
Day 2,380: Playmobil 70148 "Fi?ures" Figures Opera Fan
Day 2,382: Playmobil 70148 "Fi?ures" Figures Duck Feeder
Day 2,390: Playmobil 71060 "Fi?ures" Figures Steampunk
Day 2,398: Playmobil 2013 Toy Fair Dinosaur Explorer Figure
Day 2,408: Playmobil 70876 Special Plus Child with Monster
Day 2,415: Playmobil Special Plus Special Operations Agent
Day 2,422: Playmobil "Fi?ures" Figures Day of the Dead Man
Day 2,428: Playmobil 70873 Specials Plus Man with E-Scooter Action Figure
Day 2,430: Playmobil "Fi?ures" Figures Skater Action Figure
Day 2,432: Playmobil "Fi?ures" Figures Gargoyle
Day 2,466: Playmobil "Fi?ures" Figures Vampire
Day 2,475: Playmobil "Fi?ures" Figures Raffle Man
Day 2,481: Playmobil "Fi?ures" Figures Paintball Man
Day 2,496: Schaper Playmobil 3591 Space Series Astronaut and Robot Figures
Day 2,518: Playmobil "Fi?ures" Figures Gnome
Day 2,538: Playmobil 71010 Wiltopia Boat Trip to the Manatees Set
Day 2,663: Playmobil "Fi?ures" Figures Dutch Farm Girl