Space Warrior
Ca. 1970s Faux-Star Warsy

Playmo-Friends Action Figure
Item No.: No. 6823
Manufacturer: Playmobil
Includes: Ray gun, double-blade saber, wrist communicator, clear helmet
Action Feature: n/a
Retail: $2.99-$3.99
Availability: Fall 2016
Other: Clear, Spacey

PREVIOUS
RSS
NEXT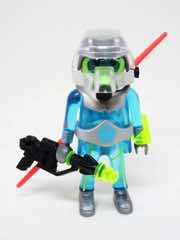 Looking back on old toys, one of the most fascinating periods of space toy action was the late 1970s. Seeing the world try to draw space comics and make space toys in the wake of Star Wars resulting in a pastiche of George Lucas' used galaxy style and a Buck Rogers Cocomalt prize. Playmobil also had some space toys around the 1980s, which looked somewhat similar to their new Space Warrior. You got big helmets, big boots, and UFO-style space ships, usually in white or yellow or red. You know, exactly like LEGO's classic Space range.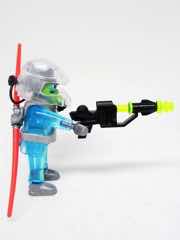 What really struck me as unique with this figure was that it's clear. Playmobil rarely - possibly only a couple of times - cranked out a figure of some sort of clear plastic. The body, arms, and legs are clear blue similar to the first iMacs. Remember those? Ask your parents. The helmet is clear colorless plastic, while the hands and feet are a grey silver color - I don't doubt this is to help prevent cracks over time. Clear plastic doesn't always hold up over time, especially when it's not soft PVC. Heck, even soft PVC is prone to problems like discoloration.
The figure is the same basic body you've seen a bajillion times, but more Space Warriory. The head is clear blue, with a green gas mask over it to give it an alien look. A hose connects the mask to the helmet, and a "bib" has two posts on it which allow you to hang hooks on the back which in turn can carry the figure's nifty weapons. It's a great use of old and I think new parts, especially the belt buckle. At first glance I thought it was inspired by Onell Design's many cool faction signs.... and then on closer observation, maybe it's a cup of soup. I'm not sure what they're going for, but it's a neat design and I'd wear it on a t-shirt.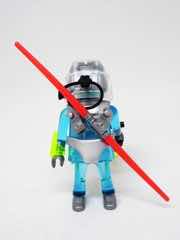 The figure's weapons are all pretty cool. A classic ray gun is molded in black with a green emitter, complete with 1960s-style discs at the end. Its clear green sheen lights up like the dickens under a black light. The warrior can grip it by the top, or hold the grip - I like the options, it's nice that he isn't required to be aiming it at somebody at all times. It can also mount on his back. Most surprising of all, to me, was a double-bladed red Darth Maul-style lightsaber. The hilt is different, but the whole thing is made of a fairly soft and flexible plastic which the figure has no problems gripping. As an added bonus, there's a clear green wrist communicator bracelet. This is a well-accessorized figure for the money, arguably as good or better than the blind bags.
For its low price and nifty plastic colors, I've got no reason to not recommend this to you. Like Playmobil? Love space? This is great. It works like any normal Playmobil figure, but the cool gear and colors make it look different than the few other space figures I've bought. You won't be blown away by the concept or the deco, but the creativity deployed to make something different shows that Playmobil is now catching up more and more to what Medicom and their ilk have been doing for years. Hopefully we'll see more nifty colors and styles down the road. If you see it, get it. If you're placing an online order and this is available, add it to it. But don't spring for it by its lonesome unless shipping is free.
--Adam Pawlus
Additional Images

See more Playmobil toys in Figure of the Day:
Day 94: Playmobil African Safari 4831 Ostriches Set
Day 125: Playmobil Specials 4683 Mongollian Warrior Action Figure
Day 132: Playmobil Specials Cave Man Action Figure
Day 140: Playmobil Specials Palace Guard Action Figure
Day 163: Playmobil Figures Ghost Action Figure
Day 186: Playmobil Top Agents Secret Agent Action Figure
Day 266: Playmobil Dinosaurs 4173 Pteranodon
Day 271: Playmobil "Fi?ures" Figures Uncle Sam Action Figure
Day 276: Playmobil "Fi?ures" Figures Zorro Action Figure
Day 322: Playmobil Treasure Hunters 4848 Temple Guardian Figure
Day 363: Playmobil www.tourismus.nuernberg.de 6107 Albrecht Durer Figure
Day 764: Playmobil Stone Age 5105 Mammoth Family Set
Day 802: Playmobil Dino 5232 Stegosaurus
Day 811: Playmobil Specials 4748 Samurai
Day 887: Playmobil Toy Fair 2014 40th Birthday Knight
Day 1,030: Playmobil City Life 5605 PopStars! Band
Day 1,139: Playmobil School 4329 School Band
Day 1,148: Playmobil Dragon Tournament Knight Toy Fair Promo Figure
Day 1,154: Playmobil Magician with Genie Lamp Figure
Day 1,354: Playmobil Play Box 5638 Haunted House
Day 1,401: Playmobil 2016 Toy Fair Girl Figure
Day 1,451: Playmobil "Fi?ures" Figures Cat Burglar
Day 1,461: Playmobil 5197 Sports & Action Table Tennis Players
Day 1,499: Playmobil 4766 Special Plus Table Pizza Baker
Day 1,557: Playmobil "Fi?ures" Figures Asian Rice Worker
Day 1,577: Playmobil Toy Fair 2014 40th Birthday Princess
Day 1,581: Playmobil 2016 Toy Fair Pirate Figure
Day 1,583: Playmobil 5152 Future Planet E-Rangers Collectobot Figure
Day 1,584: Playmobil 6687 Super 4 Lost Island Figure Set
Day 1,585: Playmobil Figures Prisoner
Day 1,586: Playmobil 5572 City Life Ball Pit Set
Day 1,587: Playmobil 4741 Specials Space Ranger
Day 1,588: Playmobil 5562 Wild Life Beavers with Backpacker
Day 1,589: Playmobil 5239 Vampires
Day 1,590: Playmobil "Fi?ures" Figures Tall Ghost
Day 1,591: Playmobil Wild Life 5559 Inflatable Boat with Explorers
Day 1,592: Playmobil 5898 4-Wheel Drive with Kayak and Ranger
Day 1,598: Playmobil "Fi?ures" Figures Adventuress
Day 1,607: Playmobil "Fi?ures" Figures Granny
Day 1,609: Playmobil "Fi?ures" Figures France Fan
Day 1,613: Playmobil "Fi?ures" Figures Dark Fairy
Day 1,617: Playmobil 6824 Playmo-Friends Werewolf
Day 1,618: Playmobil 6823 Playmo-Friends Space Warrior
Day 1,631: Playmobil Knights Giant Troll with Dwarf Fighters
Day 1,641: Playmobil Playmo-Friends Flame Warrior
Day 1,650: Funko x Playmobil Willy Wonka
Day 1,654: Playmobil "Fi?ures" Figures Sauna Woman
Day 1,657: Funko x Playmobil Teenage Mutant Ninja Turtles Black and White Raphael
Day 1,662: Playmobil Tigers
Day 1,684: Playmobil NHL 5069 Zamboni
Day 1,699: Playmobil "Fi?ures" Figures Queen of Hearts
Day 1,728: Playmobil "Fi?ures" Figures Space Ranger
Day 1,731: Playmobil Ghostbusters 9222 Slimer
Day 1,737: Playmobil "Fi?ures" Figures Fire Wizard
Day 1,762: Playmobil 6099 Martin Luther
Day 1,764: Playmobil 5610 City Life Take Along
Day 1,772: Playmobil 6647 Alpacas
Day 1,774: Playmobil Summer Fun 5270 Porter with Luggage Cart
Day 1,784: Playmobil 6649 Penguins
Day 1,786: Playmobil 2017 Toy Fair Roman Troop Figure
Day 1,787: Playmobil "Fi?ures" Figures Zombie
Day 1,791: Playmobil Ghostbusters 9221 Stay Puft Marshmallow Man
Day 1,796: Playmobil "Fi?ures" Figures Ghoul Butler
Day 1,799: Playmobil "Fi?ures" Figures Pirate
Day 1,804: Playmobil "Fi?ures" Figures Gnome
Day 1,810: Playmobil "Fi?ures" Figures Captain America
Day 1,813: Playmobil Ghostbusters 9223 Venkman and Terror Dogs
Day 1,822: Playmobil "Fi?ures" Figures Flaming Skull
Day 1,828: Playmobil "Fi?ures" Figures Gladiator
Day 1,832: Funko x Playmobil Doctor Who Fourth Doctor
Day 1,836: Playmobil 6639 Gorillas
Day 1,839: Playmobil "Fi?ures" Figures Baker
Day 1,844: Playmobil Pianist with Piano
Day 1,851: Playmobil Ghostbusters 9224 Spengler and Ghost
Day 1,856: Playmobil "Fi?ures" Figures Buffalo Warrior
Day 1,861: Playmobil "Fi?ures" Figures Princess
Day 1,865: Playmobil 6525 Detective
Day 1,892: Playmobil "Fi?ures" Figures Rock Star
Day 1,899: Playmobil Special Plus Architect
Day 1,908: Funko x Playmobil Teenage Mutant Ninja Turtles Shredder
Day 1,913: Playmobil "Fi?ures" Figures Viking
Day 1,919: Playmobil "Fi?ures" Figures Steampunk Warrior
Day 1,934: Playmobil "Fi?ures" Figures Fisherwoman
Day 1,952: Playmobil 2018 Toy Fair Fairy Figure
Day 1,967: Playmobil 2018 Toy Fair Mountain Rescue Figure
Day 1,990: Playmobil 2013 Toy Fair Dinos Explorer Figure
Day 2,058: Playmobil Werewolf and Witch
Day 2,076: Playmobil The Real Ghostbusters 9387 Zeddemore with Aqua Scooter
Day 2,079: Playmobil 2019 Toy Fair Pet Hotel Cat Expert Figure
Day 2,082: Playmobil The Real Ghostbusters 9386 Spengler with Cage Car
Day 2,083: Playmobil Add-Ons 9804 Fire Brigade Accessories
Day 2,136: Playmobil Castle 6042 Castle Ghost with Rainbow LED
Day 2,139: Playmobil Mummy and Grim Reaper
Day 2,193: Playmobil 2020 Toy Fair Emergency Doctor Figure
Day 2,205: Playmobil Back to the Future DeLorean Time Machine Vehicle with Figures
Day 2,219: Playmobil Scooby-Doo! 70287 Scooby and Shaggy with Ghost Figures
Day 2,231: Playmobil Back to the Future Marty McFly and Dr. Emmett Brown Figures
Day 2,243: Playmobil Scooby-Doo! 70361 Adventure in the Mystery Mansion Playset
Day 2,255: Playmobil Back to the Future Advent Calendar with Figures
Day 2,325: Playmobil 2020 Toy Fair Mermaid Figure
Day 2,326: Playmobil 70177 Volkswagen Volkswagen Beetle
Day 2,327: Playmobil "Fi?ures" Figures Confederate Soldier
Day 2,328: Playmobil The Real Ghostbusters 9388 Stantz with Sky Bike
Day 2,329: Playmobil Pirates Ghost Whale Skeleton
Day 2,330: Playmobil 5754 Adventure Croc Boat
Day 2,331: Playmobil 5603 City Life Tour Bus
Day 2,332: Playmobil Scooby-Doo! 70286 Mystery Machine with Figures
Day 2,333: Playmobil The Movie Robotitron with Drone
Day 2,348: Playmobil "Fi?ures" Figures Witch
Day 2,350: Playmobil Vampire and Frankenstein's Monster
Day 2,352: Playmobil 70634 Back to the Future Part II Hoverboard Chase
Day 2,354: Playmobil 70548 Star Trek U.S.S. Enterprise NCC-1701 Playset
Day 2,356: Playmobil "Fi?ures" Figures Day of the Dead Woman
Day 2,360: Playmobil "Fi?ures" Figures Hula Girl
Day 2,362: Playmobil "Fi?ures" Figures Hippie
Day 2,363: Playmobil 70576 Back to the Future Part III Advent Calendar with Figures
Day 2,365: Playmobil 70026 "Fi?ures" Figures Fire Sorceress
Day 2,367: Playmobil "Fi?ures" Figures Skeleton Warrior
Day 2,368: Playmobil 5753 Seasonal Photo Santa Claus Figures
Day 2,370: Playmobil "Fi?ures" Figures Knight
Day 2,372: Playmobil Adventure Treasure Robber Crawler
Day 2,373: Playmobil 70148 "Fi?ures" Figures Ninja
Day 2,375: Playmobil The Real Ghostbusters 9385 Venkman with Helicopter
Day 2,377: Playmobil "Fi?ures" Figures Cowgirl
Day 2,378: Playmobil 70148 "Fi?ures" Figures Puppeteer
Day 2,380: Playmobil 70148 "Fi?ures" Figures Opera Fan
Day 2,382: Playmobil 70148 "Fi?ures" Figures Duck Feeder
Day 2,390: Playmobil 71060 "Fi?ures" Figures Steampunk
Day 2,398: Playmobil 2013 Toy Fair Dinosaur Explorer Figure
Day 2,408: Playmobil 70876 Special Plus Child with Monster
Day 2,415: Playmobil Special Plus Special Operations Agent
Day 2,422: Playmobil "Fi?ures" Figures Day of the Dead Man
Day 2,428: Playmobil 70873 Specials Plus Man with E-Scooter Action Figure
Day 2,430: Playmobil "Fi?ures" Figures Skater Action Figure
Day 2,432: Playmobil "Fi?ures" Figures Gargoyle
Day 2,466: Playmobil "Fi?ures" Figures Vampire
Day 2,475: Playmobil "Fi?ures" Figures Raffle Man
Day 2,481: Playmobil "Fi?ures" Figures Paintball Man
Day 2,496: Schaper Playmobil 3591 Space Series Astronaut and Robot Figures
Day 2,518: Playmobil "Fi?ures" Figures Gnome
Day 2,538: Playmobil 71010 Wiltopia Boat Trip to the Manatees Set