70177 Volkswagen Volkswagen Beetle
The Cheaper One

Playmobil Volkswagen
Item No.: No. 70177
Manufacturer: Playmobil
Includes: 3 figures, cooler, removable roof rack, surf board, 3 bottles, watch, bracelet, visor, suitcase, towel, sand castle, sand, umbrella, bucket, shovel, rake
Action Feature: n/a
Retail: $39.99
Availability: January 2021
Other: The regular blue release is $40 and includes 3 figures. The limited yellow edition is $60 and includes 1 figure.

PREVIOUS
RSS
NEXT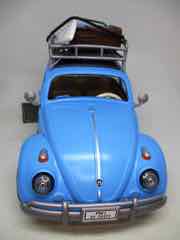 If you're looking to push nostalgia buttons, selling families toys based on the cars they remember isn't a bad idea. The 70177 Volkswagen Volkswagen Beetle is one of four Playmobil releases this year, and one of the few forays into licensed, non-sportscar, non-entertainment-based vehicles. And it's pretty good.
I was waffling on if I wanted the yellow one (because it's colored like Bumblebee from Transformers or the cheaper blue one. My mind was made up for me as Walmart's notoriously short attention span resulted in the toy being marked down to only $20 as of July 2021, despite no evidence of this sale appearing on a price tag on any shelf. Lucky me! Three days later the last one got marked down to $7.50. Luckier me! I still think the yellow one is probably going to be awesome, but the blue beetle is $20 cheaper and it has a lot more stuff in the box. The limited yellow car has some tools, one figure, and chrome bumpers. The regular blue car has no chrome, but it has three figures, a suitcase, a surf board, a fake beach piece with a sand castle, some tools for the kid, some drinks for the family, a cooler... it's just a better set. It's also something we're seeing a lot more of in the toy business as there's a shift away from "kid" to "adult fan" - shinier painted action figures can cost a few dollars more while offering no more plastic, and considering the toy maker has recouped their investment, it's notable that fans are not only willing but eager to pay a premium price to have a slightly better toy. This isn't mean to be a slight - I really do want a yellow Bug, and if it weren't for the clearance price, I'd probably have paid more for less. Similarly, it's worth noting this year's Playmobil A-Team van for $90 is the same basic toy as the Scooby-Doo Mystery Machine (which had 4 figures for $45-$50) or the 70575 Helicopter Pursuit with Runway Van - which is $60, and also includes a helicopter, and is $30 cheaper.
But, as usual, I digress. How's the blue regular edition Beetle? It's fantastic. And because of the $40 (or under) price - and the figures - you should probably opt for this version.
Click here to check availability at Entertainment Earth.
If you look at this set like a decent car with a "Specials" figure or three, even at $40, you get your money's worth. A typical boxed Playmobil car with 1-2 figures and seating for 2-4 figures will cost you $20-$35 usually, with the cheap 2-seater convertible 70285 Family with Car having 2 figures and 2 seats for $20. It's a nice car for the price - but the Beetle brings you the Volkswagen license with licensed VW wheel covers, plug-in rear view mirrors, clear headlights, and clear brake lights. The rear opens up so you can see the engine, but sadly the hood doesn't open nor do the doors. For those keeping track at home, most of the Playmobil cars over the years don't have opening doors - the DeLorean Time Machine is a rare exception. Most Playmobil cars are convertibles or just have removable roofs, and you put your figures in through the top.
The VW Beetle is based on a version with an actual open roof that can be rolled back, a selection which irked me until I got it in my hands. This clearly makes for the better toy with the less-obtrusive design. Once you have the roof rack on, you don't even notice the fact that the removable section doesn't match the rest of the car's body. It pops off without any real fuss, and provides ample storage for the surf board, suitcase, and cooler. It's a little tough for me to get my adult-size hands in there, but the parents and kid fit in there reasonably well. The interior is nicely detailed with an unpainted console, steering wheel, and places for figures to stick their feet so they don't fall around. (There are no seat belts. Ralph Nader was not consulted.)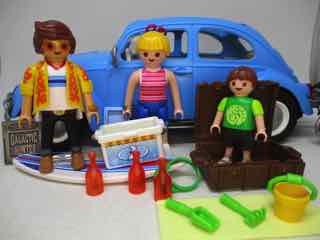 The snap-in clear red brake lights look great, as do the preinstalled clear headlights. It's kind of a hassle to get the side mirrors in, but that probably means they're never going to fall out. There's a little paint on the car, which is mostly molded in color. The blue looks fine, with a little shine. A painted Beetle would undoubtedly look more realistic, but would be inconsistent with how Playmobil designs most of its toys. Most elements are molded in color (in some cases, multiple colors of plastic are molded in a single piece) which does wonders for a toy looking fresh for years. You could scrape it up and it's still be blue - but, admittedly, it won't look as good as a painted die-cast metal model. I think this is for the best, so it looks consistent with the many other Playmobil cars which have come before.
The interior is pretty spacious. Playmobil almost aways makes its cars big enough to fit any of its figures, with the only exception I've bumped in to being the DeLorean [FOTD #2,205] won't fit the Marty McFly in his radiation suit from the Back to the Future Advent Calendar [FOTD #2,255]. This one has plenty of room for some of the bigger headgear. (The buffalo hat doesn't fit due to the horns.
As is, there's not a heck of a lot I would do to make this better. To the contrary, if I ever have a shot at another one of these on the cheap I'd like to learn how to do some modeling techniques and paint it up to look old and rusted. Also if I could make the mirrors into reflective elements, that would be nice. (And doors would be nice. But again, it's not what Playmobil usually does.)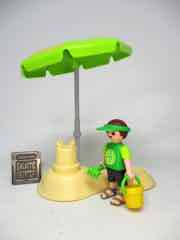 The set comes with a family's day at the beach, which arguably is what pushes it to levels of excellence. Mom's a blonde with the new-ish body type, wearing rolled-up shorts and a red and pink tank top. She has bangs. There's a bracelet and a bow in her hair, plus the usual amount of Playmobil articulation. Junior is a little boy wearing a green "Real Love" t-shirt and a matching green visor that has a habit of getting knocked loose when I try to put him in hte car. What really makes the set, though, is the gonzo Dad figure. With golden frames and orange lenses, a giant belt buckle, rolled-up jeans, and a Hawaiian shirt, I immediately thought of Brad Pitt from Once Upon a Time in Hollywood. It's not an exact match, but with the 2019 movie would have been released around the time it would be likely Playmobil would be designing the car and the figures. I choose to believe it's an intentional choice, and it looks great with big hair complete with sideburns. I'm not going to lie to you - I'd probably buy almost any set to get this figure.
Rounding out the set is an ample supply of stuff. You get a little sandy beach with an umbrella stand and a sand castle. There's a surf board in white with red and blue stripes. A big suitcase can carry Junior's sand toys - a bucket, a rake, and a shovel. A cooler rounds out the set with three clear red bottles of what I assume is soda, or something to keep Junior quiet on the drive home. Who can say?
Despite there being a collector's edition, this regular seems like the one for the adult Playmobil fan - of which there are maybe six or seven in the USA. If you need chrome on the roof rack and bumpers, get the other one. Also I wouldn't be shocked if Playmobil put this toy out in different colors every few years because it would probably sell well for quite a while. If you bought in to the whole Playmobil thing, you really owe it to yourself to get one of these - especially if it's on clearance.
--Adam Pawlus
Additional Images

See more Playmobil toys in Figure of the Day:
Day 94: Playmobil African Safari 4831 Ostriches Set
Day 125: Playmobil Specials 4683 Mongollian Warrior Action Figure
Day 132: Playmobil Specials Cave Man Action Figure
Day 140: Playmobil Specials Palace Guard Action Figure
Day 163: Playmobil Figures Ghost Action Figure
Day 186: Playmobil Top Agents Secret Agent Action Figure
Day 266: Playmobil Dinosaurs 4173 Pteranodon
Day 271: Playmobil "Fi?ures" Figures Uncle Sam Action Figure
Day 276: Playmobil "Fi?ures" Figures Zorro Action Figure
Day 322: Playmobil Treasure Hunters 4848 Temple Guardian Figure
Day 363: Playmobil www.tourismus.nuernberg.de 6107 Albrecht Durer Figure
Day 764: Playmobil Stone Age 5105 Mammoth Family Set
Day 802: Playmobil Dino 5232 Stegosaurus
Day 811: Playmobil Specials 4748 Samurai
Day 887: Playmobil Toy Fair 2014 40th Birthday Knight
Day 1,030: Playmobil City Life 5605 PopStars! Band
Day 1,139: Playmobil School 4329 School Band
Day 1,148: Playmobil Dragon Tournament Knight Toy Fair Promo Figure
Day 1,154: Playmobil Magician with Genie Lamp Figure
Day 1,354: Playmobil Play Box 5638 Haunted House
Day 1,401: Playmobil 2016 Toy Fair Girl Figure
Day 1,451: Playmobil "Fi?ures" Figures Cat Burglar
Day 1,461: Playmobil 5197 Sports & Action Table Tennis Players
Day 1,499: Playmobil 4766 Special Plus Table Pizza Baker
Day 1,557: Playmobil "Fi?ures" Figures Asian Rice Worker
Day 1,577: Playmobil Toy Fair 2014 40th Birthday Princess
Day 1,581: Playmobil 2016 Toy Fair Pirate Figure
Day 1,583: Playmobil 5152 Future Planet E-Rangers Collectobot Figure
Day 1,584: Playmobil 6687 Super 4 Lost Island Figure Set
Day 1,585: Playmobil Figures Prisoner
Day 1,586: Playmobil 5572 City Life Ball Pit Set
Day 1,587: Playmobil 4741 Specials Space Ranger
Day 1,588: Playmobil 5562 Wild Life Beavers with Backpacker
Day 1,589: Playmobil 5239 Vampires
Day 1,590: Playmobil "Fi?ures" Figures Tall Ghost
Day 1,591: Playmobil Wild Life 5559 Inflatable Boat with Explorers
Day 1,592: Playmobil 5898 4-Wheel Drive with Kayak and Ranger
Day 1,598: Playmobil "Fi?ures" Figures Adventuress
Day 1,607: Playmobil "Fi?ures" Figures Granny
Day 1,609: Playmobil "Fi?ures" Figures France Fan
Day 1,613: Playmobil "Fi?ures" Figures Dark Fairy
Day 1,617: Playmobil 6824 Playmo-Friends Werewolf
Day 1,618: Playmobil 6823 Playmo-Friends Space Warrior
Day 1,631: Playmobil Knights Giant Troll with Dwarf Fighters
Day 1,641: Playmobil Playmo-Friends Flame Warrior
Day 1,650: Funko x Playmobil Willy Wonka
Day 1,654: Playmobil "Fi?ures" Figures Sauna Woman
Day 1,657: Funko x Playmobil Teenage Mutant Ninja Turtles Black and White Raphael
Day 1,662: Playmobil Tigers
Day 1,684: Playmobil NHL 5069 Zamboni
Day 1,699: Playmobil "Fi?ures" Figures Queen of Hearts
Day 1,728: Playmobil "Fi?ures" Figures Space Ranger
Day 1,731: Playmobil Ghostbusters 9222 Slimer
Day 1,737: Playmobil "Fi?ures" Figures Fire Wizard
Day 1,762: Playmobil 6099 Martin Luther
Day 1,764: Playmobil 5610 City Life Take Along
Day 1,772: Playmobil 6647 Alpacas
Day 1,774: Playmobil Summer Fun 5270 Porter with Luggage Cart
Day 1,784: Playmobil 6649 Penguins
Day 1,786: Playmobil 2017 Toy Fair Roman Troop Figure
Day 1,787: Playmobil "Fi?ures" Figures Zombie
Day 1,791: Playmobil Ghostbusters 9221 Stay Puft Marshmallow Man
Day 1,796: Playmobil "Fi?ures" Figures Ghoul Butler
Day 1,799: Playmobil "Fi?ures" Figures Pirate
Day 1,804: Playmobil "Fi?ures" Figures Gnome
Day 1,810: Playmobil "Fi?ures" Figures Captain America
Day 1,813: Playmobil Ghostbusters 9223 Venkman and Terror Dogs
Day 1,822: Playmobil "Fi?ures" Figures Flaming Skull
Day 1,828: Playmobil "Fi?ures" Figures Gladiator
Day 1,832: Funko x Playmobil Doctor Who Fourth Doctor
Day 1,836: Playmobil 6639 Gorillas
Day 1,839: Playmobil "Fi?ures" Figures Baker
Day 1,844: Playmobil Pianist with Piano
Day 1,851: Playmobil Ghostbusters 9224 Spengler and Ghost
Day 1,856: Playmobil "Fi?ures" Figures Buffalo Warrior
Day 1,861: Playmobil "Fi?ures" Figures Princess
Day 1,865: Playmobil 6525 Detective
Day 1,892: Playmobil "Fi?ures" Figures Rock Star
Day 1,899: Playmobil Special Plus Architect
Day 1,908: Funko x Playmobil Teenage Mutant Ninja Turtles Shredder
Day 1,913: Playmobil "Fi?ures" Figures Viking
Day 1,919: Playmobil "Fi?ures" Figures Steampunk Warrior
Day 1,934: Playmobil "Fi?ures" Figures Fisherwoman
Day 1,952: Playmobil 2018 Toy Fair Fairy Figure
Day 1,967: Playmobil 2018 Toy Fair Mountain Rescue Figure
Day 1,990: Playmobil 2013 Toy Fair Dinos Explorer Figure
Day 2,058: Playmobil Werewolf and Witch
Day 2,076: Playmobil The Real Ghostbusters 9387 Zeddemore with Aqua Scooter
Day 2,079: Playmobil 2019 Toy Fair Pet Hotel Cat Expert Figure
Day 2,082: Playmobil The Real Ghostbusters 9386 Spengler with Cage Car
Day 2,083: Playmobil Add-Ons 9804 Fire Brigade Accessories
Day 2,136: Playmobil Castle 6042 Castle Ghost with Rainbow LED
Day 2,139: Playmobil Mummy and Grim Reaper
Day 2,193: Playmobil 2020 Toy Fair Emergency Doctor Figure
Day 2,205: Playmobil Back to the Future DeLorean Time Machine Vehicle with Figures
Day 2,219: Playmobil Scooby-Doo! 70287 Scooby and Shaggy with Ghost Figures
Day 2,231: Playmobil Back to the Future Marty McFly and Dr. Emmett Brown Figures
Day 2,243: Playmobil Scooby-Doo! 70361 Adventure in the Mystery Mansion Playset
Day 2,255: Playmobil Back to the Future Advent Calendar with Figures
Day 2,325: Playmobil 2020 Toy Fair Mermaid Figure
Day 2,326: Playmobil 70177 Volkswagen Volkswagen Beetle
Day 2,327: Playmobil "Fi?ures" Figures Confederate Soldier
Day 2,328: Playmobil The Real Ghostbusters 9388 Stantz with Sky Bike
Day 2,329: Playmobil Pirates Ghost Whale Skeleton
Day 2,330: Playmobil 5754 Adventure Croc Boat
Day 2,331: Playmobil 5603 City Life Tour Bus
Day 2,332: Playmobil Scooby-Doo! 70286 Mystery Machine with Figures
Day 2,333: Playmobil The Movie Robotitron with Drone
Day 2,348: Playmobil "Fi?ures" Figures Witch
Day 2,350: Playmobil Vampire and Frankenstein's Monster
Day 2,352: Playmobil 70634 Back to the Future Part II Hoverboard Chase
Day 2,354: Playmobil 70548 Star Trek U.S.S. Enterprise NCC-1701 Playset
Day 2,356: Playmobil "Fi?ures" Figures Day of the Dead Woman
Day 2,360: Playmobil "Fi?ures" Figures Hula Girl
Day 2,362: Playmobil "Fi?ures" Figures Hippie
Day 2,363: Playmobil 70576 Back to the Future Part III Advent Calendar with Figures
Day 2,365: Playmobil 70026 "Fi?ures" Figures Fire Sorceress
Day 2,367: Playmobil "Fi?ures" Figures Skeleton Warrior
Day 2,368: Playmobil 5753 Seasonal Photo Santa Claus Figures
Day 2,370: Playmobil "Fi?ures" Figures Knight
Day 2,372: Playmobil Adventure Treasure Robber Crawler
Day 2,373: Playmobil 70148 "Fi?ures" Figures Ninja
Day 2,375: Playmobil The Real Ghostbusters 9385 Venkman with Helicopter
Day 2,377: Playmobil "Fi?ures" Figures Cowgirl
Day 2,378: Playmobil 70148 "Fi?ures" Figures Puppeteer
Day 2,380: Playmobil 70148 "Fi?ures" Figures Opera Fan
Day 2,382: Playmobil 70148 "Fi?ures" Figures Duck Feeder
Day 2,390: Playmobil 71060 "Fi?ures" Figures Steampunk
Day 2,398: Playmobil 2013 Toy Fair Dinosaur Explorer Figure
Day 2,408: Playmobil 70876 Special Plus Child with Monster
Day 2,415: Playmobil Special Plus Special Operations Agent
Day 2,422: Playmobil "Fi?ures" Figures Day of the Dead Man
Day 2,428: Playmobil 70873 Specials Plus Man with E-Scooter Action Figure
Day 2,430: Playmobil "Fi?ures" Figures Skater Action Figure
Day 2,432: Playmobil "Fi?ures" Figures Gargoyle
Day 2,466: Playmobil "Fi?ures" Figures Vampire
Day 2,475: Playmobil "Fi?ures" Figures Raffle Man
Day 2,481: Playmobil "Fi?ures" Figures Paintball Man
Day 2,496: Schaper Playmobil 3591 Space Series Astronaut and Robot Figures
Day 2,518: Playmobil "Fi?ures" Figures Gnome
Day 2,538: Playmobil 71010 Wiltopia Boat Trip to the Manatees Set