Scar
Standard Predator Action

Alien vs. Predator The Whoever Wins Collection
Item No.: No. AVP-MINI-001
Manufacturer: Titan Merchandise
Includes: 1 figure in a bag in a box and spear
Action Feature: Stands Nicely
Retail: $9.99
Availability: 2016
Other: Fun Form Factor

PREVIOUS
RSS
NEXT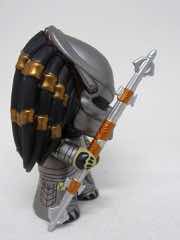 This is a nice collection! I pulled Scar, a Predator with a distinctive helmet design! The body is similar to other Titan vinyl figures, but the head sculpt is uniquely a Predator - complete with helmet and dreads. The shoulder cannon is attached to the head, too.
The paint job on the body is impressive - there are lots of paint applications and decorated details bringing the alien's armor and skin to life, even with bits on the back. The toes look like painted boots, the knees are specially decorated, and it doesn't look like they skipped any significant details either. For a plain humanoid body with paint, this turned out particularly well.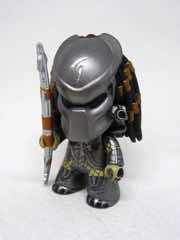 The figure's hands can easily grip the included spear, which is a handy original sculpt bagged separately from the figure itself. It's pretty soft, so it shouldn't snap or break easily. The detail is excellent, and it's about the right size for the tiny figure's body.
The oversized head has a familiar scar pattern - made with Alien blood - and the familiar dreads coming out the back end. The hollow vinyl figure head gives off a weirdly familiar smell, so if you owned cheap vinyl toys as a kid - remember when those were cheap? - this might smell familiar. The silver deco is great, and I love the texture on the helmet as well as the mask. The hair isn't particularly revelatory, but it's still nicely done for a part of the figure you'll probably mostly ignore.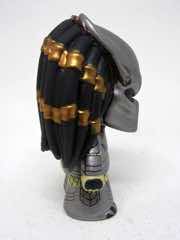 This is a pretty impressive little figure - it's not particularly cheap for the size, but this 3-inch figure does have little surprises like a painted flesh chin under that helmet. It's something nobody would notice, but Titan painted it - and that's certainly praiseworthy. The "Versus" wing of these franchises is largely considered to be the worst, but the creature designs are still awesome and these figures are nothing to sneeze at. Most of the figures are creatures, and the designs are certainly worth a gamble or two if you're in to this sort of thing. Well, maybe not the egg. I like the rest of what I see though, and I'm glad to have this one in my office today.
--Adam Pawlus
Additional Images

See more Titan Merchandise figures in Figure of the Day:
Day 1,622: Titan Merchandise Edward Scissorhands The I'm Not Finished Collection Rex
Day 1,929: Titan Merchandise Alien vs. Predator The Whoever Wins Collection Scar
Day 1,982: Titan Merchandise Cartoon Network Collection Samurai Jack

See more ALIENS figures in Figure of the Day:
Day 195: Kenner ALIENS Arachnid Alien Action Figure
Day 234: Kenner ALIENS Scorpion Alien Action Figure
Day 250: Kenner ALIENS Panther Alien Action Figure
Day 256: Kenner ALIENS Gorilla Alien Action Figure
Day 261: Kenner ALIENS Bull Alien Action Figure
Day 285: Kenner ALIENS Hive Wars Warrior Predator
Day 317: Kenner ALIENS vs. Predator 10-Inch Alien Action Figure
Day 359: Kenner ALIENS Hive Wars Acid Alien Action Figure
Day 365: Kenner ALIENS Vasquez Action Figure
Day 381: Kenner ALIENS Action Masters Ripley
Day 397: Kenner ALIENS Mantis Alien
Day 792: Super 7 ALIEN SDCC Exclusive Sales Samples
Day 821: Super7 x Funko Alien ReAction Ripley
Day 844: Super7 x Funko Alien ReAction Dallas
Day 852: Super7 x Funko Alien ReAction Alien
Day 857: Super7 x Funko Alien ReAction Kane in Space Suit
Day 861: Super7 x Funko Alien ReAction Ash
Day 1,149: Super7 x Funko Alien Egg Chamber Action Playset
Day 1,183: Super7 x Funko Alien ReAction Alien (with Metallic Flesh)
Day 1,199: Super7 x Funko Alien ReAction Ripley (Spacesuit)
Day 1,272: Super7 x Funko Alien ReAction Kane (Chestburster)
Day 1,277: Super7 x Funko Alien ReAction Kane (Facehugger)
Day 1,324: Diamond Select Toys Aliens vs. Colonial Marines Figure Set
Day 1,327: Super7 x Funko Alien ReAction Nostromo Crew (Dallas, Kane, Lambert)
Day 1,656: Super7 Alien M.U.S.C.L.E. Set A
Day 1,676: Super7 Alien M.U.S.C.L.E. Set C
Day 1,686: Super7 Alien M.U.S.C.L.E. Set B
Day 1,693: Super7 Alien M.U.S.C.L.E. Set D
Day 1,846: Super7 Aliens M.U.S.C.L.E. Set E
Day 1,864: Super7 Aliens M.U.S.C.L.E. Set A
Day 1,884: Super7 Aliens M.U.S.C.L.E. Set D
Day 1,929: Titan Merchandise Alien vs. Predator The Whoever Wins Collection Scar
Day 1,985: Funko Pop! 8-Bit Alien Xenomorph (Video Game) Pop! Vinyl Figure
Day 2,163: NECA Aliens Classics Series Neomorph Alien Action Figure
Day 2,167: Lanard Alien Collection Alien Queen Action Figure
Day 2,171: Lanard Alien Collection Xenomorph Drone, Egg & Facehugger, and Research Scientist Xenomorph Swarm Action Figure Set
Day 2,173: Lanard Alien Collection Advanced-APC Vehicle and Colonial Marine Sargent Xenomorph Attack Action Figure Set
Day 2,175: Lanard Alien Collection Xenomorph Runner, Planetary Rover Bike, and Weyland Commando Action Figure Set
Day 2,178: Lanard Alien Collection Power Loader, Colonial Marine, and Warrior Alien Xenomorph Attack Action Figure Set
Day 2,179: Kenner Aliens Wild Boar Alien Action Figure
Day 2,274: Lanard Toy Alien 7-Inch Drone Xenomorph Action Figure
Day 2,292: Lanard Toy Alien 7-Inch Warrior Xeno Action Figure
Day 2,308: Lanard Alien Collection Xenomorph Warrior, Rotating Sentry Gun, and Colonial Space Marine Xenomorph Swarm Action Figure Set
Day 2,554: Super7 Alien UCCSS Nostromo Action Figure Set 1 with Kane with Facehugger, Ripley with Jonesy, Ash with Removable Head

See more Predator figures in Figure of the Day:
Day 211: Kenner Predator Cracked Tusk Predator Action Figure
Day 285: Kenner ALIENS Hive Wars Warrior Predator
Day 356: Kenner Action Masters Predator
Day 945: Super7 x Funko Predator (Invisible, Bloody) Action Figure
Day 1,029: Super7 x Funko Predator (Attack Mode) ReAction Figure
Day 1,059: Funko Predator (Masked) ReAction Figure
Day 1,102: Funko Predator (Unmasked) ReAction Figure
Day 1,111: Funko Predator (Glow Version) ReAction Figure
Day 1,187: Funko Predator (Invisible) ReAction Figure
Day 1,208: Funko Predator (Thermal Vision) ReAction Figure
Day 1,350: Funko Hikari Vinyl Predator Original Predator Unmasked
Day 1,929: Titan Merchandise Alien vs. Predator The Whoever Wins Collection Scar
Day 2,162: NECA Predator Classics Series Berserker Predator Action Figure
Day 2,278: Lanard Toy Predator 7-Inch Jungle Hunter Predator Action Figure
Day 2,286: Lanard Toy Predator 7-Inch City Hunter Predator Action Figure