Pop! 8-Bit Alien Xenomorph (Video Game) Pop! Vinyl Figure
Entertainment Earth Exclusive

Pop! 8-Bit Alien Vinyl Figures
Item No.: No. 31712
Manufacturer: Funko
Includes: n/a
Action Feature: n/a
Retail: $13.99
Availability: May 2018
Other: Pop! 8-Bit #24

PREVIOUS
RSS
NEXT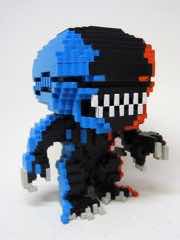 I love it when an exclusive comes together. Alien has one of the most recognizable creatures in movies, and this 8-Bit Alien Xenomorph (Video Game) figure is modeled after the LJN Alien3 video game - which is a pretty awesome look. On one side, it's red. On the other, blue. This figure looks a little more orange, but it's still wonderful - plus it's more Portaly.
There are at least three flavors of this 8-Bit Alien Xenomorph - basic black, green blood-splatter, and video game. I'm sure there's room for a couple more, but the fact that the figure takes on a distinctly different look depending on your perspective is what makes this one the best. (Also because I was involved in its creation, but hey, that's why I love my job.) The figure has no articulation, but the blocky sculpt is really neat - there are dividing lines carved in around the teeth, and the claws are all spread apart. It looks jagged and mean, which is kind of amazing given the normal Pop! figure is rounded and cute with basically the same proportions.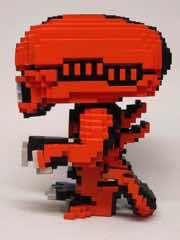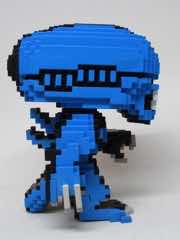 Deco planning is good, but execution could be better. The design has a lot of precision and straight lines, and you'll notice a little overspray here and there. Depending on how you view it, you might notice since it's in the shadows and cracks - but the macro lens is unforgiving. The design and effect are lovely, though - so if you have the chance to eyeball it before purchase, do so.
I'm a sucker for weird exclusives, especially when they come from where I work. I'm biased - can you blame me? Check out the pictures of the figure before you buy yours if you can, it's sturdy and heavy. I don't yet know if it will sag over time, the head feels solid and thick. It's a weird little collectible and that's how I like them - which you may have noticed with my orange Oscar and other oddities.
--Adam Pawlus
Additional Images

See more Funko figures in Figure of the Day:
Day 1: Funko Force 2.0 Comic-Con Exclusive Batman
Day 80: Metallic Cobra Commander Wackly Wobbler
Day 120: Funko Gremlins Pop! Vinyl Stripe Vinyl Figure
Day 126: Funko Beetlejuice Pop! Vinyl Beetlejuice Vinyl Figure
Day 131: Funko Thor Pop! Vinyl Thor Vinyl Figure Bobble Head
Day 141: Funko Thor Pop! Vinyl Loki Vinyl Figure Bobble Head
Day 151: Funko Music Pop! Vinyl Ozzy Osbourne Vinyl Figure
Day 160: Funko G.I. Joe "Pimp Daddy" Destro
Day 207: Funko Disney Pop! Vinyl Mr. Incredible Vinyl Figure
Day 224: Funko Batman Blox Vinyl Batman Vinyl Figure
Day 249: Funko Marvel Universe Pop! Vinyl Iron Man Vinyl Figure Bobble Head
Day 293: Funko Disney Pop! Vinyl Mike Wazowski Vinyl Figure
Day 306: Funko Marvel Universe Pop! Vinyl The Hulk Vinyl Figure Bobble Head
Day 345: Funko Disney Pop! Vinyl Sulley Vinyl Figure
Day 427: Funko Marvel Universe Pop! Vinyl SDCC Exlusive Spider-Man Vinyl Figure Bobble Head
Day 748: Funko Land of the Lost SDCC Exclusive Glow in the Dark Sleestak
Day 981: Funko Planet of the Apes Pop! Movies Cornelius Vinyl Figure
Day 1,000: Funko Hikari Vinyl Freddy Funko (Creature from the Black Lagoon)
Day 1,036: Funko Entertainment Earth Exclusive Kill Bill Gogo Yubari (Bloody) Pop! Vinyl Figure
Day 1,069: Funko Planet of the Apes Pop! Movies Dr. Zaius Vinyl Figure
Day 1,150: Funko Guardians of the Galaxy Pop! Vinyl Entertainment Earth Exclusive Ravagers Dancing Groot
Day 1,155: Funko Hikari Vinyl Marvel Guardians of the Galaxy Planet X Groot
Day 1,163: Funko Universal Monsters Life Force Metaluna Mutant
Day 1,164: Funko Hikari Vinyl Ghostbusters Pink Stay Puft Marshmallow Man
Day 1,165: Funko Hikari Vinyl Universal Monsters Glitter Shock Frankenstein
Day 1,166: Funko Hikari Vinyl Masters of the Universe Mystic Powers Skeletor
Day 1,167: Funko Hikari Vinyl Transformers Metallic Optimus
Day 1,197: Funko Batman Ice Freeze Batman Reject
Day 1,221: Funko Hikari Vinyl Transformers Metallic Bumblebee
Day 1,225: Funko Bravest Warriors Pop! Television Impossibear Vinyl Figure
Day 1,226: Funko Planet of the Apes Pop! Movies General Ursus Vinyl Figure
Day 1,229: Funko Bravest Warriors Pop! Television Catbug Vinyl Figure
Day 1,241: Funko Hikari Vinyl Gigantor Power Vision Gigantor
Day 1,257: Funko Hikari Vinyl Antique Verdigris Metaluna Mutant
Day 1,281: Funko Planet of the Apes Pop! Movies Ape Soldier Vinyl Figure
Day 1,285: Funko Bravest Warriors Pop! Television Commander Catbug Vinyl Figure
Day 1,300: Funko Hikari Vinyl Marvel Metallic Hulk Vinyl Figure
Day 1,305: Funko Pop! DC Comics Super Heroes Orange Batman Vinyl Figure
Day 1,340: Funko Pop! Sesame Street Season 1 Oscar the Grouch Vinyl Figure
Day 1,338: Funko Pop! Animation Bob's Burgers Gene Belcher Vinyl Figure
Day 1,350: Funko Hikari Vinyl Predator Original Predator Unmasked
Day 1,355: Funko Pop! Animation Bob's Burgers Linda Belcher Vinyl Figure
Day 1,361: Funko Pop! Animation Bob's Burgers Louise Belcher Vinyl Figure
Day 1,365: Funko Pop! Animation Bob's Burgers Tina Belcher Vinyl Figure
Day 1,374: Funko Pop! Animation Bob's Burgers Bob Belcher Vinyl Figure
Day 1,382: Funko Hikari Vinyl Toy Story Original Buzz Lightyear
Day 1,390: Funko Pop! Movies Back to the Future Marty McFly Vinyl Figure
Day 1,396: Funko Pop! Television Last Week Tonight with John Oliver Vinyl Figure
Day 1,400: Funko Dorbz DC Comics Super Heroes Orange Batman Vinyl Figure
Day 1,540: Funko Pop! Movies Atomic Breath Godzilla Pop! Vinyl Figure
Day 1,620: Funko Son of Zorn Zorn Action Figure
Day 1,645: Funko Masters of the Universe Dorbz Skeletor
Day 1,650: Funko x Playmobil Willy Wonka
Day 1,657: Funko x Playmobil Teenage Mutant Ninja Turtles Black and White Raphael
Day 1,659: Funko Pop! Television Stranger Things Eleven with Eggos Pop! Vinyl Figure
Day 1,671: Funko Pop! Television Stranger Things Joyce Pop! Vinyl Figure
Day 1,685: Funko Pop! Television Twin Peaks Agent Cooper Pop! Vinyl Figure
Day 1,687: Funko Pop! Television Stranger Things Lucas Pop! Vinyl Figure
Day 1,694: Funko Pop! Television Stranger Things Barb Pop! Vinyl Figure
Day 1,706: Funko Pop! Television Stranger Things Dustin Pop! Vinyl Figure
Day 1,707: Funko Pop! Television Twin Peaks Audrey Horne Pop! Vinyl Figure
Day 1,710: Funko Pop! Television Twin Peaks Laura Palmer Pop! Vinyl Figure
Day 1,714: Funko Pop! Television Stranger Things Demogorgon Pop! Vinyl Figure
Day 1,717: Funko Pop! Television Twin Peaks The Giant Pop! Vinyl Figure
Day 1,722: Funko Pop! Television Twin Peaks Log Lady Pop! Vinyl Figure
Day 1,732: Funko Pop! Television Stranger Things Will Pop! Vinyl Figure
Day 1,736: Funko 9POA Twin Peaks Action Figure Set
Day 1,745: Funko Pop! Television Twin Peaks Leland Palmer Pop! Vinyl Figure
Day 1,753: Funko 9POA Batman 1966 TV Series Batman and Robin Action Figures with Batmobile
Day 1,761: Funko Pop! Heroes Wonder Woman Diana Prince Pop! Vinyl Figure
Day 1,766: Funko Pop! Television Twin Peaks Bob Pop! Vinyl Figure
Day 1,777: Funko Pop! Television Ash vs. Evil Dead Entertainment Earth Exclusive Bloody Ash Pop! Vinyl Figure
Day 1,793: Funko Pop! Television Stranger Things Mike Pop! Vinyl Figure
Day 1,832: Funko x Playmobil Doctor Who Fourth Doctor
Day 1,838: Funko Pop! Television Twin Peaks Black Lodge Cooper / Black Lodge Laura Pop! Vinyl Figures
Day 1,841: Funko Pop! Animation Glow in the Dark Reptar Pop! Vinyl Figure
Day 1,847: Funko Pop! DC Comics Super Heroes Retro Batman Vinyl Figure
Day 1,850: Funko Pop! Disney Coco Ernesto Pop! Vinyl Figure
Day 1,852: Funko Son of Zorn Office Zorn
Day 1,908: Funko x Playmobil Teenage Mutant Ninja Turtles Shredder
Day 1,927: Funko Pop! Movies Star Trek Beyond Captain Kirk (Survival Suit) Pop! Vinyl Figure
Day 1,938: Funko Pop! Movies Jurassic Park Dr. Ian Malcolm (Wounded) Pop! Vinyl Figure
Day 1,939: Funko Pop! Games Portal 2 Chell Pop! Vinyl Figure
Day 1,957: Funko VYNL The Life Aquatic Steve and Ned Vinyl Figures
Day 1,984: Funko Pop! Movies Jurassic Park Dr. Ian Malcolm Pop! Vinyl Figure
Day 1,985: Funko Pop! 8-Bit Alien Xenomorph (Video Game) Pop! Vinyl Figure
Day 2,045: Funko GLOW Debbie Eagan vs. Ruth Wilder Action Figures
Day 2,124: Funko DuckTales Scrooge McDuck (Red Coat) Pop! Vinyl Figure
Day 2,244: Funko Pop! Television Schitt's Creek David Rose Action Figure
Day 2,315: Funko Soda Devo Satisfaction Vinyl Figure
Day 2,440: Funko Pop! Rocks Frank Zappa Action Figure

See more ALIENS figures in Figure of the Day:
Day 195: Kenner ALIENS Arachnid Alien Action Figure
Day 234: Kenner ALIENS Scorpion Alien Action Figure
Day 250: Kenner ALIENS Panther Alien Action Figure
Day 256: Kenner ALIENS Gorilla Alien Action Figure
Day 261: Kenner ALIENS Bull Alien Action Figure
Day 285: Kenner ALIENS Hive Wars Warrior Predator
Day 317: Kenner ALIENS vs. Predator 10-Inch Alien Action Figure
Day 359: Kenner ALIENS Hive Wars Acid Alien Action Figure
Day 365: Kenner ALIENS Vasquez Action Figure
Day 381: Kenner ALIENS Action Masters Ripley
Day 397: Kenner ALIENS Mantis Alien
Day 792: Super 7 ALIEN SDCC Exclusive Sales Samples
Day 821: Super7 x Funko Alien ReAction Ripley
Day 844: Super7 x Funko Alien ReAction Dallas
Day 852: Super7 x Funko Alien ReAction Alien
Day 857: Super7 x Funko Alien ReAction Kane in Space Suit
Day 861: Super7 x Funko Alien ReAction Ash
Day 1,149: Super7 x Funko Alien Egg Chamber Action Playset
Day 1,183: Super7 x Funko Alien ReAction Alien (with Metallic Flesh)
Day 1,199: Super7 x Funko Alien ReAction Ripley (Spacesuit)
Day 1,272: Super7 x Funko Alien ReAction Kane (Chestburster)
Day 1,277: Super7 x Funko Alien ReAction Kane (Facehugger)
Day 1,324: Diamond Select Toys Aliens vs. Colonial Marines Figure Set
Day 1,327: Super7 x Funko Alien ReAction Nostromo Crew (Dallas, Kane, Lambert)
Day 1,656: Super7 Alien M.U.S.C.L.E. Set A
Day 1,676: Super7 Alien M.U.S.C.L.E. Set C
Day 1,686: Super7 Alien M.U.S.C.L.E. Set B
Day 1,693: Super7 Alien M.U.S.C.L.E. Set D
Day 1,846: Super7 Aliens M.U.S.C.L.E. Set E
Day 1,864: Super7 Aliens M.U.S.C.L.E. Set A
Day 1,884: Super7 Aliens M.U.S.C.L.E. Set D
Day 1,929: Titan Merchandise Alien vs. Predator The Whoever Wins Collection Scar
Day 1,985: Funko Pop! 8-Bit Alien Xenomorph (Video Game) Pop! Vinyl Figure
Day 2,163: NECA Aliens Classics Series Neomorph Alien Action Figure
Day 2,167: Lanard Alien Collection Alien Queen Action Figure
Day 2,171: Lanard Alien Collection Xenomorph Drone, Egg & Facehugger, and Research Scientist Xenomorph Swarm Action Figure Set
Day 2,173: Lanard Alien Collection Advanced-APC Vehicle and Colonial Marine Sargent Xenomorph Attack Action Figure Set
Day 2,175: Lanard Alien Collection Xenomorph Runner, Planetary Rover Bike, and Weyland Commando Action Figure Set
Day 2,178: Lanard Alien Collection Power Loader, Colonial Marine, and Warrior Alien Xenomorph Attack Action Figure Set
Day 2,179: Kenner Aliens Wild Boar Alien Action Figure
Day 2,274: Lanard Toy Alien 7-Inch Drone Xenomorph Action Figure
Day 2,292: Lanard Toy Alien 7-Inch Warrior Xeno Action Figure
Day 2,308: Lanard Alien Collection Xenomorph Warrior, Rotating Sentry Gun, and Colonial Space Marine Xenomorph Swarm Action Figure Set
Day 2,554: Super7 Alien UCCSS Nostromo Action Figure Set 1 with Kane with Facehugger, Ripley with Jonesy, Ash with Removable Head