Kane (with Chestburster)
Hello My Baby

Alien ReAction Figures
Item No.: No. 4425
Manufacturer: Super7 x Funko
Includes: n/a
Action Feature: n/a
Retail: $9.99
Availability: October 2014
Other: One of Three Kane Figures

PREVIOUS
RSS
NEXT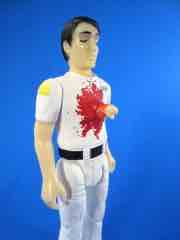 After two pretty cool waves, it seems that the ReAction Alien line is in a holding pattern. At least, we haven't seen the other space suit figures and have yet to get a Harry Dean Stanton. Now we've got three versions of this character, as Kane (with Chestburster) is arguably the entire reason this movie happens. As is typical for modern horror movies, he's not careful and gets pregnant. No wait, that's not it. Well, yes it is - and this figure is sort of a beautiful spoiler become flesh.
The 4-inch tall figure is tall and shares parts with his sibling, Kane (with Facehugger). The chests are unique, but the heads are the same. Interestingly, paint is used to simulate closed eyelids on the "dead" version of John Hurt after his rib cage is chewed up from the inside. Truly, a horrible way to go - especially when you see his nice white clothes stained. His legs and everything below the belt is clearly based on Ash from the earlier series, which gives it a real flavor of authenticity for the 1970s. Painted white, the garments aren't glossy like the classic toys of the 1970s or 1980s but other than that, it's a good fit. The skin tone is shiny and a little pale - appropriate for a space ship - plus he has a patch on his right shoulder and a badge on his chest. And a bonus surprise friend.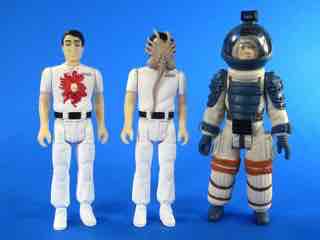 The non-removable alien chestburster is the kind of thing you'd always want to see as a kid, but would never, ever see out of Kenner. It's glossy and gross, leaving a stream of almost realistic blood in its wake. It looks spectacular as it's a striking, horrifying scene mashed up with familiar-looking action figures, but it's also kind of weird. After all, if you were replicating the era this sort of gore would be a tough sell to the bulk of America, who still mostly thought of toys as things for ages 4 to 11. There's a decent amount of pooling and splatter soaked in to the white shirt, meaning this is probably one of the goriest figures in the entire ReAction lineup. No blood would feel just as wrong, and seeing someone penetrated from the inside is the kind of thing you don't get as a toy as often as you might like. The detail is light and appropriate for toys aping this style, so kudos to the Funko and Super7 people for their direction here. I'd be curious to see what a bloodless version might look like, or one with a legit toy action feature not unlike Luke Skywalker's Star Wars lightsaber from 1978.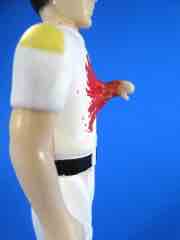 This is a believable 2014 update of a 1979 concept, but I am dying to know what the actual toymaker Kenner would have done. For example, would they have ignored the creature completely? Would the clear spoiler be too much for kids? Would it just be a hole where you can pull out a small creature? We may never know, but as the kids say it's fun to speculate. The designers came up with a good possibility, so for ten bucks it's probably worth your while. It's not like you've got too many bleeding action figures on your desk, after all.
--Adam Pawlus
Additional Images

See more Super 7 and Funko x Super 7 figures in Figure of the Day:
Day 792: Super 7 ALIEN SDCC Exclusive Sales Samples
Day 821: Super7 x Funko Alien ReAction Ripley
Day 844: Super7 x Funko Alien ReAction Dallas
Day 852: Super7 x Funko Alien ReAction Alien
Day 857: Super7 x Funko Alien ReAction Kane in Space Suit
Day 861: Super7 x Funko Alien ReAction Ash
Day 945: Super7 x Funko The Rocketeer ReAction Rocketeer Action Figure
Day 945: Super7 x Funko Predator (Invisible, Bloody) Action Figure
Day 985: Funko Back to the Future Marty McFly ReAction Figure
Day 1001: Funko Nightmare Before Christmas Jack Skellington (Early Bird Figure) ReAction Figure
Day 1,005: Funko Universal Monsters The Mummy ReAction Figure
Day 1,008: Funko Back to the Future George McFly ReAction Figure
Day 1,008: Funko Back to the Future Doc Brown ReAction Figure
Day 1,029: Super7 x Funko Predator (Attack Mode) ReAction Figure
Day 1,037: Funko Nightmare Before Christmas Saly ReAction Figure
Day 1,038: Funko Universal Monsters Creature from the Black Lagoon ReAction Figure
Day 1,039: Funko Universal Monsters The Invisible Man ReAction Figure
Day 1,040: Funko Universal Monsters The Phantom of the Opera ReAction Figure
Day 1,041: Funko Universal Monsters The Wolf Man ReAction Figure
Day 1,042: Funko Universal Monsters The Bride of Frankenstein ReAction Figure
Day 1,059: Funko Predator (Masked) ReAction Figure
Day 1,068: Funko Universal Monsters Frankenstein's Monster ReAction Figure
Day 1,078: Funko Back to the Future Biff Tannen ReAction Figure
Day 1,082: Funko T800 Endoskeleton (Chrome) ReAction Figure
Day 1,094: Funko Universal Monsters Dracula ReAction Figure
Day 1,059: Funko Predator (Masked) ReAction Figure
Day 1,102: Funko Predator (Unmasked) ReAction Figure
Day 1,108: Funko Universal Monsters The Invisible Man
Day 1,108: Funko Universal Monsters The Invisible Man Clear Entertainment Earth Exclusive
Day 1,111: Funko Predator (Glow Version) ReAction Figure
Day 1,117: Funko The Terminator Sarah Connor ReAction Figure
Day 1,133: Funko The Terminator (Tech Noir Jacket) ReAction Figure
Day 1,138: Funko Pulp Fiction Mia Wallace ReAction Figure
Day 1,149: Super7 x Funko Alien Egg Chamber Action Playset
Day 1,183: Super7 x Funko Alien ReAction Alien (with Metallic Flesh)
Day 1,187: Funko Predator (Invisible) ReAction Figure
Day 1,199: Super7 x Funko Alien ReAction Ripley (Spacesuit)
Day 1,208: Funko Predator (Thermal Vision) ReAction Figure
Day 1,211: Funko The Fifth Element Leeloo ReAction Figure
Day 1,217: Funko The Fifth Element Diva Plavalaguna ReAction Figure
Day 1,222: Funko The Fifth Element Korben Dallas ReAction Figure
Day 1,227: Funko The Fifth Element Mangalore ReAction Figure
Day 1,236: Funko Gremlins Mogwai Stripe ReAction Figure
Day 1,244: Funko The Fifth Element Ruby Rhod ReAction Figure
Day 1,250: Super7 M.O.T.U.S.C.L.E. Set B
Day 1,252: Funko The Fifth Element Zorg ReAction Figure
Day 1,263: Super7 M.O.T.U.S.C.L.E. Set A
Day 1,267: Funko The Fifth Element Leeloo (Straps Costume) ReAction Figure
Day 1,272: Super7 x Funko Alien ReAction Kane (Chestburster)
Day 1,275: Funko Gremlins Billy Peltzer ReAction Figure
Day 1,277: Super7 x Funko Alien ReAction Kane (Facehugger)
Day 1,286: Funko Nightmare Before Christmas Behemoth
Day 1,288: Super7 M.O.T.U.S.C.L.E. Set C
Day 1,295: Funko Nightmare Before Christmas Mayor
Day 1,302: Super7 M.O.T.U.S.C.L.E. SDCC Promo Skeletor
Day 1,327: Super7 x Funko Alien ReAction Nostromo Crew (Dallas, Kane, Lambert)
Day 1,333: Funko Gremlins Cinema Gremlin ReAction Figure
Day 1,342: Funko Gremlins Gremlin Stripe ReAction Figure
Day 1,358: Funko Gremlins Bandit Gremlin ReAction Figure
Day 1,628: Super7 Masters of the Universe M.U.S.C.L.E. Series 2 Set C
Day 1,633: Super7 Masters of the Universe M.U.S.C.L.E. Series 2 Set B
Day 1,637: Funko E.T. The Extra-Terrestrial Elliot, E.T., and Gertie ReAction Figures
Day 1,639: Super7 Masters of the Universe M.U.S.C.L.E. Series 2 Set D
Day 1,639: Super7 Masters of the Universe M.U.S.C.L.E. Series 2 Set A
Day 1,656: Super7 Alien M.U.S.C.L.E. Set A
Day 1,676: Super7 Alien M.U.S.C.L.E. Set C
Day 1,686: Super7 Alien M.U.S.C.L.E. Set B
Day 1,693: Super7 Alien M.U.S.C.L.E. Set D
Day 1,801: Super7 Street Fighter II M.U.S.C.L.E. Set A
Day 1,817: Super7 Street Fighter II M.U.S.C.L.E. Set B
Day 1,834: Super7 Street Fighter II M.U.S.C.L.E. Set D
Day 1,840: Super7 Masters of the Universe M.U.S.C.L.E. Series 3 Set D
Day 1,846: Super7 Aliens M.U.S.C.L.E. Set E
Day 1,843: Super7 Masters of the Universe M.U.S.C.L.E. Series 3 Set E
Day 1,857: Super7 Street Fighter II M.U.S.C.L.E. Set C
Day 1,862: Super7 Masters of the Universe M.U.S.C.L.E. Series 3 Set C
Day 1,864: Super7 Aliens M.U.S.C.L.E. Set A
Day 1,877: Super7 Masters of the Universe M.U.S.C.L.E. Series 3 Set F
Day 1,881: Super7 Mega Man M.U.S.C.L.E. Series 1 Set B
Day 1,884: Super7 Aliens M.U.S.C.L.E. Set D
Day 1,894: Super7 Mega Man M.U.S.C.L.E. Series 1 Set D
Day 1,904: Super7 Mega Man M.U.S.C.L.E. Series 1 Set A
Day 1,914: Super7 Mega Man M.U.S.C.L.E. Series 1 Set C
Day 1,920: Super7 Halloween Series Nosferatu Glow in the Dark
Day 1,922: Super7 Masters of the Universe M.U.S.C.L.E. Series 3 Set B
Day 1,937: Super7 Masters of the Universe M.U.S.C.L.E. Series 3 Set A
Day 2,161: Super7 Masters of the Universe Transforming He-Man Action Figure
Day 2,211: Super7 Toxic Crusaders Glow in the Dark Toxie Action Figure
Day 2,235: Super7 Ultimates Voltron Action Figure
Day 2,237: Super7 Teenage Mutant Ninja Turtles Ultimates Raphael Action Figure
Day 2,253: Super7 Teenage Mutant Ninja Turtles Ultimates Foot Soldier Action Figure
Day 2,358: Super7 Killer Bootlegs Rhamnusia's Revenge Action Playset with Draco Knuckleduster and Phantom Starkiller Action Figures
Day 2,388: Super7 Teenage Mutant Ninja Turtles Ultimates Glow-in-the-Dark Mutagen Man Action Figure

See more ALIENS figures in Figure of the Day:
Day 195: Kenner ALIENS Arachnid Alien Action Figure
Day 234: Kenner ALIENS Scorpion Alien Action Figure
Day 250: Kenner ALIENS Panther Alien Action Figure
Day 256: Kenner ALIENS Gorilla Alien Action Figure
Day 261: Kenner ALIENS Bull Alien Action Figure
Day 285: Kenner ALIENS Hive Wars Warrior Predator
Day 317: Kenner ALIENS vs. Predator 10-Inch Alien Action Figure
Day 359: Kenner ALIENS Hive Wars Acid Alien Action Figure
Day 365: Kenner ALIENS Vasquez Action Figure
Day 381: Kenner ALIENS Action Masters Ripley
Day 397: Kenner ALIENS Mantis Alien
Day 792: Super 7 ALIEN SDCC Exclusive Sales Samples
Day 821: Super7 x Funko Alien ReAction Ripley
Day 844: Super7 x Funko Alien ReAction Dallas
Day 852: Super7 x Funko Alien ReAction Alien
Day 857: Super7 x Funko Alien ReAction Kane in Space Suit
Day 861: Super7 x Funko Alien ReAction Ash
Day 1,149: Super7 x Funko Alien Egg Chamber Action Playset
Day 1,183: Super7 x Funko Alien ReAction Alien (with Metallic Flesh)
Day 1,199: Super7 x Funko Alien ReAction Ripley (Spacesuit)
Day 1,272: Super7 x Funko Alien ReAction Kane (Chestburster)
Day 1,277: Super7 x Funko Alien ReAction Kane (Facehugger)
Day 1,324: Diamond Select Toys Aliens vs. Colonial Marines Figure Set
Day 1,327: Super7 x Funko Alien ReAction Nostromo Crew (Dallas, Kane, Lambert)
Day 1,656: Super7 Alien M.U.S.C.L.E. Set A
Day 1,676: Super7 Alien M.U.S.C.L.E. Set C
Day 1,686: Super7 Alien M.U.S.C.L.E. Set B
Day 1,693: Super7 Alien M.U.S.C.L.E. Set D
Day 1,846: Super7 Aliens M.U.S.C.L.E. Set E
Day 1,864: Super7 Aliens M.U.S.C.L.E. Set A
Day 1,884: Super7 Aliens M.U.S.C.L.E. Set D
Day 1,929: Titan Merchandise Alien vs. Predator The Whoever Wins Collection Scar
Day 1,985: Funko Pop! 8-Bit Alien Xenomorph (Video Game) Pop! Vinyl Figure
Day 2,163: NECA Aliens Classics Series Neomorph Alien Action Figure
Day 2,167: Lanard Alien Collection Alien Queen Action Figure
Day 2,171: Lanard Alien Collection Xenomorph Drone, Egg & Facehugger, and Research Scientist Xenomorph Swarm Action Figure Set
Day 2,173: Lanard Alien Collection Advanced-APC Vehicle and Colonial Marine Sargent Xenomorph Attack Action Figure Set
Day 2,175: Lanard Alien Collection Xenomorph Runner, Planetary Rover Bike, and Weyland Commando Action Figure Set
Day 2,178: Lanard Alien Collection Power Loader, Colonial Marine, and Warrior Alien Xenomorph Attack Action Figure Set
Day 2,179: Kenner Aliens Wild Boar Alien Action Figure
Day 2,274: Lanard Toy Alien 7-Inch Drone Xenomorph Action Figure
Day 2,292: Lanard Toy Alien 7-Inch Warrior Xeno Action Figure
Day 2,308: Lanard Alien Collection Xenomorph Warrior, Rotating Sentry Gun, and Colonial Space Marine Xenomorph Swarm Action Figure Set

Want to buy this figure? Check ALIEN availability at our sponsors:
Entertainment Earth