Advanced-APC Vehicle, and Colonial Marine Sargent
New vehicle, old figure, no creatures

Alien Collection Walmart Exclusive
Item No.: Asst. ??? No. 31306
Manufacturer: Lanard
Includes: Egg, alien, facehugger, helmet, human, blaster
Action Feature: Rolls, turrets move, open lid
Retail: $14.87
Availability: January 2020
Other: Mini-Rig Fans, Take Note

PREVIOUS
RSS
NEXT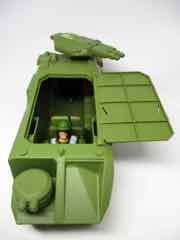 Kenner never gave us their take on this vehicle, but Hiya Toys did a remarkable $289.99 version which is basically a playset on wheels. That 1:18 scale version ma be out of your price range, but the wildly not-in-scale Advanced-APC Vehicle, and Colonial Marine Sargent Xenomorph Attack Action Figure Set is most affordable. It looks like an old Kenner Mini-Rig, and other than the plastic having a little more flex to it, it certainly feels like the kind of thing Kenner or Hasbro should have sold to kids in 1987. Too bad for us, R-Rated movies getting turned into toy lines were more of a 1990s phenomenon.
The Colonial Marine Sargent is none too exciting. The barrel-chested trooper needs to be squeezed in the narrow driver's seat, but you can cram him in there. It's just going to be a tight squeeze. The figure is a 2001 5-jointed Lanard trooper, complete with a blue not-quite-a-Pulse Rifle. As we've said before, it's very Kennery but not very Colonial Marinesey. The whole package seems a lot like something Kenner might've tried to peddle around 1995. The exaggerated proportions were - we were told - popular among kids, but it seemed the greatest successes of the era tended to be a bit more down-to-earth. But I digress.
It's not a remarkable figure - the Lanard Colonial Marines are kind of a bore, the other troopers have more articulation and are generally more creative takes on these costumes. Lanard could've reused pretty much any typical old soldier mold from its O-Ring era and it might've been a bit more fun, but this is a $15 set with an all-new vehicle mold in 2020. A vehicle this size with a 5-jointed figure in 2000 would have been almost unthinkable.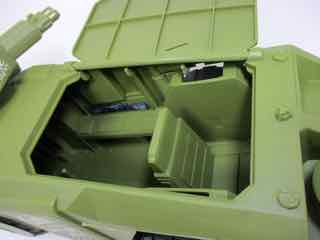 The Advanced-APC is a mostly hollow troop transport, proportionally rather authentic for a heavily scaled-down vehicle. It's only nine inches long, making it more of a "mini-rig" (to use the old Kenner parlance) than a truly authentic collectible. This is, of course, the point. The turret on top and the one up front both move, and while there's no damage or weathering deco there are plenty of stickers like 2D Sulaco and Bug Crusher. It's very on-brand.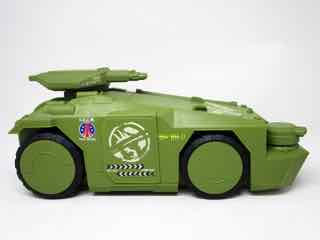 Sculpted detail is close, but not an exact match - for those of you old enough to remember Saturday morning cartoons, this was kind of typical of old licensed toys. The general shape is here, with big, rolling wheels and recognizable landmarks from the movie (that you, as a 7+ year old, would not have seen.) The grips on top were adapted so they can actually be used to pry open the lid - which is a bit of a challenge. The wheels and turrets move handily, and the plastic's feel is sort of like the best-ever green army man Jeep. It's not high-grade hard plastic, but it's certainly very good.
If you're already all-in on the Hiya Toys line, you probably don't want all of Lanard's offering - just the aliens, I'd wager. If you're a 3 3/4-inch fan or a fan of things priced as toys, this is a shining gem. The last couple of X-Wings sold for $100 each, we've seen some very high-priced Batmobiles, and Hasbro's last (disappointing) scaled-down Millennium Falcon didn't even have a proper cockpit - so this vehicle, with room to cram one or two figures in the back section, ticks all the boxes of being the bare minimum of being pretty darned good. If you just need a nice new vehicle to futz with, get this. If you've been buying a lot of the Funko/Super7 ReAction figures (or Healey Made's Raider) this is the kind of gem - or custom-fodder - you've been wanting.
--Adam Pawlus
Additional Images

See more Lanard figures in Figure of the Day:
Day 1,912: Lanard Rampage The Movie Big City Brawl! Lizzie
Day 2,065: Lanard Primal Clash Mammoth with Shrapnel Action Figure
Day 2,167: Lanard Alien Collection Alien Queen Action Figure
Day 2,171: Lanard Alien Collection Xenomorph Drone, Egg & Facehugger, and Research Scientist Xenomorph Swarm Action Figure Set
Day 2,173: Lanard Alien Collection Advanced-APC Vehicle and Colonial Marine Sargent Xenomorph Attack Action Figure Set
Day 2,175: Lanard Alien Collection Xenomorph Runner, Planetary Rover Bike, and Weyland Commando Action Figure Set
Day 2,178: Lanard Alien Collection Power Loader, Colonial Marine, and Warrior Alien Xenomorph Attack Action Figure Set
Day 2,274: Lanard Toy Alien 7-Inch Drone Xenomorph Action Figure
Day 2,278: Lanard Toy Predator 7-Inch Jungle Hunter Predator Action Figure
Day 2,286: Lanard Toy Predator 7-Inch City Hunter Predator Action Figure
Day 2,292: Lanard Toy Alien 7-Inch Warrior Xeno Action Figure
Day 2,308: Lanard Alien Collection Xenomorph Warrior, Rotating Sentry Gun, and Colonial Space Marine Xenomorph Swarm Action Figure Set

See more ALIENS figures in Figure of the Day:
Day 195: Kenner ALIENS Arachnid Alien Action Figure
Day 234: Kenner ALIENS Scorpion Alien Action Figure
Day 250: Kenner ALIENS Panther Alien Action Figure
Day 256: Kenner ALIENS Gorilla Alien Action Figure
Day 261: Kenner ALIENS Bull Alien Action Figure
Day 285: Kenner ALIENS Hive Wars Warrior Predator
Day 317: Kenner ALIENS vs. Predator 10-Inch Alien Action Figure
Day 359: Kenner ALIENS Hive Wars Acid Alien Action Figure
Day 365: Kenner ALIENS Vasquez Action Figure
Day 381: Kenner ALIENS Action Masters Ripley
Day 397: Kenner ALIENS Mantis Alien
Day 792: Super 7 ALIEN SDCC Exclusive Sales Samples
Day 821: Super7 x Funko Alien ReAction Ripley
Day 844: Super7 x Funko Alien ReAction Dallas
Day 852: Super7 x Funko Alien ReAction Alien
Day 857: Super7 x Funko Alien ReAction Kane in Space Suit
Day 861: Super7 x Funko Alien ReAction Ash
Day 1,149: Super7 x Funko Alien Egg Chamber Action Playset
Day 1,183: Super7 x Funko Alien ReAction Alien (with Metallic Flesh)
Day 1,199: Super7 x Funko Alien ReAction Ripley (Spacesuit)
Day 1,272: Super7 x Funko Alien ReAction Kane (Chestburster)
Day 1,277: Super7 x Funko Alien ReAction Kane (Facehugger)
Day 1,324: Diamond Select Toys Aliens vs. Colonial Marines Figure Set
Day 1,327: Super7 x Funko Alien ReAction Nostromo Crew (Dallas, Kane, Lambert)
Day 1,656: Super7 Alien M.U.S.C.L.E. Set A
Day 1,676: Super7 Alien M.U.S.C.L.E. Set C
Day 1,686: Super7 Alien M.U.S.C.L.E. Set B
Day 1,693: Super7 Alien M.U.S.C.L.E. Set D
Day 1,846: Super7 Aliens M.U.S.C.L.E. Set E
Day 1,864: Super7 Aliens M.U.S.C.L.E. Set A
Day 1,884: Super7 Aliens M.U.S.C.L.E. Set D
Day 1,929: Titan Merchandise Alien vs. Predator The Whoever Wins Collection Scar
Day 1,985: Funko Pop! 8-Bit Alien Xenomorph (Video Game) Pop! Vinyl Figure
Day 2,163: NECA Aliens Classics Series Neomorph Alien Action Figure
Day 2,167: Lanard Alien Collection Alien Queen Action Figure
Day 2,171: Lanard Alien Collection Xenomorph Drone, Egg & Facehugger, and Research Scientist Xenomorph Swarm Action Figure Set
Day 2,173: Lanard Alien Collection Advanced-APC Vehicle and Colonial Marine Sargent Xenomorph Attack Action Figure Set
Day 2,175: Lanard Alien Collection Xenomorph Runner, Planetary Rover Bike, and Weyland Commando Action Figure Set
Day 2,178: Lanard Alien Collection Power Loader, Colonial Marine, and Warrior Alien Xenomorph Attack Action Figure Set
Day 2,179: Kenner Aliens Wild Boar Alien Action Figure
Day 2,274: Lanard Toy Alien 7-Inch Drone Xenomorph Action Figure
Day 2,292: Lanard Toy Alien 7-Inch Warrior Xeno Action Figure
Day 2,308: Lanard Alien Collection Xenomorph Warrior, Rotating Sentry Gun, and Colonial Space Marine Xenomorph Swarm Action Figure Set
Day 2,554: Super7 Alien UCCSS Nostromo Action Figure Set 1 with Kane with Facehugger, Ripley with Jonesy, Ash with Removable Head