Ripley
34 Years in the Making

Alien ReAction Figures
Item No.: Asst. 3813 No. 3797
Manufacturer: Super7 x Funko
Includes: Flamethrower
Action Feature: n/a
Retail: $15-$20
Availability: December 2013
Other: Available on blue (early bird pre-order) or black (retail) cardbacks

PREVIOUS
RSS
NEXT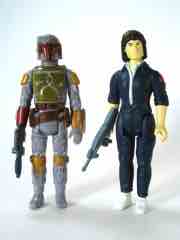 To say that this was a long-awaited item is nothing if not an understatement. Fans of Alien were simultaneously elated and depressed when Ripley was revealed in the 1990s within the pages of Tomart's Action Figure Digest magazine. The prototype photos gave fans a glimpse into the cash machine that was space toys inside Kenner in 1979, and the clear desire to expand upon what Star Wars had delivered. The few figures we've seen from this line were put on hold, and today some of us actually have recreations of actual, unmade 1970s Kenner prototype action figures. The sculpting style is very similar to many of the early figures from The Empire Strikes Back, with quilting, the usual flat facial detail, and in the case of some figures you'll notice the flesh overspray from the hands bleeding over to the arms.
If you like the idea of new toys based on the look of the 1970s, Zica Toys is also doing a batch of Six Million Dollar Man figures (new sculpts), Funko will be doing ReAction based on Firefly, plus [redacted] is doing a line of figures based on [redacted]. How exciting!
The actual significance of this line remains to be seen. My initial reaction to these was glee beyond glee, as this kind of product is what many Star Wars collectors would very much like to have. They all won't want Alien, but many will and the total lack of human characters from this film makes this particular series an insanely hot ticket. I had the pleasure of talking to Super7's Frank Supiot a few times surrounding this release and I can tell you that you can count him as one of those rare action figure megafans who actually really do have the passion, know-how, and ability to show people like me that despite writing a lot, I don't know jack squat compared to a lot of people. I'm glad he was around to make these what they are - unchanged, unapologietic tributes to the finest toys you never got to own back in 1979. And if they were made it's not like your parents would let you have them, anyway.
While I love this project and everything about what it.shtmlired to do, at the same time, it's impossible for me to not pick at a few minor (and arguably major) things about this figure. It is nothing short of miraculous that a superfan and at least three different companies got together to agree that this batch of figures should have been made - but when you're this close to the finish line, it's OK to leave it in the oven until it's done cooking too.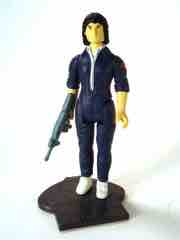 At a hair above 3 3/4-inches tall, Ripley is for all intents and purposes the real deal. Her copyright markings are stamped in the back of her legs, more or less out of view. The five points of articulation are true to the early prototypes, right down to the deco - there's a fairly major QC quibble on her face as the eyes on mine are not printed properly on the head, and the pupil is basically in the valley if her upper eyelid. Were this line not effectively an online exclusive, I'd suggest checking it before purchase. The skin color is a little on the pale side, but the miscoloration and painting alignment problem is also something Kenner might have actually done. Other deco issues may be academic due to how Hasbro handled deco in those days - some figures had variants where the flesh was painted and the hair color was molded plastic, or vice-versa. There were other figures where the same thing happened with the hands and sleeves. Due to the color selection this feels more like a consumer-grade replica of a prototype than an actual "this is it from 1979" action figure.
The flamethrower fits perfectly in her hand, but the coloring may be an issue of debate - it doesn't quite match the blue guns from the day, but I suppose it doesn't have to. If it fits, it's legit! The weapon was taped to the inside of the coffin-like bubble, just like a figure from Kenner. It also has the classic punched-out peg hole on the cardback, and my sample had no trace of the missing piece of cardboard. Those of you who wanted a C-10+ unpunched figure may be out of luck, but we'll see what shows up in the coming months.
In terms of moving her around, it's effectively an old Kenner figure. Her foot holes are the exact same size as a classic Kenner Star Wars figure, and she can stand on their foot pegs in various playsets. She has no problems standing or sitting, and this figure is totally vintage Kenner vehicle compatible. I even plopped her into my Fisher-Price Adventure People Alpha Star and she seems right at home. This is, without a doubt, a product of several decades back and for that reason its charm is intact.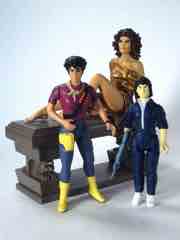 Due to what this figure.shtmlires to be, it would be wrong of me to not nitpick one issue - this figure and the rest in this line are mostly done with matte finishes. My Boba Fett from the 1970s is quite glossy. Darth Vader from 1978 is pretty shiny, as are most vintage Luke figure faces. This is part of the vocabulary that wasn't addressed in Ripley or her casemates with the exception of Kane's tan bodysuit pieces - these are appropriately shiny - but a little more gloss would have been appropriate. It's a minor quibble, but an.shtmlect of Kenner-style figures which shouldn't be overlooked.
On one hand, for $15-$20, I expect a lot from a figure. Ripley more or less delivers the goods and functions precisely as she should, with no quibbles in how she was made. But the funny thing is that she's just the beginning - Funko announced plans to do other licenses in this style, and while there are some famous 1980s unproduced action figure lines like The Dark Crystal and the second series of both Ewoks and Droids, they'll be focusing on making things from new licenses that should have existed in that era. No public images have been seen of them, but Terminator, Predator, The Goonies, Back to the Future, Star Trek, Buffy, and numerous others are listed. This is an incredible challenge, and I'm eager to see how any company interprets the notion of making a figure look as if it fell out of a time warp. It's a nitpicker's dream, and it may confuse the lay fan - "why does this Marty McFly look like some 1980s crap?" I expect people to say. But you'll know why - and so will I - and we'll buy them with a big smile to hang out with Ripley here and our collective Walrus Man, Boba Fett, and Chewbacca figures.
...and on the other side of the coin, Hasbro makes new 3 3/4-inch 5-jointed figures with vintage articulation and modern sculpting. They're superb - but lack the old-time charm. Which is better? I don't know - the new Hasbro Stormtrooper is incredible, but on the other hand, nothing can duplicate the authenticity you only get with a genuine 1970s prototype, and that's what Super7 and Funko gave us with Alien ReAction figures.
--Adam Pawlus
Additional Images
Additional ReAction Figures Alien Images
Notes: The brown cardboard boxes are different. The brown box marked 3813 contains 1 set of black carded figures - this is an "inner" as it ships from Funko. The 3813.1 box shipped from Super7 with a carded set of 6 blue card figures inside. Blue cards were shipped to people who ordered the set for $100 direct from Super7 at San Diego Comic-Con 2013 or through the Super7 web site after the show. The group shot above is of the opened black card set, which cost $65.00. The blue card set included a bonus clear grey Alien figure available nowhere else at this time and is expected to be exclusive to this release. If the 16bit.com sample is opened, we'll update this photo.

See more Super 7 and Funko x Super 7 figures in Figure of the Day:
Day 792: Super 7 ALIEN SDCC Exclusive Sales Samples
Day 821: Super7 x Funko Alien ReAction Ripley
Day 844: Super7 x Funko Alien ReAction Dallas
Day 852: Super7 x Funko Alien ReAction Alien
Day 857: Super7 x Funko Alien ReAction Kane in Space Suit
Day 861: Super7 x Funko Alien ReAction Ash
Day 945: Super7 x Funko The Rocketeer ReAction Rocketeer Action Figure
Day 945: Super7 x Funko Predator (Invisible, Bloody) Action Figure
Day 985: Funko Back to the Future Marty McFly ReAction Figure
Day 1001: Funko Nightmare Before Christmas Jack Skellington (Early Bird Figure) ReAction Figure
Day 1,005: Funko Universal Monsters The Mummy ReAction Figure
Day 1,008: Funko Back to the Future George McFly ReAction Figure
Day 1,008: Funko Back to the Future Doc Brown ReAction Figure
Day 1,029: Super7 x Funko Predator (Attack Mode) ReAction Figure
Day 1,037: Funko Nightmare Before Christmas Saly ReAction Figure
Day 1,038: Funko Universal Monsters Creature from the Black Lagoon ReAction Figure
Day 1,039: Funko Universal Monsters The Invisible Man ReAction Figure
Day 1,040: Funko Universal Monsters The Phantom of the Opera ReAction Figure
Day 1,041: Funko Universal Monsters The Wolf Man ReAction Figure
Day 1,042: Funko Universal Monsters The Bride of Frankenstein ReAction Figure
Day 1,059: Funko Predator (Masked) ReAction Figure
Day 1,068: Funko Universal Monsters Frankenstein's Monster ReAction Figure
Day 1,078: Funko Back to the Future Biff Tannen ReAction Figure
Day 1,082: Funko T800 Endoskeleton (Chrome) ReAction Figure
Day 1,094: Funko Universal Monsters Dracula ReAction Figure
Day 1,059: Funko Predator (Masked) ReAction Figure
Day 1,102: Funko Predator (Unmasked) ReAction Figure
Day 1,108: Funko Universal Monsters The Invisible Man
Day 1,108: Funko Universal Monsters The Invisible Man Clear Entertainment Earth Exclusive
Day 1,111: Funko Predator (Glow Version) ReAction Figure
Day 1,117: Funko The Terminator Sarah Connor ReAction Figure
Day 1,133: Funko The Terminator (Tech Noir Jacket) ReAction Figure
Day 1,138: Funko Pulp Fiction Mia Wallace ReAction Figure
Day 1,149: Super7 x Funko Alien Egg Chamber Action Playset
Day 1,183: Super7 x Funko Alien ReAction Alien (with Metallic Flesh)
Day 1,187: Funko Predator (Invisible) ReAction Figure
Day 1,199: Super7 x Funko Alien ReAction Ripley (Spacesuit)
Day 1,208: Funko Predator (Thermal Vision) ReAction Figure
Day 1,211: Funko The Fifth Element Leeloo ReAction Figure
Day 1,217: Funko The Fifth Element Diva Plavalaguna ReAction Figure
Day 1,222: Funko The Fifth Element Korben Dallas ReAction Figure
Day 1,227: Funko The Fifth Element Mangalore ReAction Figure
Day 1,236: Funko Gremlins Mogwai Stripe ReAction Figure
Day 1,244: Funko The Fifth Element Ruby Rhod ReAction Figure
Day 1,250: Super7 M.O.T.U.S.C.L.E. Set B
Day 1,252: Funko The Fifth Element Zorg ReAction Figure
Day 1,263: Super7 M.O.T.U.S.C.L.E. Set A
Day 1,267: Funko The Fifth Element Leeloo (Straps Costume) ReAction Figure
Day 1,272: Super7 x Funko Alien ReAction Kane (Chestburster)
Day 1,275: Funko Gremlins Billy Peltzer ReAction Figure
Day 1,277: Super7 x Funko Alien ReAction Kane (Facehugger)
Day 1,286: Funko Nightmare Before Christmas Behemoth
Day 1,288: Super7 M.O.T.U.S.C.L.E. Set C
Day 1,295: Funko Nightmare Before Christmas Mayor
Day 1,302: Super7 M.O.T.U.S.C.L.E. SDCC Promo Skeletor
Day 1,327: Super7 x Funko Alien ReAction Nostromo Crew (Dallas, Kane, Lambert)
Day 1,333: Funko Gremlins Cinema Gremlin ReAction Figure
Day 1,342: Funko Gremlins Gremlin Stripe ReAction Figure
Day 1,358: Funko Gremlins Bandit Gremlin ReAction Figure
Day 1,628: Super7 Masters of the Universe M.U.S.C.L.E. Series 2 Set C
Day 1,633: Super7 Masters of the Universe M.U.S.C.L.E. Series 2 Set B
Day 1,637: Funko E.T. The Extra-Terrestrial Elliot, E.T., and Gertie ReAction Figures
Day 1,639: Super7 Masters of the Universe M.U.S.C.L.E. Series 2 Set D
Day 1,639: Super7 Masters of the Universe M.U.S.C.L.E. Series 2 Set A
Day 1,656: Super7 Alien M.U.S.C.L.E. Set A
Day 1,676: Super7 Alien M.U.S.C.L.E. Set C
Day 1,686: Super7 Alien M.U.S.C.L.E. Set B
Day 1,693: Super7 Alien M.U.S.C.L.E. Set D
Day 1,801: Super7 Street Fighter II M.U.S.C.L.E. Set A
Day 1,817: Super7 Street Fighter II M.U.S.C.L.E. Set B
Day 1,834: Super7 Street Fighter II M.U.S.C.L.E. Set D
Day 1,840: Super7 Masters of the Universe M.U.S.C.L.E. Series 3 Set D
Day 1,846: Super7 Aliens M.U.S.C.L.E. Set E
Day 1,843: Super7 Masters of the Universe M.U.S.C.L.E. Series 3 Set E
Day 1,857: Super7 Street Fighter II M.U.S.C.L.E. Set C
Day 1,862: Super7 Masters of the Universe M.U.S.C.L.E. Series 3 Set C
Day 1,864: Super7 Aliens M.U.S.C.L.E. Set A
Day 1,877: Super7 Masters of the Universe M.U.S.C.L.E. Series 3 Set F
Day 1,881: Super7 Mega Man M.U.S.C.L.E. Series 1 Set B
Day 1,884: Super7 Aliens M.U.S.C.L.E. Set D
Day 1,894: Super7 Mega Man M.U.S.C.L.E. Series 1 Set D
Day 1,904: Super7 Mega Man M.U.S.C.L.E. Series 1 Set A
Day 1,914: Super7 Mega Man M.U.S.C.L.E. Series 1 Set C
Day 1,920: Super7 Halloween Series Nosferatu Glow in the Dark
Day 1,922: Super7 Masters of the Universe M.U.S.C.L.E. Series 3 Set B
Day 1,937: Super7 Masters of the Universe M.U.S.C.L.E. Series 3 Set A
Day 2,161: Super7 Masters of the Universe Transforming He-Man Action Figure
Day 2,211: Super7 Toxic Crusaders Glow in the Dark Toxie Action Figure
Day 2,235: Super7 Ultimates Voltron Action Figure
Day 2,237: Super7 Teenage Mutant Ninja Turtles Ultimates Raphael Action Figure
Day 2,253: Super7 Teenage Mutant Ninja Turtles Ultimates Foot Soldier Action Figure
Day 2,358: Super7 Killer Bootlegs Rhamnusia's Revenge Action Playset with Draco Knuckleduster and Phantom Starkiller Action Figures
Day 2,388: Super7 Teenage Mutant Ninja Turtles Ultimates Glow-in-the-Dark Mutagen Man Action Figure

See more ALIENS figures in Figure of the Day:
Day 195: Kenner ALIENS Arachnid Alien Action Figure
Day 234: Kenner ALIENS Scorpion Alien Action Figure
Day 250: Kenner ALIENS Panther Alien Action Figure
Day 256: Kenner ALIENS Gorilla Alien Action Figure
Day 261: Kenner ALIENS Bull Alien Action Figure
Day 285: Kenner ALIENS Hive Wars Warrior Predator
Day 317: Kenner ALIENS vs. Predator 10-Inch Alien Action Figure
Day 359: Kenner ALIENS Hive Wars Acid Alien Action Figure
Day 365: Kenner ALIENS Vasquez Action Figure
Day 381: Kenner ALIENS Action Masters Ripley
Day 397: Kenner ALIENS Mantis Alien
Day 792: Super 7 ALIEN SDCC Exclusive Sales Samples
Day 821: Super7 x Funko Alien ReAction Ripley
Day 844: Super7 x Funko Alien ReAction Dallas
Day 852: Super7 x Funko Alien ReAction Alien
Day 857: Super7 x Funko Alien ReAction Kane in Space Suit
Day 861: Super7 x Funko Alien ReAction Ash
Day 1,149: Super7 x Funko Alien Egg Chamber Action Playset
Day 1,183: Super7 x Funko Alien ReAction Alien (with Metallic Flesh)
Day 1,199: Super7 x Funko Alien ReAction Ripley (Spacesuit)
Day 1,272: Super7 x Funko Alien ReAction Kane (Chestburster)
Day 1,277: Super7 x Funko Alien ReAction Kane (Facehugger)
Day 1,324: Diamond Select Toys Aliens vs. Colonial Marines Figure Set
Day 1,327: Super7 x Funko Alien ReAction Nostromo Crew (Dallas, Kane, Lambert)
Day 1,656: Super7 Alien M.U.S.C.L.E. Set A
Day 1,676: Super7 Alien M.U.S.C.L.E. Set C
Day 1,686: Super7 Alien M.U.S.C.L.E. Set B
Day 1,693: Super7 Alien M.U.S.C.L.E. Set D
Day 1,846: Super7 Aliens M.U.S.C.L.E. Set E
Day 1,864: Super7 Aliens M.U.S.C.L.E. Set A
Day 1,884: Super7 Aliens M.U.S.C.L.E. Set D
Day 1,929: Titan Merchandise Alien vs. Predator The Whoever Wins Collection Scar
Day 1,985: Funko Pop! 8-Bit Alien Xenomorph (Video Game) Pop! Vinyl Figure
Day 2,163: NECA Aliens Classics Series Neomorph Alien Action Figure
Day 2,167: Lanard Alien Collection Alien Queen Action Figure
Day 2,171: Lanard Alien Collection Xenomorph Drone, Egg & Facehugger, and Research Scientist Xenomorph Swarm Action Figure Set
Day 2,173: Lanard Alien Collection Advanced-APC Vehicle and Colonial Marine Sargent Xenomorph Attack Action Figure Set
Day 2,175: Lanard Alien Collection Xenomorph Runner, Planetary Rover Bike, and Weyland Commando Action Figure Set
Day 2,178: Lanard Alien Collection Power Loader, Colonial Marine, and Warrior Alien Xenomorph Attack Action Figure Set
Day 2,179: Kenner Aliens Wild Boar Alien Action Figure
Day 2,274: Lanard Toy Alien 7-Inch Drone Xenomorph Action Figure
Day 2,292: Lanard Toy Alien 7-Inch Warrior Xeno Action Figure
Day 2,308: Lanard Alien Collection Xenomorph Warrior, Rotating Sentry Gun, and Colonial Space Marine Xenomorph Swarm Action Figure Set

Want to buy this figure? Check ALIEN availability at our sponsors:
Entertainment Earth