Jungle Hunter Predator
Clear-ish 7-Inch Battle Action Figure

Lanard Toy 7-Inch Action Figure
Item No.: No. 31362
Manufacturer: Lanard Toy
Includes: Battle claw
Action Feature: n/a
Retail: $9.99
Availability: January 2021
Other: Considering what $5 got you in the 1990s line, this is pretty amazing

PREVIOUS
RSS
NEXT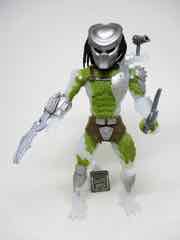 After Lanard Toy made Alien figures, everybody asked "So Predator when?" They have so far steered away from 3 3/4-inch figures - a trend in the industry - and instead gave us the 7-inch Jungle Hunter Predator. This is more in line with Masters of the Universe Classics, Marvel Legends, and their most likely opponents on your toy shelves, G.I. Joe: Classified Series 6-inch figures. Predators - and the Masters - are a bit taller, so it's a good fit.
NECA have made the Predator line to end all Predator lines, making every single figure they could from the movies before expanding to concept art, Kenner toy designs, comic books, video games, and more. If you want good collector Predator toys, they've been done - but if you want something dirt cheap for your desk, give this one a look. It reminds me of Kenner's Ambush Predator mail-in from nearly 30 years ago. Rather than being clear colorless, it's a translucent ghostly white with some pigment slapped on it to show you some of the detail. Is it perfect? No. But it's ten bucks, and astonishing given that the Hasbro, Mattel, and McFarlane equivalents start around $20. This may have more in common with Hasbro's kid-level Marvel figures... but larger, more articulated, and underpainted.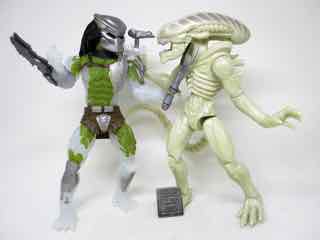 The 7-inch tall figure boasts 25 points of articulation on the box. I count 18 joints plus two bonus joints of you count the articulated shoulder cannon. There's room for improvement - the cuts of the elbow joints could be a bit better rather than the roughly 90-degrees we've got - Hasbro took a while to get this right. The Pred still has a good range of movement but it's by no means superior to the Hasbro or NECA equivalent. A spot on the Predator (and new Alien) figures I found interesting were the wrists and ankles. Eschewing the typical swivel or bend joints, they used ball joints. This gives them a really good range of movement with fewer parts - that's kind of brilliant.
Unfortunately, brilliance has a weakness - gravity. Even if properly balanced, the figure's considerable heft will not allow it to remain standing for long thanks to those ball ankles. By definition, they're round - the figure will tilt or lean after a few days, falling down and slamming hard on your printer, shelf, or other surface after a few days. I implore you to lean him against a shelf or place him in some sort of doll stand otherwise he's going to take some other toys out with him. Other than that? A gem.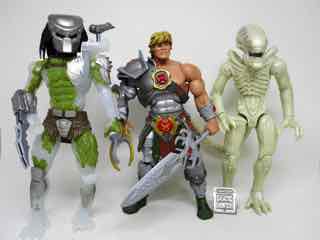 His sculpting is excellent, with deco that can best be described as not feeling any obligation to follow the style guide. The figure is based on the 1987 film's suit, and you can see the body net and unique details in the greaves and vambraces. The figure has clearly uniquely sculpted elements when compared to his brothers in this series, which is amazing and kind of confusing. They could do one sculpt and paint it three wacky ways, and it'd do just fine. Lanard could have just painted one mold three times and done fine - to add some green paint to mimic forest colors, some silver hardware, and some brown elements is more than they had to do. It's also not a high-end collectible, but rather an excellent example of how a $10 figure can look in the right designer's hands.
The head's helmet is non-removable, with flexible hair strands. Or tendrils. Whatever they are, they bend nicely. His shoulder cannon is jointed in two spots, and looks pretty great - so does his off-color helmet with the painted black eyes. What baffled me was his Battle Claw tuning fork, and his huge Wolverine-esque wrist knives. They're exaggerated, but are flexible so they won't snap out easily.
Much like the monsters from Alien, Lanard's critters for Predator bring your Yautja a bit closer to reality, if flattened. While it doesn't match an on-screen moment precisely, the Jungle Hunter evokes a feeling well - it's translucent white instead of clear, with hints of de-cloaking in the jungle with his gear taking form first. As an art piece, or a weird toy, it's marvelous. If you just want a good Predator, this may not be what you want - but I've seen so many picture-perfect Predators that I want something weird. I still don't understand what the wishbone fork is for, but it's fun to use to harass the Alien figures. If I were still working in an office, I would strongly recommend this to anyone who wants a cheap, big toy for their desks. I would also like other manufacturers to follow Lanard's lead and put out more good, cheap bigger figures. I have no doubt I will come to a point where I'm cleaning house and needing to sell some stuff for space or cash, but this might be hard to let go. It's too weird. I don't expect we'll see many subsequent follows-up, nor do I think we'll see off-model Predators from another manufacturer any time soon.
--Adam Pawlus
Additional Images

See more Lanard figures in Figure of the Day:
Day 1,912: Lanard Rampage The Movie Big City Brawl! Lizzie
Day 2,065: Lanard Primal Clash Mammoth with Shrapnel Action Figure
Day 2,167: Lanard Alien Collection Alien Queen Action Figure
Day 2,171: Lanard Alien Collection Xenomorph Drone, Egg & Facehugger, and Research Scientist Xenomorph Swarm Action Figure Set
Day 2,173: Lanard Alien Collection Advanced-APC Vehicle and Colonial Marine Sargent Xenomorph Attack Action Figure Set
Day 2,175: Lanard Alien Collection Xenomorph Runner, Planetary Rover Bike, and Weyland Commando Action Figure Set
Day 2,178: Lanard Alien Collection Power Loader, Colonial Marine, and Warrior Alien Xenomorph Attack Action Figure Set
Day 2,274: Lanard Toy Alien 7-Inch Drone Xenomorph Action Figure
Day 2,278: Lanard Toy Predator 7-Inch Jungle Hunter Predator Action Figure
Day 2,286: Lanard Toy Predator 7-Inch City Hunter Predator Action Figure
Day 2,292: Lanard Toy Alien 7-Inch Warrior Xeno Action Figure
Day 2,308: Lanard Alien Collection Xenomorph Warrior, Rotating Sentry Gun, and Colonial Space Marine Xenomorph Swarm Action Figure Set

See more Predator figures in Figure of the Day:
Day 211: Kenner Predator Cracked Tusk Predator Action Figure
Day 285: Kenner ALIENS Hive Wars Warrior Predator
Day 356: Kenner Action Masters Predator
Day 945: Super7 x Funko Predator (Invisible, Bloody) Action Figure
Day 1,029: Super7 x Funko Predator (Attack Mode) ReAction Figure
Day 1,059: Funko Predator (Masked) ReAction Figure
Day 1,102: Funko Predator (Unmasked) ReAction Figure
Day 1,111: Funko Predator (Glow Version) ReAction Figure
Day 1,187: Funko Predator (Invisible) ReAction Figure
Day 1,208: Funko Predator (Thermal Vision) ReAction Figure
Day 1,350: Funko Hikari Vinyl Predator Original Predator Unmasked
Day 1,929: Titan Merchandise Alien vs. Predator The Whoever Wins Collection Scar
Day 2,162: NECA Predator Classics Series Berserker Predator Action Figure
Day 2,278: Lanard Toy Predator 7-Inch Jungle Hunter Predator Action Figure
Day 2,286: Lanard Toy Predator 7-Inch City Hunter Predator Action Figure