City Hunter Predator
Cracked Tusk-esque 7-Inch Battle Action Figure

Lanard Toy 7-Inch Action Figure
Item No.: No. 31361
Manufacturer: Lanard Toy
Includes: Combistick, Smart Disc
Action Feature: Articulated Shoulder Cannon
Retail: $9.99
Availability: January 2021
Other: Considering what $5 got you in the 1990s line, this is pretty amazing

PREVIOUS
RSS
NEXT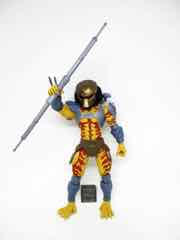 The 7-inch City Hunter Predator is an amazing figure for $10. If you want a genuinely amazing figure, you'll want NECA's Predator figures for $33-$35 - those things have alternate heads and hands plus amazing paint jobs. Lanard makes low-dollar toys for American's lowest-dollar big box store, and does a surprisingly good job. It's not a high end collectible, but as a flat-colored toy from an old goofy movie, it's delightful and I love it. This is my favorite of the three.
If you got this in the 1990s, adjusted for inflation, it would cost about the same as Kenner's at the time - and that's amazing. With 18 points of articulation to Kenner's 5, you lose the spring-loaded accessories but get a much bigger figure. Is it a better toy? Not really. But it's really cool.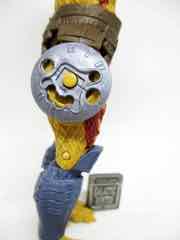 The 7-inch tall figure boasts 25 points of articulation on the box. It's not what you get - but you do get some interesting choices, like ball-jointed wrists and ankles. You could pop them out if you want! It's a brilliant move to keep costs down and they move without a hitch, but there's a problem - gravity. There's no way a figure of this heft can remain standing unsupported for long periods of time. A tiny jostle, or a little nudge over a few days will send this figure flying forward and knocking down anything in its path. Make sure you lean it against something - a stand, or the shelf behind him. He has no problems holding his weapons, and his disc plugs into a peg on his thigh if you want - I love this kind of interaction. His hand can grab it, too. I think the only part he shared with the Jungle Hunter are the feet.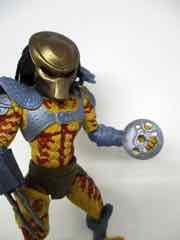 The creature's coloring is very similar to Kenner's (and later NECA's) Cracked Tusk Predator, one of the first releases out of that line nearly 30 years ago. The coloring is very flat and off-model when compared to the movie, and as I've speculated before I can't help but wonder if this is intentional so as not to step on the work NECA or Hiya Toys are doing with their lines and price points. This is - as far as I know - the only mass-market Predator toy line running right now, and as something for kids or not-hardcore-collectors, it's fun. Accurate? No. Fully painted? Not a bit. But I enjoy it a lot.
The head's helmet is non-removable, and the hair is extremely flexible - but it still gets in the way of moving the head a bit. The sculpted netting is visible on the body, ad there are lots of places you can see that would look awesome if painted - a shoulder strap here, some greebles on the gauntlet there.
With less-comically long knives and a better colorway, this is a great go-to for someone who likes these movies and just wants a figure. Is it accurate? No. Does it look like the Predator that may live in your imagination? It did for me - and just to have a cheap Predator to torment your Joes or He-Man or other similarly sized toys is worth the ten bucks. I wish he had a removable mask, but that's how they keep costs down and deco simple I guess. If you see one for $10 and want a Predator, I would give this one the highest recommendation. Just be wary of those ankles.
--Adam Pawlus
Additional Images

See more Lanard figures in Figure of the Day:
Day 1,912: Lanard Rampage The Movie Big City Brawl! Lizzie
Day 2,065: Lanard Primal Clash Mammoth with Shrapnel Action Figure
Day 2,167: Lanard Alien Collection Alien Queen Action Figure
Day 2,171: Lanard Alien Collection Xenomorph Drone, Egg & Facehugger, and Research Scientist Xenomorph Swarm Action Figure Set
Day 2,173: Lanard Alien Collection Advanced-APC Vehicle and Colonial Marine Sargent Xenomorph Attack Action Figure Set
Day 2,175: Lanard Alien Collection Xenomorph Runner, Planetary Rover Bike, and Weyland Commando Action Figure Set
Day 2,178: Lanard Alien Collection Power Loader, Colonial Marine, and Warrior Alien Xenomorph Attack Action Figure Set
Day 2,274: Lanard Toy Alien 7-Inch Drone Xenomorph Action Figure
Day 2,278: Lanard Toy Predator 7-Inch Jungle Hunter Predator Action Figure
Day 2,286: Lanard Toy Predator 7-Inch City Hunter Predator Action Figure
Day 2,292: Lanard Toy Alien 7-Inch Warrior Xeno Action Figure
Day 2,308: Lanard Alien Collection Xenomorph Warrior, Rotating Sentry Gun, and Colonial Space Marine Xenomorph Swarm Action Figure Set

See more Predator figures in Figure of the Day:
Day 211: Kenner Predator Cracked Tusk Predator Action Figure
Day 285: Kenner ALIENS Hive Wars Warrior Predator
Day 356: Kenner Action Masters Predator
Day 945: Super7 x Funko Predator (Invisible, Bloody) Action Figure
Day 1,029: Super7 x Funko Predator (Attack Mode) ReAction Figure
Day 1,059: Funko Predator (Masked) ReAction Figure
Day 1,102: Funko Predator (Unmasked) ReAction Figure
Day 1,111: Funko Predator (Glow Version) ReAction Figure
Day 1,187: Funko Predator (Invisible) ReAction Figure
Day 1,208: Funko Predator (Thermal Vision) ReAction Figure
Day 1,350: Funko Hikari Vinyl Predator Original Predator Unmasked
Day 1,929: Titan Merchandise Alien vs. Predator The Whoever Wins Collection Scar
Day 2,162: NECA Predator Classics Series Berserker Predator Action Figure
Day 2,278: Lanard Toy Predator 7-Inch Jungle Hunter Predator Action Figure
Day 2,286: Lanard Toy Predator 7-Inch City Hunter Predator Action Figure