9POA Teenage Mutant Ninja Turtles Eastman & Laird's Collector Series Leonardo Action Figure
SDCC 2016 Toys R Us Exclusive sold at Entertainment Earth

Teenage Mutant Ninja Turtles Eastman & Laird's Collector Series Action Figures
Item No.: Asst. DPD83 No. DPD86
Manufacturer: Mega Bloks
Includes: Figure, ninja star, 2 swords, bricks/pieces
Action Feature: n/a
Retail: $9.99
Availability: July 2016
Other: Metal Shell

PREVIOUS
RSS
NEXT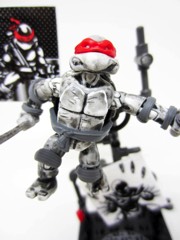 Every now and again a good pal drops by a present, like this Teenage Mutant Ninja Turtles Eastman & Laird's Collector Series Leonardo. You get a specially painted figure with some accessories and a fancy display stand. What's interesting is that Mattel (with their new peg brand Mega Bloks) put out really good mini-figures with a few bricks, basically getting around some licensing business by coming up with a really cool collectible format that is technically not an action figure. It ain't perfect, but it's neat.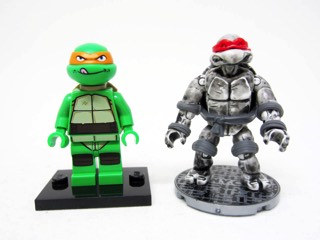 This 2-ish inch scale figures are spiffy - the turtles have metal shells! Really! It's unpainted metal, with a hole in it for display. You can plug it in to the display stand, although it's not the fanciest of stands - there are a couple of signs on it, some scuffs, and a manhole cover. You'd probably be very happy with it if it was just the manhole cover piece at a lower price, but it's not nothing. There are all sorts of pipes on which to grip, plus a steering wheel, plus pegs to plug the figure's shell on - and clips to connect multiple ones together.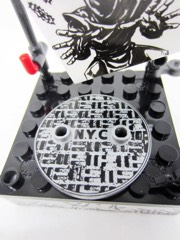 The figure is a surprisingly nice creation with about 19 points of articulation. The knees and elbows bend and swivel! The head has a ball joint! The wrists turn! It's like Mattel saw LEGO and said "We see you and raise you." The universal block figure format is cute and charming and will be wonderful for years - but this is basically what it would look like if you had a Marvel Legends or DC Universe Classics figure you could fit in your mouth. The foot peg holes are standard LEGO stud sizes, so you can use it with the included stand and maybe even some of your LEGO sets. This figure format really seems different than what LEGO did a few years ago.
Deco is good, for the size. The figure is coated with swirls of black paint that looks vaguely like the original comic book art, with grey rubbery elbow and knee pads plus a rubbery belt. Since it's based on a brick figure format he has no problems holding the twin katana swords, plus he can actually grip the ninja star by a blade. I'm surprised. Thanks to the weight of the metal shell, Leo doesn't stand so well. You're going to want to take advantage of the hole in the shell to hang him on his stand, or use the manhole foot pegs to keep him upright.
While this version of Leo was sold as a Toys R Us exclusive at the San Diego Comic-Con Entertainment Earth booth about a year ago, other versions of Leo are for sale - and can be had cheaply - online and in stores. Even as blind bags! They're pretty nifty, but my sample has an elbow that keeps popping out. It's a little annoying, but this is more of a figure you're going to display than play with. LEGO's simpler figures are more durable, but not as spiffy or impressive. I'm not saying you need to collect these, but I would absolutely suggest everyone buy one of these figures - now part of a rebranded "Mega Construx" line - just to give it a shot. Other licenses may be more to your interest.
--Adam Pawlus
Additional Images

See more Mega Bloks and Mega Construx figures and compatible items Figure of the Day:
Day 1.533: Mattel Hot Wheels Tankinator Die-Cast Metal Vehicle
Day 1,739: Mega Bloks Teenage Mutant Ninja Turtles Eastman & Laird's Collector Series Leonardo Action Figure
Day 1,718: Mega Construx Heroes Masters of the Universe Skeletor Action Figure
Day 1,870: Mega Construx Heroes Masters of the Universe He-Man Action Figure
Day 1,879: Mega Construx Heroes Masters of the Universe Beast Man Action Figure
Day 1,886: Mega Construx Heroes Masters of the Universe Teela Action Figure
Day 1,945: Mega Construx Heroes Star Trek: The Next Generation Captain Picard Action Figure

See more Teenage Mutant Ninja Turtles figures in Figure of the Day:
Day 354: Playmates Teenage Mutant Ninja Turtles Mike, the Sewer Surfer Action Figure
Day 400: Playmates Teenage Mutant Ninja Turtles Raph, the Space Cadet
Day 513: Playmates Teenage Mutant Ninja Turtles The Mutant Raphael
Day 514: Playmates Teenage Mutant Ninja Turtles Mike as Frankenstein
Day 515: Playmates Teenage Mutant Ninja Turtles Bride of Frankenstein April
Day 516: Playmates Teenage Mutant Ninja Turtles Raph as the Mummy
Day 517: Playmates Teenage Mutant Ninja Turtles Don as Dracula
Day 518: Playmates Teenage Mutant Ninja Turtles Leo as the Wolfman
Day 519: Playmates Teenage Mutant Ninja Turtles Invisible Man Michaelangelo
Day 520: Playmates Teenage Mutant Ninja Turtles Creature from the Black Lagoon Leonardo
Day 525: Playmates Teenage Mutant Ninja Turtles Classics Michelangelo
Day 815: Playmates Teenage Mutant Ninja Turtles Classics Bebop
Day 832: Playmates Teenage Mutant Ninja Turtles Classics Rocksteady
Day 964: Playmates Teenage Mutant Ninja Turtles Classics Raphael
Day 1,120: LEGO Teenage Mutant Ninja Turtles Mikey's Mini Shellraiser
Day 1,657: Funko x Playmobil Teenage Mutant Ninja Turtles Black and White Raphael
Day 1,739: Mega Bloks Teenage Mutant Ninja Turtles Eastman & Laird's Collector Series Leonardo Action Figure
Day 1,908: Funko x Playmobil Teenage Mutant Ninja Turtles Shredder
Day 2,237: Super7 Teenage Mutant Ninja Turtles Ultimates Raphael Action Figure
Day 2,253: Super7 Teenage Mutant Ninja Turtles Ultimates Foot Soldier Action Figure
Day 2,284: Mattel Hot Wheels Screen Time Teenage Mutant Ninja Turtles Party Wagon
Day 2,388: Super7 Teenage Mutant Ninja Turtles Ultimates Glow-in-the-Dark Mutagen Man Action Figure