Computer Programmer
Surprisingly Not Labeled "Nerd"

LEGO Minifigures Series 7
Item No.: 8831
Manufacturer: LEGO
Includes: Laptop, C:\ mug, stand
Action Feature: n/a
Retail: $2.99-$3.99
Availability: May 2012
Other: #12 in a collection of 16

PREVIOUS
RSS
NEXT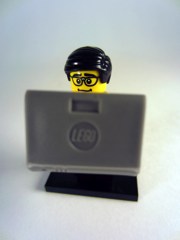 I'm not entirely sure if I should find the Computer Programmer to be delightful or insulting. Kids today get to grow up in a world where busty young women wear "I <3 Nerds" shirts (they don't mean it, of course) whereas I got to grow up during a time where that's a word someone might use before punching you in the gut. For that reason, I appreciate them labeling him "Computer Programmer," although given the adult fanbase of LEGO it seems odd that it took so long. Barbie got to be a computer programmer first, which, really, that's just not right.
Before I get to the figure itself, one of the first things I did when getting it-- which is actually why I jumped on doing this review-- was realize he looked a little like Richard Ayoade's character "Maurice Moss" from The IT Crowd if it had the right hair. So I grabbed the Disco figure's hair, and presto: instant Moss. Well, he could use a better torso, but it's a start.
The figure has a nicely detailed sweater vest with a bow tie, which is a little too much like the "dud" from the Mystery Date game I remember seeing on The Simpsons. The hair is neat, and I think could make the basis for a decent Devo (Nu-Tra era) were the bodies to be found. The deco is simple, although as I've been pulling out my 1980s LEGO minifigures lately, it's not exactly cheap. I remember when we got a blue torso with white outlines, and that was it! This figure has multiple colors and complicated, fine detail. The glasses are particularly dorky, and the eyebrows and smile are of an affable fellow. What's particularly neat are the accessories. A mug with the C:\ DOS prompt is delightful and another nod to buyers over 30. The laptop seems inspired by some of the Dell and Apple designs, with a circle and a LEGO logo on the outside. The interior has no deco to speak of, but there are sculpted keys and a blank screen that begs for a sticker. The laptop isn't jointed, so you may notice some minor stress marks where the plastic folds. (Confidential to LEGO: Playmobil puts separate joints in so they don't snap or tear. I'm just saying.)
This is a perfectly acceptable figure, but I think that history will prove it to be more valuable as a series of parts. The head could be a future Mark Mothersbaugh figure, the hair could be a variety of interesting things, the body has a few decent uses, and I assume the mug and laptop are going to be desirable for anyone making a LEGO office. I've got mugs, but not C:\ mugs. I'm not crazy about "nerd" figures because mentally I always approach them as if they have a post-it note on them saying "Hey Adam, this is what we think you're like" but it's pretty charming. Most figures in this line have a role-- the sports players beg for you to build tennis courts; the historical figures don't really belong anywhere just yet. The computer programmer could go pretty much in any modern-era LEGO scenario, be it in a town or... I guess that's pretty much it. I appreciate the design being something I can use with multiple sets, and it's a great addition to any LEGO City... city.
--Adam Pawlus
Additional Images

See more LEGO figures in Figure of the Day:
Day 2: LEGO Minifigures Series 2 Disco Dude
Day 33: LEGO Minifigures Series 1 Super Wrestler
Day 36: LEGO Minifigures Series 2 Mime
Day 38: LEGO Minifigures Series 2 Karate Master
Day 77: LEGO Minifigures Series 1 Ninja
Day 85: LEGO Minifigures Series 1 Spaceman
Day 106: LEGO Minifigures Series 2 Witch
Day 123: LEGO Minifigures Series 1 Robot
Day 130: LEGO Ninjago 2112 Cole Action Figure
Day 136: LEGO Bionicle 8563 Tahnok Action Figure
Day 148: LEGO Minifigures Series 1 Cheerleader
Day 152: LEGO Minifigures Series 1 Crash Test Dummy
Day 161: LEGO Minifigures Series 1 Forestman
Day 174: LEGO Minifigures Series 3 Gorilla Suit Guy
Day 176: LEGO Minifigures Series 3 Mummy
Day 181: LEGO Bionicle 8534 Tahu Action Figure
Day 182: LEGO Minifigures Series 3 Sumo Wrestler
Day 188: LEGO Minifigures Series 3 Tennis Player
Day 190: LEGO Minifigures Series 3 Rapper
Day 195: LEGO Minifigures Series 3 Space Alien
Day 198: LEGO Minifigures Series 1 Deep Sea Diver
Day 215: LEGO Minifigures Series 3 Fisherman
Day 218: LEGO Minifigures Series 2 Weightlifter
Day 220: LEGO Bionicle Stars 7116 Tahu Action Figure
Day 225: LEGO Minifigures Series 3 Baseball Player
Day 239: LEGO Minifigures Series 2 Lifeguard
Day 260: LEGO Minifigures Series 2 Ringmaster
Day 267: LEGO Minifigures Series 3 Tribal Chief (Indian)
Day 275: LEGO Minifigures Series 2 Traffic Cop
Day 347: LEGO Minifigures Series 4 Punk Rocker
Day 358: LEGO Minifigures Series 3 Pilot
Day 368: LEGO Minifigures Series 5 Lizard Man
Day 378: LEGO Minifigures Series 5 Lumberjack
Day 389: LEGO Minifigures Series 5 Evil Dwarf
Day 402: LEGO Minifigures Series 4 Crazy Scientist
Day 414: LEGO Minifigures Series 5 Gangster
Day 422: LEGO Minifigures Series 5 Ice Fisherman
Day 434: LEGO Minifigures Series 4 Artist
Day 452: LEGO Minifigures Series 4 Hazmat Guy
Day 455: LEGO Minifigures Series 7 Computer Programmer
Day 462: LEGO UFO Shell Exclusive Spacecraft
Day 467: LEGO Minifigures Series 4 The Monster
Day 474: LEGO Minifigures Series 6 Intergalactic Girl
Day 489: LEGO Minifigures Series 6 Clockwork Robot
Day 501: LEGO Minifigures Series 6 Classic Alien
Day 522: LEGO Minifigures Series 6 Genie
Day 535: LEGO Minifigures Series 4 Kimono Girl
Day 535: LEGO Minifigures Series 4 Werewolf
Day 633: LEGO Minifigures Series 7 Galaxy Patrol
Day 692: LEGO Minifigures Series 6 Skater Girl
Day 707: LEGO Minifigures Series 3 Elf
Day 721: LEGO Minifigures Series 5 Egyptian Queen
Day 724: LEGO Minifigures Series 10 Sad Clown
Day 730: LEGO Minifigures Series 10 Librarian
Day 730: LEGO Minifigures Series 6 Sleepyhead
Day 825: LEGO Minifigures Series 11 Yeti
Day 831: LEGO Minifigures Series 7 Hippie
Day 837: LEGO Minifigures Series 7 Scientist
Day 871: LEGO Minifigures Series 10 Bumblebee Girl
Day 884: LEGO Minifigures Series 5 Fitness Instructor
Day 884: LEGO Minifigures Series 4 Soccer Player
Day 1,120: LEGO Teenage Mutant Ninja Turtles Mikey's Mini Shellraiser
Day 1,122: LEGO Minifigures Series 8 Vampire Bat
Day 1,533: LEGO Minifigures Series 16 Spy
Day 1,680: The LEGO Batman Movie Catman
Day 2,063: LEGO The LEGO Movie 2 70841 Benny's Space Squad Set
Day 2,071: LEGO Space Police 5981 Raid VPR Set

Want to buy this figure? Check LEGO availability at our sponsors:
Entertainment Earth