Tahnok
Red, Bad, and Ugly

Bionicle Bohrok Figure
Item No.: 8563
Manufacturer: LEGO
Includes: Canister packaging to "hibernate"
Action Feature: Transforms into a ball
Retail: approx. $6.99
Availability: Early 2002
Other: Weird, red

PREVIOUS
RSS
NEXT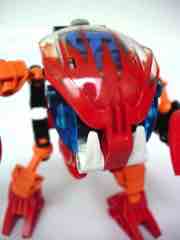 Since its introduction, Bionicle was something of an odd toy line and a firm reminder of how a kid and how a collector embraces an action figure. Back in the 1980s, parents were bewildered with trucks that turned into robots through a series of complicated flips and turns, and, as an added bonus, they had big names like "Optimus Prime" which added to the confusion. Hasbro's marketing department rammed the names into the kids with commercials, cartoons, and comic books. With Bionicle, LEGO did pretty much the same thing-- if you embraced the marketing materials, names like Tahnok would enter kids' vocabulary via a popular comic book and an online video game.
In the early 2000s, LEGO experimented heavily with packaging, the first series of Bionicle toys got canisters instead of boxes. Tahnok (and the five other differently colored Bohrok toys) were the first bad guys in the line to get canister packaging, and much like the earlier toys, they could interact with their boxes after assembly. Special pieces were included so the balled-up figure could hang from the ceiling, like a bat or some weird alien spore creature. It's neat, it's a little eerie, and it certainly helped to give the toy a little personality.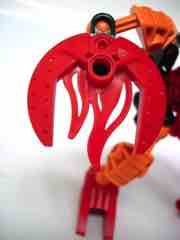 Tahnok's hands are little flame icons, and each one of the Bohrok toys have some sort of claw to match their theme-- in this case, fire. The toy is loaded with articulation thanks to the construction system which gives him ball-jointed ankles, hips, shoulders, and more. He can even flick his head forward in a sort of an attack.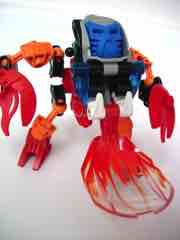 Not content to merely reinvent constructable action figures, LEGO also included a collectible component. These toys had clear plastic heads which can flip open, revealing a brain of sorts called a "Krana." These were also sculpted to fit over the hero figures which were sold at the time, effectively "controlling" them as bad guys. It's an interesting play feature, and they feel a little bit like erasers.
The whole idea of canned action figures was insanely appealing to me when these came out, although I didn't see much reason to collect all six just because of the color change. They're neat little toys, and while not as popular as the Toa, they were LEGO's first attempt to make bad guys in the Bionicle line at the sub-$10 price point. I think you could call them a success, as the entire range continued until 2010. Today, this guy should set you back about $10-$15, and if the seller doesn't have the box I suggest you not buy it. You're going to want the box, even if you open these things.
--Adam Pawlus
Additional Images

See more LEGO figures in Figure of the Day:
Day 2: LEGO Minifigures Series 2 Disco Dude
Day 33: LEGO Minifigures Series 1 Super Wrestler
Day 36: LEGO Minifigures Series 2 Mime
Day 38: LEGO Minifigures Series 2 Karate Master
Day 77: LEGO Minifigures Series 1 Ninja
Day 85: LEGO Minifigures Series 1 Spaceman
Day 106: LEGO Minifigures Series 2 Witch
Day 123: LEGO Minifigures Series 1 Robot
Day 130: LEGO Ninjago 2112 Cole Action Figure
Day 136: LEGO Bionicle 8563 Tahnok Action Figure
Day 148: LEGO Minifigures Series 1 Cheerleader
Day 152: LEGO Minifigures Series 1 Crash Test Dummy
Day 161: LEGO Minifigures Series 1 Forestman
Day 174: LEGO Minifigures Series 3 Gorilla Suit Guy
Day 176: LEGO Minifigures Series 3 Mummy
Day 181: LEGO Bionicle 8534 Tahu Action Figure
Day 182: LEGO Minifigures Series 3 Sumo Wrestler
Day 188: LEGO Minifigures Series 3 Tennis Player
Day 190: LEGO Minifigures Series 3 Rapper
Day 195: LEGO Minifigures Series 3 Space Alien
Day 198: LEGO Minifigures Series 1 Deep Sea Diver
Day 215: LEGO Minifigures Series 3 Fisherman
Day 218: LEGO Minifigures Series 2 Weightlifter
Day 220: LEGO Bionicle Stars 7116 Tahu Action Figure
Day 225: LEGO Minifigures Series 3 Baseball Player
Day 239: LEGO Minifigures Series 2 Lifeguard
Day 260: LEGO Minifigures Series 2 Ringmaster
Day 267: LEGO Minifigures Series 3 Tribal Chief (Indian)
Day 275: LEGO Minifigures Series 2 Traffic Cop
Day 347: LEGO Minifigures Series 4 Punk Rocker
Day 358: LEGO Minifigures Series 3 Pilot
Day 368: LEGO Minifigures Series 5 Lizard Man
Day 378: LEGO Minifigures Series 5 Lumberjack
Day 389: LEGO Minifigures Series 5 Evil Dwarf
Day 402: LEGO Minifigures Series 4 Crazy Scientist
Day 414: LEGO Minifigures Series 5 Gangster
Day 422: LEGO Minifigures Series 5 Ice Fisherman
Day 434: LEGO Minifigures Series 4 Artist
Day 452: LEGO Minifigures Series 4 Hazmat Guy
Day 455: LEGO Minifigures Series 7 Computer Programmer
Day 462: LEGO UFO Shell Exclusive Spacecraft
Day 467: LEGO Minifigures Series 4 The Monster
Day 474: LEGO Minifigures Series 6 Intergalactic Girl
Day 489: LEGO Minifigures Series 6 Clockwork Robot
Day 501: LEGO Minifigures Series 6 Classic Alien
Day 522: LEGO Minifigures Series 6 Genie
Day 535: LEGO Minifigures Series 4 Kimono Girl
Day 535: LEGO Minifigures Series 4 Werewolf
Day 633: LEGO Minifigures Series 7 Galaxy Patrol
Day 692: LEGO Minifigures Series 6 Skater Girl
Day 707: LEGO Minifigures Series 3 Elf
Day 721: LEGO Minifigures Series 5 Egyptian Queen
Day 724: LEGO Minifigures Series 10 Sad Clown
Day 730: LEGO Minifigures Series 10 Librarian
Day 730: LEGO Minifigures Series 6 Sleepyhead
Day 825: LEGO Minifigures Series 11 Yeti
Day 831: LEGO Minifigures Series 7 Hippie
Day 837: LEGO Minifigures Series 7 Scientist
Day 871: LEGO Minifigures Series 10 Bumblebee Girl
Day 884: LEGO Minifigures Series 5 Fitness Instructor
Day 884: LEGO Minifigures Series 4 Soccer Player
Day 1,120: LEGO Teenage Mutant Ninja Turtles Mikey's Mini Shellraiser
Day 1,122: LEGO Minifigures Series 8 Vampire Bat
Day 1,533: LEGO Minifigures Series 16 Spy
Day 1,680: The LEGO Batman Movie Catman
Day 2,063: LEGO The LEGO Movie 2 70841 Benny's Space Squad Set
Day 2,071: LEGO Space Police 5981 Raid VPR Set

See more Bionicle figures in Figure of the Day:
Day 136: LEGO Bionicle 8563 Tahnok Action Figure
Day 181: LEGO Bionicle 8534 Tahu Action Figure
Day 220: LEGO Bionicle Stars 7116 Tahu Action Figure

Want to buy this figure? Check LEGO availability at our sponsors:
Entertainment Earth