Librarian
Shhh!

LEGO Minifigures Series 10
Item No.: 71001
Manufacturer: LEGO
Includes: Book, mug, stand
Action Feature: n/a
Retail: $2.99-$3.99
Availability: May 2013
Other: #1 in a collection of 16

PREVIOUS
RSS
NEXT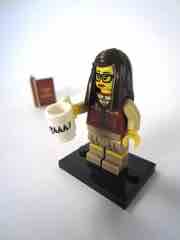 "I'm the one that everyone calls 'nerd.' That's OK, I don't mind the little turds. They don't know what I'm like anyway." - Blast Off Country Style, "Where The Geeks Are"
The LEGO Librarian is another half to the coin that was introduced with the Computer Programmer in series 7 last year. As the kind of person who was called "nerd" as a kid, I take issue to these things as they're more or less a critique on how I'm fairly sure the rest of the world views me, and the Librarian is the female half of that equation. (Also, Mrs. 16bit is a librarian.)
The figure gets most of the stereotypes right - long brown hair, glasses, and a mug that says "Shhh!" on it. The sleeveless sweater vest, long sleeve shirt, and skirt seem more fashion-forward than other figures in this line, but I don't know much about fashion. I find clothes in free piles and giveaways at conventions. As such, this figure definitely has a good look about her and while the figure itself doesn't scream "librarian," the figure does have a strong air of authenticity because she has the right accessories. A book opens with the title "Oranges and Peaches" on the cover which, well, maybe it's funny to Danish people. I don't know it turns out is a joke - a play on Origin of the Species. It's hollow and opens, so you might be able to put something very small inside it. The aforementioned mug is, of course, the selling point - with no quote balloons included just yet, as "Shhh!" is pretty much what popular culture has deemed the librarian catchphrase.
Series 10 is fairly loaded with decent stuff, including the librarian's mortal enemy, the "trendsetter." (Or "Los Angeles resident" or "reality television personality" or what have you.) If you're building a LEGO town, a Librarian is essential just because she looks like a normal human adult, as opposed to "girl in bee suit" or "not Xena for legal purposes." What I'd really like to know, though, is how come this kind of figure hasn't wormed its way into the pink box girl line LEGO Friends just yet. Given the chance, I'd probably buy another Librarian or two for use as a) gifts or b) spare parts to customize other lady figures. That's probably reason enough for you to want to consider buying one.
--Adam Pawlus
Additional Images


See more LEGO figures in Figure of the Day:
Day 2: LEGO Minifigures Series 2 Disco Dude
Day 33: LEGO Minifigures Series 1 Super Wrestler
Day 36: LEGO Minifigures Series 2 Mime
Day 38: LEGO Minifigures Series 2 Karate Master
Day 77: LEGO Minifigures Series 1 Ninja
Day 85: LEGO Minifigures Series 1 Spaceman
Day 106: LEGO Minifigures Series 2 Witch
Day 123: LEGO Minifigures Series 1 Robot
Day 130: LEGO Ninjago 2112 Cole Action Figure
Day 136: LEGO Bionicle 8563 Tahnok Action Figure
Day 148: LEGO Minifigures Series 1 Cheerleader
Day 152: LEGO Minifigures Series 1 Crash Test Dummy
Day 161: LEGO Minifigures Series 1 Forestman
Day 174: LEGO Minifigures Series 3 Gorilla Suit Guy
Day 176: LEGO Minifigures Series 3 Mummy
Day 181: LEGO Bionicle 8534 Tahu Action Figure
Day 182: LEGO Minifigures Series 3 Sumo Wrestler
Day 188: LEGO Minifigures Series 3 Tennis Player
Day 190: LEGO Minifigures Series 3 Rapper
Day 195: LEGO Minifigures Series 3 Space Alien
Day 198: LEGO Minifigures Series 1 Deep Sea Diver
Day 215: LEGO Minifigures Series 3 Fisherman
Day 218: LEGO Minifigures Series 2 Weightlifter
Day 220: LEGO Bionicle Stars 7116 Tahu Action Figure
Day 225: LEGO Minifigures Series 3 Baseball Player
Day 239: LEGO Minifigures Series 2 Lifeguard
Day 260: LEGO Minifigures Series 2 Ringmaster
Day 267: LEGO Minifigures Series 3 Tribal Chief (Indian)
Day 275: LEGO Minifigures Series 2 Traffic Cop
Day 347: LEGO Minifigures Series 4 Punk Rocker
Day 358: LEGO Minifigures Series 3 Pilot
Day 368: LEGO Minifigures Series 5 Lizard Man
Day 378: LEGO Minifigures Series 5 Lumberjack
Day 389: LEGO Minifigures Series 5 Evil Dwarf
Day 402: LEGO Minifigures Series 4 Crazy Scientist
Day 414: LEGO Minifigures Series 5 Gangster
Day 422: LEGO Minifigures Series 5 Ice Fisherman
Day 434: LEGO Minifigures Series 4 Artist
Day 452: LEGO Minifigures Series 4 Hazmat Guy
Day 455: LEGO Minifigures Series 7 Computer Programmer
Day 462: LEGO UFO Shell Exclusive Spacecraft
Day 467: LEGO Minifigures Series 4 The Monster
Day 474: LEGO Minifigures Series 6 Intergalactic Girl
Day 489: LEGO Minifigures Series 6 Clockwork Robot
Day 501: LEGO Minifigures Series 6 Classic Alien
Day 522: LEGO Minifigures Series 6 Genie
Day 535: LEGO Minifigures Series 4 Kimono Girl
Day 535: LEGO Minifigures Series 4 Werewolf
Day 633: LEGO Minifigures Series 7 Galaxy Patrol
Day 692: LEGO Minifigures Series 6 Skater Girl
Day 707: LEGO Minifigures Series 3 Elf
Day 721: LEGO Minifigures Series 5 Egyptian Queen
Day 724: LEGO Minifigures Series 10 Sad Clown
Day 730: LEGO Minifigures Series 10 Librarian
Day 730: LEGO Minifigures Series 6 Sleepyhead
Day 825: LEGO Minifigures Series 11 Yeti
Day 831: LEGO Minifigures Series 7 Hippie
Day 837: LEGO Minifigures Series 7 Scientist
Day 871: LEGO Minifigures Series 10 Bumblebee Girl
Day 884: LEGO Minifigures Series 5 Fitness Instructor
Day 884: LEGO Minifigures Series 4 Soccer Player
Day 1,120: LEGO Teenage Mutant Ninja Turtles Mikey's Mini Shellraiser
Day 1,122: LEGO Minifigures Series 8 Vampire Bat
Day 1,533: LEGO Minifigures Series 16 Spy
Day 1,680: The LEGO Batman Movie Catman
Day 2,063: LEGO The LEGO Movie 2 70841 Benny's Space Squad Set
Day 2,071: LEGO Space Police 5981 Raid VPR Set

Want to buy this figure? Check LEGO availability at our sponsors:
Entertainment Earth