Soccer Player
Not "Football." Nor "Futbol."

LEGO Minifigures Series 4
Item No.: 8804
Manufacturer: LEGO
Includes: 2-piece trophy, display base
Action Feature: n/a
Retail: $2.99-$3.99
Availability: April 2011
Other: #11 in a collection of 16

PREVIOUS
RSS
NEXT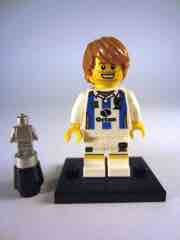 The Soccer Player manages to tick several boxes of things which may not interest the typical toy collector. Sports? European sports? These are not necessarily what the typical toy junkie wants - which makes it sort of infuriating that LEGO made this figure so damn good. The smug, shaggy, stubbly player comes with a silver trophy and some of the best deco in this line - and we're many many more series in since his release.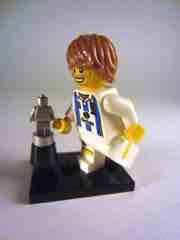 It's impossible to ignore his uniform, which feels like a critique and a celebration of product placement in sports. Even in a fantasy realm, fake oil company Octan is required to pay up to LEGO FIFA or whatever to get their name on the uniforms of the world's most popular sport. With the subtle dtubble and the tiny, incredibly well-painted patches this would be an impressive figure. Not content to be merely impressive, LEGO also slapped yellow paint on the legs to turn the pants into shorts - this sort of thing was a luxury back in the 1980s and 1990s. The level of detail probably means that the Danish toy barons are making money out their ears by repainting the same mold with new and interesting hats, but I bought a bunch of 'em so it's clearly working.
I'm a little surprised no soccer ball was included, because LEGO had a soccer theme a few years ago. (It was clearance heaven. 75% off at Walmart. Didn't sell worth a damn. I bought a bunch for spare parts.) This figure is far better than anything from that early 2000s run, with such exquisitely placed dots and evenly-applied blue and black paint that it's no real wonder why these lines continue to perform series after series. It's cheap, blind-bagged, and well-constructed. A whole team would be nice, but thankfully the customizable figures will let you swap heads with other duplicate figures to make your very own vaguely diverse team to play out your World Cup fantasies in plastic bricks on your desk. As much as I'd love to knock this figure, I can't. If you're the kind of person who assumes you might enjoy a Soccer Player figure, get this one. Superb!
--Adam Pawlus
Additional Images

See more LEGO figures in Figure of the Day:
Day 2: LEGO Minifigures Series 2 Disco Dude
Day 33: LEGO Minifigures Series 1 Super Wrestler
Day 36: LEGO Minifigures Series 2 Mime
Day 38: LEGO Minifigures Series 2 Karate Master
Day 77: LEGO Minifigures Series 1 Ninja
Day 85: LEGO Minifigures Series 1 Spaceman
Day 106: LEGO Minifigures Series 2 Witch
Day 123: LEGO Minifigures Series 1 Robot
Day 130: LEGO Ninjago 2112 Cole Action Figure
Day 136: LEGO Bionicle 8563 Tahnok Action Figure
Day 148: LEGO Minifigures Series 1 Cheerleader
Day 152: LEGO Minifigures Series 1 Crash Test Dummy
Day 161: LEGO Minifigures Series 1 Forestman
Day 174: LEGO Minifigures Series 3 Gorilla Suit Guy
Day 176: LEGO Minifigures Series 3 Mummy
Day 181: LEGO Bionicle 8534 Tahu Action Figure
Day 182: LEGO Minifigures Series 3 Sumo Wrestler
Day 188: LEGO Minifigures Series 3 Tennis Player
Day 190: LEGO Minifigures Series 3 Rapper
Day 195: LEGO Minifigures Series 3 Space Alien
Day 198: LEGO Minifigures Series 1 Deep Sea Diver
Day 215: LEGO Minifigures Series 3 Fisherman
Day 218: LEGO Minifigures Series 2 Weightlifter
Day 220: LEGO Bionicle Stars 7116 Tahu Action Figure
Day 225: LEGO Minifigures Series 3 Baseball Player
Day 239: LEGO Minifigures Series 2 Lifeguard
Day 260: LEGO Minifigures Series 2 Ringmaster
Day 267: LEGO Minifigures Series 3 Tribal Chief (Indian)
Day 275: LEGO Minifigures Series 2 Traffic Cop
Day 347: LEGO Minifigures Series 4 Punk Rocker
Day 358: LEGO Minifigures Series 3 Pilot
Day 368: LEGO Minifigures Series 5 Lizard Man
Day 378: LEGO Minifigures Series 5 Lumberjack
Day 389: LEGO Minifigures Series 5 Evil Dwarf
Day 402: LEGO Minifigures Series 4 Crazy Scientist
Day 414: LEGO Minifigures Series 5 Gangster
Day 422: LEGO Minifigures Series 5 Ice Fisherman
Day 434: LEGO Minifigures Series 4 Artist
Day 452: LEGO Minifigures Series 4 Hazmat Guy
Day 455: LEGO Minifigures Series 7 Computer Programmer
Day 462: LEGO UFO Shell Exclusive Spacecraft
Day 467: LEGO Minifigures Series 4 The Monster
Day 474: LEGO Minifigures Series 6 Intergalactic Girl
Day 489: LEGO Minifigures Series 6 Clockwork Robot
Day 501: LEGO Minifigures Series 6 Classic Alien
Day 522: LEGO Minifigures Series 6 Genie
Day 535: LEGO Minifigures Series 4 Kimono Girl
Day 535: LEGO Minifigures Series 4 Werewolf
Day 633: LEGO Minifigures Series 7 Galaxy Patrol
Day 692: LEGO Minifigures Series 6 Skater Girl
Day 707: LEGO Minifigures Series 3 Elf
Day 721: LEGO Minifigures Series 5 Egyptian Queen
Day 724: LEGO Minifigures Series 10 Sad Clown
Day 730: LEGO Minifigures Series 10 Librarian
Day 730: LEGO Minifigures Series 6 Sleepyhead
Day 825: LEGO Minifigures Series 11 Yeti
Day 831: LEGO Minifigures Series 7 Hippie
Day 837: LEGO Minifigures Series 7 Scientist
Day 871: LEGO Minifigures Series 10 Bumblebee Girl
Day 884: LEGO Minifigures Series 5 Fitness Instructor
Day 884: LEGO Minifigures Series 4 Soccer Player
Day 1,120: LEGO Teenage Mutant Ninja Turtles Mikey's Mini Shellraiser
Day 1,122: LEGO Minifigures Series 8 Vampire Bat
Day 1,533: LEGO Minifigures Series 16 Spy
Day 1,680: The LEGO Batman Movie Catman
Day 2,063: LEGO The LEGO Movie 2 70841 Benny's Space Squad Set
Day 2,071: LEGO Space Police 5981 Raid VPR Set

Want to buy this figure? Check LEGO availability at our sponsors:
Entertainment Earth