Classic Alien
1990s Folklore Artifact

LEGO Minifigures Series 6
Item No.: 8827
Manufacturer: LEGO
Includes: Blaster, laser blast, stand
Action Feature: n/a
Retail: $2.99-$3.99
Availability: February 2012
Other: #1 in a collection of 16

PREVIOUS
RSS
NEXT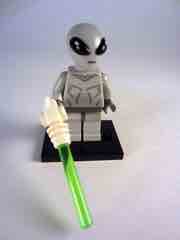 The Classic Alien is a nifty leftover of our shared folklore, as "the truth is out there" and alien autopsies and Chupacabra were all sort of a weird cultural interest during the 1990s. They've basically faded from the forefront, but they have been around in the fabric of pop culture for decades. Between The X-Files and Communion, they eventually mutated into comic characters appearing on the likes of South Park, the movie Paul, and American Dad's Roger. This "realistic" alien had its figurative fangs removed over the years, just like we de-fanged ALIEN's eerie creature, and now it's available on a schoolboy-friendly $3 collectible minifigure. Given humanity has precious little folklore based on other worlds, it's nice to see this figure jump to LEGO like vampires and minotaurs and cheerleaders. (Did you ever date a cheerleader? Exactly. That's how we know they're a myth.)
The lack of a proper "Space" line is no doubt why these figures didn't appear sooner, while we wait around for some sort of indication that we aren't alone in the universe, these grey aliens remain our stand-in. The figure has a newly sculpted light bulb-shaped head and bizarre, almost shiny skin on his body. The big eyes are painted black with little white reflections on them, which gives this fairly stoic-looking alien a little personality. It's not like he's smiling or anything.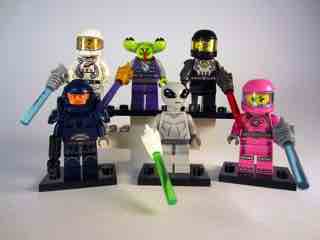 Darker grey hands match the lines which make up his drawn-on physique, but beyond that there's little to him. It's just a body with a new head and the recycled space blaster from numerous other great figures. Of course, simple doesn't mean bad-- this is a top-notch figure and I'm glad I got it.
Seeing items like this in kid's toy lines really does wonders to show how our culture mutates its icons over the years. While always a little silly, this style of alien creature was the go-to template for so many TV shows, fake videos, costumes, movies, stories, and even video games. "The greys" also show how science slowly sucked the fun out of science fiction. Well, OK, pseudoscience. For whatever reason people agreed this is what aliens look like-- despite none of them actually coming by to say hello-- robbing us of more fantastic new ideas like The Outer Space Men from the 1960s, George Lucas' numerous creatures, even Klingons. But enough of me complaining, I like this figure, this figure is really cool, I just wish our cultural imagination would crank out some more cool alien concepts, preferably without anal probes as a piece of the mythology.
--Adam Pawlus
Additional Images

See more LEGO figures in Figure of the Day:
Day 2: LEGO Minifigures Series 2 Disco Dude
Day 33: LEGO Minifigures Series 1 Super Wrestler
Day 36: LEGO Minifigures Series 2 Mime
Day 38: LEGO Minifigures Series 2 Karate Master
Day 77: LEGO Minifigures Series 1 Ninja
Day 85: LEGO Minifigures Series 1 Spaceman
Day 106: LEGO Minifigures Series 2 Witch
Day 123: LEGO Minifigures Series 1 Robot
Day 130: LEGO Ninjago 2112 Cole Action Figure
Day 136: LEGO Bionicle 8563 Tahnok Action Figure
Day 148: LEGO Minifigures Series 1 Cheerleader
Day 152: LEGO Minifigures Series 1 Crash Test Dummy
Day 161: LEGO Minifigures Series 1 Forestman
Day 174: LEGO Minifigures Series 3 Gorilla Suit Guy
Day 176: LEGO Minifigures Series 3 Mummy
Day 181: LEGO Bionicle 8534 Tahu Action Figure
Day 182: LEGO Minifigures Series 3 Sumo Wrestler
Day 188: LEGO Minifigures Series 3 Tennis Player
Day 190: LEGO Minifigures Series 3 Rapper
Day 195: LEGO Minifigures Series 3 Space Alien
Day 198: LEGO Minifigures Series 1 Deep Sea Diver
Day 215: LEGO Minifigures Series 3 Fisherman
Day 218: LEGO Minifigures Series 2 Weightlifter
Day 220: LEGO Bionicle Stars 7116 Tahu Action Figure
Day 225: LEGO Minifigures Series 3 Baseball Player
Day 239: LEGO Minifigures Series 2 Lifeguard
Day 260: LEGO Minifigures Series 2 Ringmaster
Day 267: LEGO Minifigures Series 3 Tribal Chief (Indian)
Day 275: LEGO Minifigures Series 2 Traffic Cop
Day 347: LEGO Minifigures Series 4 Punk Rocker
Day 358: LEGO Minifigures Series 3 Pilot
Day 368: LEGO Minifigures Series 5 Lizard Man
Day 378: LEGO Minifigures Series 5 Lumberjack
Day 389: LEGO Minifigures Series 5 Evil Dwarf
Day 402: LEGO Minifigures Series 4 Crazy Scientist
Day 414: LEGO Minifigures Series 5 Gangster
Day 422: LEGO Minifigures Series 5 Ice Fisherman
Day 434: LEGO Minifigures Series 4 Artist
Day 452: LEGO Minifigures Series 4 Hazmat Guy
Day 455: LEGO Minifigures Series 7 Computer Programmer
Day 462: LEGO UFO Shell Exclusive Spacecraft
Day 467: LEGO Minifigures Series 4 The Monster
Day 474: LEGO Minifigures Series 6 Intergalactic Girl
Day 489: LEGO Minifigures Series 6 Clockwork Robot
Day 501: LEGO Minifigures Series 6 Classic Alien
Day 522: LEGO Minifigures Series 6 Genie
Day 535: LEGO Minifigures Series 4 Kimono Girl
Day 535: LEGO Minifigures Series 4 Werewolf
Day 633: LEGO Minifigures Series 7 Galaxy Patrol
Day 692: LEGO Minifigures Series 6 Skater Girl
Day 707: LEGO Minifigures Series 3 Elf
Day 721: LEGO Minifigures Series 5 Egyptian Queen
Day 724: LEGO Minifigures Series 10 Sad Clown
Day 730: LEGO Minifigures Series 10 Librarian
Day 730: LEGO Minifigures Series 6 Sleepyhead
Day 825: LEGO Minifigures Series 11 Yeti
Day 831: LEGO Minifigures Series 7 Hippie
Day 837: LEGO Minifigures Series 7 Scientist
Day 871: LEGO Minifigures Series 10 Bumblebee Girl
Day 884: LEGO Minifigures Series 5 Fitness Instructor
Day 884: LEGO Minifigures Series 4 Soccer Player
Day 1,120: LEGO Teenage Mutant Ninja Turtles Mikey's Mini Shellraiser
Day 1,122: LEGO Minifigures Series 8 Vampire Bat
Day 1,533: LEGO Minifigures Series 16 Spy
Day 1,680: The LEGO Batman Movie Catman
Day 2,063: LEGO The LEGO Movie 2 70841 Benny's Space Squad Set
Day 2,071: LEGO Space Police 5981 Raid VPR Set

Want to buy this figure? Check LEGO availability at our sponsors:
Entertainment Earth