Cole
Blister-Packed Ninjago Warrior

LEGO Ninjago Debut Series
Item No.: 2112
Manufacturer: LEGO
Includes: Top, sword, cards, other weapons
Action Feature: n/a
Retail: $9.99
Availability: January 2011
Other: One of few carded Minifigures

PREVIOUS
RSS
NEXT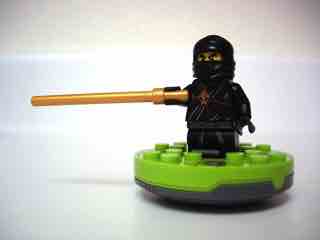 Remember Spinjas? No? Great! Then this is new to you.
When I first saw the Ninjago lineup, I was taken by the notion that Ninjas were returning to the line in force. Then I saw the carded figures like Cole and was more than a little disappointed by the price. $10 for a single figure? Even when $5 can get you a similar (if not identical) figure with a batch of training gear? I thought that was nutty, and decided to skip the carded segment. And then LEGO handed them out to the press in New York for Toy Fair, so I figured I may as well give it a fair look.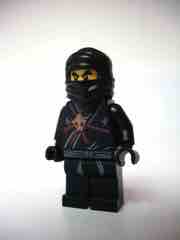 By combining two popular things 21st century boys love-- Ninjas, and Beyblade-- into a single package, LEGO has essentially captured the essence of what a lot of kids may well be looking for these days. The "stand" or "top" has no motorized launching component, you just spin it and the fun (and fighting) ensues..
Cole is essentially a normal LEGO figure. It's quite similar to the LEGO Minifigures Ninja, except that the body has more detail and the head is a little lighter on decoration. Of note, Cole's legs have some extra paint on them, plus he has accessories like that hammer-like weapon, a pole, and of course a sword. The top allows a figure to click into place, but with the right push he could be knocked off his perch. Incorporating a game element into action figures is nothing new-- but having the game succeed is unusual. Hasbro tried a game component in its super-cool Xevoz action figure line, and there's a minigame currently running in Star Wars. As far as I can tell it isn't influencing purchases, but the LEGO Ninjago line goes one step further and includes a series of cards for its own trading card game-- certainly a very clever idea for repeat business and multiple avenues of play.
This is not $10 worth of toy-- much like Beyblade, POGs, and other toy lines, it seems LEGO is counting on a fad to develop to make the item worth the $9.99 retail asking price. Were it not for LEGO's extensive existing product line, this might look better-- but there's so much other, better stuff on the construction aisle for cheaper, that this seems like a bad buy unless you're particularly interest in the spinning action. You can get Cole figures in other, more ornate (or cheaper) sets as well. Kids might dig it, but as an old fart I would drive the youngsters toward other sets, even other Ninjago sets. This is exactly the kind of toy that I think would probably have infuriated my dad when I was a kid... so with that in mind, I guess at least it's good for something.
--Adam Pawlus
Additional Images

See more LEGO figures in Figure of the Day:
Day 2: LEGO Minifigures Series 2 Disco Dude
Day 33: LEGO Minifigures Series 1 Super Wrestler
Day 36: LEGO Minifigures Series 2 Mime
Day 38: LEGO Minifigures Series 2 Karate Master
Day 77: LEGO Minifigures Series 1 Ninja
Day 85: LEGO Minifigures Series 1 Spaceman
Day 106: LEGO Minifigures Series 2 Witch
Day 123: LEGO Minifigures Series 1 Robot
Day 130: LEGO Ninjago 2112 Cole Action Figure
Day 136: LEGO Bionicle 8563 Tahnok Action Figure
Day 148: LEGO Minifigures Series 1 Cheerleader
Day 152: LEGO Minifigures Series 1 Crash Test Dummy
Day 161: LEGO Minifigures Series 1 Forestman
Day 174: LEGO Minifigures Series 3 Gorilla Suit Guy
Day 176: LEGO Minifigures Series 3 Mummy
Day 181: LEGO Bionicle 8534 Tahu Action Figure
Day 182: LEGO Minifigures Series 3 Sumo Wrestler
Day 188: LEGO Minifigures Series 3 Tennis Player
Day 190: LEGO Minifigures Series 3 Rapper
Day 195: LEGO Minifigures Series 3 Space Alien
Day 198: LEGO Minifigures Series 1 Deep Sea Diver
Day 215: LEGO Minifigures Series 3 Fisherman
Day 218: LEGO Minifigures Series 2 Weightlifter
Day 220: LEGO Bionicle Stars 7116 Tahu Action Figure
Day 225: LEGO Minifigures Series 3 Baseball Player
Day 239: LEGO Minifigures Series 2 Lifeguard
Day 260: LEGO Minifigures Series 2 Ringmaster
Day 267: LEGO Minifigures Series 3 Tribal Chief (Indian)
Day 275: LEGO Minifigures Series 2 Traffic Cop
Day 347: LEGO Minifigures Series 4 Punk Rocker
Day 358: LEGO Minifigures Series 3 Pilot
Day 368: LEGO Minifigures Series 5 Lizard Man
Day 378: LEGO Minifigures Series 5 Lumberjack
Day 389: LEGO Minifigures Series 5 Evil Dwarf
Day 402: LEGO Minifigures Series 4 Crazy Scientist
Day 414: LEGO Minifigures Series 5 Gangster
Day 422: LEGO Minifigures Series 5 Ice Fisherman
Day 434: LEGO Minifigures Series 4 Artist
Day 452: LEGO Minifigures Series 4 Hazmat Guy
Day 455: LEGO Minifigures Series 7 Computer Programmer
Day 462: LEGO UFO Shell Exclusive Spacecraft
Day 467: LEGO Minifigures Series 4 The Monster
Day 474: LEGO Minifigures Series 6 Intergalactic Girl
Day 489: LEGO Minifigures Series 6 Clockwork Robot
Day 501: LEGO Minifigures Series 6 Classic Alien
Day 522: LEGO Minifigures Series 6 Genie
Day 535: LEGO Minifigures Series 4 Kimono Girl
Day 535: LEGO Minifigures Series 4 Werewolf
Day 633: LEGO Minifigures Series 7 Galaxy Patrol
Day 692: LEGO Minifigures Series 6 Skater Girl
Day 707: LEGO Minifigures Series 3 Elf
Day 721: LEGO Minifigures Series 5 Egyptian Queen
Day 724: LEGO Minifigures Series 10 Sad Clown
Day 730: LEGO Minifigures Series 10 Librarian
Day 730: LEGO Minifigures Series 6 Sleepyhead
Day 825: LEGO Minifigures Series 11 Yeti
Day 831: LEGO Minifigures Series 7 Hippie
Day 837: LEGO Minifigures Series 7 Scientist
Day 871: LEGO Minifigures Series 10 Bumblebee Girl
Day 884: LEGO Minifigures Series 5 Fitness Instructor
Day 884: LEGO Minifigures Series 4 Soccer Player
Day 1,120: LEGO Teenage Mutant Ninja Turtles Mikey's Mini Shellraiser
Day 1,122: LEGO Minifigures Series 8 Vampire Bat
Day 1,533: LEGO Minifigures Series 16 Spy
Day 1,680: The LEGO Batman Movie Catman
Day 2,063: LEGO The LEGO Movie 2 70841 Benny's Space Squad Set
Day 2,071: LEGO Space Police 5981 Raid VPR Set

Want to buy this figure? Check LEGO availability at our sponsors:
Entertainment Earth