Tahu
The Toa of Fire

Bionicle Technic Toa Figures
Item No.: 8534
Manufacturer: LEGO
Includes: Canister packaging for storage
Action Feature: Twist dial to swing sword arm
Retail: approx. $7.99
Availability: Summer 2001
Other: From the debut series of Bionicle toys

PREVIOUS
RSS
NEXT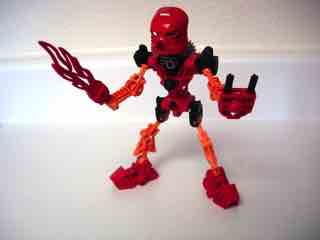 When I first saw Bionicle my reaction went from "What the hell is this new Technic thing?" to "A canned LEGO tiki robot? SOLD!" in about thirty seconds. I jumped on the red one because it reminded me vaguely of some tiki stuff, a little bit, and that was enough to push me into the line. As one of the very first Bionicle figures, it and its peers carried the "LEGO Technic" brand on the packaging to help explain what these were-- of course as time went on, the "Bionicle" brand became way stronger than "Technic" and the other words were dropped. This line because one of the first great successful constructable action figures, which spawned other successes (Hero Factory) and failures (Galidor) over the following decade.
Using several new parts in addition to the existing Technic rod-and-hole construction, these figures plugged together pretty quickly and involved geared mechanisms. Seeing as you had to assemble the figure yourself and you were encouraged to modify them and make them your own, kids really went nuts with the line and were even sold blind-boxed collectible masks, 2 for $2 at most stores. These proved so popular, there was a lot of in-store pilferage so people opened the box to see if the one they wanted was inside. Or they just pocketed it. I saw lots of both.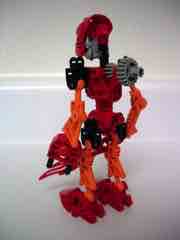 So yeah, you put together the figure and you can have them "slash" or "swim" or "kick" or whatever-- slight alterations to the design allowed you to change what the figure could do, and most of the Toa figures were effectively the same core item with new weapons, a new mask, and new coloring. Tahu's flame sword was pretty slick, and plugged in to the end of his arm. This arm would go up and down as you moved the dial on his back, giving you a smooth, fun attack action you could use while having him fight the other toys. (The first year Bionicle villains were largely huge, boxed monsters sold in pairs.)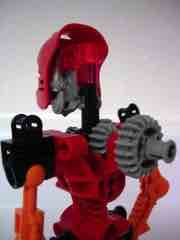 The figure itself used a lot of hallmarks of existing toys, like the light-up eye port. A clear piece of plastic (in this case, red) plugged into a grey face, which had a hole in the mouth in which you can attach a mask. All of the masks had names and special powers, so you could probably put together a nice book just defining all the terms used in the toy line. It gets pretty obtuse-- masks are called "kanohi," and Tahu's mask is "Hau, the mask of shielding." None of this really does anything to help the toy, but hey, it's probably the same way people felt about Autobots, Cobra, and Orko back in the 1980s.
The figure has no paint, and assembles in a few minutes. I like it a lot, and I'd say if you can get this one (or any of them) because it's a really fun experience. As an added bonus, the packaging was meant to be saved so you can keep all your parts inside. The lid of the package (see below) has a molded face on it, on which you can mount a mask if you're so inclined. You can also mount spare heads for storage along the side, showcasing other masks, if you'd like. They really were pushing the "collectible" angle on these, although the blind-packaged accessories would go away pretty quickly. It was a heck of a neat idea, and I was sad to see the Bionicle brand come to an unceremonious end as 2010 came to a close. Tahu here is still a great fun little toy, and a new version of the original Tahu was released to stores in 2010-- different construction, but very similar. You can snag him for about $10, but the original toy as reviewed here goes anywhere from $10-$35 these days.
A word to the cheap collectors of today-- a lot of Bionicle items on the secondary market aren't too expensive yet, with some of the larger sets going for pretty reasonable prices. If you feel that, in 5-10 years, you're going to want a set, get cracking on this. As this generation grows up I bet sealed and complete toys are going to be pretty tough to find on the secondary market.
--Adam Pawlus
Additional Images

See more LEGO figures in Figure of the Day:
Day 2: LEGO Minifigures Series 2 Disco Dude
Day 33: LEGO Minifigures Series 1 Super Wrestler
Day 36: LEGO Minifigures Series 2 Mime
Day 38: LEGO Minifigures Series 2 Karate Master
Day 77: LEGO Minifigures Series 1 Ninja
Day 85: LEGO Minifigures Series 1 Spaceman
Day 106: LEGO Minifigures Series 2 Witch
Day 123: LEGO Minifigures Series 1 Robot
Day 130: LEGO Ninjago 2112 Cole Action Figure
Day 136: LEGO Bionicle 8563 Tahnok Action Figure
Day 148: LEGO Minifigures Series 1 Cheerleader
Day 152: LEGO Minifigures Series 1 Crash Test Dummy
Day 161: LEGO Minifigures Series 1 Forestman
Day 174: LEGO Minifigures Series 3 Gorilla Suit Guy
Day 176: LEGO Minifigures Series 3 Mummy
Day 181: LEGO Bionicle 8534 Tahu Action Figure
Day 182: LEGO Minifigures Series 3 Sumo Wrestler
Day 188: LEGO Minifigures Series 3 Tennis Player
Day 190: LEGO Minifigures Series 3 Rapper
Day 195: LEGO Minifigures Series 3 Space Alien
Day 198: LEGO Minifigures Series 1 Deep Sea Diver
Day 215: LEGO Minifigures Series 3 Fisherman
Day 218: LEGO Minifigures Series 2 Weightlifter
Day 220: LEGO Bionicle Stars 7116 Tahu Action Figure
Day 225: LEGO Minifigures Series 3 Baseball Player
Day 239: LEGO Minifigures Series 2 Lifeguard
Day 260: LEGO Minifigures Series 2 Ringmaster
Day 267: LEGO Minifigures Series 3 Tribal Chief (Indian)
Day 275: LEGO Minifigures Series 2 Traffic Cop
Day 347: LEGO Minifigures Series 4 Punk Rocker
Day 358: LEGO Minifigures Series 3 Pilot
Day 368: LEGO Minifigures Series 5 Lizard Man
Day 378: LEGO Minifigures Series 5 Lumberjack
Day 389: LEGO Minifigures Series 5 Evil Dwarf
Day 402: LEGO Minifigures Series 4 Crazy Scientist
Day 414: LEGO Minifigures Series 5 Gangster
Day 422: LEGO Minifigures Series 5 Ice Fisherman
Day 434: LEGO Minifigures Series 4 Artist
Day 452: LEGO Minifigures Series 4 Hazmat Guy
Day 455: LEGO Minifigures Series 7 Computer Programmer
Day 462: LEGO UFO Shell Exclusive Spacecraft
Day 467: LEGO Minifigures Series 4 The Monster
Day 474: LEGO Minifigures Series 6 Intergalactic Girl
Day 489: LEGO Minifigures Series 6 Clockwork Robot
Day 501: LEGO Minifigures Series 6 Classic Alien
Day 522: LEGO Minifigures Series 6 Genie
Day 535: LEGO Minifigures Series 4 Kimono Girl
Day 535: LEGO Minifigures Series 4 Werewolf
Day 633: LEGO Minifigures Series 7 Galaxy Patrol
Day 692: LEGO Minifigures Series 6 Skater Girl
Day 707: LEGO Minifigures Series 3 Elf
Day 721: LEGO Minifigures Series 5 Egyptian Queen
Day 724: LEGO Minifigures Series 10 Sad Clown
Day 730: LEGO Minifigures Series 10 Librarian
Day 730: LEGO Minifigures Series 6 Sleepyhead
Day 825: LEGO Minifigures Series 11 Yeti
Day 831: LEGO Minifigures Series 7 Hippie
Day 837: LEGO Minifigures Series 7 Scientist
Day 871: LEGO Minifigures Series 10 Bumblebee Girl
Day 884: LEGO Minifigures Series 5 Fitness Instructor
Day 884: LEGO Minifigures Series 4 Soccer Player
Day 1,120: LEGO Teenage Mutant Ninja Turtles Mikey's Mini Shellraiser
Day 1,122: LEGO Minifigures Series 8 Vampire Bat
Day 1,533: LEGO Minifigures Series 16 Spy
Day 1,680: The LEGO Batman Movie Catman
Day 2,063: LEGO The LEGO Movie 2 70841 Benny's Space Squad Set
Day 2,071: LEGO Space Police 5981 Raid VPR Set

See more Bionicle figures in Figure of the Day:
Day 136: LEGO Bionicle 8563 Tahnok Action Figure
Day 181: LEGO Bionicle 8534 Tahu Action Figure
Day 220: LEGO Bionicle Stars 7116 Tahu Action Figure

Want to buy this figure? Check LEGO availability at our sponsors:
Entertainment Earth