Jack Skellington (Early Bird Figure)
Four known Jack heads exist - only this head comes on the "preview" version

Nightmare Before Christmas Comic-Con 2014 Exclusive
Item No.: No. 04377
Manufacturer: Super7 x Funko
Includes: Foil-etched packaging, Zero sidekick figure
Action Feature: n/a
Retail: est. $15.00
Availability: July 2014
Other: One of four variant heads - the other 3 are in the basic retail line.

PREVIOUS
RSS
NEXT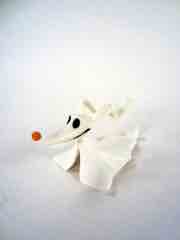 We first got word that there would be three heads on this character, but Funko's Jack Skellington (Early Bird Figure) gave us a fourth - and I suppose technically first - head on this body. The regular retail heads include a smiling, surprised, and devilish head while this convention-exclusive edition sports an open, affable mouth similar to Hasbro's 1993 original.
Taking design cues from the original head, Jack is the figure I wish I had in 1993 - when I first saw him and his pals in Tomart's Action Figure Digest, I expected something more figurey. The very tall Hasbro figure was an articulated bendy figure - due to his size and proportions, the included display stand didn't do much to keep him standing. Thankfully this 3 3/4-inch scale figure is taller at only 4-inches tall, putting him at Chewbacca and Darth Vader heights. The head, as mentioned above, is patterned on that original Hasbro head with one major difference: mouth deco. The original toy has an unpainted interior and yellow painted teeth. This version has a black mouth interior and no painted teeth, which arguably makes it closer to the movie in appearance and leaves a crack in the door for Funko to re-release this mold in the future with that 1993-style deco.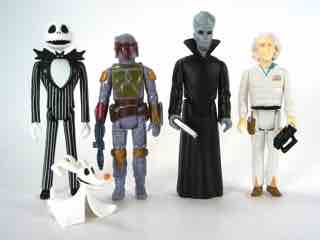 The deco of this figure is simpler than the original - the stripes on his suit are straighter and less jagged, departing slightly from the look of the movie and earlier toys. This is a great minor detail - much like how Kenner got close, but not exact, on Cantina aliens little "errors" like this add a sense of faux authenticity to the line which it sorely needs. The hands don't feel particularly like vintage 1980s or 1990s sculpts, but everything else is pretty much what I needed.
One thing I found most displeasing about the deco was how it hurts articulation. White paint applied to the neck sloppily caused it to fuse with the head - you have to "break" paint as a bunch of white paint functions as an adhesive, preventing head movement. Carded collectors will never notice this, and odds are many openers won't either. It's painfully obvious when you try to display him, though, and Zero seems to have a similar problem - his head is a separate piece, but won't turn.
Jack has no problems standing, sitting, or passing the Landspeeder TestTM, making him a surprise winner. I love how they made his limbs a bit thicker to be stable, and how he can stay on my desk and not tumble over like most of my modern figures. Funko did a wonderful job changing up the proportions to meet the requirements of this kind of toy while doing their best to stay true to the character.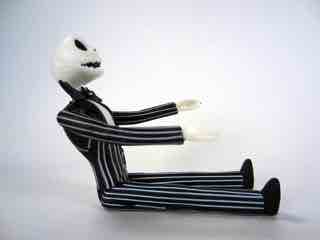 Zero is, at this time, exclusive to this set. Cast in white plastic (could clear or glow versions be far behind?) Zero has one theoretical point of articulation but mine is so stiff, I'm afraid I'd break him if I keep twisting it. The sculpt is, fortunately or unfortunately, wildly modern. It doesn't ring true as a 1990s or 1980s collectible - the nose has an exquisitely sculpted jack-o-lantern nose, painted orange. His eyes and mouth are painted black, and the flowing ears and "sheet" make him seem positively alive. Were this a modern take on the figure, I'd declare it a big winner - they did too nice of a job here. The nose being orange alone would be enough to warrant a win in the retro sculpt field. Fewer waves in the ears, a more streamlined look, may have helped here. I realize this is a strange criticism, but it's true - it's tough to emulate the 1970s and 1980s, and this looks like it came smack dab out of last week. On its own it's gorgeous, and the deco is equally good. Granted, in 1993 the only company that really gave us sidekick figures was Playmates, and in the 1980s we got some with Hasbro G.I. Joe figures. And neither had any deco - you got unpainted, unarticulated figures with no undercuts. And we liked it! (We did not like it.)
I don't know if it sold out at Comic-Con, but Entertainment Earth blew through their allotment in a few days. If you just want a Jack Skellington, there will be three heads for the normal version but that version doesn't come with a small Zero. Because Zero is awesome, I would suggest getting this version if it doesn't break the bank - but remember, a Zero-free version is only ten bones. Because "Bone Daddy." Yes? Anyway - I love this figure, get yourself a Jack because it's awesome. Funko seems to be doing the best with creatures and helmets so far, as human heads are a little off - but hopefully by next year, they'll all be perfect.
--Adam Pawlus
Additional Images

See more Super 7 and Funko x Super 7 figures in Figure of the Day:
Day 792: Super 7 ALIEN SDCC Exclusive Sales Samples
Day 821: Super7 x Funko Alien ReAction Ripley
Day 844: Super7 x Funko Alien ReAction Dallas
Day 852: Super7 x Funko Alien ReAction Alien
Day 857: Super7 x Funko Alien ReAction Kane in Space Suit
Day 861: Super7 x Funko Alien ReAction Ash
Day 945: Super7 x Funko The Rocketeer ReAction Rocketeer Action Figure
Day 945: Super7 x Funko Predator (Invisible, Bloody) Action Figure
Day 985: Funko Back to the Future Marty McFly ReAction Figure
Day 1001: Funko Nightmare Before Christmas Jack Skellington (Early Bird Figure) ReAction Figure
Day 1,005: Funko Universal Monsters The Mummy ReAction Figure
Day 1,008: Funko Back to the Future George McFly ReAction Figure
Day 1,008: Funko Back to the Future Doc Brown ReAction Figure
Day 1,029: Super7 x Funko Predator (Attack Mode) ReAction Figure
Day 1,037: Funko Nightmare Before Christmas Saly ReAction Figure
Day 1,038: Funko Universal Monsters Creature from the Black Lagoon ReAction Figure
Day 1,039: Funko Universal Monsters The Invisible Man ReAction Figure
Day 1,040: Funko Universal Monsters The Phantom of the Opera ReAction Figure
Day 1,041: Funko Universal Monsters The Wolf Man ReAction Figure
Day 1,042: Funko Universal Monsters The Bride of Frankenstein ReAction Figure
Day 1,059: Funko Predator (Masked) ReAction Figure
Day 1,068: Funko Universal Monsters Frankenstein's Monster ReAction Figure
Day 1,078: Funko Back to the Future Biff Tannen ReAction Figure
Day 1,082: Funko T800 Endoskeleton (Chrome) ReAction Figure
Day 1,094: Funko Universal Monsters Dracula ReAction Figure
Day 1,059: Funko Predator (Masked) ReAction Figure
Day 1,102: Funko Predator (Unmasked) ReAction Figure
Day 1,108: Funko Universal Monsters The Invisible Man
Day 1,108: Funko Universal Monsters The Invisible Man Clear Entertainment Earth Exclusive
Day 1,111: Funko Predator (Glow Version) ReAction Figure
Day 1,117: Funko The Terminator Sarah Connor ReAction Figure
Day 1,133: Funko The Terminator (Tech Noir Jacket) ReAction Figure
Day 1,138: Funko Pulp Fiction Mia Wallace ReAction Figure
Day 1,149: Super7 x Funko Alien Egg Chamber Action Playset
Day 1,183: Super7 x Funko Alien ReAction Alien (with Metallic Flesh)
Day 1,187: Funko Predator (Invisible) ReAction Figure
Day 1,199: Super7 x Funko Alien ReAction Ripley (Spacesuit)
Day 1,208: Funko Predator (Thermal Vision) ReAction Figure
Day 1,211: Funko The Fifth Element Leeloo ReAction Figure
Day 1,217: Funko The Fifth Element Diva Plavalaguna ReAction Figure
Day 1,222: Funko The Fifth Element Korben Dallas ReAction Figure
Day 1,227: Funko The Fifth Element Mangalore ReAction Figure
Day 1,236: Funko Gremlins Mogwai Stripe ReAction Figure
Day 1,244: Funko The Fifth Element Ruby Rhod ReAction Figure
Day 1,250: Super7 M.O.T.U.S.C.L.E. Set B
Day 1,252: Funko The Fifth Element Zorg ReAction Figure
Day 1,263: Super7 M.O.T.U.S.C.L.E. Set A
Day 1,267: Funko The Fifth Element Leeloo (Straps Costume) ReAction Figure
Day 1,272: Super7 x Funko Alien ReAction Kane (Chestburster)
Day 1,275: Funko Gremlins Billy Peltzer ReAction Figure
Day 1,277: Super7 x Funko Alien ReAction Kane (Facehugger)
Day 1,286: Funko Nightmare Before Christmas Behemoth
Day 1,288: Super7 M.O.T.U.S.C.L.E. Set C
Day 1,295: Funko Nightmare Before Christmas Mayor
Day 1,302: Super7 M.O.T.U.S.C.L.E. SDCC Promo Skeletor
Day 1,327: Super7 x Funko Alien ReAction Nostromo Crew (Dallas, Kane, Lambert)
Day 1,333: Funko Gremlins Cinema Gremlin ReAction Figure
Day 1,342: Funko Gremlins Gremlin Stripe ReAction Figure
Day 1,358: Funko Gremlins Bandit Gremlin ReAction Figure
Day 1,628: Super7 Masters of the Universe M.U.S.C.L.E. Series 2 Set C
Day 1,633: Super7 Masters of the Universe M.U.S.C.L.E. Series 2 Set B
Day 1,637: Funko E.T. The Extra-Terrestrial Elliot, E.T., and Gertie ReAction Figures
Day 1,639: Super7 Masters of the Universe M.U.S.C.L.E. Series 2 Set D
Day 1,639: Super7 Masters of the Universe M.U.S.C.L.E. Series 2 Set A
Day 1,656: Super7 Alien M.U.S.C.L.E. Set A
Day 1,676: Super7 Alien M.U.S.C.L.E. Set C
Day 1,686: Super7 Alien M.U.S.C.L.E. Set B
Day 1,693: Super7 Alien M.U.S.C.L.E. Set D
Day 1,801: Super7 Street Fighter II M.U.S.C.L.E. Set A
Day 1,817: Super7 Street Fighter II M.U.S.C.L.E. Set B
Day 1,834: Super7 Street Fighter II M.U.S.C.L.E. Set D
Day 1,840: Super7 Masters of the Universe M.U.S.C.L.E. Series 3 Set D
Day 1,846: Super7 Aliens M.U.S.C.L.E. Set E
Day 1,843: Super7 Masters of the Universe M.U.S.C.L.E. Series 3 Set E
Day 1,857: Super7 Street Fighter II M.U.S.C.L.E. Set C
Day 1,862: Super7 Masters of the Universe M.U.S.C.L.E. Series 3 Set C
Day 1,864: Super7 Aliens M.U.S.C.L.E. Set A
Day 1,877: Super7 Masters of the Universe M.U.S.C.L.E. Series 3 Set F
Day 1,881: Super7 Mega Man M.U.S.C.L.E. Series 1 Set B
Day 1,884: Super7 Aliens M.U.S.C.L.E. Set D
Day 1,894: Super7 Mega Man M.U.S.C.L.E. Series 1 Set D
Day 1,904: Super7 Mega Man M.U.S.C.L.E. Series 1 Set A
Day 1,914: Super7 Mega Man M.U.S.C.L.E. Series 1 Set C
Day 1,920: Super7 Halloween Series Nosferatu Glow in the Dark
Day 1,922: Super7 Masters of the Universe M.U.S.C.L.E. Series 3 Set B
Day 1,937: Super7 Masters of the Universe M.U.S.C.L.E. Series 3 Set A
Day 2,161: Super7 Masters of the Universe Transforming He-Man Action Figure
Day 2,211: Super7 Toxic Crusaders Glow in the Dark Toxie Action Figure
Day 2,235: Super7 Ultimates Voltron Action Figure
Day 2,237: Super7 Teenage Mutant Ninja Turtles Ultimates Raphael Action Figure
Day 2,253: Super7 Teenage Mutant Ninja Turtles Ultimates Foot Soldier Action Figure
Day 2,358: Super7 Killer Bootlegs Rhamnusia's Revenge Action Playset with Draco Knuckleduster and Phantom Starkiller Action Figures
Day 2,388: Super7 Teenage Mutant Ninja Turtles Ultimates Glow-in-the-Dark Mutagen Man Action Figure
Day 2,454: Super7 Metropolis Silver Maria ReAction Figure
Day 2,458: Super7 G.I. Joe Red Ninja ReAction Figure
Day 2,465: Super7 Godzilla Godzilla '54 (Glow-in-the-Dark) ReAction Figure
Day 2,480: Super7 Transformers Grimlock G2 ReAction Figure
Day 2,526: Super7 Vincent Price Master of Mayhem ReAction Figure
Day 2,530: Super7 Godzilla Mechagodzilla (Glow-in-the-Dark) ReAction Figure
Day 2,534: Super7 Planet of the Apes Mendez XXVI ReAction Figure
Day 2,546: Super7 Planet of the Apes Cornelius ReAction Figure
Day 2,554: Super7 Alien UCCSS Nostromo Action Figure Set 1 with Kane with Facehugger, Ripley with Jonesy, Ash with Removable Head
Day 2,562: Super7 Universal Monsters The Mummy ReAction Figure
Day 2,570: Super7 Universal Monsters The Metaluna Mutant ReAction Figure
Day 2,577: Super7 Transformers Hot Rod ReAction Figure
Day 2,590: Super7 Planet of the Apes General Aldo ReAction Figure
Day 2,594: Super7 Mars Attacks Destroying A Dog ReAction Figure
Day 2,598: Super7 Planet of the Apes Dr. Zaius ReAction Figure
Day 2,606: Super7 Universal Monsters Official World Famous Super7 Monsters! Creature from the Black Lagoon (Super She Creature) Glow-in-the-Dark
Day 2,610: Super7 Planet of the Apes Taylor ReAction Figure
Day 2,626: Super7 Planet of the Apes Zira ReAction Figure
Day 2,630: Super7 Universal Monsters The Metaluna Mutant ReAction Figure
Day 2,634: Super7 Planet of the Apes General Ursus ReAction Figure
Day 2,638: Super7 Universal Monsters Dracula ReAction Figure

See more The Nightmare Before Christmas figures in Figure of the Day:
Day 1,001: Funko Nightmare Before Christmas Jack Skellington (Early Bird Figure) ReAction Figure
Day 1,037: Funko Nightmare Before Christmas Saly ReAction Figure
Day 1,286: Funko Nightmare Before Christmas Behemoth
Day 1,295: Funko Nightmare Before Christmas Mayor