Dr. Zaius
I Think You're Crazy

Planet of the Apes ReAction Figure
Item No.: No. 03007
Manufacturer: Super7
Includes: Cane
Action Feature: n/a
Retail: $17.99
Availability: 2018
Other: You're also lazy

PREVIOUS
RSS
NEXT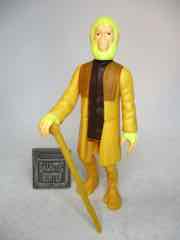 I recommend you go see Planet of the Apes, the 1969 original, right now - because it's full of surprises that everybody wants to spoil for you. It's great - the 5-movie series did the whole franchise thing and cheap low-budget TV spin-off to sell toys thing before Star Wars, and Dr. Zaius is sort of a weird cultural touchstone. The Simpsons had a song about him on "A Fish Called Selma," comedian Dana Gould portrays both the character and a "real actor" on his web series Hanging with Dr. Z (Dana baby, if you're reading, call me let's make a figure), and there are countless cameos and nods to the character in probably every single show you've seen with a dork Gen X writer on staff. It was on TV a lot, it was on cable, it got all the theatrical reissues and it got 8-inch Mego action figures! There are new ones out now, there were old ones in the 1970s, but it didn't get the Kenner 3 3/4-inch treatment. At the time. Super7 hired an ex-Kenner sculptor to make the figures, and let me tell you, it shows. There are some figures (The Office, Vincent Price) that look like they reused a lot of parts, cloned some pieces, and took a few shortcuts along the way - but Planet of the Apes have the weird open hands, deep detailed cuts, and generally old-school look that screams "classic." Heck, even the plastic is spot-on - Super7 molded the figures in color and the legs are completely unpainted, just like Kenner would have done.
If you're in your 40s (or 50s) and want a figure that makes you feel like you're in 1980 again, buy this. This monkey means business.
Click here to check availability at eBay.
This ape sold out pretty quickly after the license expired and because I was on a "I can't start any new lines" kick, I skipped it until snagging one off eBay in 2023. Because I'm a moron - this is a tip-top figure. You can see design cues from figures like Kenner's The Emperor in how he holds his cane, plus the leathery details on his shoulders are cut quite nicely. I don't know if Kenner would have painted them - probably not! - but I'm glad Super7 did. The hands are painted with both skin and hair, and two colors on a limb were rare from Kenner, but it wasn't unheard of. (See: Boba Fett, Lando Calrissian Skiff Guard.) There's definitely a paint budget in Kenner's house style, and the only place this figure may have gone over the line was the head. Odds are Kenner would've molded it in yellow plastic, but Super7 molded it in orange and painted the skin, the hair, and the eyes. It looks great. Even though I probably would've said "oh you should paint a mouth line," it looks just great as it is. The cut in the lips looks spectacular with just the fleshy paint on it.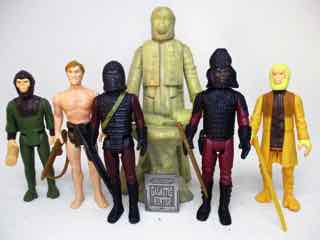 The sculpted detail is spot-on. Compare him to classic Kenner figures, and you'll find the various wrinkles in his coat and pants comparable. The hair looks a little shaggy, not unlike the lemon locks on Luke Skywalker, with smooth skin and those very Kennery eyes. The right hand can grip his cane, and has hair on the back of it - just like the more clawlike left han. which also has no problems holding his cane. The glove-like shoes are unpainted and have individual toes, just like the movie, and just like real sneakers would have much later. The shirt under his coat is simple and flows nicely, painted brown and has a nice flow to it. It's subtle, but it's impressive. It's worth noting his face has extremely subtle bags and wrinkles around his eyes too, and while there's not much evidence of that in the younger figures of the 1970s, by the time we got to Return of the Jedi we saw Kenner deploying them on older characters like Anakin Skywalker and the aforementioned The Emperor.
One area they departed from 1970s Kenner was a lack of a vinyl cape. I'm pretty sure Kenner would have just made the coat as a thin sheet of vinyl wrapped around his back... and I hate that. So I'm glad they just sculpted it to his body and legs, with feet that can swing forward without a fuss. While he does suffer from the squared-off butt, given the nature of making the coat right, I'm not complaining. Also his legs are slightly bent, giving him this great barely-hunched pose but also allowing him easy access to sit in your many old toy vehicles. He plops right in the MTV-7 mini-rig on my desk.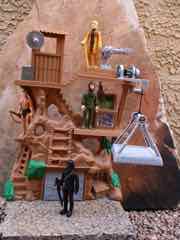 His cane isn't exactly amazing, but it's good. It looks like a cane, and it was cast in a plastic that looks a bit more translucent than I would have liked. I would have hoped they just used the orange or brown from Yoda - but it wouldn't be a Kenner-style figure unless something about it was weird.
This is one of those retro-style figures you'll pick up and it immediately feels right. You may never open it because of the Ed Repka cardback art, and I wouldn't blame you - but I couldn't help it. I had to play with it. It's one of my absolute favorites, up there with Maria [FOTD #2,454] and the other Apes I've picked up thus far. And Alien, those were good too. This one feels like the real deal, so get it if you can find it at a price that you can stomach. Check your local collectible toy shops, they may have neglected to update the price tags to be in line with current secondary market prices.
--Adam Pawlus
Additional Images

See more Super 7 and Funko x Super 7 figures in Figure of the Day:
Day 792: Super 7 ALIEN SDCC Exclusive Sales Samples
Day 821: Super7 x Funko Alien ReAction Ripley
Day 844: Super7 x Funko Alien ReAction Dallas
Day 852: Super7 x Funko Alien ReAction Alien
Day 857: Super7 x Funko Alien ReAction Kane in Space Suit
Day 861: Super7 x Funko Alien ReAction Ash
Day 945: Super7 x Funko The Rocketeer ReAction Rocketeer Action Figure
Day 945: Super7 x Funko Predator (Invisible, Bloody) Action Figure
Day 985: Funko Back to the Future Marty McFly ReAction Figure
Day 1001: Funko Nightmare Before Christmas Jack Skellington (Early Bird Figure) ReAction Figure
Day 1,005: Funko Universal Monsters The Mummy ReAction Figure
Day 1,008: Funko Back to the Future George McFly ReAction Figure
Day 1,008: Funko Back to the Future Doc Brown ReAction Figure
Day 1,029: Super7 x Funko Predator (Attack Mode) ReAction Figure
Day 1,037: Funko Nightmare Before Christmas Saly ReAction Figure
Day 1,038: Funko Universal Monsters Creature from the Black Lagoon ReAction Figure
Day 1,039: Funko Universal Monsters The Invisible Man ReAction Figure
Day 1,040: Funko Universal Monsters The Phantom of the Opera ReAction Figure
Day 1,041: Funko Universal Monsters The Wolf Man ReAction Figure
Day 1,042: Funko Universal Monsters The Bride of Frankenstein ReAction Figure
Day 1,059: Funko Predator (Masked) ReAction Figure
Day 1,068: Funko Universal Monsters Frankenstein's Monster ReAction Figure
Day 1,078: Funko Back to the Future Biff Tannen ReAction Figure
Day 1,082: Funko T800 Endoskeleton (Chrome) ReAction Figure
Day 1,094: Funko Universal Monsters Dracula ReAction Figure
Day 1,059: Funko Predator (Masked) ReAction Figure
Day 1,102: Funko Predator (Unmasked) ReAction Figure
Day 1,108: Funko Universal Monsters The Invisible Man
Day 1,108: Funko Universal Monsters The Invisible Man Clear Entertainment Earth Exclusive
Day 1,111: Funko Predator (Glow Version) ReAction Figure
Day 1,117: Funko The Terminator Sarah Connor ReAction Figure
Day 1,133: Funko The Terminator (Tech Noir Jacket) ReAction Figure
Day 1,138: Funko Pulp Fiction Mia Wallace ReAction Figure
Day 1,149: Super7 x Funko Alien Egg Chamber Action Playset
Day 1,183: Super7 x Funko Alien ReAction Alien (with Metallic Flesh)
Day 1,187: Funko Predator (Invisible) ReAction Figure
Day 1,199: Super7 x Funko Alien ReAction Ripley (Spacesuit)
Day 1,208: Funko Predator (Thermal Vision) ReAction Figure
Day 1,211: Funko The Fifth Element Leeloo ReAction Figure
Day 1,217: Funko The Fifth Element Diva Plavalaguna ReAction Figure
Day 1,222: Funko The Fifth Element Korben Dallas ReAction Figure
Day 1,227: Funko The Fifth Element Mangalore ReAction Figure
Day 1,236: Funko Gremlins Mogwai Stripe ReAction Figure
Day 1,244: Funko The Fifth Element Ruby Rhod ReAction Figure
Day 1,250: Super7 M.O.T.U.S.C.L.E. Set B
Day 1,252: Funko The Fifth Element Zorg ReAction Figure
Day 1,263: Super7 M.O.T.U.S.C.L.E. Set A
Day 1,267: Funko The Fifth Element Leeloo (Straps Costume) ReAction Figure
Day 1,272: Super7 x Funko Alien ReAction Kane (Chestburster)
Day 1,275: Funko Gremlins Billy Peltzer ReAction Figure
Day 1,277: Super7 x Funko Alien ReAction Kane (Facehugger)
Day 1,286: Funko Nightmare Before Christmas Behemoth
Day 1,288: Super7 M.O.T.U.S.C.L.E. Set C
Day 1,295: Funko Nightmare Before Christmas Mayor
Day 1,302: Super7 M.O.T.U.S.C.L.E. SDCC Promo Skeletor
Day 1,327: Super7 x Funko Alien ReAction Nostromo Crew (Dallas, Kane, Lambert)
Day 1,333: Funko Gremlins Cinema Gremlin ReAction Figure
Day 1,342: Funko Gremlins Gremlin Stripe ReAction Figure
Day 1,358: Funko Gremlins Bandit Gremlin ReAction Figure
Day 1,628: Super7 Masters of the Universe M.U.S.C.L.E. Series 2 Set C
Day 1,633: Super7 Masters of the Universe M.U.S.C.L.E. Series 2 Set B
Day 1,637: Funko E.T. The Extra-Terrestrial Elliot, E.T., and Gertie ReAction Figures
Day 1,639: Super7 Masters of the Universe M.U.S.C.L.E. Series 2 Set D
Day 1,639: Super7 Masters of the Universe M.U.S.C.L.E. Series 2 Set A
Day 1,656: Super7 Alien M.U.S.C.L.E. Set A
Day 1,676: Super7 Alien M.U.S.C.L.E. Set C
Day 1,686: Super7 Alien M.U.S.C.L.E. Set B
Day 1,693: Super7 Alien M.U.S.C.L.E. Set D
Day 1,801: Super7 Street Fighter II M.U.S.C.L.E. Set A
Day 1,817: Super7 Street Fighter II M.U.S.C.L.E. Set B
Day 1,834: Super7 Street Fighter II M.U.S.C.L.E. Set D
Day 1,840: Super7 Masters of the Universe M.U.S.C.L.E. Series 3 Set D
Day 1,846: Super7 Aliens M.U.S.C.L.E. Set E
Day 1,843: Super7 Masters of the Universe M.U.S.C.L.E. Series 3 Set E
Day 1,857: Super7 Street Fighter II M.U.S.C.L.E. Set C
Day 1,862: Super7 Masters of the Universe M.U.S.C.L.E. Series 3 Set C
Day 1,864: Super7 Aliens M.U.S.C.L.E. Set A
Day 1,877: Super7 Masters of the Universe M.U.S.C.L.E. Series 3 Set F
Day 1,881: Super7 Mega Man M.U.S.C.L.E. Series 1 Set B
Day 1,884: Super7 Aliens M.U.S.C.L.E. Set D
Day 1,894: Super7 Mega Man M.U.S.C.L.E. Series 1 Set D
Day 1,904: Super7 Mega Man M.U.S.C.L.E. Series 1 Set A
Day 1,914: Super7 Mega Man M.U.S.C.L.E. Series 1 Set C
Day 1,920: Super7 Halloween Series Nosferatu Glow in the Dark
Day 1,922: Super7 Masters of the Universe M.U.S.C.L.E. Series 3 Set B
Day 1,937: Super7 Masters of the Universe M.U.S.C.L.E. Series 3 Set A
Day 2,161: Super7 Masters of the Universe Transforming He-Man Action Figure
Day 2,211: Super7 Toxic Crusaders Glow in the Dark Toxie Action Figure
Day 2,235: Super7 Ultimates Voltron Action Figure
Day 2,237: Super7 Teenage Mutant Ninja Turtles Ultimates Raphael Action Figure
Day 2,253: Super7 Teenage Mutant Ninja Turtles Ultimates Foot Soldier Action Figure
Day 2,358: Super7 Killer Bootlegs Rhamnusia's Revenge Action Playset with Draco Knuckleduster and Phantom Starkiller Action Figures
Day 2,388: Super7 Teenage Mutant Ninja Turtles Ultimates Glow-in-the-Dark Mutagen Man Action Figure
Day 2,454: Super7 Metropolis Silver Maria ReAction Figure
Day 2,458: Super7 G.I. Joe Red Ninja ReAction Figure
Day 2,465: Super7 Godzilla Godzilla '54 (Glow-in-the-Dark) ReAction Figure
Day 2,480: Super7 Transformers Grimlock G2 ReAction Figure
Day 2,526: Super7 Vincent Price Master of Mayhem ReAction Figure
Day 2,530: Super7 Godzilla Mechagodzilla (Glow-in-the-Dark) ReAction Figure
Day 2,534: Super7 Planet of the Apes Mendez XXVI ReAction Figure
Day 2,546: Super7 Planet of the Apes Cornelius ReAction Figure
Day 2,554: Super7 Alien UCCSS Nostromo Action Figure Set 1 with Kane with Facehugger, Ripley with Jonesy, Ash with Removable Head
Day 2,562: Super7 Universal Monsters The Mummy ReAction Figure
Day 2,570: Super7 Universal Monsters The Metaluna Mutant ReAction Figure
Day 2,577: Super7 Transformers Hot Rod ReAction Figure
Day 2,590: Super7 Planet of the Apes General Aldo ReAction Figure
Day 2,594: Super7 Mars Attacks Destroying A Dog ReAction Figure
Day 2,598: Super7 Planet of the Apes Dr. Zaius ReAction Figure
Day 2,606: Super7 Universal Monsters Official World Famous Super7 Monsters! Creature from the Black Lagoon (Super She Creature) Glow-in-the-Dark
Day 2,610: Super7 Planet of the Apes Taylor ReAction Figure
Day 2,626: Super7 Planet of the Apes Zira ReAction Figure
Day 2,630: Super7 Universal Monsters The Metaluna Mutant ReAction Figure
Day 2,634: Super7 Planet of the Apes General Ursus ReAction Figure
Day 2,638: Super7 Universal Monsters Dracula ReAction Figure
Day 2,642: Super7 Star Trek: The Next Generation Armus ReAction Figures
Day 2,647: Super7 Devo Whip It Mark Mothersbaugh ReAction Figure
Day 2,649: Super7 Universal Monsters Bride of Frankenstein ReAction Figure
Day 2,652: Super7 Universal Monsters The Mummy (Costume Colors) ReAction Figure
Day 2,655: Super7 Planet of the Apes Nova ReAction Figure
Day 2,657: Super7 Universal Monsters The Wolf Man ReAction Figure
Day 2,659: Super7 Devo Satisfaction Bob Casale ReAction Figure
Day 2,661: Super7 Svengoolie Horror Host Icon ReAction Figure

See more Planet of the Apes items in Figure of the Day:
Day 981: Funko Planet of the Apes Pop! Movies Cornelius Vinyl Figure
Day 1,069: Funko Planet of the Apes Pop! Movies Dr. Zaius Vinyl Figure
Day 1,226: Funko Planet of the Apes Pop! Movies General Ursus Vinyl Figure
Day 1,281: Funko Planet of the Apes Pop! Movies Ape Soldier Vinyl Figure
Day 2,470: Super7 Planet of the Apes Lawgiver Statue
Day 2,534: Super7 Planet of the Apes Mendez XXVI ReAction Figure
Day 2,546: Super7 Planet of the Apes Cornelius ReAction Figure
Day 2,590: Super7 Planet of the Apes General Aldo ReAction Figure
Day 2,598: Super7 Planet of the Apes Dr. Zaius ReAction Figure
Day 2,610: Super7 Planet of the Apes Taylor ReAction Figure
Day 2,626: Super7 Planet of the Apes Zira ReAction Figure
Day 2,634: Super7 Planet of the Apes General Ursus ReAction Figure
Day 2,655: Super7 Planet of the Apes Nova ReAction Figure