Pop! Television Twin Peaks Audrey Horne Pop! Vinyl Figure
with Smokes

Pop! Television Twin Peaks Vinyl Figures
Item No.: No. 12697
Manufacturer: Funko
Includes: Display stand
Action Feature: n/a
Retail: $9.99
Availability: March 2017
Other: Pop! Television #450

PREVIOUS
RSS
NEXT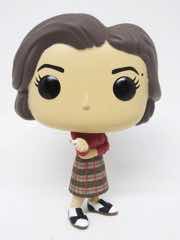 If you saw the original Twin Peaks I'm sure you remember Audrey Horne. She was young, she looked like she fell out of the late 1950s (as pop culture presents it), and she had the hots for Agent Cooper. And she was a high school student. While her role in the second season diminished, she was a star the first year - and her role was pretty expansive. Her dad owned the hotel, too.
This 3 3/4-inch-ish scale figure has a jointed head and a clear display base with two pegs - one for each foot. She has no problems standing on her own either, which makes this somewhat surprising - Funko usually only gives stands one peg and/or the figure falls over. This is a good one.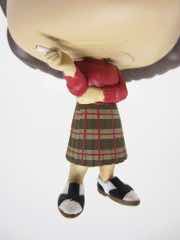 Audrey's sculpting is good - on par with most Pop! figures, including varied textures on her sweater and skirt. The saddle shoes have white and black bits as well as brown soles. The stripes on the skirt look great, particularly given the pleats on the garment. I can't paint to save my life, so it's cool to see that the factory in Vietnam didn't find this to be a challenge.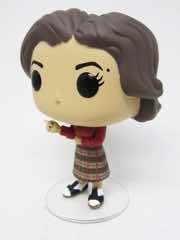 Audrey's head turned out well, featuring Sherilyn Fenn's famous mole - but I don't think it was placed exactly where it should be. I'd say it should go a bit lower. The eyebrows are arched just like on the show, and the eyes have added long eyelashes - a perfect fit for the generally perfectly dolled-up Ms. Horne. It's also worth noting that, like Cooper, her head was molded in the brown hair color with the flesh parts painted over it. It's surprisingly well done, with the thick flesh color coating the dark brown of her locks and also matching her hands - one of which is holding a lit cigarette. Because, you know, she's a bad kid.
Audrey Horne the first - and I might say only - figure of this character. I assume we might still see an action figure, or a new show-specific version of her, but it might be a while. I know this is a common conclusion on so many Pop! figures, but it's the only game in town. If you want a figure of what I assume was David Lynch's adolescent dream woman, you might want to go ahead and pick this one up online or when you see her in stores. The figure turned out well and I hope they have another series in the works.
--Adam Pawlus
Additional Images

See more Funko figures in Figure of the Day:
Day 1: Funko Force 2.0 Comic-Con Exclusive Batman
Day 80: Metallic Cobra Commander Wackly Wobbler
Day 120: Funko Gremlins Pop! Vinyl Stripe Vinyl Figure
Day 126: Funko Beetlejuice Pop! Vinyl Beetlejuice Vinyl Figure
Day 131: Funko Thor Pop! Vinyl Thor Vinyl Figure Bobble Head
Day 141: Funko Thor Pop! Vinyl Loki Vinyl Figure Bobble Head
Day 151: Funko Music Pop! Vinyl Ozzy Osbourne Vinyl Figure
Day 160: Funko G.I. Joe "Pimp Daddy" Destro
Day 207: Funko Disney Pop! Vinyl Mr. Incredible Vinyl Figure
Day 224: Funko Batman Blox Vinyl Batman Vinyl Figure
Day 249: Funko Marvel Universe Pop! Vinyl Iron Man Vinyl Figure Bobble Head
Day 293: Funko Disney Pop! Vinyl Mike Wazowski Vinyl Figure
Day 306: Funko Marvel Universe Pop! Vinyl The Hulk Vinyl Figure Bobble Head
Day 345: Funko Disney Pop! Vinyl Sulley Vinyl Figure
Day 427: Funko Marvel Universe Pop! Vinyl SDCC Exlusive Spider-Man Vinyl Figure Bobble Head
Day 748: Funko Land of the Lost SDCC Exclusive Glow in the Dark Sleestak
Day 981: Funko Planet of the Apes Pop! Movies Cornelius Vinyl Figure
Day 1,000: Funko Hikari Vinyl Freddy Funko (Creature from the Black Lagoon)
Day 1,036: Funko Entertainment Earth Exclusive Kill Bill Gogo Yubari (Bloody) Pop! Vinyl Figure
Day 1,069: Funko Planet of the Apes Pop! Movies Dr. Zaius Vinyl Figure
Day 1,150: Funko Guardians of the Galaxy Pop! Vinyl Entertainment Earth Exclusive Ravagers Dancing Groot
Day 1,155: Funko Hikari Vinyl Marvel Guardians of the Galaxy Planet X Groot
Day 1,163: Funko Universal Monsters Life Force Metaluna Mutant
Day 1,164: Funko Hikari Vinyl Ghostbusters Pink Stay Puft Marshmallow Man
Day 1,165: Funko Hikari Vinyl Universal Monsters Glitter Shock Frankenstein
Day 1,166: Funko Hikari Vinyl Masters of the Universe Mystic Powers Skeletor
Day 1,167: Funko Hikari Vinyl Transformers Metallic Optimus
Day 1,197: Funko Batman Ice Freeze Batman Reject
Day 1,221: Funko Hikari Vinyl Transformers Metallic Bumblebee
Day 1,225: Funko Bravest Warriors Pop! Television Impossibear Vinyl Figure
Day 1,226: Funko Planet of the Apes Pop! Movies General Ursus Vinyl Figure
Day 1,229: Funko Bravest Warriors Pop! Television Catbug Vinyl Figure
Day 1,241: Funko Hikari Vinyl Gigantor Power Vision Gigantor
Day 1,257: Funko Hikari Vinyl Antique Verdigris Metaluna Mutant
Day 1,281: Funko Planet of the Apes Pop! Movies Ape Soldier Vinyl Figure
Day 1,285: Funko Bravest Warriors Pop! Television Commander Catbug Vinyl Figure
Day 1,300: Funko Hikari Vinyl Marvel Metallic Hulk Vinyl Figure
Day 1,305: Funko Pop! DC Comics Super Heroes Orange Batman Vinyl Figure
Day 1,340: Funko Pop! Sesame Street Season 1 Oscar the Grouch Vinyl Figure
Day 1,338: Funko Pop! Animation Bob's Burgers Gene Belcher Vinyl Figure
Day 1,350: Funko Hikari Vinyl Predator Original Predator Unmasked
Day 1,355: Funko Pop! Animation Bob's Burgers Linda Belcher Vinyl Figure
Day 1,361: Funko Pop! Animation Bob's Burgers Louise Belcher Vinyl Figure
Day 1,365: Funko Pop! Animation Bob's Burgers Tina Belcher Vinyl Figure
Day 1,374: Funko Pop! Animation Bob's Burgers Bob Belcher Vinyl Figure
Day 1,382: Funko Hikari Vinyl Toy Story Original Buzz Lightyear
Day 1,390: Funko Pop! Movies Back to the Future Marty McFly Vinyl Figure
Day 1,396: Funko Pop! Television Last Week Tonight with John Oliver Vinyl Figure
Day 1,400: Funko Dorbz DC Comics Super Heroes Orange Batman Vinyl Figure
Day 1,540: Funko Pop! Movies Atomic Breath Godzilla Pop! Vinyl Figure
Day 1,620: Funko Son of Zorn Zorn Action Figure
Day 1,645: Funko Masters of the Universe Dorbz Skeletor
Day 1,650: Funko x Playmobil Willy Wonka
Day 1,657: Funko x Playmobil Teenage Mutant Ninja Turtles Black and White Raphael
Day 1,659: Funko Pop! Television Stranger Things Eleven with Eggos Pop! Vinyl Figure
Day 1,671: Funko Pop! Television Stranger Things Joyce Pop! Vinyl Figure
Day 1,685: Funko Pop! Television Twin Peaks Agent Cooper Pop! Vinyl Figure
Day 1,687: Funko Pop! Television Stranger Things Lucas Pop! Vinyl Figure
Day 1,694: Funko Pop! Television Stranger Things Barb Pop! Vinyl Figure
Day 1,706: Funko Pop! Television Stranger Things Dustin Pop! Vinyl Figure
Day 1,707: Funko Pop! Television Twin Peaks Audrey Horne Pop! Vinyl Figure
Day 1,710: Funko Pop! Television Twin Peaks Laura Palmer Pop! Vinyl Figure
Day 1,714: Funko Pop! Television Stranger Things Demogorgon Pop! Vinyl Figure
Day 1,717: Funko Pop! Television Twin Peaks The Giant Pop! Vinyl Figure
Day 1,722: Funko Pop! Television Twin Peaks Log Lady Pop! Vinyl Figure
Day 1,732: Funko Pop! Television Stranger Things Will Pop! Vinyl Figure
Day 1,736: Funko 9POA Twin Peaks Action Figure Set
Day 1,745: Funko Pop! Television Twin Peaks Leland Palmer Pop! Vinyl Figure
Day 1,753: Funko 9POA Batman 1966 TV Series Batman and Robin Action Figures with Batmobile
Day 1,761: Funko Pop! Heroes Wonder Woman Diana Prince Pop! Vinyl Figure
Day 1,766: Funko Pop! Television Twin Peaks Bob Pop! Vinyl Figure
Day 1,777: Funko Pop! Television Ash vs. Evil Dead Entertainment Earth Exclusive Bloody Ash Pop! Vinyl Figure
Day 1,793: Funko Pop! Television Stranger Things Mike Pop! Vinyl Figure
Day 1,832: Funko x Playmobil Doctor Who Fourth Doctor
Day 1,838: Funko Pop! Television Twin Peaks Black Lodge Cooper / Black Lodge Laura Pop! Vinyl Figures
Day 1,841: Funko Pop! Animation Glow in the Dark Reptar Pop! Vinyl Figure
Day 1,847: Funko Pop! DC Comics Super Heroes Retro Batman Vinyl Figure
Day 1,850: Funko Pop! Disney Coco Ernesto Pop! Vinyl Figure
Day 1,852: Funko Son of Zorn Office Zorn
Day 1,908: Funko x Playmobil Teenage Mutant Ninja Turtles Shredder
Day 1,927: Funko Pop! Movies Star Trek Beyond Captain Kirk (Survival Suit) Pop! Vinyl Figure
Day 1,938: Funko Pop! Movies Jurassic Park Dr. Ian Malcolm (Wounded) Pop! Vinyl Figure
Day 1,939: Funko Pop! Games Portal 2 Chell Pop! Vinyl Figure
Day 1,957: Funko VYNL The Life Aquatic Steve and Ned Vinyl Figures
Day 1,984: Funko Pop! Movies Jurassic Park Dr. Ian Malcolm Pop! Vinyl Figure
Day 1,985: Funko Pop! 8-Bit Alien Xenomorph (Video Game) Pop! Vinyl Figure
Day 2,045: Funko GLOW Debbie Eagan vs. Ruth Wilder Action Figures
Day 2,124: Funko DuckTales Scrooge McDuck (Red Coat) Pop! Vinyl Figure
Day 2,244: Funko Pop! Television Schitt's Creek David Rose Action Figure
Day 2,315: Funko Soda Devo Satisfaction Vinyl Figure
Day 2,440: Funko Pop! Rocks Frank Zappa Action Figure

See more Twin Peaks toys in Figure of the Day:
Day 1,685: Funko Pop! Television Twin Peaks Agent Cooper Pop! Vinyl Figure
Day 1,707: Funko Pop! Television Twin Peaks Audrey Horne Pop! Vinyl Figure
Day 1,710: Funko Pop! Television Twin Peaks Laura Palmer Pop! Vinyl Figure
Day 1,717: Funko Pop! Television Twin Peaks The Giant Pop! Vinyl Figure
Day 1,722: Funko Pop! Television Twin Peaks Log Lady Pop! Vinyl Figure
Day 1,736: Funko 9POA Twin Peaks Action Figure Set
Day 1,745: Funko Pop! Television Twin Peaks Leland Palmer Pop! Vinyl Figure
Day 1,766: Funko Pop! Television Twin Peaks Bob Pop! Vinyl Figure
Day 1,838: Funko Pop! Television Twin Peaks Black Lodge Cooper / Black Lodge Laura Pop! Vinyl Figures