9POA Twin Peaks Action Figure Set
Agent Dale Cooper, Laura Palmer, Bob, The Log Lady

9POA Twin Peaks Action Figure Sets
Item No.: No. 20126
Manufacturer: Funko
Includes: 4 figures, log, mug, microcassette recorder
Action Feature: n/a
Retail: $29.99
Availability: April 2017
Other: 9POA Is the New ReAction

PREVIOUS
RSS
NEXT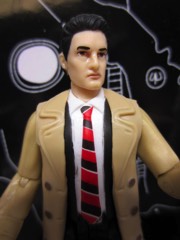 It took a while, but now we've got toys from the original Twin Peaks. It's surreal, but now we have 3 3/4-inch figures in Funko's "9POA" line, for "nine points of articulation." They're good - but the format is new for them, so you can see some growing pains in Cooper, Laura Palmer, Bob, and the Log Lady. You can also see a lot of really good sculpting. Originally these figures were solicited as four separately carded releases, but this switched over to a boxed set in the first few weeks. I don't know exactly why, but there's really no getting beyond the fact that one of the figures is a bloody, naked teenage blonde girl. That may be a tough sell.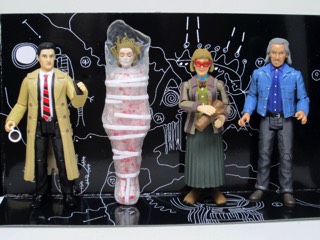 These 3 3/4-inch-ish scale figures are more or less the same size as their ReAction figures, but with more realistic sculpting and more articulation. It's not exactly consistent, either. For example, Laura Palmer has a ball-jointed neck that doesn't really move. Cooper and Bob each have nine joints, with a ball-jointed beck, swivel shoulders, swivel hips, bending knees, and bending elbows. However, Cooper's got a long coat that prevents him from sitting down. The Log Lady seems to have more than nine joints, because she has bend-and-swivel elbows - but the hip and knee joints are obstructed by her long skirt. She's also the only figure in the set to have ball-jointed shoulders, so she can spread out her arms too.
The reason you're going to buy this set is to get a Dale Cooper sized to hang out with Luke, Han, Cobra Commander, and Spider-Man. The likeness to Kyle McKyle MacLachlan is there, but he's a little pale - the lips are dark, and this brings out the contrast a little more whereas Bob is a bit tanner. It still looks right, with the hair, coat, shirt, and tie all looking like they do on the show. Nothing is really stuck in terms of the joints, so it's just a good solid figure who can stand without a fight on my desk. The buttons are painted cleanly and he has two hands aren't really sculpted well enough to look good as he holds his damn fine cup of coffee, but he can hold it. He can also hold his microcassette recorder with no problems.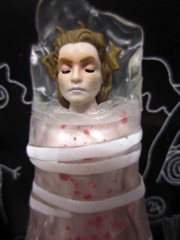 Next up is Laura Palmer, which would be a pretty rotten $10 single figure. She has no display stand, so all she can do is lay there dead. The neck joint is obstructed because of the hair and plastic, so really what you have here is a small collectible dead girl with plastic wrappings and blood splatter. It's pretty ghoulish, and should go well with the matching Pop! Vinyl figure. Fans of Star Wars have been bugging Hasbro to make dead versions of Padme, Owen, and Beru for years - Funko seems to be getting ahead of the game by giving you your dead Laura Palmer before you even had time to realize that you might want one in the first place. The pale blue skin, purple lips, and closed eyes complete the whole corpse vibe.
The set's sole antagonist is Bob, the malevolent force whose purpose is to be evil and whose true motives were left obscured in the decades between the series. (As of my writing this, the new episodes have yet to air.) He's got a great blue jacket and a nice shirt, with tons of painted buttons. The legs don't swing forward quite as far as Cooper's, but they do move cleanly. The hands are outstretched in a menacing pose, which matches the angry face quite nicely. The hair is a little more solid than the fair look on the show, though, and the stubble is also a lot more solid and toy/doll-like than one might hope for. But then again, nothing's worse than bad stubble, so this is better than a bad execution of the alternative. It's a fairly glossy figure with a good weight to it and it feels fairly sturdy, but at least one of the legs on my sample is a teensy bit loose. Otherwise, this is about as perfect as I would expect - it's a nicely jointed figure with a great face and more personality in his fingers than many of my toys have in their whole bodies. I also assume it wouldn't sell well if sold individually, so the whole forced bundle thing was probably a super smart idea to get the figure into my hands, and potentially yours.
Rounding out the set is the deviant, the Log Lady. She's not jointed like the rest, and the way her glasses sit on her face are a mixed bag - but the textures on her clothing and the paint job are magnificent. It's a complicated garment for a 3 3/4-inch scale action figure, and you can really feel the plastic fabric. They gave her extra arm articulation... mostly for naught. I appreciate that she included the log as part of her ensemble, but the arms are posed in a way where she can't hold up the strange wooden spirit. Her wrists can't turn and her hands can't grip - so Cooper or Bob can hold the log, but the Log Lady? No dice. The head sculpt is good, but the glasses are executed awkwardly. Glasses are really tough to pull off as a 3 3/4-inch figure, so you usually get something like the Baroness from G.I. Joe - either the frames are sculpted directly to the head, and that looks weird, or they're a separately molded piece with (or without) lenses... and that looks weird. It turned out adequately, but if this line continues for the long haul I hope and indeed expect all of these characters will get costume variants or resculpts someday. It's probably not likely, though.
I got my money's worth - 4 figures for about $7.50 each is a great deal. If you ever see this set on sale (or heaven forbid, clearance) go ahead and snag it because how often do you get cool classic TV figures? Other licenses are in the works, including newer ones and some bona fide classics like Batman from 1966, and I'm digging it. It also makes me realize that 3 3/4-inch figures are to my generation what Mego figures were to the kids about 10 years older than I am, which means the format is probably going to have a pretty decent next few years before its slow march into the sea. Enjoy it while it lasts, kids, because as soon as Star Wars moves on this party is over! Get while the getting is good, because as far as action figures go this is the best size you an hope for. Unless you have more free space than I do.
--Adam Pawlus
Additional Images

See more Funko figures in Figure of the Day:
Day 1: Funko Force 2.0 Comic-Con Exclusive Batman
Day 80: Metallic Cobra Commander Wackly Wobbler
Day 120: Funko Gremlins Pop! Vinyl Stripe Vinyl Figure
Day 126: Funko Beetlejuice Pop! Vinyl Beetlejuice Vinyl Figure
Day 131: Funko Thor Pop! Vinyl Thor Vinyl Figure Bobble Head
Day 141: Funko Thor Pop! Vinyl Loki Vinyl Figure Bobble Head
Day 151: Funko Music Pop! Vinyl Ozzy Osbourne Vinyl Figure
Day 160: Funko G.I. Joe "Pimp Daddy" Destro
Day 207: Funko Disney Pop! Vinyl Mr. Incredible Vinyl Figure
Day 224: Funko Batman Blox Vinyl Batman Vinyl Figure
Day 249: Funko Marvel Universe Pop! Vinyl Iron Man Vinyl Figure Bobble Head
Day 293: Funko Disney Pop! Vinyl Mike Wazowski Vinyl Figure
Day 306: Funko Marvel Universe Pop! Vinyl The Hulk Vinyl Figure Bobble Head
Day 345: Funko Disney Pop! Vinyl Sulley Vinyl Figure
Day 427: Funko Marvel Universe Pop! Vinyl SDCC Exlusive Spider-Man Vinyl Figure Bobble Head
Day 748: Funko Land of the Lost SDCC Exclusive Glow in the Dark Sleestak
Day 981: Funko Planet of the Apes Pop! Movies Cornelius Vinyl Figure
Day 1,000: Funko Hikari Vinyl Freddy Funko (Creature from the Black Lagoon)
Day 1,036: Funko Entertainment Earth Exclusive Kill Bill Gogo Yubari (Bloody) Pop! Vinyl Figure
Day 1,069: Funko Planet of the Apes Pop! Movies Dr. Zaius Vinyl Figure
Day 1,150: Funko Guardians of the Galaxy Pop! Vinyl Entertainment Earth Exclusive Ravagers Dancing Groot
Day 1,155: Funko Hikari Vinyl Marvel Guardians of the Galaxy Planet X Groot
Day 1,163: Funko Universal Monsters Life Force Metaluna Mutant
Day 1,164: Funko Hikari Vinyl Ghostbusters Pink Stay Puft Marshmallow Man
Day 1,165: Funko Hikari Vinyl Universal Monsters Glitter Shock Frankenstein
Day 1,166: Funko Hikari Vinyl Masters of the Universe Mystic Powers Skeletor
Day 1,167: Funko Hikari Vinyl Transformers Metallic Optimus
Day 1,197: Funko Batman Ice Freeze Batman Reject
Day 1,221: Funko Hikari Vinyl Transformers Metallic Bumblebee
Day 1,225: Funko Bravest Warriors Pop! Television Impossibear Vinyl Figure
Day 1,226: Funko Planet of the Apes Pop! Movies General Ursus Vinyl Figure
Day 1,229: Funko Bravest Warriors Pop! Television Catbug Vinyl Figure
Day 1,241: Funko Hikari Vinyl Gigantor Power Vision Gigantor
Day 1,257: Funko Hikari Vinyl Antique Verdigris Metaluna Mutant
Day 1,281: Funko Planet of the Apes Pop! Movies Ape Soldier Vinyl Figure
Day 1,285: Funko Bravest Warriors Pop! Television Commander Catbug Vinyl Figure
Day 1,300: Funko Hikari Vinyl Marvel Metallic Hulk Vinyl Figure
Day 1,305: Funko Pop! DC Comics Super Heroes Orange Batman Vinyl Figure
Day 1,340: Funko Pop! Sesame Street Season 1 Oscar the Grouch Vinyl Figure
Day 1,338: Funko Pop! Animation Bob's Burgers Gene Belcher Vinyl Figure
Day 1,350: Funko Hikari Vinyl Predator Original Predator Unmasked
Day 1,355: Funko Pop! Animation Bob's Burgers Linda Belcher Vinyl Figure
Day 1,361: Funko Pop! Animation Bob's Burgers Louise Belcher Vinyl Figure
Day 1,365: Funko Pop! Animation Bob's Burgers Tina Belcher Vinyl Figure
Day 1,374: Funko Pop! Animation Bob's Burgers Bob Belcher Vinyl Figure
Day 1,382: Funko Hikari Vinyl Toy Story Original Buzz Lightyear
Day 1,390: Funko Pop! Movies Back to the Future Marty McFly Vinyl Figure
Day 1,396: Funko Pop! Television Last Week Tonight with John Oliver Vinyl Figure
Day 1,400: Funko Dorbz DC Comics Super Heroes Orange Batman Vinyl Figure
Day 1,540: Funko Pop! Movies Atomic Breath Godzilla Pop! Vinyl Figure
Day 1,620: Funko Son of Zorn Zorn Action Figure
Day 1,645: Funko Masters of the Universe Dorbz Skeletor
Day 1,650: Funko x Playmobil Willy Wonka
Day 1,657: Funko x Playmobil Teenage Mutant Ninja Turtles Black and White Raphael
Day 1,659: Funko Pop! Television Stranger Things Eleven with Eggos Pop! Vinyl Figure
Day 1,671: Funko Pop! Television Stranger Things Joyce Pop! Vinyl Figure
Day 1,685: Funko Pop! Television Twin Peaks Agent Cooper Pop! Vinyl Figure
Day 1,687: Funko Pop! Television Stranger Things Lucas Pop! Vinyl Figure
Day 1,694: Funko Pop! Television Stranger Things Barb Pop! Vinyl Figure
Day 1,706: Funko Pop! Television Stranger Things Dustin Pop! Vinyl Figure
Day 1,707: Funko Pop! Television Twin Peaks Audrey Horne Pop! Vinyl Figure
Day 1,710: Funko Pop! Television Twin Peaks Laura Palmer Pop! Vinyl Figure
Day 1,714: Funko Pop! Television Stranger Things Demogorgon Pop! Vinyl Figure
Day 1,717: Funko Pop! Television Twin Peaks The Giant Pop! Vinyl Figure
Day 1,722: Funko Pop! Television Twin Peaks Log Lady Pop! Vinyl Figure
Day 1,732: Funko Pop! Television Stranger Things Will Pop! Vinyl Figure
Day 1,736: Funko 9POA Twin Peaks Action Figure Set
Day 1,745: Funko Pop! Television Twin Peaks Leland Palmer Pop! Vinyl Figure
Day 1,753: Funko 9POA Batman 1966 TV Series Batman and Robin Action Figures with Batmobile
Day 1,761: Funko Pop! Heroes Wonder Woman Diana Prince Pop! Vinyl Figure
Day 1,766: Funko Pop! Television Twin Peaks Bob Pop! Vinyl Figure
Day 1,777: Funko Pop! Television Ash vs. Evil Dead Entertainment Earth Exclusive Bloody Ash Pop! Vinyl Figure
Day 1,793: Funko Pop! Television Stranger Things Mike Pop! Vinyl Figure
Day 1,832: Funko x Playmobil Doctor Who Fourth Doctor
Day 1,838: Funko Pop! Television Twin Peaks Black Lodge Cooper / Black Lodge Laura Pop! Vinyl Figures
Day 1,841: Funko Pop! Animation Glow in the Dark Reptar Pop! Vinyl Figure
Day 1,847: Funko Pop! DC Comics Super Heroes Retro Batman Vinyl Figure
Day 1,850: Funko Pop! Disney Coco Ernesto Pop! Vinyl Figure
Day 1,852: Funko Son of Zorn Office Zorn
Day 1,908: Funko x Playmobil Teenage Mutant Ninja Turtles Shredder
Day 1,927: Funko Pop! Movies Star Trek Beyond Captain Kirk (Survival Suit) Pop! Vinyl Figure
Day 1,938: Funko Pop! Movies Jurassic Park Dr. Ian Malcolm (Wounded) Pop! Vinyl Figure
Day 1,939: Funko Pop! Games Portal 2 Chell Pop! Vinyl Figure
Day 1,957: Funko VYNL The Life Aquatic Steve and Ned Vinyl Figures
Day 1,984: Funko Pop! Movies Jurassic Park Dr. Ian Malcolm Pop! Vinyl Figure
Day 1,985: Funko Pop! 8-Bit Alien Xenomorph (Video Game) Pop! Vinyl Figure
Day 2,045: Funko GLOW Debbie Eagan vs. Ruth Wilder Action Figures
Day 2,124: Funko DuckTales Scrooge McDuck (Red Coat) Pop! Vinyl Figure
Day 2,244: Funko Pop! Television Schitt's Creek David Rose Action Figure
Day 2,315: Funko Soda Devo Satisfaction Vinyl Figure
Day 2,440: Funko Pop! Rocks Frank Zappa Action Figure

See more Twin Peaks toys in Figure of the Day:
Day 1,685: Funko Pop! Television Twin Peaks Agent Cooper Pop! Vinyl Figure
Day 1,707: Funko Pop! Television Twin Peaks Audrey Horne Pop! Vinyl Figure
Day 1,710: Funko Pop! Television Twin Peaks Laura Palmer Pop! Vinyl Figure
Day 1,717: Funko Pop! Television Twin Peaks The Giant Pop! Vinyl Figure
Day 1,722: Funko Pop! Television Twin Peaks Log Lady Pop! Vinyl Figure
Day 1,736: Funko 9POA Twin Peaks Action Figure Set
Day 1,745: Funko Pop! Television Twin Peaks Leland Palmer Pop! Vinyl Figure
Day 1,766: Funko Pop! Television Twin Peaks Bob Pop! Vinyl Figure
Day 1,838: Funko Pop! Television Twin Peaks Black Lodge Cooper / Black Lodge Laura Pop! Vinyl Figures