Paradron Medics Autobot Ratchet and Lifeline
Encounter 1 - Amazon Exclusive

Transformers Generations War for Cybertron Trilogy Galactic Odyssey Collection Set
Item No.: No. F0856
Manufacturer: Hasbro
Includes: Blaster
Action Feature: Transforms from Van/car to robot
Retail: $39.99
Availability: December 2020
Other: Ironhide redeco/retool and Arcee redeco

PREVIOUS
RSS
NEXT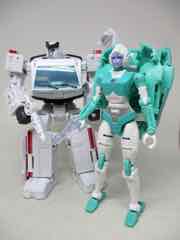 Because fans were clearly going to ask, Hasbro had Paradron Medics Autobot Ratchet and Lifeline ready to go for a five-part Amazon exclusive collection. With brown outer boxes and 4-color interiors, it's assumed (let's say) that these were meant to be shipped out in the brown boxes as-is - but no sane company would do that, so the boxes go in boxes.
Ratchet is a redeco/retool of the existing Siege Ironhide mold, which was retooled both into Siege Ratchet - with added toolkit - and also Earthrise Ironhide, which was almost a full facelift. Lifeline, the Paradron medic, is a redeco of Arcee. While some complained that it wasn't something new, the set was marked sold out prior to its release date and would be the kind of things fans would stab each other over were it a convention exclusive - for all intents and purposes, this is the most Ratchety Ratchet yet with another perfectly good Lifeline (but the club exclusive version was also fine.)
Click here to check availability at Amazon.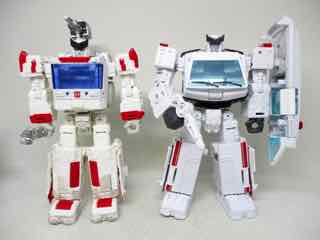 Voiced by Michael "Encounter at Farpoint's white-haired villain" Bell, Ratchet made a strong impression on fans from the beginning of the series. Since his original toy had no head, there's been a steady stream of new toys attempting to fix that omission, some of which are expensive Fan Club or Convention (or Japan-only) exclusives.
While Walgreen's Siege Ratchet had added medical tools, this one does not - but it has a new head. The shield and blaster are the same as Ironhide's, and the figure is perfectly nice. Check out the grey cartoon-style head crest. Without the red crosses, or pulses, or red hands, it's not obvious precisely which Ratchet inspired this toy - but it is colored similarly to the Netflix show, isn't it? Articulation is consistent with previous Siege "van" toys, and you'll even recognize some of the same elements - the feet and shoulders in particular. Almost everything else has been given a once-over, with a kibble shield roof for the van and a blaster you can stuff in the vehicle legs or hold in the fist. I would've liked it if they threw in some bonus accessories (even at a higher price), but as it is you'll find enough to like here. Unless you're happy with the old toys, in which case, you're fine to skip it.
As a van, it's a van - four rolling wheels, two visible feet, three places to plug in 5mm weapons, and an easy transformation. I would've liked retooled wheels, but I don't feel that the lack of Earthy hubcaps has ruined anything. It's a great, rounded van with a much smoother look than the previous mass-retail deluxe Ratchet from the Universe line.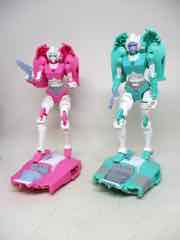 Lifeline is a green Arcee. You'll remember her as a good action figure stuffed into a car alt mode that looked like a bulky 1980s or maybe early 1990s PC mouse, although Lifeline has a few more painted details on her helmet and a better, more visible face thanks to painting it a unique color.
The car is effectively a minty green Arcee. Anything else would've been disappointing - but it is rather boxy and lacks the elegance of the Club exclusive from a few years ago. It's also significantly cheaper for this Amazon exclusive version, but if you have the previous one you might be perfectly fine with it. I prefer the car mode of the previous one, plus the robot was no slouch either. This toy has rolling wheels and a couple of pegs to mount C.O.M.B.A.T. blasts, but doesn't have much else going for it. Hasbro really nailed that Thrilling 30 Arcee mold, so anything else is going to struggle a bit to keep the cartoony look just right. For those who missed it, it's worth noting this toy is a Thunderblast-style shellformer, meaning the robot mode and the car mode could be split up and look essentially complete. It doesn't "transform" so much as it gets stuffed into a mint-flavored shell.
While I realize I wasn't glowing about these figures, it's worth noting they're both excellent. They meet expectations - Hasbro delivered two characters in a format consistent and sensible with the available tooling. More gear is always welcome, and new molds would have been unrealistic for the figures given how new these ones were. I'm not sure exactly why so many fans I've spoken with are down on this set, and for its retail price I would go as far as to say it's completely worth picking up a set. Personally, I wanted these molds in these specific colors - so I'm happy. If you don't, well, thank goodness Kingdom is shipping!
--Adam Pawlus
Additional Images

Click here to see more Hasbro figures in Figure of the Day.
Click here to see more Transformers figures in Figure of the Day.

Want to buy this figure? Check Transformers availability at our sponsors:
Entertainment Earth