Decepticon Sandstorm
WFC-GS21 - Shared Online Exclusive

Transformers Generations War for Cybertron Trilogy Selects Voyager
Item No.: No. F0855
Manufacturer: Hasbro
Includes: 2 cannons
Action Feature: Transforms from Jet to Robot
Retail: $29.99
Availability: December 2020
Other: Ramjet Redeco

PREVIOUS
RSS
NEXT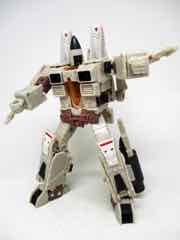 Hasbro's made good money catering to a certain strain of middle-aged toy fan, occasionally dabbling in full-blown toy nerdity. Everybody knows Optimus and Cobra Commander, but if you know anything about the 1990s Generation 2 unproduced toys, then Decepticon Sandstorm is a huge deal. It's also very nicely done - and I hope you got an actual toy based on the "Desert Ramjet" concept.
A sand-themed redeco of Earthrise Ramjet [FOTD #2,234], this toy takes its design cues from an unproduced mock-up but was redesigned to be a little less garish. The original toy had some more purple, a big "DC" on the wings, red chevrons, and none of that may be found here. The deco seems designed to trade off of Operation Desert Storm, when desert-themed combat was on the news and for some reason is now in the air. Thanks to your likely having zero preconceptions of how it should look - and certainly no toys of it - it's marvelous. You can't do a new character incorrectly, so Hasbro won big here.
Click here to check availability at Entertainment Earth.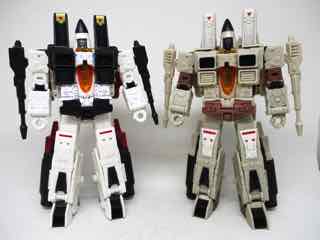 The robot has 10-gallon shoulder pylons bringing him to a whopping 7-inches tall, which admittedly isn't huge but the last toy I opened before this one was Bumblebee. You can really feel the difference here. Thanks to his desert camo, the Generation 2-era tribute bucks the trend of most others we've received in how it doesn't set your retinas on fire. It's tan, with some black and brown. His face is dark grey, and the toy is devoid of the late-G2 hallmarks like writing his name on his body, or the revised Decepticon symbols. The redeco delighted me a lot more than Dirge, mostly because of how the color layout works. While the other coneheads are slathered in paint, this one mostly uses the plastic color to its advantage. This is good - there's less chance of paint chipping, and nothing looks off. I like the pattern on the knees, the black chest intakes look great, and most important of all it's a new seeker. We don't get these very often.
Articulation is consistent with other coneheads and repaints of Starscream - of which there are many, but if you ask me, not enough. Sandstorm has rocker ankles as part of his total of 23 points of articulation. I may be stretching a bit - the wrists can pivot forward for transformation reasons, but it's something. The cannons plug right in the shoulders, and he's a good addition to your shelf of fake post-G2 guys. You have one right? I know I do.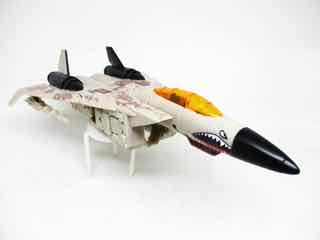 Transformation is a bit easier than Ramjet, or maybe it's my imagination. The lack of paint means better form fits, so things just easily fit together. I didn't need to consult the instructions - nor should I have to, after six toys based on this mold.
I like the jet, mostly because of the fact that it was one of those "lost toys" that come up in conversation with men my age who are me. The original one wasn't very garish and neither is this - you get the nosecone art with the shark mouth, a first for this mold. While Hasbro has largely followed a consistent pattern of who gets repaints, they've broke the mold a few times by throwing in new-to-toy characters like this one. It's hard to not appreciate, given the seekers are sort of the Clone Troopers of the Decepticons. The character is something of a blank slate, but the toy is distinctive with colors that may more closely match your desert-themed G.I. Joe toys. I especially like how they integrated dark brown Decepticon symbols on the wings. "Subtle" isn't a word that typically describes Hasbro toy design from the early 1990s, and this one seems like the opposite of the last tribute we got - G2 Megatron.
Figures like this are why I keep coming back for these toys. Merely doing the same guys over and over again is good for people with a little extra money - or the whole dadvertising thing - but I can't buy Optimus every year forever. I get a huge kick out of the new stuff, especially when based on old prototype concepts - it's easy to get excited about, and the results are good. When fans were wanting a Generation 2 Ramjet repaint, I doubt this is what people had in mind - but who can complain? It's good, and hopefully there are more opportunities for new and unusual designs like this one in the coming year. There were at least eight flavors of the Siege Starscream mold and by my count Earthrise Starscream and his remolds are only at 7 so far. More please!
--Adam Pawlus
Additional Images

Click here to see more Hasbro figures in Figure of the Day.
Click here to see more Transformers figures in Figure of the Day.

Want to buy this figure? Check Transformers availability at our sponsors:
Entertainment Earth