Rulon Warriors Battle Pack
Debut Product in Brand Revival

Dino-Riders Entertainment Earth Exclusive
Item No.: No. GYY42
Manufacturer: Mattel
Includes: 6 dinosaurs, 8 pilot/driver figures, 6 freestanding figures
Action Feature: Transforms from Robot to SUV
Retail: $19.99
Availability: January 2021 (originally slated for New York Comic Con 2020)
Other: Gorgeous box art

PREVIOUS
RSS
NEXT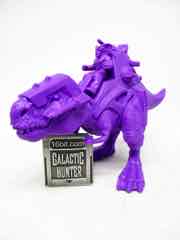 Since Mattel bought Tyco's various assets, kept the Dino-Riders trademark alive on its Hot Wheels cars, and has precious few action figure legacy brands, this Rulon Warriors Battle Pack feels like it was a long time coming. After unbranded Imaginext dinosaurs and Jurassic World toys, it seemed like Mattel had no desire to even consider the brand - even though there has been buzz of a movie deal in the works! While we never got a new line of authentic dinosaur models with fun action features and removable armor - plus cool figure pilots - I don't doubt such a thing is under consideration. That or this existed solely to keep trademarks in circulation, as the box is covered in them to protect numerous 1980s names like "Llhad" and "Krulos."
Click here to check availability at Entertainment Earth.
Not to put such a fine point on it, but we sold this where I work, and as such I am biased to like it. (I mean... it's Dino-Riders.) You may or may not think $20 was a bargain price for what amounts to army men and unpainted plastic dinosaurs - admittedly, it's not a lot of plastic for the money, but it was a low-run item and is also currently the only game in town from this century. The freestanding humans are about 1-inch tall, while the longest dinosaur an unnamed sauropod on the box. I assume it's a nod to the old diplodocus, and it's 7 3/4-inches long. If these were RPG miniatures or lead minis at a game shop, you'd have probably happily paid twice the price - and I sincerely hope someone customizes them, because I bet they'd look awesome as painted replicas. They're a bit like Star Wars Command, but smaller, and the figures actually interact with the vehicles.
If you still fish on eBay for Dino-Mites, if you liked the weird mini teeny Zoids, or if you have a box of rubber dinosaurs, this is probably the set for you.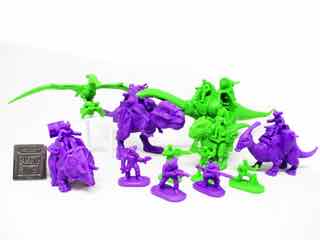 Despite the name, this set has more than Rulon warriors - the good guys are here too. The evil Rulons are cast in purple, and the good Valorians are green. Why, I don't know - the original toys had unpainted red accessories for the bad guys and silver good guys. Green makes sense in this context because many of the figures are posed like classic green army men figures. The figures are all clearly inspired by the 1980s, but they all include changes - none of the dinosaurs use the exact same armor, for example. The humanoids are a bit more "Colonial Marines" than the original toys, too - more armor, more military, more guns. Given the Valorians' whole thing was psychic peaceful whatever, it's a departure - but it fits the whole army man aesthetic.
Detail on the teeny-tiny humans is a bit soft, and only 11 are named on pack. Which is which? I have no idea. The names, which I am copying from the box, include Krulos, Bitor, Cobrus, Quark, Finn, Cytro, Llahd, Lokus, Termite, Six-Gill, and Boldar. Similarly five of the six dinosaurs are named - Tyrannasaurus Rex [sic], Triceratops, Pterodactyl, Saurolophus, Deinoychus, "and more."
The toys have no moving parts except for five of the six dinosaurs include seating for pilots - Llahd is molded to the Pterodactyl, which is clearly a Pteranodon, but I assume the copywriters aren't nitpickers for dinosaurs. After all, teh Triceratops has only two horns and these are clearly not in scale with one another. They're still pretty cool, covered in gear, and more modernized than the pre-Jurassic Park designs of the originals. These aren't tail-draggers - you can see elements of scientific progress reflected in these armored beasts, but they're still lacking some things like feathers. (I am OK with that.) The sculptors did a great job with the skin texture, even making sure the feet are well-detailed instead of the flat, untextured nothings I tend to expect from most small collectible figures.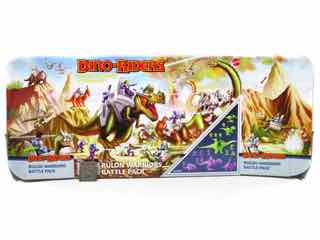 While too big for Zoids or Robo Strux pilots, the drivers function similarly - they plug right in to their seats and grip tightly. You can mix and match drivers, too. The plastic has a bit of give to it, making them more flexible than traditional toy army men or the original Dino-Riders toys. There's no mechanism in the neck, there are no flapping wings, they're just nice little desk toys. If you have a monitor riser, these guys can hang out on the base.
The box is also notable - it recalls the vintage Tyco artwork down to the simulated box flap! (There is no actual box flap.) The graphic design is darned near perfect enough for my needs, even if the new painting looks digital. It's closed-box, so you can pop the toys out and still display the very nice package. It's not an exact match of the originals, but most vintage packaging has a few changes for the modern era - sadly the T-Rex triangle was dropped completely. The figures are packaged inside a plastic tray, which should minimize warping prior to opening it.
Dinosaurs are a big trend in 2021, with the delayed Jurassic World movie (and toys) everybody else had stuff in position to coast off their marketing. Power Rangers, Nerf, Play-Doh, Transformers (at least with Grimlock), and others are getting their very public domain dinosaur toys out and about - so it makes sense Mattel might want to do some studio royalty-free dinosaurs of their own, too. But without the movie, will there be a big dinosaur trend? Does have anything in store for full-size Dino-Riders? If not, Playmobil has something that's incredibly close on deck.
It's not a reissue of a classic toy, it's not a full update of a classic concept. It's a new thing - little collectible figures, at what is more or less a fair-for-2021 price, with a very small target audience. As I write this I know of no other plans for additional toys under the brand, but I assume someone is mocking up a few. If you buy indie toys, M.U.S.C.L.E.-style figures, or the like this is something you're probably thinking about buying, and I can say it's largely worth it. There could be something more interesting in the future, but I like getting a whole collection in a box rather than chasing down a bunch of blind bags or convention exclusives once in a while. I'd love to see more, but if this is it for the minis? I'm OK with that. I just need a mountain playset or three. If these were repainted as larger collectible figures I bet the sofubi crowd would buy a couple, too.
--Adam Pawlus
Additional Images

Click here to see more Mattel figures in Figure of the Day.

See more Dino-Riders figures in Figure of the Day:
Day 212: Tyco Dino-Riders Styracosaurus with Turret Action Figure
Day 223: Tyco Dino-Riders Monoclonius with Mako Action Figure
Day 244: Tyco Dino-Riders Ankylosaurus and Sting Action Figure
Day 274: Tyco Dino-Riders Struthiomimus and Nimbus
Day 287: Tyco Dino-Riders Dimetrodon and Shado
Day 344: Tyco Dino-Riders Protoceratops and Kanon
Day 2,272: Mattel Dino-Riders Rulon Warriors Battle Pack