Star Marshall Sincroid Superior
Knights of the Slice x Onell Design = Pretty Good Wave 89 Figure

Glyos System Series
Item No.: No. n/a
Manufacturer: Onell Design
Includes: Alternate head, pistol
Action Feature: Pops apart, customize it if you dare
Retail: $22.00
Availability: December 6, 2020
Other: Matt Doughty, Jesse DeStasio, and Jesse Moore bring you good things

PREVIOUS
RSS
NEXT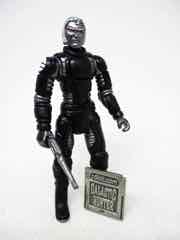 Did I need to spend $22 on a mostly-black 3 3/4-inch figure last year? No, but I saw the Star Marshall Sincroid Superior and it looked like something that would come out of Onell Design's Matt Doughty's sketchbook for concepts of action figures of the 1980s. Like most of the concepts to pass through his web store, it's good but weird - you can sniff out influences like Micronauts and Star Wars, as well as others while you look at the over-detailed elements on the body and the ever-popular modular design that lets you pop the figure apart at each of its 10 ponints of articulation. He's sized similarly to other Hasbro (and Kenner) 3 3/4-inch figures on my desk, which means he stands a bit shorter than the Desert Rat [FOTD 2,073] from 2019.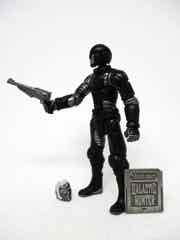 The main head is pure vintage Glyos - it's like a drawing came to life. The lines running down the back of the helmet are consistent with Glyans and other Onell Design figures, with a face that looks like it could have been something Onell put out during the early days of Pheyden. The alternate head is typically good Toy Pizza stuff with silver hair, dark silver skin, and red eyes. The two different styles do wonders to change the personality of the figure, which sorely lacks a cowboy hat. I mean, he's a Star Marshall, he's begging for a hat or a badge or something.
There's a unique symbol on his shoulder but I have no idea what significance it has. As Onell Design's Glyos universe expands, certain things vanished - the web comics, the games, and the little stories have left the significance of nearly every design to the imagination of the buyer. On one hand, that's great for kids, but these are figures for older fans and it would be marvelous to know what was going through the heads of the designers before this figure graced my desk.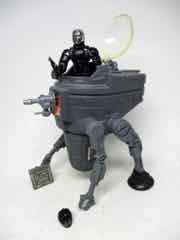 Functionally, it's a gem. The figure has no problems standing or sitting, meaning you can slide him inside your old Kenner Mini-Rigs or keep him standing on your desk. Each joint swivels smoothly without the slightest impediment, which is something that often feels like a miracle when your average store-bought action figure has the occasional stuck joint. There's a hole in the back for backpacks or other building opportunities, while the soles of his boots are sculpted with tread - a nice touch, rather than keeping them flat and unadorned like many other indie figure releases. I love the dark silver highlights on the body suit, and the six shooter - which seems infused with Clone Trooper blaster DNA - fits nicely in the figure's hands. If Big Lots or Dollar Tree were smart, they'd approach these people to design their bargain-basement value figure lines. The slightly puffy suit yields a little quilted detail, and while it isn't quite as bonkers as what we've seen on some other Toy Pizza projects you can tell that they're going to get a lot of mileage out of this design when they keep adding armor or other snap-on parts.
While not cheap, it's a neat design - if you find yourself ordering other figures and repaints based on this mold are available, you should snag one, particularly if vintage Kenner toys or Super7 ReAction figures are on your plastic shopping list. It lacks the weirdness and imagination of some other designs, but it's solid, durable, and fun to futz with. That's a good figure in my book.
--Adam Pawlus
Additional Images


Click here to see more Onell Design figures in Figure of the Day.
Click here to see more Glyos Compatible figures in Figure of the Day.