Botropolis Rescue Mission Overair, Ironworks, Missile Master, Moonrock, Fuzer, and Blast Master
Encounter 5 - Amazon Exclusive

Transformers Generations War for Cybertron Trilogy Galactic Odyssey Collection Set
Item No.: No. F0858
Manufacturer: Hasbro
Includes: 2 bases, 2 pairs of Micromasters, a booster engine, and lots of accessories to lose
Action Feature: Transforms from vehicles/bases to robots
Retail: $59.99
Availability: March 2021
Other: Micromaster Earthrise redeco collection. Oops, All Autobots.

PREVIOUS
RSS
NEXT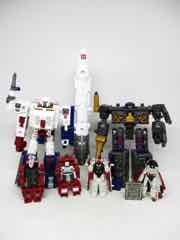 This is more or less new territory, with a couple of familiar face. Botropolis Rescue Mission Overair, Ironworks, Missile Master, Moonrock, Fuzer, and Blast Master brings you two new bases with no new tooling from their previous Deluxe releases, two pairs of Micromasters (with some new tooling), and Doubledealer's rocket in new colors. In short, if you bought all of this stuff at retail, it'd be about $60 with a free rocket thrown in.
Overair is a new-to-USA character based on the USA's airport base with Airwave, but in new colors and using Selects Hot House as the base. Ironworks is a redeco of Ironworks - both were meant to compliment Sky Lynx. The bases can connect and you get a nice little space station with a place to launch the space shuttle - it's a pretty sensible combo platter of parts and pieces. I wish it existed when I was a kid, because when you put all of this stuff together it's actually pretty neat.
Also there are more Micromasters. You'll forget their names immediately, as is their fate.
Click here to check availability at Amazon.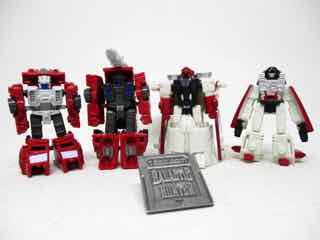 Moonrock and Missile Master combine to make a rocket truck thing, which is a retool of Direct-Hit and Power Punch. They're a little less colorful, but are good enough updates of the originals that I assume Micromasters dabblers will love it, the purists will hate it, and most people have no idea if this is a new guy or not because to them G1 ended in 1987.
The robots stand quite nicely and come in a nice dark red color. The vehicle replaces the original blaster cannon - which allowed other robots to use them as a weapon - for a painted removable rocket. It's a clever retool that gives you a toy not entirely unlike what was sold during the original run of the Micromasters, but at the cost of some play functionality. The two vehicle halves fit together with a 5mm peg and are quite sturdy - and like other Micromasters, are too big for the roads and bridges of this base. I love that Hasbro tried to bring these guys back, but the original G1 roads were wider and these are so narrow it's basically a death trap.
Fuzer and Blast Master (formerly Barricade)are basically the same as the 2-pack sold in 2020, but in new colors and with the aforementioned booster rocket. As individuals, they're pretty weak - but the shuttle mode is cool. I would go as far as to say that doesn't make it a particularly good toy, since Blast Master is too back-heavy to stand up. As it's a new color scheme of a previously remade toy, you should probably just like it for its own sake and if you squint, the duo is not unlike Storm Jet in vehicle mode.
Decepticon Runner is the same kind of thing - it completes an old team, updates the colors a bit, and actually has a very good vehicle mode. Nothing's perfect, but it's close enough - I can't imagine they're going to take another crack at Micromasters in the next several years without a breakthrough in manufacturing. If you bought the previous molds, these are just as good - although I do find the colors to be more pleasing on this release.
Color sure is an issue in this set, because it's 50% yellow. And it's the same yellow.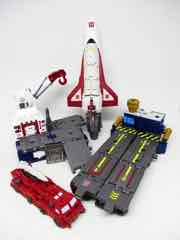 Overair and Ironworks are striking blue, white, and red toys with a lot of matching color elements that will delight you while infuriating you that nobody bothered to tool a new robot head. Ironworks is arguably the same character in new colors - generally not a move popular with fans of these toys - while Overair is the Japanese name of the Micromasters jet that came with their release of the airport base. (Who was an Autobot over there.) Like previous releases, these are partsformers or building blocks - there are multiple base configurations for each, a swell robot mode, plus you could probably bolt these on to other toys as power-up parts or weapons if you so choose.
Of the two, Ironworks is a heck of a lot more interesting to look at with a wildly different color scheme, while the perfectly nice Overair feels like a remix of the toys you got before. If you don't have either of these molds, this is probably the set to get thanks to the space theme, Sky Lynx tie-in, and other microbuddies that you could keep or flip were you so inclined.
As gift sets go, this is a nice one - but the newness, obscurity, and timing if it will probably lead a lot of fans to skip it. Including you, probably. There's nothing bad about it, but it was released way after Christmas with non-recognizable characters during a period of new product announcements and some of the best revisions to the main cast in years. I assume people will buy this set and forget about it, which is a shame as it's a great collection. It might have done better in another configuration or another retailer, or as a pack-in for the Sky Lynx toy from 2020 as some plussed-up retailer exclusive. But instead, these were Micromasters toys released at the tail end of what may be their final release.
--Adam Pawlus
Additional Images

Click here to see more Hasbro figures in Figure of the Day.
Click here to see more Transformers figures in Figure of the Day.

Want to buy this figure? Check Transformers availability at our sponsors:
Entertainment Earth