Buzzworthy Bumblebee and Spike Witwicky
WFC-N/A

Transformers Generations War for Cybertron Trilogy Core Exclusive 2-Pack
Item No.: No. F0926
Manufacturer: Hasbro
Includes: Tail whip
Action Feature: Transforms from car to robot, or from standing-up Exosuit to planking Exosuit
Retail: $14.99
Availability: January 2021
Other: Not bad

PREVIOUS
RSS
NEXT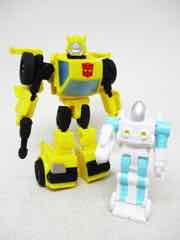 Hasbro has a marvelous collector program, but sometimes fails to actually promote it. The Buzzworthy Bumblebee and Spike Witwicky is the one new toy in a Target-exclusive program featuring reissues of Masterpiece toys, Cyberverse toys, One-Step toys, and even Studio Series toys - it's brilliant and a great gateway to new fans hopping on board. They would be served well to do something similar with the lead of The Mandalorian - in January, Target was just stuffed with Bumblebees for the first time in years. He's popular and sells well - so this is a great program, but also was something of a secret.
The core-class Bumblebee is about the same size as 1984 Bumblebee in robot mode, and slightly larger as a vehicle. Spike is taller than Titan Masters and Prime Masters at 2-inches tall..
Packaged in a robot mode, Bumblebee is pretty simple from the waist up, but surprisingly robust from the legs down. The shoulders and elbows are simple ball joints that pop out easily, with 3mm fist holes that are also surprisingly small. The legs have joints hips, swivel thighs, jointed knees, and jointed ankles - plus amazing kibble in the hood that becomes shin guards. Everything down there just fits, while the upper body has weird little wings hanging off the figure's back. The head looks like it was modeled after the original character model, but with silver instead of grey on his face plus pale blue eyes. Articulation is just fine for the scale, as good as - or arguably better than - the other $9.99 core-class toys. The big feet means he stands well, and has proven to be stable. He's more than a head shorter than Optimus Prime Core Class, so he's not quite scale to that line. He's just a good 3 1/2-inch tall robot
Our yellow pal is a little finicky transforming him into the car mode, with lots of pieces to get just-so in order for the wings to fold up. I almost wish they could just give us a toy with the 1984 transformation and some more joints in it, but my guess is that's in the drawing board for later. The legs are easy to get right, but the arms pop off if you don't get things perfectly - so prepare for some work here. Also of note, the blaster stores under the car, so you don't lose it. This is very much an appreciated design choice.
The car looks a lot like Bumper, and not much like Bumblebee - I assume there were questions of the VW license, so they just made something close but not perfectly accurate. It's a fine little car, but is merely a fine little car with no action features. Considering that this is $15 and Walmart's VW toy is bigger and $20, I'd steer you toward that - even though this one is not without its charms, given the head design and the more retro yellow coloring.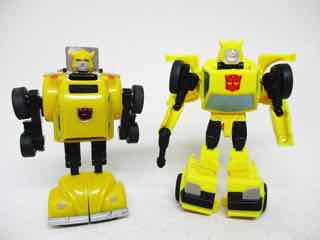 Spike is a whole lot less complicated - as a "robot," our human pal cam move his arms and not much else. There's no face on him so you can pretend he's Daniel if you really prefer, and he stands well thanks to the sturdy base on his uni-leg. It looks like there's articulation down there, but there isn't - the legs don't move.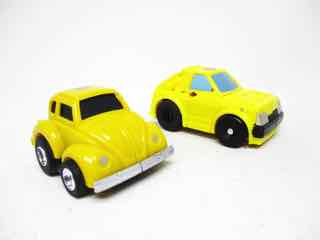 Transformation involves taking a flap on his back, folding it down, and putting the figure face-down on a flat surface. That's it. It's not particularly fancy, but it works, and it's a fun interpretation of the character as seen in the 1986 movie. There's not much too it, it's just an accessory that should delight collectors and perplex those seeking a value pack.
For those just wanting a G1 Bumblebee, there aren't many choices on retail shelves right now - so this is as good as any. It looks cute enough, it's colorful, the articulation is nice, and it's potentially findable if it hasn't yet gone on clearance or just plain sold through. A $20 deluxe is a much better deal, but it's not bad. It just doesn't feel like you're getting a $10 core-class toy and a $5 bonus - if Spike were a $3 blind bag you'd be fine, but at $15 it feels a smidgen expensive. It might be the perfect companion for your Titans, though, so if you're looking for scale robots maybe just get it to be safe.
--Adam Pawlus
Additional Images

Click here to see more Hasbro figures in Figure of the Day.
Click here to see more Transformers figures in Figure of the Day.

Want to buy this figure? Check Transformers availability at our sponsors:
Entertainment Earth