Micron Micromasters Stingracer, Fireguard, Roadburner, Windstorm, Runner, and Motorhead
Encounter 2 - Amazon Exclusive

Transformers Generations War for Cybertron Trilogy Galactic Odyssey Collection Set
Item No.: No. F1145
Manufacturer: Hasbro
Includes: Blaster to plug on to Roadburner
Action Feature: Transforms from vehicles to robots
Retail: $29.99
Availability: February 2021
Other: Micromaster Earthrise redeco collection (well, technically Siege too)

PREVIOUS
RSS
NEXT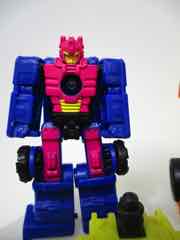 Adults buy toys for all sorts of reasons. Desk decorations, things to fidget with, obsessive collecting, or to remind themselves of a toy they had or missed from their youth, they can serve any of a variety of purposes. Micron Micromasters Stingracer, Fireguard, Roadburner, Windstorm, Runner, and Motorhead seems to cover all the bases - you get some never-before-toy characters, and some updates of "missing" remakes. Now when adults buy toys, sometimes they get something that could be life-changing, a piece of plastic that transcends the status of plaything and could offer some insight into engineering or play or maybe some unlocked childhood memory. I assume this is just mostly for Micromasters junkies - the figures themselves are a couple of nods to Kenner's M.A.S.K. line (albeit faded in Windstorm's case) and the others are fine. They're close enough - the sculpts aren't new, but you're old and your eyes are crappy. Maybe you won't notice the heads aren't quite right.
Some of my pals collect their favorites, and some collect due to some level of sport - take BotBots, or Mini-Cons. I don't tend to subscribe to the "it's fun to collect a lot of a small thing" ideal anymore, mostly because characters with no real name recognition from the comics or cartoons (or toys, really) are easy to forget. This quartet also drops the faction sigils we saw in Siege and Earthrise. This makes them truer to the 1990s late G1 toys, but removes what little personality recognizable landmarks the toys have.
Click here to check availability at Amazon.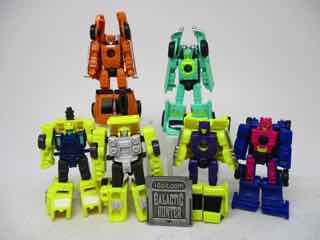 Stingracer and Windstorm are updates of existing Hot Rod Patrol members Trip-Up and Daddy-O (previously Big Daddy.) They look like the Stinger and Hurricane from M.A.S.K., and are just fine. The orange car is a good match for the original, but Windstorm looks like a faded or possibly Sun-bleached take on the vibrant and gorgeous Hurricane's colors. As a place from which to draw inspiration, it's a good one and the resulting toy is a wonderful little nod to the genuine article. It will also no doubt create demand for Deluxe-class toys based on Kenner's old powered-up car molds, but this is still pretty nice. I would have loved some more paint - but Windstorm's nice. You get some nice fading flames, a silver engine, painted bumpers, and the sneaking suspicion you just paid $30 for this one.
Stingracer has more paint than he needs in car mode, and a perfectly nice robot mode. Much like Windstorm, there's no G1 antecedent so these are original characters and as such, are perfect. There's no expectations to dash - it's just a very nice 1970sy orange hot rod with a big silver engine and some silver and black detailing. They also painted some red stripes on the sides, which were an absolute waste of effort against the orange plastic in most lighting. I was surprised to see them. It's a nice tribute to another old toy but it would've been nice if those stripes were more prominent. I still like it. I assume you will too, if you're a fellow fanatic about American toys of the 1980s.
Motorhead (I can't believe they got the name) and Decepticon Runner (formerly Barricade) are repaints of Ground Hog and Roller Force, respectively. The car isn't a perfect match for our pal Motorhead, but the colors are pretty good - if not as saturated - and the robot colors are good enough. The 2021 toy's eyes were replaced by a visor from the G1 original, and the new toy also loses the big yellow diaper. While not as accurate, it is hard to deny it's better. But with no Decepticon symbol, and no really great landmarks, he's a nobody - he just helps to update his team.
Decepticon Runner is the same kind of thing - it completes an old team, updates the colors a bit, and actually has a very good vehicle mode. Nothing's perfect, but it's close enough - I can't imagine they're going to take another crack at Micromasters in the next several years without a breakthrough in manufacturing. If you bought the previous molds, these are just as good - although I do find the colors to be more pleasing on this release.
Color sure is an issue in this set, because it's 50% yellow. And it's the same yellow.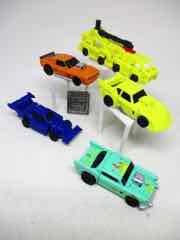 Last up are Fireguard (front half) and Roadburner (rear half), which can merge to make a single vehicle. Fireguard is a new character, but is really an update of Wheel Blaze - Target released him as a firetruck exclusive a few years ago, so they needed a new front half for this duo, and here he is. Because he's a new guy, he doesn't have to look like his predecessor - and he's good. Grey thighs, blue torso, white windows, and so on - he's really close. The head has a blue face, but the helmet of the 2021 toy is yellow rather than blue like the 1990 version.
Roadburner is the back half of a missile truck this time, rather than a fire engine like he was in 1990. You get a black cannon instead of a red ladder. The figure's head is now yellow instead of white. It's a good update - it's not the same as the original, but it's close enough. The combined vehicle is nice enough, and while all the duos in this set can join to make a blaster for your bigger figures, I would argue this is the only one that doesn't make me sad.
This may seem like a contradictory conclusion - this is a well-executed set where the artists at Hasbro did an exceptional job creating 3 new guys (technically) and 3 G1 remakes out of existing molds with no new tooling. Hasbro hired good people and they did a marvelous job on this project, which comes in a box with a nice map and a card thing. Will you care? Probably not. Stingracer and Windstorm are utterly delightful little cars, but I know their fate will be to go into shoeboxes or to fall behind bigger robots on a shelf. Transforming figures smaller than 3-inches tall tends to be demoted to being an accessory, and Hasbro's phasing-out of the micro guys kind of says it all. It was wonderful they brought back the format. It didn't click. If you ever see this set for a good price, it may be worth getting anyway thanks to the M.A.S.K. references and the yellow mega-blaster mode. But, I assume, if you get these you'll stuff them in a drawer to make room for bigger, better figures.
--Adam Pawlus
Additional Images

Click here to see more Hasbro figures in Figure of the Day.
Click here to see more Transformers figures in Figure of the Day.

Want to buy this figure? Check Transformers availability at our sponsors:
Entertainment Earth