Glyan Glyorian
Worlds Collide

Glyos System Series
Item No.: No. n/a
Manufacturer: Onell Design
Includes: Alternate head, cape, scarf, backpack, blaster, knife-gun
Action Feature: Pops apart, customize it if you dare
Retail: $16.00
Availability: December 6, 2020
Other: Sensible homage is sensible

PREVIOUS
RSS
NEXT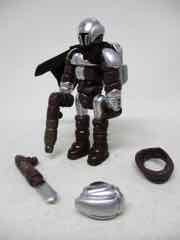 One of the fun things about Onell Design's Glyos toys is how it pays tribute to its inspirations - and that which followed it. The Glyan Glyorian winks at the offspring of one of its inspirations, slathering it in paint and ensuring that you're in on the joke. This figure takes the basic bones of an indie figure from over 10 years ago, adds a cape and some paint, throws in a few extra parts and pieces, and voila - a tribute to the most popular sci-fi figure of 2019 and 2020... and probably also 2021.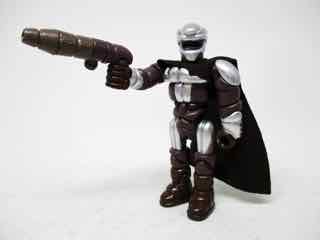 Even Hasbro didn't bother to do a cloth cape for any of its releases of The Mandalorian in the first few years, so it's nice to see Onell Design made use of its ample cloth capabilities. The basic 3-inch Glyan figure is the same as always, but the brown cape fits nicely on the figure's back to give it a different silhouette. If that's not enough, you can shove it aside to the right a little bit by plugging in a silvery backpack, just like his inspiration. If that ToyFinity-inspired piece isn't enough, there are more pieces of weapons from that line to outfit his arsenal to your liking. There's even a second head, to further customize the figure. Depending on how much you squint, it's not hard to see this as a tribute to another of the inspirations for Glyos, and that's Takara's and Mego's Micronauts toys.
Glyos figures are generally a series of swivels, allowing for sturdy construction and decent articulation. The figure can stand and sit just fine, with some elements in the arms allowing you to make it look like they "bend" a bit - they don't, mind you, it's just a good use of swiveling. The legs are also made up of multiple pieces, which can change up the look of the sculpted limbs without changing the molds. As always, the Glyan fists are the Glyos peg holes so he has no problems holding on to his weapons. Everything just works.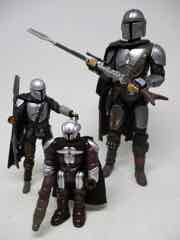 Other than the scarf, which I don't feel adds much of value, everything else is useful and makes sense to enhance the figure's play and display functionality. The printed face on the main head recalls a certain helmet design, teh alternate head just plain looks cool, the weapons are functional and nifty, and the colors are more or less right where they need to be. Also this one indie figure wave had more characters from The Mandalorian in a single scale/line than most of the officially licensed ones, which have so far proven to be good but thin and scattered. It's strange to say that the best overall character line-ups for toys may well be LEGO and Glyos, but here we are - there's a lot of room to do more, and Onell Design will undoubtedly salt in a few more as the line goes forward. It's a weird little gem, but that's the world of indie toys in a nutshell. There's no real benefit to completism, but you're going to find dozens of gorgeous, weird, and generally awesome little toys that may speak to you in ways that the plastic at big box stores won't. Sadly the Glyorian is long sold out, but if you can find it at a fair price you should pounce on it. Or nag Matt to make a Glyorian II in colors matching Mando's appearance in the pilot, with different colors of armor and pauldrons and such.
--Adam Pawlus
Additional Images


Click here to see more Onell Design figures in Figure of the Day.
Click here to see more Glyos Compatible figures in Figure of the Day.