Grimlock & Autobot Wheelie
Transformers - Studio Series 86 #06

Transformers Studio Series Leader Class Toy
Item No.: Asst. E0703 No. F0714
Manufacturer: Hasbro
Includes: Display Backdrop, blaster, wheelie, slingshot
Action Feature: Transforms from "Dinosaur" to robot
Retail: $49.99
Availability: January 2021 (preview launch in February)
Other: Good robot, uh, let's say it's a good robot

PREVIOUS
RSS
NEXT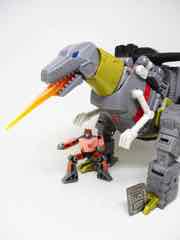 You get your money's worth with Grimlock & Autobot Wheelie. Grimlock is about as big as a Masterpiece, Wheelie is a 5-jointed non-transforming figure with a slingshot. For $50, the rather large Grimlock alone would be a good deal - although the jury may be out on of Wheelie is a more compelling accessory than a sword or some other element.
The backdrop is a nice touch too - you get your money's worth here. If you've been collecting Generations toys, the Leader-class has been pretty small since late 2018. This is the biggest "classic" Leader since War for Cybertron kicked off, and for that reason alone it's worth a look. If Wheelie were sold for five bucks you'd probably be happy with him too - but since he doesn't transform, he's not exactly exciting. He's fine. But Grimlock is impressive.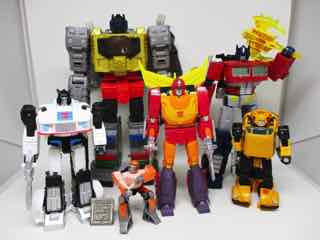 I cant say Grimlock is perfect or potentially the last one you'll ever buy - he's good, but just one look at his chest and you have a convincing argument for an upgrade pack. If Hasbro tossed in a few more of his toy's accessories, and/or included a non-nearly-opaque chest piece that hides the Autobot symbol, he might be the best Grimlock in the modern era of toys. He's big and chunky, with a sculpt that mostly hews to the cartoons - but you'll recall, he didn't do a lot of transforming in Transformers: The Movie so it's curious his robot mode was emphasized at the expense of the dinosaur mode.
Unlike his Studio siblings, he has 5mm ports all over his arms and legs - this makes me wonder if the design was, at one point, meant for Earthrise or another War for Cybertron line. The silhouette is pretty close to the animation model, and this chunky 8-inch robot has 22 meaningful points of articulation with such niceties as rotating wrists and tilting ankles. You can see painted stripes to resemble the toy's labels, but that opaque window on the chest completely obfuscates the Autobot symbol. It's screwed on so you can replace it if someone makes a good third party kit piece. I have yet to buy a third-party upgrade but this might make me break that streak. There's really no reason for it to not be correct, early test shots had this piece - and seemingly the dino neck - in clear plastic.
Grimlock's head looks like the later animation designs with a nice blue eye window. The head is pretty simple overall, without a lot of expressive detail - it's clearly animation model chic. There are articulated dino claws around the hands which serve no real purpose, but hey, it's something. I had no problem getting him to stand with his giant boots, and it's a worthwhile upgrade of the original toy. Having said that, yeah, Hasbro can do better with a redeco with some new accessories.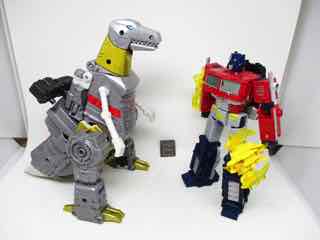 Dinosaur mode is not quite as refined - the dinosaur tail is made up of boots, so it's bulky and kind of not great. There's room for improvement here. I do love his T-Rex head with opening jaw, complete with 3mm port to mount a C.O.M.B.A.T. blast accessory. The tiny arms pop out a little easily, and are articulated at the elbow as well as the shoulder. For some reason the neck is painted rather than toy-ish clear like the prototype, and thanks to the tail-drag design he has no problems standing. Unlike the robot mode, the Autobot chest is visible in this mode and it looks great! From most angles! If he was $50 alone, the value is here. It's big.
Wheelie is a nicely-painted, 6-jointed figure with a removable tiny slingshot. His knees are permanently bent, otherwise he would be the same basic height as a Core-class toy. With a little work you can get him to balance while standing, but he's designed to sit on Grimlock. There's a peg under his thigh that fits on Grimmy's shoulder, but my sample's peg is too big for the hole - so good luck with that. The deco is good, with orange and a peachy color painted on a grey body with silver on his face and nice blue eyes. I'm not saying it's a replacement for Titans Return Wheelie, but it's certainly a good supplement. As accessories go, he's no slouch and can be posed "dancing" or pulling back on his weapon.
If Hasbro finishes the team and they're as good as Grimlock, then we're about to have $250 worth of awesome Dinobots. I don't know why Hasbro has largely ignored this team for updates in its "Classics" and "Generations" lines, as Grimlock gets a new toy once in a while but the other guys were largely ignored until 2018. They did great work, but there's certainly room for some upgrades (or a running change) as well as the obligatory request for Generation 2 deco. If you have the Masterpiece Edition, you might get along just fine without the 2021 Studio Series Grimlock - but it's simple, sturdy, and relatively cheap for what you get. And it's not like you're eating out or going on vacation right now, so if you budget a few bucks for the inevitable upgrade set you'll probably really dig this.
--Adam Pawlus
Additional Images


Click here to see more Hasbro figures in Figure of the Day.
Click here to see more Transformers figures in Figure of the Day.

Want to buy this figure? Check Transformers availability at our sponsors:
Entertainment Earth