Cyclonus
WFC-K9

Transformers Generations War for Cybertron Kingdom Voyager
Item No.: Asst. F0365 No. F0692
Manufacturer: Hasbro
Includes: Blaster
Action Feature: Transforms from robot to starfighter
Retail: $29.99
Availability: December 2020
Other: Give until it Hurts

PREVIOUS
RSS
NEXT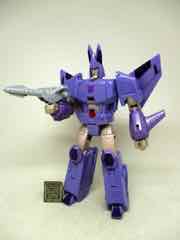 While Optimus Primal packed a lot into a small toy, Cyclonus is refreshingly by-the-book - just like the cartoon character. Unlike previous releases, he has no Targetmaster buddy. There's no combiner feature. It's just Cylonus, decorated to look more or less like TV Cyclonus, with a transformation that's so intuitive I didn't need to consult the instructions. He has marvelous neck articulation, great eye-port light-up red eyes, exceptional articulation, and he's big. Is he perfect? No - the thighs are painted silver and are prone to scraping as part of how the transformation works.
I went bonkers for the Universe toy in 2008, which delivered unto us a very tall Deluxe-class robot and a Targetmaster buddy for about ten bucks. This new big one is $30 - it's a more complex toy, but you might have a hard time making a case for it being three times as good as what you got a decade ago. It is unquestionably the better toy - but you might want to keep your 2008 model around (and a Drift) to swipe their accessories for the new one.
Click here to check availability at Entertainment Earth.
Toys like this Cyclonus are more or less what I pictured a perfect future to be when I got Generation 2 Laser Optimus Prime nearly 20 years ago. Big, simple, nicely articulated figures with decent personality are what I prefer - and while Cyclonus has some clever bits, it's not as frustrating as some toys which include mass-shifting puzzles that demand use of instructions just to verify what you're about to do won't break off a tab.
The 7 1/2-inch robot mode is a gem, and probably about as close as you can get to one of those fancy collector figures that can still transform. The elbows and knees bend slightly more than 90 degrees, and there are articulated, swivel wrists as well as ankle tilts. While a lot of Kingdom toys seem to be (shall we say) inspired by Masterpiece Edition toy engineering, this one exists in a world by itself with 26 points of articulation. That's a lot. The big boots stand nicely, and the arms have a great range of motion. If you wanted to give him a sword, you can indeed pose both arms to double-grip 2010 Drift's sword. He has no problem holding his own blaster, or the 2008 Targetmaster Nightstick.
Colors are largely inspired by the cartoon, as the figure lacks the big stickers and darker purple plastic. It's lighter and the design is quite good - the wings are on the arms, so movement isn't restricted. The head can swivel and pivot up and down, too. I would have loved some extra gear (and would happily have paid for it,) but the robot mode is good by itself. Cyclonus is largely more fun than the other War for Cybertron Voyagers, and I'd say he also feels better - ignoring the pricing - than the bulk of the Leader-class toys in Earthrise and Siege. You may be happy with the Cyclonus figures you've already got, but this one is better. It just is. It can't combine, but it's just very much the best retro Cyclonus so far.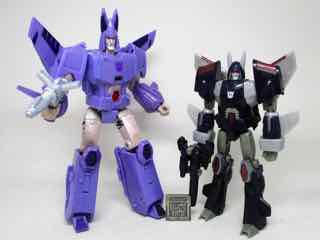 The transformation was surprisingly intuitive - and points out that the toy was partially mistransformed in the box. Elements like swiveling forearms and folding-up shoulder wings improve the robot's silhouette, and everything shifts in place nicely for the starfighter mode. The one thing that scares me are the thighs - they're painted, you see. You have to tuck them inside the shins, but the shins don't open - some scraping is possible. You may want to buy a second one to never transform. If Hasbro ever makes a version with molded-in-color thighs, I'll probably buy that to transform repeatedly so this one stays in good shape. Little details like the fists rotating around to engines make both modes look better.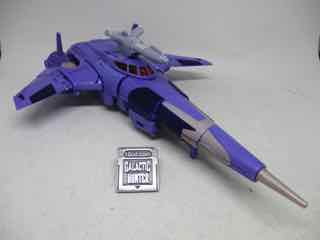 The vehicle is also one of Hasbro's best efforts, with retractable landing gear and a decent silhouette. Previous 21st century Cyclonus plane modes were either robot parts wadded up in a vehicle shape, or a vehicle backpack with a robot crouched under it. This one is more convincingly a robot that turns into a space ship. You can mount the blaster on the top of the starcraft, and wave it around and make "whoosh" noises.
Given what you get for your money, this is one of the few Voyager toys that's unquestionably good enough to warrant the $30 price tag. It's big, it's fun, both modes look good, and it's a character you'd probably recognize (as having no lines in the 1986 movie.) From where I sit this is one of those figures from this particular line that I hope I never have to sell - unless they make a better one. This figure - minus the thigh transformation - seems to rely on what worked for the bulk of the last three decades of transforming robot toy improvements, while adding in some of what made some of the more recent action figures better.
--Adam Pawlus
Additional Images

Click here to see more Hasbro figures in Figure of the Day.
Click here to see more Transformers figures in Figure of the Day.

Want to buy this figure? Check Transformers availability at our sponsors:
Entertainment Earth