Decepticon Runabout
WFC-E41 - Target Exclusive

Transformers Generations War for Cybertron Earthrise Deluxe
Item No.: No. F0125
Manufacturer: Hasbro
Includes: 2 blasters
Action Feature: Transforms from robot to car
Retail: $19.99
Availability: December 2020
Other: Predecorated as Runamuck

PREVIOUS
RSS
NEXT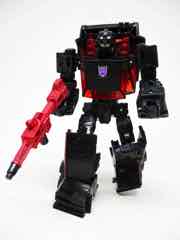 While I am not a completist on any current Transformers line, I buy pretty much every unique character they make. Do I need G1-cartoony Optimus and Megatron? No. But Decepticon Runabout? Yeah. I didn't have the toy as a kid, I didn't read the old comics as a wee lad, nor did the cartoon appearance make an impression. But I like the car mode a lot, and the robot mode is no slouch - and I'm short on Decepticons. How could I say no?
Along with his "twin" Runabout, these guys are a duo of dumb thugs from the old days. This is the better of the two - more colorful, a bonus gun, and the car mode deco is more appealing. The red windows are delightful, and if you can only get one of the two, make it this one.
This is a good, but mostly by-the-numbers toys. It's kind of boxy and feels like they translated an animation design to a toy without doing too much to improve on it much. The design itself doesn't scream "I am new, love me" but the attention to detail does. There are faux wheel heels behind the real wheels, because the other pair of tires are folded back behind his head in the car boot bonnet. This gives him big feet and increased stability, plus it recalls the original toy from the 1980s which has all four wheels behind him as a pull-back motor mechanism. Action features used to be a part of toys, rather than something designers seem to be ashamed of in the collector eras. With 22 joints, he stands about 5-inches tall at the shoulder kibble backpack.
The figure stands well and looks great. The red trim really pops nicely, and the decision to paint the face dark silver helps the unmasked part pop. The eyes are red, but are in shadow depending on your lighting conditions. This is the kind of thing that makes me miss light-up eye ports. There are 3 3mm C.O.M.B.A.T. warts on the robot body for your blast effect pleasure - and they blend in nicely. The black plastic does an excellent job hiding them, unlike almost all other colors of plastic we've had thus far.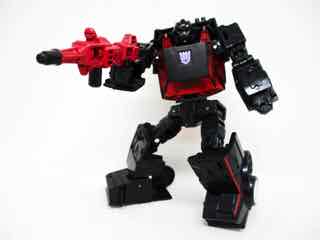 The transformation is a little fiddly - I had issues getting the panels to fit properly and perfectly, but Runabout was more problematic. Maybe the black hides my mistakes better. Everything tucks in sensibly, and the fake car roof chest is a nice, goofy, modern touch that shows just how far we've come since the 1980s and how we're also totally off the mark from what made the originals what they were. The end results give us two good modes, but the fake bits always kind of weird me out in that it seems to disregard what made the old toys so neat - that kibble was there for a different reason. Now it's cosmetic. That seems wrong.
The off-brand Lotus Esprit X180 is gorgeous. It reeks of the 1980s for so many reasosn - it's just a tiny bit boxy. It looks a little like K.I.T.T. because of the red pin striping. It's sleek. There's very little rounded here, just how I like it. I'd almost be tempted just to leave him in this mode all the time.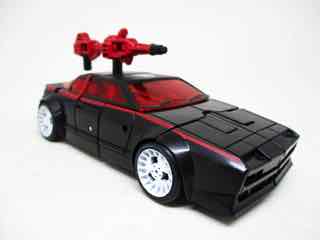 Because you absolutely need more goons for Megatron or Galvatron or whoever, you will want this one. There are plenty of black cars out there, but this is the best take on Runabout yet. (Also I missed the club exclusives.) I don't doubt there may be better ones some day, but when? And how much better? I can't say. If I stop with this model, I'll be set for life on Runabouts - unless they can make a simpler transformation, of course.
--Adam Pawlus
Additional Images

Click here to see more Hasbro figures in Figure of the Day.
Click here to see more Transformers figures in Figure of the Day.

Want to buy this figure? Check Transformers availability at our sponsors:
Entertainment Earth