Unicron
I'm the Biggest One

Transformers Generations War for Cybertron HasLab Hasbro Pulse Exclusive
Item No.: No. F0858
Manufacturer: Hasbro
Includes: Face plate, chin plate, black display stand, clear head display stand, Autobot Shuttle, micro purple Galvatron, micro red Hot Rod, sprue of screw caps
Action Feature: Transforms from planet to Chaos Bringer
Retail: $574.99
Availability: February/March 2021
Other: I've got no one to blame but my fat self.

PREVIOUS
RSS
NEXT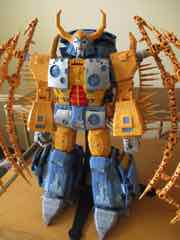 The 1980s kid demographic - your young Gen X-ers, your Xennials, and your old Millennials, are old enough now to be like the Boomers were for their music in the 80s and 90s - you know, insufferable. Toys today rely heavily on nostalgia for that era, and Unicron does what some have dared to try - to make the biggest, best thing and charge you accordingly. Since 2003 we've had a lot of Unicron toys - some big, some small, some transformable, and some not. We've even had some retooled to look like this one - but at a bit over a foot tall, they weren't the same as this 16-pound, 27-inch-tall behemoth. This is the kind of thing you get as a fixture in your home, but to review it is almost pointless. You can't get one for retail price - right now it's all eBay and it's all over $1,000. Unless an army of toy-flippers bought extras, you may very well never own this exact toy until the shine wears off. There's precedent either way - Snake Mountain came down since it first hit homes, while the Sail Barge just gets more expensive.
HasLab Unicron exists in the intersection of two kinds of collectibles - the adult fan action figure, and the statue. You're probably going to pick a mode and dust it. You can pose the fingers, the jaw, even his eyes - but you can't really see the eyeballs behind the clear eye coverings. It's neat, but you had to pay for extra moving parts and can't appreciate them. The same is true of most 6-inch collector figures - some of the joints are great, but some are behind skirts, jackets, or other garments that prevent them from being used or appreciated.
While unquestionably better than previous Unicron toys, it's basically a super-articulated figure in a candy shell. It doesn't have a lot of play features. 2002's Armada Unicron was loaded with firing rockets, light-up eyes and hands, a Mini-Con buddy, and other odds and ends. You could plug Mini-Cons on to his ring, play around with the chomping mandibles, and generally have a great time for fifty bucks. It had huge feet and articulated fingers - other than its size, it was certainly good enough for the time and more or less scratched the itch. Adjusted for inflation, it would cost around $75 today - and would be well worth it.
This new Unicron has none of the "toy" features you may want outside of planet mode and one in robot mode. You can tear off the head and have it on the display base - a nod to the end of Transformers: The Movie and season three of the original cartoon. The planet mode's mandibles can move and there's a marvelous opening jaw feature, but the chompers don't chomp on this one. You can also plug C.O.M.B.A.T. blast effects to various points on each mode, but they're so small it kind of seems pointless - it's good to play up the "invincible" nature of the character, but it doesn't impress.
Click here to check availability at Amazon.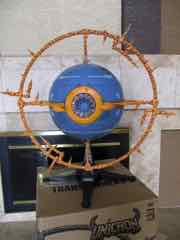 Some assembly is required - take note if you haven't opened yours yet. The instructions have special steps to get the ball on the display stand on the last page. Consult those first. Once the ball is on the stand, you will need to pop out the mandibles and assemble the various yellow spiky bits. They're a little bendy, which is good because otherwise I guarantee they would snap. The planetoid mode is quite a sight to behold - the chomping jaws are a treat to play with, and there are lots of places to attach blasts if you want. The roving rogue planet looks like a fun riff on keeping a globe in your office, albeit more garish than the actual planet Earth with spires and other elements serving little known-to-me functional purpose.
It's pretty stable on the big black base, which also requires a bit of assembly - it's simple and quite clever. The base plugs in to an arm, which has another chunk of plastic you insert to lock it all together. It's sturdy, and needs to be.
Thanks to that maw, the planet mode is arguably a more fun toy than the robot. Even though it's just one simple feature, it is a lot of fun and you'll enjoy it. It's worth noting the all-yellow maw (and indeed, the whole toy) have had changes since the prototype - the chomping teeth are still yellow, but the surrounding area is now a blue color. It's not what was promised and doesn't quite match my memory of the movie (or the stills I just examined), but I also don't care as much as some people. The toys rarely look exactly like the on-screen counterparts, and sometimes we're better off for it. In this case, it's just different, but not in a way that ruins the toy. It still works well.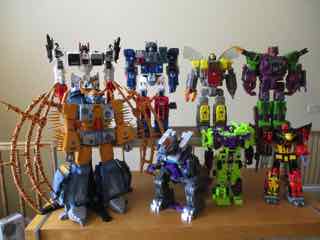 Transforming the toy requires some disassembly. The rings must be removed, and you'll note that keeping him on the stand makes it easier to convert. Getting the various panels apart is tricky, but folding them in place is simple thanks to the fact most have tabs and slots, and are largely obvious as to where they should go. It's a big puzzle that's relatively easy to figure out, although snapping the legs free takes some force. Follow the instructions - at the end, you plug on the head which was detached for the shipment. Some tissue paper inside kept parts from scraping too, so that was another interesting surprise.
The robot itself is exactly what I expected - which is almost disappointing. Other than the lower jaw's teeth being unpainted blue rather than silver like on the prototype, it is exactly what was promised with lots of articulated fingers, ankles, and gosh darn everything. You can pose it, he can look like he's eating things, or holding your phone, or whatever you might like to do. It's like a small child. You can swap out the default chin or face plate with alternate models for a pointy beard, or for a battle-damaged face. I appreciate the options. Behind the face plate are two eyes with green orbs, but they're not very visible with the plate on. It's a cute bonus, but Hasbro could probably have cut costs or included LED lights to make it more interesting. It doesn't serve much of a purpose beyond being a play feature you don't get to fully appreciate.
As of this review, this is the biggest transforming Hasbro Transformers toy available to consumers. As far as I know it's also the biggest to ever get prototyped - and it's huge. It's bigger than the other Titans, but not by a ton - it may have three times as much mass as the other guys, but it's only a few inches taller. After the really nice $160 Scorponok, one would probably hope Unicron was twice the size (at thrice the price), but he isn't. He'd probably be too hard to ship if he got much bigger. Considering what you have paid for smaller Unicron statues over the years, the toy probably has enough features to delight anyone who gets their hands on one for a fair price.
From a development standpoint, Hasbro was creative and cut a few corners to save money. The robot arms and the planet mandibles are the same part, just rotated around. It's the same arm, and the same fang - how did they get away with this? It's really clever - screw covers. That's right - Hasbro included gap fillers. At first you may notice the screws and assume there's something wrong with yours, but Hasbro gave these little bits of plastic to plug up the holes and it doesn't look like they doubled up on parts to cut their tooling costs. This is exceptionally clever, and I wonder if they're going to use these techniques with future toys. They fit in snuggly, but I had to tap some of them in using various tools. To say the least, I was impressed - to make a toy like this is expensive, and any effort to keep costs down is a noble one. Particularly if it doesn't hurt the final toy.
Right now I fail to imagine Hasbro ever doing another Transformers toy this big for the adult collector ever again. There's no story-based reason to do a bigger toy (other than Unicron XL), but I could see Hasbro doing a 36-inch 1-step Bumblebee for kids some day. Until that day, though, Unicron will remain king. A holy grail for pre-sales only, and something I have little doubt they could have sold double or triple the number if they ran it again. But they won't. I hope you are happy with whatever choice you made regarding this figure's purchase, or lack thereof, in late 2019. As I am fond of saying, it won't change your life, it won't bring back your youth, it can't make up for the last few decades or even the last year. It's also a little bittersweet to get this at my current age, rather than at an age where I could devote hours to playing with it and having a lot of fun with it - this is the reason I completely understand why people would skip it. In the grand scheme of things, you're likely to get just as much fun out of a robot in disguise that's $20-$30 or $100, and at $600 it's a bit too big to spend all day playing with it. But it is cool - and it's the kind of thing you probably want in your home theater.
--Adam Pawlus
Additional Images

Click here to see more Hasbro figures in Figure of the Day.
Click here to see more Transformers figures in Figure of the Day.

Want to buy this figure? Check Transformers availability at our sponsors:
Entertainment Earth