Warpath
WFC-K6

Transformers Generations War for Cybertron Kingdom Deluxe
Item No.: Asst. F0364 No. F0671
Manufacturer: Hasbro
Includes: Tail whip
Action Feature: Transforms from robot to General Motors M551A1 Sheridan ARAAV tank
Retail: $19.99
Availability: December 2020
Other: Tanks for a classic

PREVIOUS
RSS
NEXT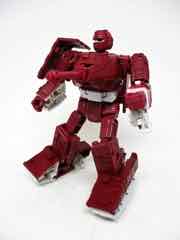 When collecting any toy line for a long time, you're eventuallyl going to get to a point when you're buying a remake of a remake - like Warpath. The 1985 toy was small, fun, and cheap - as was the 2008 Legends-class mini toy. Meanwhile the 2011 remake was a really big Deluxe and one of Hasbro's finest of that era, while the 2015 Legends-class one was more than a bit of a drag. The 2020/2021 edition we look at today seems to be a Masterpiece-quality toy on a Deluxe-toy budget. Other than Hasbro's increasingly peculiar choice of black or very faint eyes, this is about as good as this character is going to get at this price point. Why can't we get blue eyes? Seriously, why?
Much like the recent Bumblebee [FOTD #2,269] I struggle to see much room for improvement from here. If Hasbro can ever figure out how to deliver the instant transformations of the 1980s toys with modern durability and articulation, I'd buy another Warpath. (I'd even be willing to let the articulation slide for really gorgeous 1-step toys.) But I digress - this is the new best Warpath, although most of the previous releases each offer something of value. I am also 100% in for new versions of those old Mini-Cars.
Click here to check availability at Entertainment Earth.
It's kind of remarkable to think that Warpath - a memorable, if minor, Autobot - has received four new (three new, one retool) toys since 2009. Each does a pretty good job of showing Hasbro's design ethos of the era, but all except for the lackluster Combiner Wars retool of Megatron bring something good to the table. The Kingdom toy does a good job trying to recreate a mix of the original toy and the animation model as seen in the Takara The Transformers Collection #12 reissue packaging.
Most of the original toy's landmarks are present - we lose the grey shoulders, sadly, but the unque sculpted tank chest is here - with a retractable barrel. The head still looks like the hatch on the turret, despite not actually being the hatch. The feet are still treads, as are the arms, and the eyes are black like the original toy. This throws me for a loop because the toy adds grey robot "skin" around the eyes - which is present on the TV show, but not any of the old toys.
It's a good combo platter of numerous existing interpretations of the character and his toys, yielding a mostly satisfying result. I have but one complaint - there's a "shield" accessory which adds kibble/partsforming, and I don't love that. It's necessary to hold the tank together. There's no good out-of-the-way place to stash it.
My unique-to-me problem was mine came misassembled - I had to knock a pin out of the arm and flip it around to get it to be able to transform. You probably won't have this problem.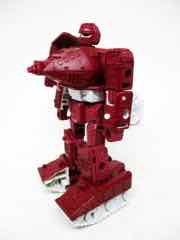 The transformation is surprisingly complex for an update of one of the simplest toys of the 1980s. You basically know where all the parts and pieces go, but the legs are packed with twists, flips, and panels that may make you want to hang on to your instruction sheet. For those lamenting the lack of an overly complicated Masterpiece toy, consider this an appetizer. It'll keep you busy but not take an afternoon of work to convert. Also be sure to not misplace the shield, it holds the front halves together.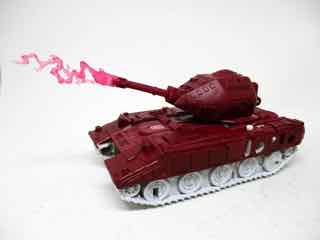 I very much like the tank - it's cute. The turret is round and bulbous, like the original toy and most likely your memory of the original toy. The grey panel behind the turret is now red, and matches the rest of the toy. There are rolling wheels which don't roll terribly well, and at this point could be dropped and most wouldn't miss them. The classic rubsign sticker is gone, replaced by an Autobot symbol. The colors don't precisely match the original toy, but they look good - they're good enough.
Unlike most alternate modes of "collector" toys, this one has some fun play features. The turret rotates smoothly, with the cannon able to telescope in or out, and pivot up or down. There's a 3mm peg on the tip for C.O.M.B.A.T. effects, and there are a couple of zits on the tank which can also be used for this purpose. One is in a distracting grey, the other is in a subtle red. I really don't think it was good to draw attention to it, but as far as manufacturing goes they made the right call so paint doesn't rub off over time. It's a vehicle that looks like what's in your head, without being an H-tank or some other configuration that may feel "wrong." As an added bonus, some 5mm holes can be accessed from the sides so you can power him up with added weapons.
Other than the eyes - and Hasbro could (and should) reissue him later with new deco - this is probably as good as you'll get. He's about as tall as most average Deluxe toys in this line, standing the same height as Bluestreak and Smokescreen. He's taller than the other new Minibots/Minicars, towering over Bumblebee and any pre-War for Cybertron "mini" Autobots like Seaspray or Powerglide. This new era does a good job of matching TV show scale, but those wanting toy scale may be disappointed. I'm not even sure what the best option is these days, so I'm glad they're trying everything so odds are one of these toys should fit the bill for whatever your needs may be. While Warpath does not offer any surprises, neither does your average Marvel Legends or The Black Series figure. It's good, it delivers more or less what your imagination wants, and it's $20. Next stop, a bigger (but not huge) Powerglide? We can hope!
--Adam Pawlus
Additional Images

Click here to see more Hasbro figures in Figure of the Day.
Click here to see more Transformers figures in Figure of the Day.

Want to buy this figure? Check Transformers availability at our sponsors:
Entertainment Earth