Paleotrex
WFC-K7

Transformers Generations War for Cybertron Kingdom Deluxe
Item No.: Asst. F0364 No. F0672
Manufacturer: Hasbro
Includes: Tail whip
Action Feature: Transforms from robot to bag of bones
Retail: $19.99
Availability: December 2020
Other: Fossilizer. Dig it.

PREVIOUS
RSS
NEXT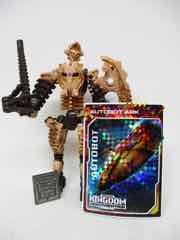 The Bernie Sanders in a chair meme of robot toys! Back in the days of the Beast Wars in the 1990s, Maximals were generally birds and mammals, while Predacons were generally bugs, dinosaurs, or reptiles. Bones in Kingdom are a new addition, with Paleotrex joining team Predacon with a fancy bone logo on the instructions. It's almost a wholly new thing, but it's a turducken of notable, and surely mostly intentional, references to older toys. It's probably a coincidence that the figure looks like the fossils Megatron scanned, but the robot mode head is a doule-reference. You can flip up a battle helmet like the old "mutant heads" in 1996, with the "masked" head appearing to be a clear nod to Optimus Primal's original skull-head mace. (You can even pop it out and use it as a weapon, while keeping the bones mode intact.) I also assume the entire Fossilizer premise owes a small debt to Kenner's classic (and obscure) Bone Age toy line in which action toys and construction toys met in a very 1980s-middle.
Since Paleotrex existed as a toy without any prior involvement in comics, cartoons, or a toy line, there's no basis of comparison - he's the best one.
Click here to check availability at Entertainment Earth.
The toy has three modes - dinosaur skeleton, robot, and weaponry. It's packaged in the least interesting mode, as robot-of-bones doesn't particularly look like any specific character. Weird, long fingers from the dino feet feel like something we should have had as kids, while the feet themselves are quite dainty - and sturdy. The heels are a bit longer than necessary and as such work just fine. The robot is nicely jointed, but no matter what you do it still looks like a robot made by someone who didn't look at the bone mode's instructions. It's a great premise, and a nice bonus. The other modes are what make this a toy worth spending your hard-earned cash to get.
You get Paleotrex to his other modes through dismemberment. The instructions offer some nifty weaponry configurations that range from clever to kind of goofy. What matters is that it's fun. Toys like this are wasted on collector lines - kids would probably have a blast powering up their toys with the bones of dinosaurs. I immediately plugged mine on to last year's G2 Megatron and dang if it doesn't look like something I should have bought as a kid.
For example, I don't know why you'd want to have the torso and dinosaur legs reaching over a figure's back. You can pretend they're guns, I guess, but they're feet. The tail and torso bones make an excellent large axe, which is arguably the centerpiece of the weapon modes. The reason it's arguable is that the Tyrannosaurus Rex skull can mount on a figure's forearm and give them a t-rex skull fist of sorts, not unlike Beast Wars Megatron. There's also the aforementioned skull mace - no doubt going to your Optimus Primal - and a nifty chest bone that serves as a bony decoration or shield. That bony shield is something I wish I had more of from this set - I could totally see covering a figure completely in dinosaur fossil armor if I had enough parts.
While it is a bit of an awkward fit, the dynamic between ancient bones and neon robots is a good one. We got a tiny bit of this in the original Beast Wars, specifically on Dinobot, but it's an area with a lot of potential for new guys. (Ha ha ha, I know, I know. New guys in a collector line.)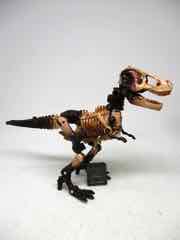 The dinosaur mode is good. I'm sure Figma or somebody have an articulated skeleton that's better, but this is really good. It has a good center of gravity and balances well. The tiny arms can move. There's a bony wipe that looks kind of like dirt... or another substance. This mode - indeed all modes - lack any sort of C.O.M.B.A.T. interaction that I can see, which is a pity given its prominence in the last two lines. I would've loved hooks in the skull to breathe fire! Rather than serving as a platform for Transformers gimmicks, it's just a really fun dinosaur skeleton toy. I was posing it for fun and sending pictures of it to friends who don't collect toys, who were wondering what was going on, which is what I think you do when your friend sends you some really cool plants and a bag of dirt for Christmas. But I digress. This is one of those toys that might just be fun for you to own if you like dinosaur toys. The other modes may not be worth much to you, but it's a top-notch futz figure.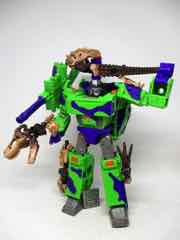 What makes the toy particularly interesting is seeing what people on social media did with it - or three or four of it - building larger toys and robots like a construction kit. I've seen some pretty impressive combined modes out there, and while I lack the talent (and parts) for it, I assume these things will do a good job keeping him out of the discount ranks.
It seems this toy was made specifically to knock you out of your complacency if you're a long-term fan of this line. You can't do retreads of 1984, 1986, and 1996 forever - eventually you have to innovate or die, or expand to other years. The "Fossilizer" gimmick is a lot like the previous lines' Weaponizers and Micromasters bases, but this one may be the most fun. If you've got a bunch of War for Cybertron toys, get Paleotrex as a funky upgrade pack. It's not boring, and unless you're overfilled with Dinozaurs and Bone Age, I doubt you have much else like it.
--Adam Pawlus
Additional Images

Click here to see more Hasbro figures in Figure of the Day.
Click here to see more Transformers figures in Figure of the Day.

Want to buy this figure? Check Transformers availability at our sponsors:
Entertainment Earth