Spoilers Inside
Walmart.com sold as "Only At Walmart: Transformers Generations War for Cybertron Series Leader Class Spoiler Pack"

Transformers Generations War for Cybertron Trilogy Walmart Shared Exclusive Netflix Set
Item No.: No. F0489
Manufacturer: Hasbro
Includes: Nemesis Prime, Giza, Fangtron, blaster, sword, 2 forearm blasters, 1 C.O.M.B.A.T. effect, 3 Energon cubes, Play-Doh
Action Feature: Transforms from Robot to Truck and Snake to Flat Surface
Retail: $59.67
Availability: November 2020
Other: Packaging does not tell you the contents

PREVIOUS
RSS
NEXT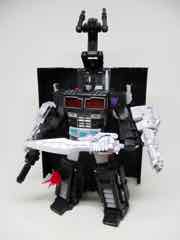 I got this figure last year and he's been on my desk ever since he arrived in November, and I even wrote the review several months ago - I just didn't get around to posting it (and liberating the Energon cubes from the Play-Doh.) It's a wonderful figure that's been on my desk for months, which is tough to do given how many toys I review here.
Version 2.0 of Spoilers Inside once again launched at $60 with no name on the box, but Nemesis Prime art on the side gave away what you would be getting. When Walmart.com launched this item for sale, it was with no names or toy images - it was a big blind box, meaning any yahoo could buy it, return it with something else in the box, and you'd be none the wiser. After the Ultra Magnus [FOTD #2,307] set hit in April - and was on clearance in May - Walmart seems to have opted to allow other accounts, like Entertainment Earth and Big Bad Toy Store, to sell the item as well. Reactions to Nemesis Prime were much more positive than the slightly grayer Ultra Magnus, no doubt in part due to a decent cache of extras, a better sidekick, and oh yes - the toy was effectively a different character.
I should note, this incarnation of Nemesis Prime did appear on the Netflix show in robot mode, without all the cool accessories. It was little more than a fleeting cameo, but hey, it's something.
The black redeco of Optimus is a mishmash of toys - you get Optimus Prime [Siege, FOTD #2,060] redecorated in black and teal with red windows. There's no battle damage, but you do get a silver stripe around the front and sides of the cab this time. The paint masks are all a little different, making this more than a simple color swap - but not a lot more. It's not like anything amazing happened to that already great mold, which kept the original Ion Blaster but dropped the shield/axe accessory. I don't miss it.
The Siege Optimus cab fits perfectly well with the Energon Optimus trailer, now in black with no significant changes beyond color and the Decepticon symbols. Most Nemesis Prime toys don't get trailers, and America doesn't get all of the Nemesis Prime toys in the first place - as such, this may well be worth it for you. I really like how the glossy black truck looks, and the robot's no slouch either. Early promo picks looked almost brown, but in person it's about as dark grey as dark grey can be before starting to be truly black. He has red eyes and a few nice teal accents, making him pretty consistent with all the other Nemesis Prime toys you've bought, shelved, or skipped for one reason or another. I think I like this one a lot more than the Japanese Siege exclusive toy which I just didn't get anyway. (But I do think their sword looks a lot cooler.)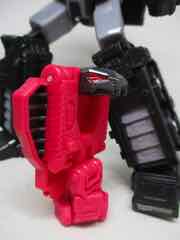 Fangtron is a red redeco of Slitherfang. The snake is neat, it can also be a shield or a ramp piece. I like the idea of ramps, but "turns from snake to flat surface" isn't exactly fun. It's functional, and it's different if you didn't get the purple original release of the toy as Slitherfang [FOTD #2,236] a few months ago. It's more in-character than a clear pink Rung, and the blast effect is a blast effect. There's no peg - it just has a 3mm hole to go on the barrel of smaller weapons or pegs on Nemesis or Fangtron.
Fangtron does not appear on the Netflix show, nor do any of the Battle Masters, ramps, Micromasters, or other little guys.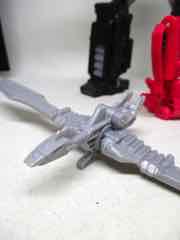 Giza is the same bird sword from Amazon's exclusive Power of the Primes Nemesis Prime [FOTD #2,022], so it can be a sword or a bird. The red painted sword and forearm blasters are also taken from that release, making this a great way to get them if you missed the now-expensive Amazon exclusive set. You also get the tub of Play-Doh with Energon cubes.
"Value" is the big question here, and I'm on the fence. It's neat, it's cool, but it's for collectors. You get a $30 Siege Optimus Prime Voyager-class toy redeco, a $6 red redeco of Slitherfang, and the Earthrise Optimus trailer ($20ish, being generous), and a decent smattering of bonus gear making up the rest of the price. Few would say a $20 trailer is "worth it" by itself, except maybe as a third-party upgrade, particularly since it doesn't do a whole heck of a lot. It's neat, the unique deco makes it arguably worth picking up, but you may have two (or more) of them by now. Do you need another one? Maybe you do if you need the Decepticon logos on the side. If Hasbro made this for $40 without the trailer it'd be the can't-miss feel-good gift set of the year, but at $60 with the trailer I assume your enjoyment will depending entirely upon how much of this set is new to you (and if you missed the Japanese Nemesis Prime.)
It is assumed there will be another one of these packs, and I hope Hasbro (and partners) drop the "mystery" aspect. For $5-$10, I feel a little silly gambling with mystery box toys - I don't buy $3 Imaginext bags without a decorder sheet. At $60, given we had one extremely samey repaint with Ultra Magnus and one shining gem of a repaint with this set. I can't say it's exactly a marvelous idea - but at least this one gave you a lot for your money. If you can find it for $60 or less, it's pretty good - if you find it for $50 or less, don't hesitate.
--Adam Pawlus
Additional Images

Click here to see more Hasbro figures in Figure of the Day.
Click here to see more Transformers figures in Figure of the Day.

Want to buy this figure? Check Transformers availability at our sponsors:
Entertainment Earth