Dinobot
WFC-K18

Transformers Generations War for Cybertron Kingdom Voyager
Item No.: Asst. F0365 No. F0693
Manufacturer: Hasbro
Includes: Sword, Cyber Slash Tail Weapon
Action Feature: Transforms from robot to 1990s toy velociraptor
Retail: $29.99
Availability: February 2021
Other: He is the new thing

PREVIOUS
RSS
NEXT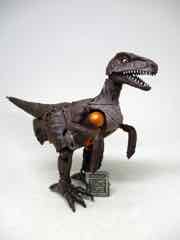 While this Dinobot may not be the perfect slice of plastic some fans expected, you would have given your left arm and your right hand for a toy this good in the 1990s. And then you wouldn't be able to play with it. It's a real "Gift of the Magi" or "Time Enough at Last" situation.
This Predacon (later Maximal) is a difficult toy to get right. Even the Masterpiece Edition release gave fans a really nice robot with a dinosaur mode that you'd probably hand-wave away, because at least the robot is good. The original 1996 Kenner toy was basically a Jurassic Park-style toy raptor that turned into an awkward robot, which in turn was turned into a pretty great (if impossible to re-create in reality) animation model on the cartoon. Most of the toys were based on the 1996 original, but there was a pretty good update in 2009 for Transformers Universe that was pretty good, but also had some issues.
If you want a nice big robot mode that you won't transform much or ever, you're going to love this. If you plan on displaying him in beast mode, it may be worth your while to wait for the next anniversary, or a remold, or some other option. The colors don't quite match the TV show or the toy, and the dinosaur mode's head doesn't seem to be a close match to anything in particular. It does remind me of the Skeksis Emperor, though.
Click here to check availability at Entertainment Earth.
The 6 1/2-inch tall figure is good. If you can imagine a Marvel Legends-esque figure, but it's taller and can turn into a robot, that's what you get here. The wacky slice-and-dice tail accessory exists as a static plug-in weapon with a removable for-some-reason purple sword. While not as tall as Cyclonus, he's bigger than Optimus Primal and you have to take your victories where you can. The head evokes the cartoon, as does the entire top half of the robot. Dino feet become robot hands! The blue face in the metallic helmet! The strange, flattened dinosaur head as a chest! It's all here. It's more or less how you remember.
The same is mostly true of the bottom half, in that the colors and basic shapes match what you saw on TV. The dinosaur bone elements are now undecorated, so they're just legs. Since they're deviating from the toy and the TV model, they could've just dreamed up something entirely new that would not stick out like a sore thumb in dinosaur mode. In and of themselves, they look great - but this is a Transformers toy, and the dream there is to minimize robot kibble in the alternate mode. Thankfully the legs are sturdy and easily posed, a wonderful design that works out nicely as a figure on your desk. It might not be the best toy, but it's one of the very best adult collectibles of Dinobot, especially for the money.
With nearly 30 points of articulation - much of which can be found in the arms - he's colored like the 2009 Universe toy. This means he doesn't perfectly match the old toy or cartoon, but at least he does look sufficiently Dinobot-y. He doesn't have any faction markings either, which is sensible since the Predacon quit during the pilot and joined the Maximals. With great articulation and a nice, fairly bulky stance and a great stature I can't deny this is a wonderful robot and I could see this being the last Beast Wars Dinobot I could ever buy.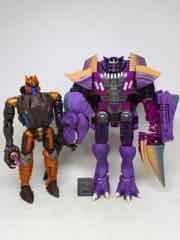 The transformation was pretty easy, and the instructions are helpful. You can probably figure out where almost everything goes, as there are a lot of handy slots, tabs, and other elements that have proper places. The instructions help because the end result can be a bit weird in spots - robot parts jut out on the dinosaur, so even though it's easy to get right you might assume you're doing it incorrectly. It gave me no problems.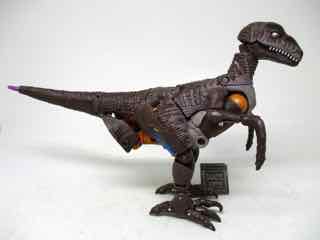 The dino mode is about 9 1/2-inches long, depending on how you take the measurements. It seems to be born of the 1990s toy, which was based on a velociraptor design that was known to be incorrect at the time - but it's what was popular, so it stuck. He has zero problems standing or being posed, with lots of arm and leg joints. The head opens and closes, with painted teeth and an ice interior deco on the mouth. Even his eyes are expressive and big, if seemingly exaggeratedly so. Sadly the neck can't turn, but at least the hands can be moved in a number of pleasing ways thanks to the jointed shoulders, elbows, and even wrists. Hasbro packed a lot of movement at the knees and ankles, with hips that really aren't going to move without un-tabbing the beast mode.
Of course, there are issues. There are robot feet hanging out on the back of the body... and there's no hiding them. The robot's bright orange hips jut out on the dinosaur's chest, and may have melted in if colored differently. They're a bit of an eyesore. There's a bit of robot kibble behind the thighs, but short of coming up with completely different modes that may not look like the Mainframe cartoon I don't know how they could've easily made this design work, at this size, at this price. Also the children of the 1990s aren't buying this toy for the beast form - but Hasbro could probably make good money with non-transforming animal toys based on the TV show. Until then, we've got a 2021 toy painted like the 2009 toy that doesn't really seem to be a good skin color match for the Dinobot on TV or on toy shelves from 1996. The stripes aren't quite right, the browns are off, and the purple tail tip - while understandable - it would've been nice to see that hidden a bit.
A perfect Dinobot may be an impossibility. If Takara-Tomy couldn't give us an A+ example at $200, Hasbro's A-grade robot and C-level dinosaur mode for $30 is probably going to be good enough for most of us. I'm going to guess that any fans that missed the original toy, or its reissues and redecos, are going to find this a more than adequate substitute for the somewhat dinky-by-modern-standards original. Granted the original had weird leg bones on his chest, while this one has weird hip boobs as a robot. Nothing's perfect, but I can't fault them for doing the best they could within the confines of matter being able to occupy space. The only feature I feel is truly missing are the laser-blast eyes, but given the toy is free of C.O.M.B.A.T. peg connector points it's not like there's an obvious place to put them.
--Adam Pawlus
Additional Images

Click here to see more Hasbro figures in Figure of the Day.
Click here to see more Transformers figures in Figure of the Day.

Want to buy this figure? Check Transformers availability at our sponsors:
Entertainment Earth