Sincroborg Buildriun
Mold Debut

Glyos System Series
Item No.: No. n/a
Manufacturer: Onell Design
Includes: Extra heads, knife-ish weapon, blaster parts, switch pins, there's a lot in this
Action Feature: Pops apart, customize it if you dare
Retail: $16.00
Availability: May 20, 2021
Other: Tribute to... too many thing?

PREVIOUS
RSS
NEXT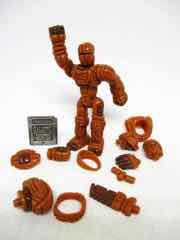 Onell Design takes years to complete some of its figures. The Sincroborg Buildriun had been in the design phase for quite some time, and it shows. Designer Matt Doughty probably knows just how long a figure needs to be viable and exciting, and by giving a figure three distinct heads, a head/weapon part, a vest, a knife, a blaster, some belts, and oh yes - a mask you can flip down, there's a lot of meat on these bones. I'm not 100% sure what all of his inspirations are, but it smells like Dragon Quest Golems, Mega Man, and countless other import figures were likely on his mind. And things I'd likely never guess. The end result is a distant cousin of his classic Buildman figure, which has been out of circulation for some time. You can see why this is better, though, with similar fists, a regular hand, and just so many parts to configure and reconfigure.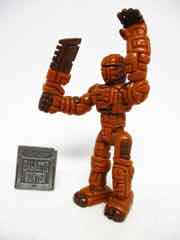 At 3 1/2-inches high in most of the builds, it's a pretty sizable figure with good swivel articulation. Hinge joints never really became part of the regular Onell Design style guide, but there are gobs of swivels and the figure can be dismantled at each point of articulation. This allows you to remix parts on this figure or switch them out from other releases, which is increasingly daunting given just how many parts and pieces there are to keep track of in every bag. I like the visor head, the half/half head is nice, and the masked head is also excellent. The level of detail is considerable, with numerous grooves and detail work that run so deep, I mistook a few of them for being separately articulated pieces.
He's big enough to menace some of your smaller action figure lines - he stands a bit over the likes of Pheyden, but also Imaginext, Playmobil, and LEGO. His unusual, configurable design may make him the perfect guest star in the kind of toy adventures you're probably to old to enjoy, but maybe you can bring him to your kid's adventures. With supervision, of course, as there are some teeny tiny pieces at work here.
Coloring is similar to old Buildman figures too, with a nice brown plastic with darker brown and black painted elements. I assume future recolors will be equally impressive, and this one is no slouch. Being able to have swords, blasters, and other elements forged from surplus limb parts is amazing and goofy, and it always works. Being able to take one of the unused fists and making a bazooka of sorts is just a delight, and the pieces pop apart with ease. It's a fun little kit and a great desk toy, provided your desk isn't already filled with toys, which it undoubtedly is.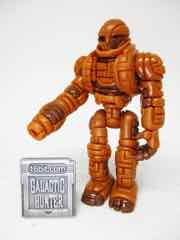 I don't believe it would be hyperbolic to call the figure overwhelming. There's clearly a lot of sweat in this figure, and I don't doubt there are more builds to unlock in the future. Several configurations appeared on the Onell Design blog on drop night, and I have to assume he's got more that we haven't seen yet. If you have yet to partake of Glyos this is a good place to start as a proof-of-concept. If the design comes up again in new colors, as the brown is sold out, I'd suggest getting a couple and giving it to a toy-loving friend. Sure it's $16 for a figure that's under four inches high, but it'll keep you busy if you try to make up new things out of it. There's enough here that will likely keep you busy for at least a couple of days.
--Adam Pawlus
Additional Images


Click here to see more Onell Design figures in Figure of the Day.
Click here to see more Glyos Compatible figures in Figure of the Day.